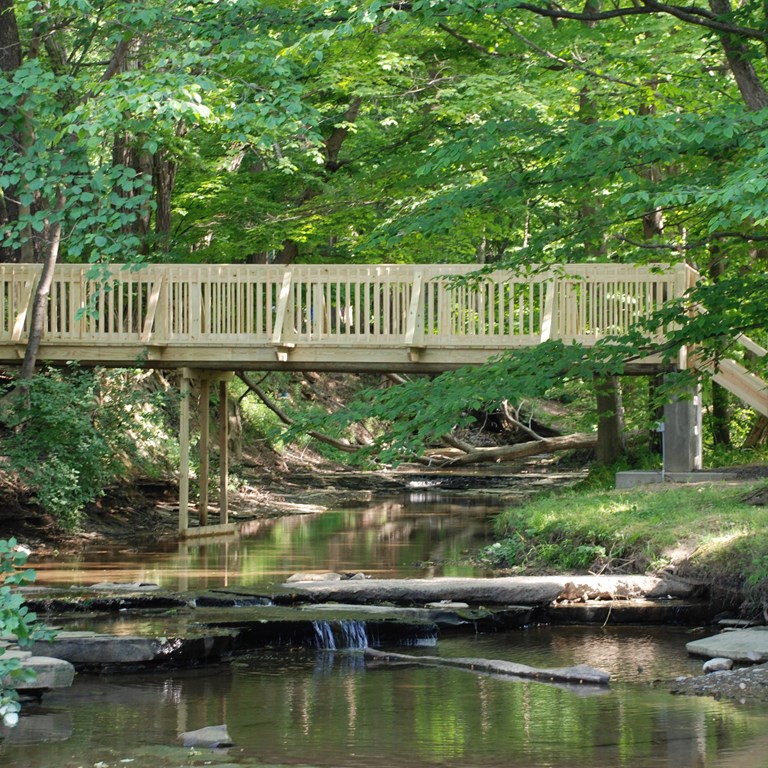 Westfield / Lake Erie KOA Reviews
Directions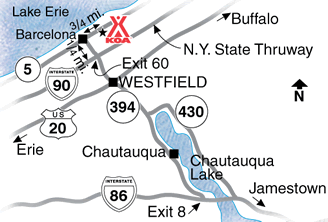 60 miles west of Buffalo, NY, 30 miles east of Erie, PA.
Exit 60 from I-90: Follow signs.
On Rt 5: Go 1 mile east of Rt 394 or 16 miles west of Dunkirk.
From I-86 Exit 8: Go north on Rt 394 to Rt 5, turn right, 1 mile to KOA.
GPS: N42.344141, W79.579864
Get Google Directions
Sep 17, 2020
Awesome!!!!!
Sep 17, 2020
One of the cleanest campgrounds ever! The restrooms and showers are immaculate. The store has anything and everything you'd ever need. They also have a nice food truck menu delivered hot to your campsite. The Lake Erie park is directly across the street. Lastly the owners and staff were very friendly and so helpful.
Sep 15, 2020
We have stayed at your KOA several times, and we keep coming back because of the wonderful staff, clean camp sites, and the restrooms & shower facilities are top notch. We stayed at a couple of other KOA's this past summer and while they were good Westfield is still number one with us.
Sep 15, 2020
Quaint RV park right near Lake Erie (beach access ~ 1 mile away). Everyone is very helpful & the facilities are clean & well kept. Train and highway are nearby so if those disturb your sleep ~ this site is not for you.
Sep 15, 2020
My family and I had a wonderful time there. Not enough to be said, it was very clean and the staff was great. I felt very safe, ever one was obeying the new norm with face mask. The place is small and you can the noise from the interstate 90, and the train at night. I did not mind it, it was not enough to not enjoy. The bathrooms was clean and updated.
Sep 14, 2020
Very friendly staff and a nice campground overall.
Sep 14, 2020
Sites are too crowded but facilities are extra clean and staff very helpful
Sep 14, 2020
All the employees we encountered were very friendly and helpful.
Sep 13, 2020
Excellent Only issue may be the proximity to the NYS Thruway noise but your near lake Erie which makes it alright in my book
Sep 12, 2020
Very nice campground friendly people
Sep 12, 2020
Wonderful, as always.H.ave been coming here for 18 years, always clean, staff friendly and helpful
Sep 12, 2020
Lake Erie is just across the road and easy to sell to. Sites are typical KOA, roads narrow and sites tight. Good food truck on premises and laundry is inexpensive. Road noise from I-90 is reallynoticeable if you sit outside and keep your windows open.
Sep 11, 2020
Love Westfield KOA! Staff is so friendly!
Sep 10, 2020
It was a nice time
Sep 10, 2020
Loved it! What a great area to visit. Will definitely be back.
Sep 09, 2020
Nice people, all was good.
Sep 09, 2020
Everyone was friendly and eager to help in any way. Great stay and Beautiful view of Lake Erie from across the street.Thank you for having us the Hug Family.
Sep 09, 2020
Enjoyed meeting and conversing with Cliff. Very friendly and helpful.
Sep 08, 2020
Dennis and his staff are the ultimate hosts. Always welcoming and accommodating. Service is phenomenal. Property is extremely well groomed and facilities are immaculate. As a bonus, the food is fantastic! 2 thumbs up! They never disappoint.
Sep 08, 2020
This is an awesome campground to stay at...everyone is very friendly and helpful
Sep 08, 2020
Great people! Great facilities. Great view and Lake park across the street! Cliff was a great staff member i wanted to mention -
Sep 05, 2020
Everyone & everything was great. Only issue we personally had was having to close windows & run A/C when immediate camper in next site had campfire going nightly. Please realize with our health issues we go to sleep 9pm and we don't expect anyone to change their camping enjoyment. All comfort buildings and laundry are the best as well as the camping store we have ever seen. Camping over 35 years.
Sep 05, 2020
Great people and even delivered our order to the camp site.
Sep 04, 2020
Extremely polite and helpful staff, very considerate and eager to assist.
Sep 04, 2020
The campground is in a great location and had the best showers, kind of like being at your own hotel. We were given a site near the freeway and that was disappointing especially when my booking said near the playground. There should be more of a description so folks aren't surprised by all the road noise. Additionally you aren't 300 yards from a beach, it is a park and you can't swim there.
Sep 04, 2020
Delicious crispy honey garlic chicken wings. Amazing Lake Eerie sunset from the park across the street. Pretty walks along the creek. Great clean showers.
Sep 03, 2020
Awesome stay! Campground was very clean and took appropriate social distancing measures and covid precautions. No matter what we needed we could have it delivered to our campsite... food, wood, ice, etc. The bathrooms were clean and the shower rooms were beautiful.
Sep 03, 2020
This is my 3rd stay this summer. Very pleased. Wonderful Shaded site up front . Super clean bathrooms. Delicious food from the food truck with food and firewood delivered rite to my site everyday. Super friendly workers . Fabulous stay.
Sep 02, 2020
Very nice campgrounds and excellent location. Staff is very friendly. I will definitely stay here again.
Sep 02, 2020
We enjoyed our stay. The bathrooms were outstanding! Some improvements could be made on the infrastructure; for example the roads could use some improvement. But we did enjoy our stay at your park.
Sep 02, 2020
I am answering for my daughter as you sent Her e-mail to me Beverly E. Bedard (her Mother). I use to have a membership-- no longer camp. Kelly loved your campground and talked about how pristine it is. She has to travel back to Colorado so maybe you will??
Sep 01, 2020
Love the place. We're always well taken care of. Great food from their food trailer.
Sep 01, 2020
The beautiful sunsets over Lake Erie are across a very very busy street. Our view was of the NYS I-90 thruway with tandem semi's howling through at all hours of the day and night. Those are the only reason I wouldn't recommend. Site was roomy, bathrooms immaculate, staff very friendly and helpful. Park itself was clean. You definitely need a car/truck; everything is a drive.
Sep 01, 2020
extremely clean bathrooms, clearly new !! Very friendly staff. Place was very quiet and loved the creek & lake directly across with the park. Pools were clean, a bit cold but expected !! Awesome pizza with fast friendly delivery !! would recommend going and will be coming back !!
Sep 01, 2020
Great stay, staff was friendly, area is great, quick ride to lake and beach....close to through way but you don't even notice...property is well maintained, stream and fishing pond are awesome...definitely plan to visit again...
Aug 31, 2020
Great place to stay. Very clean facilities
Aug 31, 2020
Will definitely be back for a longer stay!
Aug 30, 2020
1night stay 2 adults Stopping to see the Falls on way to Boston- staff was extremely friendly and helpful including off site seafood restaurant guidance. sight met our needs - expensive but area probably impacts that and looks like a delightful stay for kids. Very clean. I would return if in the area.
Aug 29, 2020
This was the second year we stayed here. This year another couple came along and they said best camping trip ever! Walking over to see the sunset on the lake is amazing! We also saw a bald eagle at the park across the road. Barcelona harbor was a great place to spend afternoon right by the water and very close by. Bathhouses are top notch at this place. Loved our stay again and will be back!

Westfield / Lake Erie KOA
Open March 27 - November 1
8001 East Lake Road
Route 5
Westfield, NY 14787
Check-In/Check-Out Times
All Sites
Check-in: 1:00 pm, Check-out: 12:00 pm
Westfield / Lake Erie KOA
Get Google Directions

© 2020 Kampgrounds of America, Inc.