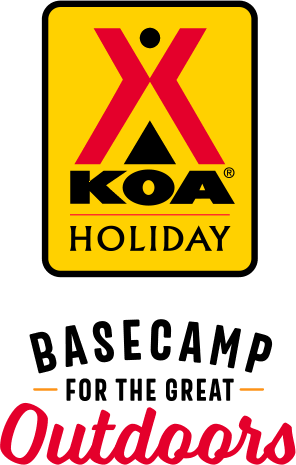 KOA Holiday Campgrounds
Whether you're exploring the local area or hanging out at the campground, KOA Holidays are an ideal place to relax and play. There's plenty to do, with amenities and services to make your stay memorable. Plus, you'll enjoy the outdoor experience with upgraded RV Sites with KOA Patio® and Deluxe Cabins with full baths for camping in comfort. Bring your family, bring your friends, or bring the whole group – there's plenty of ways to stay and explore.
KOA Holidays Feature:
RV Sites with a KOA Patio®
Deluxe Cabins with full baths
Premium Tent Sites
Group meeting facilities
Directions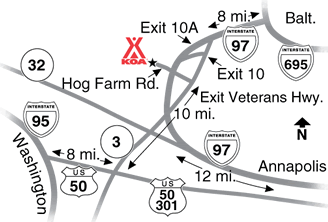 From North/Baltimore I-695 to I-97 South to Exit 10A. Right on Veterans Hwy 2 miles to 1st right turn, go under hwy turn left, go 2 blocks to Hog Farm Rd on right. Follow signs.
From South I-95 North to Hwy 50 East to Hwy 3 North. Exit at Veterans Hwy. One block to first left turn. Go under highway turn left, go 2 blocks to Hog Farm Road on right. Follow signs from there.
Get Google Directions
Sep 29, 2021
Definitely cozy and well kept, especially fort the price
Sep 29, 2021
Your staff is robotic, rude and not helpful. You charge extra for cars that fit at the site. Your tent site had NO level area for the tent to be set up. I paid for a site with water and electric but the water didn't work. The amenities were nice so I guess that's how you justify the cost per night because in no way, shape or form was it worth what we paid. I will never stay at a KOA again!
Sep 29, 2021
Camp grounds are fine, but the hiking trail is in total disarray. The trail needs to be cleaned up and clearly marked.
Sep 29, 2021
Everything was easy in and out! No time lost registering, shopping, waiting for bathrooms to be cleaned, etc.. We will definitely be back!
Sep 29, 2021
We stay here every year and we always have a great time. Facilities are always clean and customer service is always excellent. I would suggest a better system as to who orders wood and when it was delivered. Twice I ordered multiple boxes but the item was not received. Customer service fixed the issue but I would suggest a ticket for the customer to return for proof of wood received .
Sep 29, 2021
Great people with a nice quiet spot. Just perfect.
Sep 29, 2021
Lovely little CG. Stayed 3 nights (Tenting). I'd stay there again.
Sep 29, 2021
Checkin was easy, bath house was clean and well stocked. Helpful staff and friendly campers. Very peaceful stay!
Sep 29, 2021
It was so great and the staff was very helpful!
Aug 18, 2021
It had an awful oder in the air, probably the sewer. But the rest was ok, I guess.
Aug 16, 2021
The staff were wonderful. Plenty of staff working very hard to keep up all the facilities. The staff were also very friendly! It was a very enjoyable trip! Special shout out to Dr. Bob! We loved his humor, smile and service!!
Aug 14, 2021
very friendly staff. some tent sites very small. deluxe tent site nice. very clean.. Not much outside campgrounds to do in the area.
Aug 13, 2021
plenty to do with the kids and the staff was friendly
Jul 15, 2021
Awesome customer service, great facilities. We have stayed here four times and it has always been an outstanding experience.
May 19, 2021
After a few flops in local camping experiences, we were ecstatic about our stay at this KOA. Staff were so friendly and helpful, and our site was perfect.
Nov 25, 2020
This is a nice well maintained KOA with lots of trees and walking paths.
Nov 13, 2020
Enjoyable, clean and friendly.
Nov 07, 2020
Amazing location. So much for the kids to do on-site.
Oct 12, 2020
It was very nice. One suggestion... the hiking trail is not well marked or cleared. We did the trail and got confused on the way back the trail seem to just stop so we had to walk on the road and come in the main entrance, we had children with us so that was a little dangerous with the traffic.
Oct 12, 2020
The site was great. Bathrooms were clean, staff friendly, kids loved the playground and bounce area. We really enjoyed our stay. My only complaints are that is that it doesn't seem like there was any enforcement of quiet hours. I understand a little music but our neighbors played music well into the morning hours.
Oct 12, 2020
Well I thought Quite time was at 10pm. But the people beside of us didn't think so. Because around 10:45pm me and my guest got woke up to the sounds of them playing basketball and what we thought was Fireworks going off no one came around and checked to see what they were doing and we had no idea how to contact anyone . Other than that it was great.
Oct 12, 2020
Very enjoyable
Oct 01, 2020
Good spot nice staff
Oct 01, 2020
We actually didn't end up staying more than two hours. As soon as we set up our tent, the rain got pretty bad so we just headed home. But the staff was very nice in the short time we were there. If you ever offer rain checks in the future that would be great if you'd like my advice on any possible improvements, but the facilities looked fun under better weather conditions.
Sep 17, 2020
I am not sure it is worth the price. the tent site is very small and I got tick bites all of my leg. I am a camper who usually visiting state parks, and I think they are even better off in disinfection. when we book our site, they informed us only one tent can set up on a tent site, so we booked two tent sites. However, as I look around, everyone has more than one tent in a site. felt ripped off,
Sep 17, 2020
We camped under a flash flood warning and we were happy to arrived safe at KOA. The tent site was very uneven. The camp had many other sites empty that looked not as uneven. I think that next time, if we go back there, we would need to talk and be sure that the site we are getting is even for a tent camping.
May 28, 2020
tent site to close together
Nov 19, 2019
Had a great time at this campground. Niced wooded campsites not like some that are like parking lots. Will stay on my way back through.
Nov 13, 2019
Everyone there is so helpful. I honestly can say that this location is great for campers of all experience levels. The staff is so wonderful I have no doubt that they will help the newbie and make it easy for the expert! Thank you for an amazing weekend. We will be back!
Oct 15, 2019
Our deluxe tent site was spacious and close to shared water. Outdoor play equipment was good for the small site. The toilet and shower facilities were generally clean/well kept. It was good to see some recycling facilities. There was only one dish sink which was always available but needs a proper draining area. There was some traffic and minor aircraft noise.
Oct 15, 2019
Kids enjoyed the jumping pillow and Gaga ball court!
Oct 14, 2019
Very nice, it was a bit crowded, staff was nice. Everything I needed was at store.
Oct 07, 2019
The staff was very helpful and nice, we had no problems with any employees. But the other guests were extremely rude, being very loud, playing music, using strobe lights, and throwing bottles until 5 in the morning. Since the sites are so close together, this was a huge problem. My husband and I ended up sleeping in our car. We were surprised that no one ever came over to ask them to stop.
Aug 31, 2019
Very nice Campground friendly staff.
Aug 29, 2019
My 3rd stay at capital with my three boys. We all enjoyed our stay. Best to the staff. They were very kind.
Oct 25, 2021
Paid a visit to check out the accomodations for camping. Seems like a nice family oriented place for tent or camper. Staff was friendly and informative.
- Henry Krzemien on Google
Oct 18, 2021
Great time in a cabin for bachelorette party
- Jennifer Berry on Google
Oct 12, 2021
Great value for an overnight stay.
- Barbara Holtze on Google