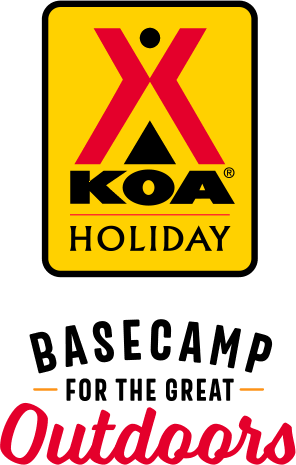 KOA Holiday Campgrounds
Whether you're exploring the local area or hanging out at the campground, KOA Holidays are an ideal place to relax and play. There's plenty to do, with amenities and services to make your stay memorable. Plus, you'll enjoy the outdoor experience with upgraded RV Sites with KOA Patio® and Deluxe Cabins with full baths for camping in comfort. Bring your family, bring your friends, or bring the whole group – there's plenty of ways to stay and explore.
KOA Holidays Feature:
RV Sites with a KOA Patio®
Deluxe Cabins with full baths
Premium Tent Sites
Group meeting facilities
Directions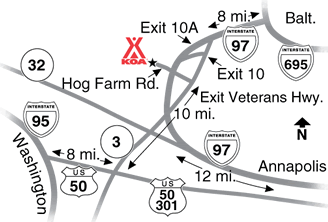 From North/Baltimore I-695 to I-97 South to Exit 10A. Right on Veterans Hwy 2 miles to 1st right turn, go under hwy turn left, go 2 blocks to Hog Farm Rd on right. Follow signs.
From South I-95 North to Hwy 50 East to Hwy 3 North. Exit at Veterans Hwy. One block to first left turn. Go under highway turn left, go 2 blocks to Hog Farm Road on right. Follow signs from there.
Get Google Directions
Sep 16, 2021
Had a great time. Staff was excellent and very helpful. Sites could have been a little more level. Good stay all around
Sep 10, 2021
Pool was closed over a busy holiday weekend. Spots were tight, but overall okay.
Aug 24, 2021
Me and the family had a great time wonderful customer service laundry room was clean also restrooms they don't have cable tv but I would recommend this koa can't wait to book a stay in 2022.
Aug 23, 2021
staff was rude
Aug 22, 2021
Nice enough property, but damage from a low-hanging branch on your road & broke an antenna. At our 50A site, low/fluctuating voltage (108-113V on each leg at the pedestal). Said we couldn't use our surge suppressor (electric too weak to handle its nominal voltage drop). We were told this is normal. NO IT'S NOT! YOU HAVE A PROBLEM. HARD ON APPLIANCES! DON'T BS US! Questionable WiFi. Nice staff.
Aug 21, 2021
Office staff is rude and not very friendly. Many sites are not level and muddy.
Aug 19, 2021
Front desk staff very friendly. Maintenance folks always friendly saying hello. Grounds well kept. Price way too steep
Aug 19, 2021
clean, enjoyable and easy pull through
Aug 18, 2021
We only layover here, so I can't comment on the amenities etc. What I can tell you is that the staff is friendly and efficient, and they have some short pull throughs that are perfect for our small Motorhome. It's easy to get to, and close to our route when traveling. And of course if you are visiting in D.C. this campground will work for you.
Aug 18, 2021
POOL WAS CLOSE NO LIFEGUARD HAD A SHUTTLE TO TAKE YOU AROUND I HAVE A 32FT FIFTH WHEEL AND I WAS WAY IN THE BACK AND HAD HARD TIME GETTING OUT OF THAT SPOT WHEN THERE WAS EMPTY PLACES UP FRONT I DONT THINK I WOULD GO BACK
Aug 18, 2021
Enjoyed out stay. Large RV spot. Nice pool. Nice laundry room. But hot, hot, hot!!
Aug 18, 2021
It had an awful oder in the air, probably the sewer. But the rest was ok, I guess.
Aug 17, 2021
This visit was the worst stay I have ever had. First thing the staff was policing our every move. We had a rude comment spoken from another person staying their. They also didn't have a back up life guard on the hottest day. They also didn't have bath house access at time slot posted on the door. Last they charge my card late check out without authorization. So our family will not return next year
Aug 17, 2021
Apparently quiet time only applies to certain campers in certain situations
Aug 17, 2021
Pool was closed the whole time. Only children's activities were the Ice Cream Social and movie Ice Age. It's an ok campground, if you just want to camp and stay to yourselves. Not really kid oriented.
Aug 16, 2021
The staff was extremely friendly and helpful. The wood was dry and burned well and the location to Ft Meade was awesome.
Aug 16, 2021
Nice place but pricey
Aug 16, 2021
It was a small campground and quiet. exactly what we were looking for.
Aug 16, 2021
The place is very nice as long as your not handicapped. There are no handicapped showers at all. All shower heads are fixed and there are no benches in the shower to sit on. They have a ramp to the bathroom at the one end that has a 4@ drop at the top. When I talked to the general manager he just blew me off.
Aug 16, 2021
Great stay. Very clean. Enjoyed the patio site
Aug 16, 2021
The staff was very accommodating and friendly. The cabin was ready and clean when we arrived. I am looking forward to my next visit to your camp site. I may make a trip just for the weekend to relax from the stresses of life. See you soon, Don
Aug 16, 2021
the staff were very friendly and helpful. We got a E&W hookup RV site. The campsite has very limited space and is not leveled. The worst part was there was a terrible stench the whole night we stayed there. Smelled like rotting food. can't recommend that area of the campground.
Aug 16, 2021
The staff were wonderful. Plenty of staff working very hard to keep up all the facilities. The staff were also very friendly! It was a very enjoyable trip! Special shout out to Dr. Bob! We loved his humor, smile and service!!
Aug 15, 2021
Chose Capital KOA from all options specifically for daily shuttle to D.C. However, no shuttle with excuse of Maryland's COVID rules. This made no sense as other bus transport was running. No warning of shuttle cancelation on website or email for those with reservations. The only option w/o a car was Uber; VERY EXPENSIVE. $150 roundtrip! No option to cancel 6 night stay w/o significant penalty.
Aug 15, 2021
Camp site was very challenging to level with our camper. Bathrooms by pool were in need of cleaning.
Aug 15, 2021
One of the top 5 vacations we have ever taken. The campground is well maintained, clean with very friendly and helpful staff. The bathrooms were clean and stocked with hand soap at any time of day. One of the nicest campgrounds and close to all the attractions the area has to offer! Definitely recommend this campground for convenience to attractions, cleanliness and staff.
Aug 15, 2021
We both requested sites together but ended up assigned on opposite sides of the park. The staff quickly changed it but I have not received the credit for the full hook up rate that we paid but ended up in water/electric only. Did appreciate the site escorts though one was rather testy initially as we were getting info about switching sites.
Aug 15, 2021
Got what I paid for, Can't ask for more
Aug 14, 2021
The pool could have been cleaned more often there was hair & bandaids around the pool for the three days we were there and never picked up �on another note we did meet some wonderful people camping near us�
Aug 14, 2021
We stayed for a long weekend, and had a great time. This KOA had great facilities for all ages, kids, young adults, and older adults! We were sporting 4 generations on this trip, and fun was had by all!!
Aug 14, 2021
We reserved the deluxe site with patio. It was wonderful to have the extra space. The location to the store and bathrooms were nice and close. This KOA was the cleanest we stayed at in our cross country trip. They spend 90 minutes every day cleaning each restroom. The laundry facilities were clean and more affordable than most. I would highly recommend this spot.
Aug 14, 2021
We like this campground. The campground is always clean and the staff is very friendly. We usually get a premium spot, as we like being up front in the campground. Nice dog area and plenty of area to walk a pet.
Aug 14, 2021
Pool was dirty and looked disgusting. Activity Staff were not friendly. On a positive note, the maintenance staff were nice and accommodating when the electric was not working at out site.
Aug 14, 2021
We live in an apartment close by, so we love using this KOA as our home base for load in prior to trips and load out at the end of trips. They are friendly and helpful.
Aug 14, 2021
The campground was nice but we were put in a gravel spot and had to climb a huge hill of rock to park in our spot. We also had to back down the hill of gravel to leave. Just a little uncomfortable. The gravel yard wasn't great for spending time outside. Otherwise, the staff was friendly and the restrooms were clean!
Aug 14, 2021
Our site was supposed to be a premium site, however it was in desperate need of repair. And more importantly, and very unfortunate, it appeared that the camp store supported far left leaning politicians which seemed a bit odd for a 'camp store'. Hilary socks? really very odd.
Aug 14, 2021
We had a great time and our cabin was perfect, especially for the price!
Sep 08, 2021
September 7th, 2021 We stayed over the Labor Day holiday. We travel a lot and can say this is one of the best that we have stayed. The staff were beyond friendly, they were engaging. Always a wave, a hello, how is it going. Earl is a goofball on the phone and in person. The sites were level and clean. The bathrooms were clean. The dog park was fabulous! Our dog picked up her Frisbee and carried it there to let us know that is what she wanted. We recommend and will be back again. Thanks everyone!
- Sandra Austin on Google
Sep 02, 2021
We just finished a week's stay here. It was a nice stay, staff was friendly. Yes the pool is closed but not a big deal for us. We had a 50 amp site and no issues. Only complaint I have is low water pressure but still not a big deal. We used laundry room often. Bath houses clean. Nice tidy landscaping. We have two little kids and a dog.. all around good visit.
- Cheryl Miller on Google
Sep 02, 2021
Nice pull thru sites, power and wifi. Thank you.
- Catherine A (Thankful&Blessed) on Google