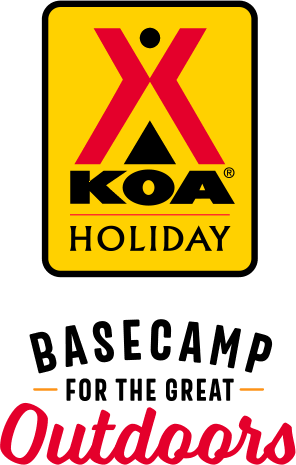 KOA Holiday Campgrounds
Whether you're exploring the local area or hanging out at the campground, KOA Holidays are an ideal place to relax and play. There's plenty to do, with amenities and services to make your stay memorable. Plus, you'll enjoy the outdoor experience with upgraded RV Sites with KOA Patio® and Deluxe Cabins with full baths for camping in comfort. Bring your family, bring your friends, or bring the whole group – there's plenty of ways to stay and explore.
KOA Holidays Feature:
RV Sites with a KOA Patio®
Deluxe Cabins with full baths
Premium Tent Sites
Group meeting facilities
Directions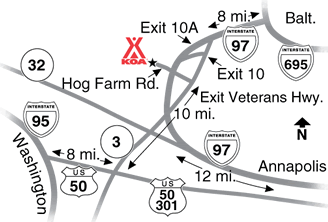 From North/Baltimore I-695 to I-97 South to Exit 10A. Right on Veterans Hwy 2 miles to 1st right turn, go under hwy turn left, go 2 blocks to Hog Farm Rd on right. Follow signs.
From South I-95 North to Hwy 50 East to Hwy 3 North. Exit at Veterans Hwy. One block to first left turn. Go under highway turn left, go 2 blocks to Hog Farm Road on right. Follow signs from there.
Get Google Directions
Oct 22, 2021
Booked 6 months in advance, payed in full. I literally got the worst, most un level spot in the campground. This was crucial to me because the shuttle service was suspended and I had no toad. Got there early so I asked for a different spot, explained my circumstances, but was told that it was not possible. They said the computer assigned the spots. Just go to Cherry Hill, it was awesome.
Oct 11, 2021
Great staff clean campground. Grills could be better maintained.
Oct 10, 2021
Nice convenient clean campground. Just can not figure out why with the cheep price of stone you can't have level and smooth parking pads. Especially side to side .
Oct 08, 2021
It's a very nice Campground the only problem I found is our campsite number 9 did not have a concrete head for the picnic table for our chairs like everyone else had. If there is an upgrade that you can get for a better site I wish they would have put it on their website. Did not like having to track all that sand and dirt into my motor coach.
Oct 08, 2021
We reserved the campsite as we thought there would be a shuttle to the train station, however we were not aware it was not available in the "off season" which was when we stayed until we arrived. The campsite was nice and clean. We utilized the laundry room and the machines worked well. They had a variety of "games" available for guests and very family friendly The staff were friendly and helpfu
Oct 08, 2021
A nice, (very busy) park, with super friendly hosts and staff. More sewer hookups would be helpful; there are two very convenient dump stations. The sites are nice, quite large and just about perfectly level. The other hookups are at the "wrong end' of the sites which makes unhooking a necessity.
Oct 08, 2021
I reserved an electric and water area for tent and the attendant gave us a hill of dirt. Even one of your employees said that due not understand why that area is even rented. To tell the truth a think it was because we were black and ordinary I would not believe that but the man checking us in lead me to this conclusion. Thanks but no thinks although my hubby and I can make a bad situation good
Oct 08, 2021
We enjoyed our overnight stay at Capital very much. It served our purpose and was very comfortable
Oct 08, 2021
Just stayed overnight
Oct 05, 2021
Very quiet and peaceful; it's always what I'm looking for.
Oct 05, 2021
Very nice place to stay showers were excellent, the staff very helpful and friendly.
Oct 03, 2021
Nice place, friendly people. Will stay again when in that area
Oct 03, 2021
The stay okay, made reservations but KOA did not call back to upgrade to site with sewer. Everything else was good.
Oct 03, 2021
We spent a week enjoying the beautiful weather and area. Nice park with big patios! Good WiFi and sell coverage. Nice staff. We will be back!
Oct 03, 2021
Nice staff. Clean facilities. Great signage.
Oct 02, 2021
Road system to find KOA was difficult. Perhaps your welcome could include road advice to get into & out of Annapolis ,Baltimore and Carlton for metro. We were out of season for KOA bus & swimming pool. Bath house was very good w.lock on door. Price is high for off season.
Oct 02, 2021
Our first time with our travel trailer. The camp personal were very helpful. Had a great relaxing stay.
Oct 02, 2021
This was the best KOA we've visited! We plan to return. The staff was friendly and helpful, The sires are very clean and positioned perfectly. All good.
Oct 02, 2021
Everyone was very friendly n helpful
Oct 02, 2021
Since we were late on r arrival (which u knew in advance)…we were close to the entrance along close to the facilities. We also left early.
Oct 01, 2021
nicely maintained campground with a fun nature trail
Oct 01, 2021
Very friendly person at check in. Very satisfied, will be back.
Oct 01, 2021
Very nice campgrounds, very near major Attractions.
Oct 01, 2021
Staff were nice and helpful. It was very busy with most sites being filled. The sites were mostly gravel but were adequate. We only stayed the one with no issues.
Sep 30, 2021
We visited your KOA in MIllersville, MD and found it to be very friendly. Your office staff were polite and helpful. The grounds were clean and well cared for. We were so thankful to have your worker help refill our propane tank as well. We will stay again in the future when visiting our Annapolis friends!
Sep 30, 2021
Nice and clean, felt very safe for my kids
Sep 30, 2021
The location and cleanliness of the laundry/restroom is all I can recommend about this KOA. Office ladies were not pleasant and unapproachable. Not only to us, other guests shared this w/ us. Pool was closed due to no supervision. They assigned us to a site that was too small for us. Guest were rowdy late into the early morning. Wifi was very weak. We are fulltime RVers. This was a bad experience.
Sep 30, 2021
Nice park, friendly staff
Sep 30, 2021
GREAT Staff!! Nice location; had to change sites halfway through. Saw a 50-amp rig moved to a 30 for the sake of a tear-drop trailer on a 50-amp site. Site management a little disappointing for rig/power requirements.
Sep 30, 2021
It's a lovely park and well taken care of. I think that $77.00 a night is too high for this park with the amenities that it has. We only had 30-amp and the price was high for 50-amp service. The folks that work there were very pleasant and helpful.
Sep 29, 2021
It was a pretty nice place but to expensive.
Sep 29, 2021
Great staff ; awesome experience
Sep 29, 2021
Convenient to highway but not to DC. The campground has a nice dog park that we used a lot. Nice level lot. Great bathrooms!
Sep 29, 2021
Very clean bathrooms and showers! Great sites and wonderful staff. We will definitely visit again! Thanks for a great start to our Fall 2021 vacation trip!
Sep 29, 2021
We stayed Sept 16-22 2021. Our spot was easy to get into with our fifth wheel. Didn't use the restrooms as our spot had full hookups. Laundry room was always very clean. The campground workers in the golf carts were always very friendly. Will definitely return as this is such a convenient location to visit family in Severn.
Sep 29, 2021
Very poor site, misrepresented on website. Very expensive. "Pull thru" site was located on a hillside with 8 percent grade. We only have a 30 ft class C....but there is no was to get anywhere close to level...and be safe. At best this site would be a mediocre tent site.. There are better values in the DC area. I believe we were charged somewhere around $80 for this site.
Sep 29, 2021
It was great. Service is awesome. We really liked our spot where we stayed.
Sep 29, 2021
Very comfortable. We felt safe and welcome.
Sep 29, 2021
Low voltage is a major problem that the rude staff and incompetent maintenance refuse to acknowledge. WITHOUT the Motor-home PLUGGED in, my site had 104 volts on Leg 1 and only 107 volts on leg 2, which caused my surge protector to trip. My neighbor had the same problem with his surge protector tripping on low voltage. He said they had the problem for three days. I went to the office and they s
Sep 29, 2021
We loved the experience at this KOA. Great staff, clean facilities, beautiful landscaping, fun activities. It was a wonderful stay and we would love to come back. Thank you!
Oct 25, 2021
Paid a visit to check out the accomodations for camping. Seems like a nice family oriented place for tent or camper. Staff was friendly and informative.
- Henry Krzemien on Google
Oct 18, 2021
Great time in a cabin for bachelorette party
- Jennifer Berry on Google
Oct 12, 2021
Great value for an overnight stay.
- Barbara Holtze on Google