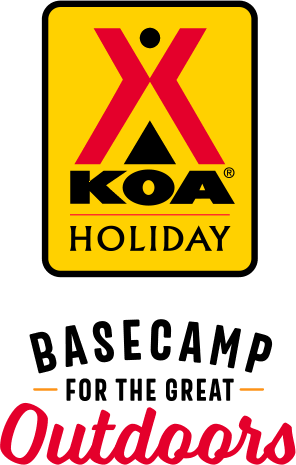 KOA Holiday Campgrounds
Whether you're exploring the local area or hanging out at the campground, KOA Holidays are an ideal place to relax and play. There's plenty to do, with amenities and services to make your stay memorable. Plus, you'll enjoy the outdoor experience with upgraded RV Sites with KOA Patio® and Deluxe Cabins with full baths for camping in comfort. Bring your family, bring your friends, or bring the whole group – there's plenty of ways to stay and explore.
KOA Holidays Feature:
RV Sites with a KOA Patio®
Deluxe Cabins with full baths
Premium Tent Sites
Group meeting facilities
Directions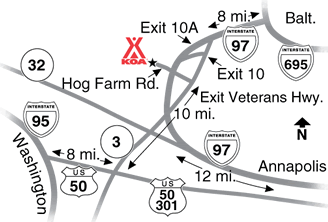 From North/Baltimore I-695 to I-97 South to Exit 10A. Right on Veterans Hwy 2 miles to 1st right turn, go under hwy turn left, go 2 blocks to Hog Farm Rd on right. Follow signs.
From South I-95 North to Hwy 50 East to Hwy 3 North. Exit at Veterans Hwy. One block to first left turn. Go under highway turn left, go 2 blocks to Hog Farm Road on right. Follow signs from there.
Get Google Directions
Oct 14, 2021
We were told over the phone the cabin we rented had heat. It did not. Also many cob webs through the cabin.
Oct 08, 2021
We had a great time! We rented a camping cabin which was extremely spacious and so much less work than setting up tents and blowing up air mattresses! The park and bathrooms were clean and staff was friendly! We will definitely book again next year ..
Oct 08, 2021
Very friendly staff and accommodating. Cabins were a little over priced and can't use some updating inside compared to other KOAs we've stayed at. The nature trail needs some TLC and our group got lost briefly and ended up finding another path back. I would suggest marking the trail and clearing it once in awhile. The kids loved the playground and jumping pillow!
Oct 07, 2021
We stay there oftentimes although we haven't been able to lately but when we got there this year we had a great time thanks so much and we will definitely be back
Sep 30, 2021
We had an amazing three day weekend in the beautiful cabins and picnic grove. We were so lucky and had absolutely perfect weather. Cabins were clean, common bathroom and showers were extremely clean and the staff was wonderful. Can't wait for next years trip!!!
Sep 30, 2021
I was enjoying
Sep 30, 2021
It was excellent, I will return soon.
Sep 29, 2021
The cabin and campgrounds were kept very clean. The only disappointing factor was that the pool was not open due to not having a lifeguard available. During a very hot August stay, I wish that the rate would have been adjusted for not being able to offer this amenity. Other than that, our stay was very nice.
Sep 29, 2021
The cabin was perfect for our needs. Close to our destination which made it very convenient.
Sep 29, 2021
Absolutely wonderful! Clean, quiet and peaceful. We will definitely be coming back.
Aug 17, 2021
Pool was closed the whole time. Only children's activities were the Ice Cream Social and movie Ice Age. It's an ok campground, if you just want to camp and stay to yourselves. Not really kid oriented.
Aug 16, 2021
It was a small campground and quiet. exactly what we were looking for.
Aug 16, 2021
The staff was very accommodating and friendly. The cabin was ready and clean when we arrived. I am looking forward to my next visit to your camp site. I may make a trip just for the weekend to relax from the stresses of life. See you soon, Don
Aug 14, 2021
We had a great time and our cabin was perfect, especially for the price!
Aug 13, 2021
We had an amazing stay we 1st booked a tent site and then then stayed one night and It rained really bad and they put us in a cabin that they had available and provoted what we already paid for. We will definitely be back and the cabins are so cute and fit a family of six
Aug 13, 2021
I had a blast! Booked a second trip while I was still there! I'll be back the weekend of 8/20 :-)
Aug 13, 2021
It was horrible . I rented a yurt and it was smelly dirty and humid . The campground needs some up keeping . Pool was cloudy public bathrooms were a hot wet mess . The only good thing was the welcoming young lady selling popcorn .
Aug 13, 2021
Very nice campground with lots of room for the kids to run and play. The lifeguard was doing his job and got a lot of grief from staff and a mom camper 10 minutes before quitting time. It would've been nice to not witness that frustration.
Aug 13, 2021
My stay at Washington DC Capitol KOA is always a beautiful one. It's a since quiet get away from home. The stay is super friendly wartime I go back they remember no matter how much time has passed. The social events are done tastefully with social distancing the facilities are always clean. I can go one forever but thank you guys for always the best times.
Jul 26, 2021
The cabin was spotless and the staff was friendly and helpful. We had such a nice stay and will definitely be back!!
Jul 16, 2021
Facilities were wonderful- Everything was open and working- Office staff was very nice
Jul 15, 2021
We enjoyed our stay in a Deluxe Cabin that was peacefully nestled in the shady wooded area by the Nature Trail and Pavillion. The location was perfect for camping relaxation when desired and close enough to walk to all the Campground amenities. The pool was very nice with a Lifeguard on duty. Additionally, the Lodge had many items that were interesting and plenty of camping supplies and treats.
Jul 15, 2021
Clean, friendly
Jul 15, 2021
The cabins were adorable and clean. The park was beautiful, clean and the store was well stocked and staffed by nice workers. Bathrooms were always clean too and the laundry room really helped out when we decided to extend our stay a few days!!! If we ever get back to that area we will definitely be staying there again! :)
Jul 15, 2021
friendly and clean. easy in easy out. great location.
Jul 08, 2021
Over all the facilities were nice. However my daughter and I were disappointed when we were asked to leave the pool early during our stay because they didn't have another lifeguard to put on duty.
Jul 07, 2021
The manager was so rude to my daughter. Her cabin had an odor so bad that she could not stay in the cabin. All they wanted to do was spray it and she could not be breathing in the fumes. They would not give her another one and not give her money back. She had to rent a hotel. The manager yelled at her and was so rude. As the week and into the weekend there were cabins empty.
Jul 02, 2021
Not only one of the most expensive, but the showers went uncleaned for 3 days. The only redeeming feature was the back deck off the cabin with a forest view.
May 16, 2021
Loved the cabins and the solitude.
May 16, 2021
The campground and store were amazing and well maintained. The nature trail was a good idea but needs a lot work. There are several muddy parts that required balancing on stick and we got lost twice due to the lack of trail markers. Adding trail markers and boards over the muddy parts would make this an amazing trail
Apr 08, 2021
The smoke detector went off at 2 am because it needed a new battery. It beeped five times every hour and then fifteen beeps at a time starting at 6 am. I waited till 8 am to tell the front desk and no one apologized or seemed bothered that I hadn't slept all night. We left a day early.
Dec 30, 2020
We enjoyed our stay at this campground. The cabin we rented was nice but it had mice and the bed was uncomfortable.
Nov 02, 2020
My family rented numerous cabins for the Halloween weekend. The festivities were awesome, the cabins and public facilities were well maintained, the staff was pleasant. The other guests were very friendly as well. Would recommend, especially for the price.
Nov 01, 2020
I would stay there again if I could get a bigger cabin with a bathroom in it.
Oct 25, 2021
Paid a visit to check out the accomodations for camping. Seems like a nice family oriented place for tent or camper. Staff was friendly and informative.
- Henry Krzemien on Google
Oct 18, 2021
Great time in a cabin for bachelorette party
- Jennifer Berry on Google
Oct 12, 2021
Great value for an overnight stay.
- Barbara Holtze on Google