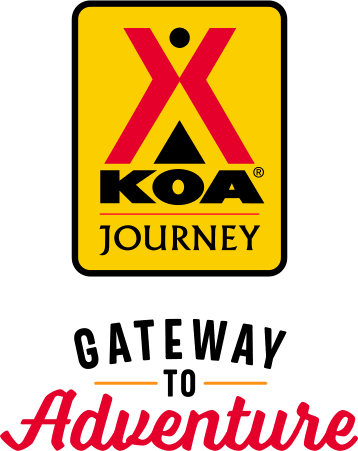 KOA Journey Campgrounds
KOA Journey campgrounds are the perfect oases after a day on the road. Whether it's along the way or a quick getaway, they've got you covered. Located near the highways and byways of North America with long Pull-thru RV Sites, they deliver convenience to the traveling camper. Pull in, ease back and take a load off.
KOA Journeys Feature:
Pull-through RV Sites with 50-amp service
Premium Tent Sites
Well lit after hours check-in service
Directions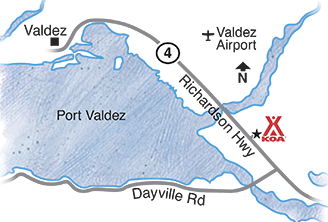 Valdez KOA is located at MM 2 on Richardson Highway. Go approximately 1 mile past Dayville Rd; campground is on the right.
Late arrivals with a reservation, please check your email inbox or junk/spam for a map to your site and campground information; proceed directly to your site using the map. Email or call and leave a voicemail once you are in your site. After hours (5pm) arrivals without a reservation, please follow the instructions on the night registration board on the porch of the office, and email or call us and leave a voicemail to let us know you are here and which site.
Email: valdez@koa.com, Call or TEXT: 907-835-2723
Get Google Directions
Sep 19, 2020
All the staff was beyond WONDERFUL! Accommodating staff, very helpful, informative, clean restrooms'/showers, and the campground was clean and spacious! We felt safe in the campground. The campground was well lite, but not invasive. I made three phone calls before choosing Valdez KOA, and each question was answered professional and in length so I understood fully. We're very happy we chose you!
Sep 14, 2020
Staff was terrific and professional especially dealing with multiple bear encounters in camp.
Sep 14, 2020
We stayed there all summer for work and just wanted to say the KOA team were amazing. Very friendly, they kept everything clean and overall a great experience.
Sep 14, 2020
We had an EXCELLENT time at the Valdez KOA. Hidden gem! Very friendly, helpful staff. Bathroom facilities clean — so nice to have a hot shower! We also really enjoyed the waffle food truck; a fun touch. Logistics were made easy with text message updates upon check-in, during our stay and when we checked out. All-in-all, we had an excellent stay and would highly recommend Valdez KOA. Thank you!!
Sep 14, 2020
Friendly, Comfortable, Clean. Staff go the extra mile (They helped me to get my vehicle "unstuck"). Best campground experience in my many years of camping.
Sep 14, 2020
Great place. Only there for about 10 hours but felt safe and secure.
Sep 12, 2020
KOA Journey TEAM is Fantastic!!!!! Jason, Kristin, Lori, et. al. made our stay the greatest!! We really appreciated the attention to detail throughout the KOA. The team is immediately responsive to guest needs and communications along with the timely notification of bear alerts. We also like the TEAM's daily presence on the golf cart/around the sites. Every year it gets better and better!! J&L
Sep 09, 2020
Camping at the Valdez KOA Campground was fun. Nice, large sites, and easy access to local areas. Great place for viewing bear activity, which was awesome. Staff was super friendly and helpful. Will definitely stay there again in the future.
Sep 09, 2020
It is a very nice KOA, and the staff is great! I am totally using this KOA next time I'm in Valdez.
Sep 09, 2020
Amazing staff at the Valdez KOA kept us accommodated, comfortable, informed, safe, and delighted
Sep 08, 2020
Such an exciting trip! The hosts were fabulous and so very friendly. We had a few "visitors" of the furry kind, in camp, but they stayed on top of it and alerted game management when necessary.
Sep 08, 2020
Phenomenal staff and quick responses. Campground is beautiful!
Sep 08, 2020
The WiFi info was e-mailed to us but it didn't work Internet: Network: BearCreek That was about our only complaint We liked the location and the communication from the hosts Thank you Password: bearcreek123
Sep 08, 2020
This is our second time staying and we've loved it. The staff are all so friendly and accommodating. We'll definitely be back!
Sep 08, 2020
Beautiful park great staff, I loved that they sent text warnings about bears in the area. They also sent son all clear as well. Bathrooms very clean. Staff Amazing. Will be staying their next year
Sep 08, 2020
Very clean camp areas and facilities. The staff was very nice and welcoming. We noticed that they work very hard and are always on top of things when needed. A very pleasant experience.
Sep 08, 2020
The KOA in Valdez AK is a very well maintained and pretty campground. The staff are always friendly and available. We enjoyed our three days and nights very much.
Sep 08, 2020
Caring staff who go the extra mile to make it a wonderful stay. Beautiful scenery, great location, can't wait to go back!
Sep 08, 2020
Your attention was fantastic, thank you Everything was clean and that was appreciated
Sep 08, 2020
We had the best time! Campground was clean & exactly what we were looking for. Our site (#19) was well laid out, nestled in the trees & very level. The staff was super friendly & communication about wildlife activity within the campground was much appreciated! While this particular campground doesn't have sewer hookups we appreciated the free honey wagon service! Can't wait to go back!
Sep 08, 2020
Very nice and helpful staff and very clean facilities
Sep 08, 2020
We had an amazing time. Staff was great, attentive and my whole family was impressed with the measure they have taken to deal with COVID. The constant roaming of an employee on the golf cart made us feel great about the persistent bear we dealt with. We've already said we will be back here whenever we drive down to Valdez!
Sep 08, 2020
Valdez KOA was wonderful! Great sites, attentive hosts (esp Lori!) and safe! There were several bear presence and they took immediate action to text everyone and notify them w instructions on staying safe. We will absolutely be back in the future.
Sep 08, 2020
Very well maintained and kid friendly. complimentary Coffee and donuts in the morning :) made my day.
Sep 07, 2020
Amazing customer service and communication. Friendly and accommodating staff. We will always stay at the KOA when visiting Valdez.
Sep 07, 2020
In my opinion, the best RV campground in Valdez. The staff are all friendly and helpful. The bathhouse were cleaned constantly and the campground is clean. We saw the staff around all the campground all day and they responded to our calls and text immediately. The staff really care about the guest and the campground and it shows.
Sep 07, 2020
Went to Vadez for fishing and camping. Extremely good time. Wonderful staff at KOA. Loved it and will be back. We got a flat tire on our camper trailer and they were helpful with getting me a compressor and were genuinely concerned with our well being.
Sep 07, 2020
Nice facilities . Great staff. A little tight on space but just fine.
Sep 06, 2020
Pleasant cabin to come back to after a day of wet adventures in Valdez!!
Sep 06, 2020
Loved the virtual concierge! Great location and amenities. Appreciate the constant cleaning and sanitizing for bath house.
Sep 06, 2020
Staff-- helpful --campground neat and clean but what stood out in my mind was the attention to the bathrooms in this time of covid-- after living in alaska for 50 years I have come to expect lack luster service and amenities -- the Valdez KOA met high standards for any campground facility in the lower 48
Sep 05, 2020
Excellent hosts, beautiful campground, enjoyed our stay very much.
Sep 05, 2020
Enjoyed our stay there, we'll be back next year. Thanks Jason
Sep 04, 2020
Great place to stay
Sep 03, 2020
It was great. This is our third time staying here and we will come back.
Sep 01, 2020
Very clean!!
Sep 01, 2020
Great campground, very clean. Bathrooms were nice. Team did a good job of informing everyone when a bear entered the campground.
Sep 01, 2020
It was great! Everything was so clean and well maintained. Staff was helpful and friendly. We will definitely come again :)
Aug 31, 2020
Clean and great views
Aug 31, 2020
Clean and we'll maintained campground. Kind staff and clean restrooms. Thanks
Aug 30, 2020
Beautiful campground. Loved our cabin. It was clean and comfortable. We definitely plan to return.
Aug 30, 2020
I had a wonderful stay at KOA. The good folks there treated me with kindness and answered any questions I may have had quickly and to make sure I was happy during my stay. I expect to return next year and KOA will certainly be the place I will want to continue to stay each year going forward.
Aug 30, 2020
The campground was easy to get in and out of, and we loved the trees and natural fauna. The hosts were extremely accommodating and the restrooms were exceptionally clean and nice. We will definitely stay there again when we go back to Valdez, and will look for other KOA campgrounds in other areas.
Aug 30, 2020
We Love Valdez KOA. We stay here every time we come to Valdez. It's a ways out of town but it is quiet and beautiful. Very spacious camp sites, clean, the staff is extremely friendly. I would reccomend this place to anyone and everyone. Thank you!
Aug 29, 2020
Nice campground. Showers were nice and clean. Only negative was that someone stole our firewood while we were gone fishing. I paid 8 dollars per bundle. Had to go to town and buy more.
Sep 14, 2020
Excellent campground, will go back next year.
- James Grubbs on Google
Sep 14, 2020
Excellent location and well maintained park. Has about everything you need for a relaxing stay. We will visit again.
- Dennis Rollins on Google
Sep 08, 2020
Great camp ground. Saw a black bear. People were great and great facilities.
- Steven Dauwe on Google