Local Area Attractions Near Valdez KOA Journey
Valdez KOA Journey, your gateway to adventure.  There is so much to see and do in Valdez and our Campground gets you close to all the action. ATV (All Terrain Vehicle) Tours, Sea Kayaking, Heli Flight-seeing Tours, Wildlife and Glacier Day Boat Cruises, Fishing Charters, Hiking, and so much more!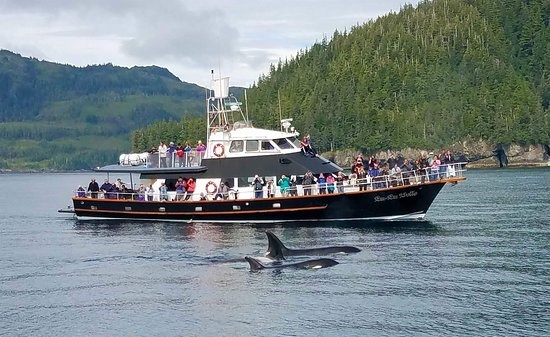 LU-LU Belle Glacier Day Cruises
Imagine being near the face of calving glaciers, watching huge chunks of ice fall into the ocean as the rumbling crack of breaking ice fills the air. Valdez has so many accessible, breathtaking glaciers to explore.  Sail up close onboard the Lu-Lu Belle Wildlife & Glacier day boat cruise to Columbia Glacier.  Spot Humpback and Orca Whales, Sea Lions, Seals, Sea Otters, Dall Porpoise during your journey to the Glacier. Guests love this cruise and agree with us when we say "THE BEST AND MOST ENTERTAINING" Day Cruise in Valdez. Stop by the Office on arrival to purchase your tickets for a day full of memories and excitement!
North Harbor Drive
Valdez, AK 99686
Valdez Off-Road Adventures
Let someone else do the driving!  Enjoy a 6.5 Mile (13 Mile round trip) ride up beautiful Mineral Creek Canyon departing from downtown Valdez. View numerous scenic waterfalls along a majestic valley winding into the Chugach Mountains. Suitable for all ages and ADA friendly.  Step back in time into Valdez's rich gold mining history! Imagine seeing bears, waterfalls and historical buildings all in the one tour!  Not to be missed during your stay.  Stop by the Office to find out more - you'll be glad you did!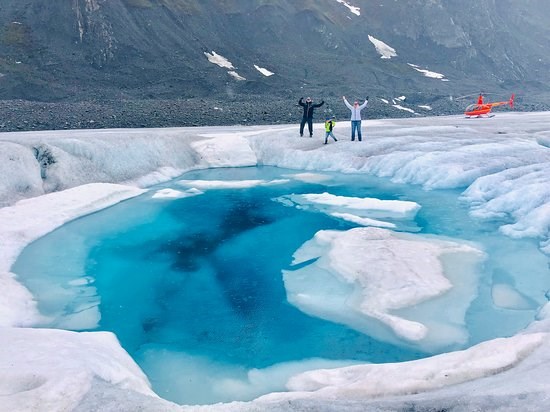 VS Helicopters Flight Seeing Tours
Panoramic view of Valdez with its sheer beauty experienced from above. See wildlife, icebergs & waterfalls from the sky. Package & custom tours to suit your needs. Take off today!   Stop by the Office for booking assistance.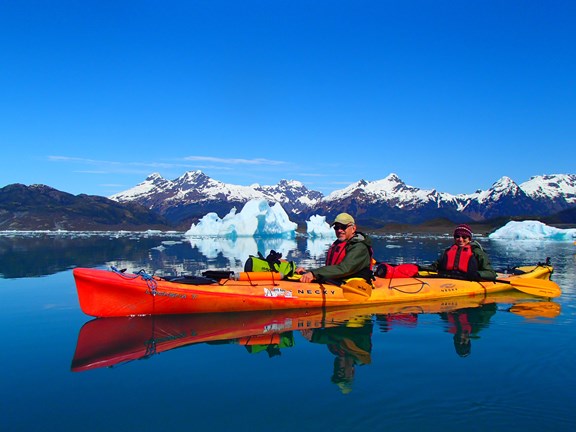 Anadyr Adventures
Valdez Glacier Ice caving, hiking & historical tours. Sea kayaking for a day or week in Prince William Sound. Experienced guides lead you to amazing scenery, glaciers & wildlife. No experience necessary.
Anadyr Adventures offers four types of trips: day trips for those with limited time in Valdez, multi-day camping trips, Mothership trips for those desiring the amenities of a support vessel, and lodge based trips offering Prince William Sound day excursions from the comfort of a remote Alaskan wilderness lodge.
Pick up your informational brochure at the office.
North Harbor Drive
Valdez, AK 99686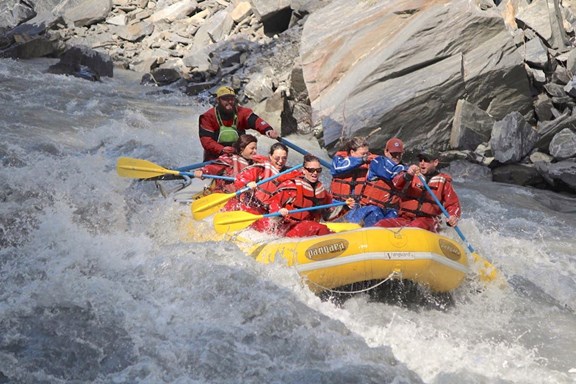 Pangaea Adventures
Join this upbeat, knowledgeable crowd, as they offer a unique means of exploring a remote beautiful corner of Alaska. Sea kayaking among icebergs in Prince William Sound, rafting the canyons of the Chugach Mountains, backcountry hiking into the depths of Wrangell-St. Elias National Park.
Pick up your informational brochure at the Office.
North Harbor Drive
Valdez, AK 99686
Local Area Recreation Near Valdez KOA Journey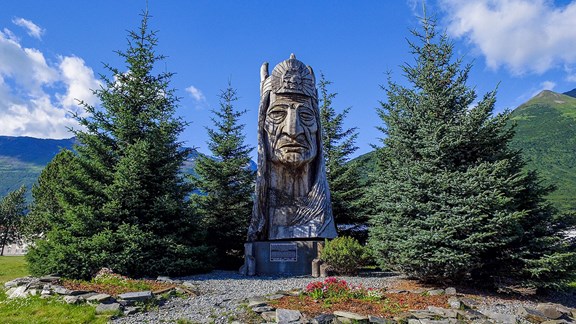 Visit The Famous Peter Toth Carving
You will find Whispering Giant number 40 here in Valdez, along Pioneer Drive, just 10 minutes from the Campground in downtown
Valdez. This one was installed in October 1981 and stands 30 feet high.  Peter Wolf Toth (born December 1947) is a Hungarian-born American sculptor, who immigrated to the United States and settled in Akron, Ohio. He later studied art at the University of Akron.  He created a series of sculptures called Trail of the Whispering Giants to honor Native Americans.  Overall, he has created more than 74 sculptures, including at least one in each state of the United States, and in several Provinces and territories of Canada.
The 74 Whispering Giants range from 15 to 40 feet (4.6 to 12.2 m) in height, and all resemble natives of the region in which they are located. Toth always donates the Whispering Giant he creates to the town he carved it in, and never charges a fee for his time. Toth used a hammer and a chisel as the basic tools to create the Whispering Giants, but on occasion he used a mallet and an axe, rarely power tools. Before starting work on a Whispering Giant, Toth confers with local Native American tribes and local lawmakers. The sculpture that is created is a composite of all the physical characteristics, especially facial features, of the local tribe or tribes, as well as their stories and histories.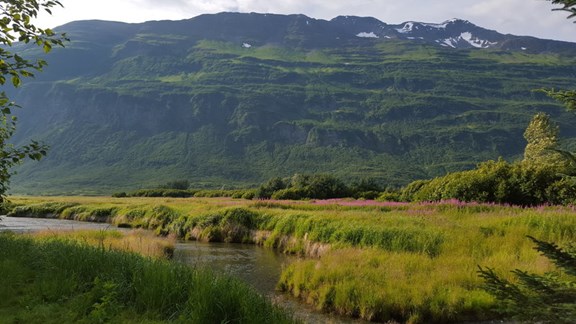 Hike The Many Trails
Adventure out from the Campground along the walking path that is in front of the Campground Entry, or explore in and around Valdez for the most accessible hiking trails in Alaska.  There are trails to suit everyone's capability, from a short, easy 20 minute trail at Dock Point or much harder trails, like John Hunter Memorial Trail, some with boardwalks and most with majestic views.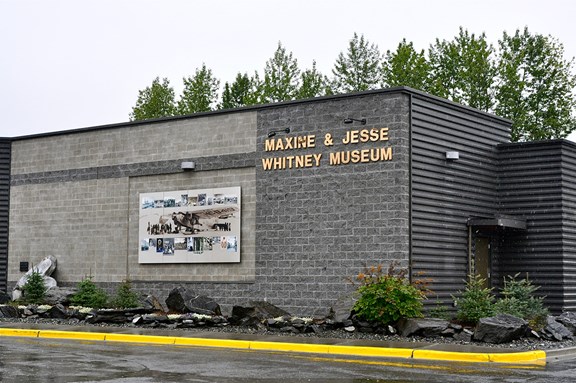 Visit The Many Museums
Learn about Valdez's history by visiting the many museums in downtown, just a 10 minute drive from the Campground.  The growth and settlement of Valdez was attributed to fur trading, salmon canning, and gold and copper mining.  During the Klondike Gold Rush of 1897-98, prospectors came to Valdez believing the Copper River and Valdez Glacier 
to be the entry to the interior gold fields.  From 1910 to 1916, copper and gold mining flourished in the area.  In the early 1970's, Valdez became the staging area for work on the lower portion of the Trans Alaska Pipeline.  Today, Valdez hosts the Valdez Marine Terminal, which is the southernmost end of the 800-mile oil pipeline. Valdez has several Museums for you to explore, so make sure you allocate a half day to experience them all. The Maxine and Jessie Whitney Museum holds the largest Alaskan native artifacts in the world and free to enter. A kind donation would be appreciated.  Visit the Office for a local Map and more information on how to experience this amazing Museum.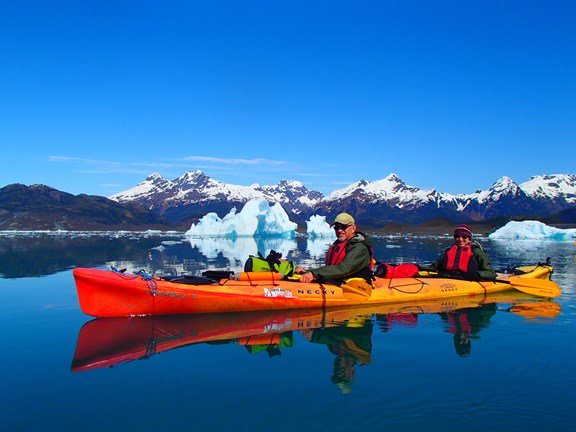 Sea Kayaking
Valdez has so many accessible, breathtaking areas to explore. Kayak to Shoup glacier and be surrounded by huge chunks of ice. Be on the lookout for cute sea otters or perhaps fish from your Kayak. Don't have a Kayak? We will put you in touch with the many tour guides that can take you into picturesque places that will make never ending memories.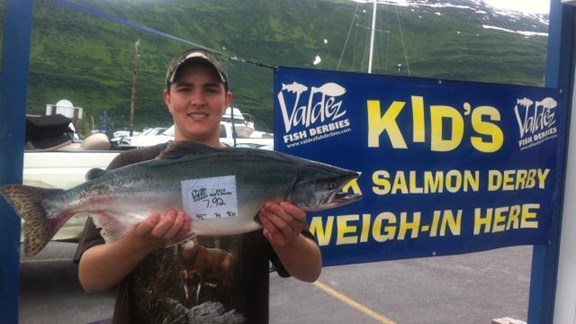 Take the Kids Fishing
Each year Valdez Fish Derby Association hosts the Kids Pink Salmon Derby. Pink salmon are a great introduction to fishing for kids.  Because of the largest pink salmon hatchery in North America, based along Dayville Road (1 mile turnoff from the Campground), these types of salmon are plentiful, easily accessible and a lot of fun for your kids to catch. Valdez Fish Derbies also puts on a barbecue and hands out prizes to the kids during the day. This is a great family fun day to get hooked on fishing for all ages.