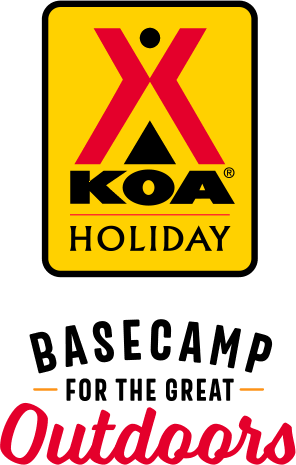 KOA Holiday Campgrounds
Whether you're exploring the local area or hanging out at the campground, KOA Holidays are an ideal place to relax and play. There's plenty to do, with amenities and services to make your stay memorable. Plus, you'll enjoy the outdoor experience with upgraded RV Sites with KOA Patio® and Deluxe Cabins with full baths for camping in comfort. Bring your family, bring your friends, or bring the whole group – there's plenty of ways to stay and explore.
KOA Holidays Feature:
RV Sites with a KOA Patio®
Deluxe Cabins with full baths
Premium Tent Sites
Group meeting facilities
Directions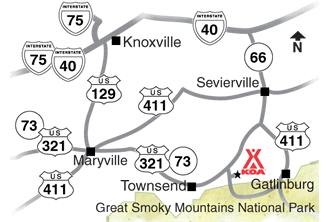 From Maryville, US 321 N toward the Great Smoky Mountains National Park, 1 mile straight through stoplight on Hwy 73.
Get Google Directions
Dec 02, 2020
Wonderful place with great people!
Dec 02, 2020
We had to leave a day early due to incoming bad weather. They were nice about it and understood. Didn't expect a refund but they refunded us. Really appreciate it. We'll be back next spring!
Dec 02, 2020
Loved it. We've been there around 8 times over the years. Love the quiet and also the fun things to do. We stayed in cabin #14 and there were coons under the porch....FYI!
Dec 01, 2020
You have a very nice campground, I had a 43 foot 5th wheel, and your camp sites do not accommodate these type of large campers very well,
Dec 01, 2020
Great friendly people. Place was clean and amenities were outstanding. One thing, if you could start the leaf blowing just a tad later in the morning for those that sleep on...
Dec 01, 2020
We stayed in spot #80 right on the river. We had a beautiful view, fantastic patio and nice fire bowl. We have a 38 foot rig and small car and had plenty of space. The park is clean, well maintained and the staff were super nice and helpful. It's also located just outside the Smokey Mountains NP entrance. The KOA was by far the nicest spot we saw in the area.
Nov 30, 2020
Always love staying at the Townsend KOA on a river site. One of our favorite places to stay!
Nov 30, 2020
The KOA in Townsend is our favorite vacation that we look forward to every single year! It's beautiful, well-kept, & everyone is so friendly. It's close to the touristic places & things to see but so nice to be away from that as well! We love it!!!
Nov 30, 2020
Excellent campground. We have stayed here for years. Very clean. Exceptional staff.
Nov 30, 2020
We always have a great time staying at Townsend KOA. The workers are very friendly and helpful. They go way above and beyond to make sure we have a great time.
Nov 30, 2020
This was our second stay in a river front cabin. We enjoyed it more than the first. The cabin was clean and had everything we needed for our two night stay. Our favorite place is the outdoor area with the fire pit. The sound of the river as it flows by makes for the best atmosphere.
Nov 30, 2020
Since our last stay, the campground has been updated. The sites are very nice. Not as much room as before the update. Look forward to staying here again.
Nov 30, 2020
Wonderful stay and staff
Nov 30, 2020
Our stay was good, the only complaint is there was a gentleman who worked there who was on a golf cart. I am not sure what his title was but he was rude to us on more than one occasion. Other than that everything was great.
Nov 30, 2020
Very helpful staff!! I really liked the text option to have ice and firewood delivered to the camp sight.
Nov 30, 2020
We came in very late to an extremely small site, probably the last of what was left because we booked right before we left. The next morning we were greeted by staff with options of opening sites. We were able to move to riverside a beautiful and big site. The staff was GREAT and the bath house clean. We will go again
Nov 30, 2020
Staff was amazing. Very help and very polite. I can't wait to come back. Great job!!
Nov 29, 2020
Enjoyed our stay , very clean and well run
Nov 29, 2020
Everything was great at the camp site but the cabin it self was nice except that the door is sticking very bad and there were small roaches in the kitchen area,we had a great time there ,would defiantly come back if bugs were gone this is from Mitch's mom not Mitch.ps we had a great time and the staff we met were great,thank you Mrs.Ashton.
Nov 29, 2020
Everyone was so nice and friendly! Great experience!
Nov 29, 2020
Beautiful location. Wonderful staff. Everyone there is helpful and very friendly.
Nov 29, 2020
Great location and great customer service!
Nov 29, 2020
Everything was great the service was great
Nov 29, 2020
The staff is amazing! Quick to respond to any need. This is one of our favorite places to stay. Beautiful and clean!
Nov 29, 2020
Signage to spots could be displayed and marked more convenient- when pulling a bigger camper it's needs to be easily marked which way site is.
Nov 29, 2020
Great, friendly staff, clean campground, perfect location, good sized sites and clean, cozy cabins.
Nov 28, 2020
Great cabin loved being right on water. Wish you could add 2 more twin mattresses in loft area Service great hope to be back next yr Grandkids loved it the island was a lot of fun for them Bye and Merry Christmas
Nov 28, 2020
Great location and friendly, helpful staff.
Nov 28, 2020
Pros: clean sites with concrete pads and nice fire pits, near the river, male employees very helpful, firewood and propane available right there, beautiful area Cons: WiFi is sporadic, one night it was down at 7:30 which is a big deal when you're paying for it and it's very cold outside, we were told that the WiFi is not for watching TV or movies?????, can't pick spot or area you desire.
Nov 28, 2020
Great stay! So peaceful In Townsend!
Nov 28, 2020
The website lists the tent sites as "secluded" and they are not. I felt I was camping in a Walmart parking lot. There's so many people crammed into that area. I had planned on being there for three nights and left after the first. It might be great for RVs. But honestly there shouldn't even be tent sites there it's a joke.
Nov 27, 2020
Always enjoy our stay. It was nice to meet Holly and Morgan. Sweet people.
Nov 27, 2020
The staff and the cabin was excellent! We enjoyed our five day stay at the Townsend/Great Smokies KOA! Our cabin had everything that we could possible need to enjoy our camping experience. We will be back next year!!!
Nov 27, 2020
We have stayed here many times over the years and have always had a great experience. The staff is friendly and ready to lend a hand if needed.
Nov 26, 2020
Everyone was very friendly, efficient and helpful! Two KOA employees even helped us with a leaky slide out problem on our RV (Dominic and another gentleman). Wonderful oasis just minutes from Cades Cove!
Nov 26, 2020
We stayed in June and really enjoyed it. It's is very clean and has friendly staff. Highly recommend it and will look forward to returning in the spring.
Nov 26, 2020
Loved to be on the water and your staff was very helpful! We were disappointed that the fudge shop was closed and that there was not a car rental that would come to this KOA. Next time we will stay in Pigeon Forge.
Nov 25, 2020
tHIS WEEKEND WAS AN UNORTHODOX, FOR ME AT LEAST, CELEBRATION OF MY 70TH BIRTHDAY AND IT WAS PERFECTION FROM BEGINNING TO END. I CAN'T WAIT TO CELEBRATE MY 71ST WITH TOWNSEND KOA AGAIN NEXT YEAR. THANK YOU
Nov 25, 2020
We have enjoyed staying at the Townsend KOA and our recent visit was another success. The staff are very friendly and helpful, with folks patrolling the campground to ensure that campers' needs are addressed. The property is well-kept and the sites spacious. The setting is very nice, with beautiful surroundings and a lovely stream bordering the campground. We highly recommend this KOA to friends
Nov 25, 2020
The Townsend campground is very nice, better than the Cosby or Gatlinburg east location. Issues we experienced were suboptimal septic drain placements, dangerous location of the playground and basketball area, and inconsiderate campers who didn't supervise children and left dogs behind as the camper and family got out and about. The dogs howled and barked nonstop when left behind.
Nov 24, 2020
I love this campground. The setting snuggled up to the Little River is beautiful. The campground is extremely clean with nice level lots and the patio with built-in fire pit is a fantastic feature. This was our third stay at Townsend KOA, and we are looking forward to our fourth.
Nov 24, 2020
We had an amazing time enjoying the mountains and the river!! The staff were all so friendly and helpful, especially David who helped fix an issue with our pop-up crank weld. Everyone truly went above and beyond to make our stay absolutely perfect!
Dec 01, 2020
The campground is well kept, the cabins were great, and the staff were friendly! Already talking about staying here again!
- Rachel Myers on Google
Nov 29, 2020
Best KOA ever! Beautiful, clean and amazing staff!
- Bonnie B on Google
Nov 22, 2020
This is the most awesome KOA we have ever stayed at. The sites are large with either a paver or decorative precast concrete patio and a large fire pit bowl. We stayed in November after the trees had lost their leaves. I can only imagine what this campground looks like in the fall. We had a site on the river and felt like it was a second honeymoon. The management will do their best to accommodate your needs with only a text. After every departure leaves ar blown from the site and fire pits are cleaned. We can not wait until next year to stay again.
- rlgsgi on Trip Advisor