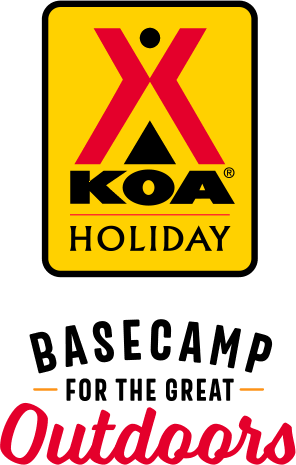 KOA Holiday Campgrounds
Whether you're exploring the local area or hanging out at the campground, KOA Holidays are an ideal place to relax and play. There's plenty to do, with amenities and services to make your stay memorable. Plus, you'll enjoy the outdoor experience with upgraded RV Sites with KOA Patio® and Deluxe Cabins with full baths for camping in comfort. Bring your family, bring your friends, or bring the whole group – there's plenty of ways to stay and explore.
KOA Holidays Feature:
RV Sites with a KOA Patio®
Deluxe Cabins with full baths
Premium Tent Sites
Group meeting facilities
Directions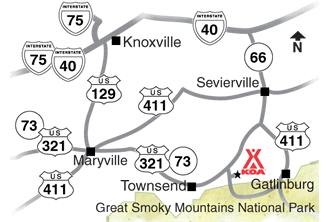 From Maryville, US 321 N toward the Great Smoky Mountains National Park, 1 mile straight through stoplight on Hwy 73.
Get Google Directions
Feb 20, 2021
Restrooms were nice and clean! We only had an issue one chilly night when the heater could not seem to warm up our cabin.
Feb 18, 2021
The campground was beautiful, and so close the to Smokie Mountains, the bathhouse were very clean and updated as well.
Feb 17, 2021
Wonderful experience
Feb 16, 2021
The best campground around. This is our go to place to stay. The staff is awesome. It's great to see the same faces year after year.
Feb 16, 2021
What a great campground! We will definitely be coming back!
Feb 16, 2021
Love the renovations to the deluxe cabins exterior! Also new landscape around cabins very nice too!
Feb 16, 2021
Great location, easy to get in and out of. Staff was very helpful and friendly.
Feb 16, 2021
Love this place! The staff is always very friendly and accommodating. The team there always seems to be looking to enhance and update the campground each time we are there. Keep up the great work!
Feb 16, 2021
During our 2 nights we experienced helpful staff, clean and warm bathhouses, and pleasant neighbors. Would love to return!
Feb 15, 2021
I love this campground Clean Great location People are always amazing to work with Can't say enough good about it!!!
Feb 15, 2021
A wonderful park. Wonderful staff. Highly recommend to anyone planning a trip to the area.
Feb 15, 2021
Great service and clean nice cabin. Thank you!
Feb 15, 2021
Relaxing and wonderful. Very clean and friendly campground.
Feb 15, 2021
We arrived late, but the check in process was smooth. We were very happy with our site! Despite the rainy weekend, we will absolutely be coming back once it warms up and we can explore more of the area. Our girls enjoyed the playground across the street, wet slides and all! Thank you KOA :)
Feb 14, 2021
Very friendly, very helpful, clean facilities
Feb 11, 2021
The front desk lady was very rude, but the site itself was nice by the river.
Feb 08, 2021
Our favorite KOA! The staff are all so helpful and friendly. And what a beautiful setting on the river. This was our second time in 4 months. We will stay here at least twice each year — it's a 7 hour drive for us. Can't wait to go back in April.
Feb 08, 2021
The entire staff was great!!!
Feb 08, 2021
Felt very welcome at this exceptionally clean and well maintained KOA! Staff was very helpful from helping us back our RV in to answering many questions. We enjoyed our stay so much that we went ahead and booked a future reservation!
Feb 04, 2021
Loved it!!! Very clean and very helpful. Have already booked our next stay...
Feb 03, 2021
All of the workers/employees were very friendly, especially the lady that checked us in and the gentleman that took us to our camping spot. They took the time to help us back into our spot as well as warn us of potential freezing water if we left our water hoses attached. Very clean campground and very clean bathrooms as well. We will definitely be coming back this summer!
Feb 03, 2021
Great stay. Friendly and helpful staff! Would definitely stay again.
Feb 02, 2021
We had a wonderful stay at Townsend KOA. The setting is a perfect campground setting, lots of trees, very clean. Everyone was very pleasant and helpful. We are definitely planning to stay here again!
Feb 01, 2021
Wonderful well kept facilities. Staff were amazing.
Feb 01, 2021
This is my second time staying here and as always, I loved it!! The wifi is a little iffy at times but all in all a wonderful, peaceful stay. Thank you!
Jan 31, 2021
Love staying at the Townsend KOA!!! Beautiful place!
Jan 29, 2021
It was great as always! I text the office for a request of a grate for our fire pit- they brought it in less that 3 mins. Everyone was friendly and very helpful. We can't wait to come again.
Jan 29, 2021
We loved our stay. It was a last minute getaway and we couldn't have picked a better place. We absolutely loved our own little private patio with table, chairs, firepit and gas bbq grill.
Jan 29, 2021
Very quiet, relaxing. Staff was always friendly and helpful. Hope we can visit again.
Jan 27, 2021
This was the best KOA so far after 5 weeks of moving around the country. Very friendly and professional staff. We will be back!
Jan 25, 2021
Our site was beautiful. Easy to get into and level. Kids loved the play ground. Friendly staff and nice facilities. Will definitely be back when its warm.
Jan 25, 2021
I rated high because this campground is so clean and well kept. We had a really good night Wednesday and Thursday, but Friday and Saturday was a different story. We have camped for 20 years now and these two nights were the worst we've ever experienced. The people behind us were very loud. Slamming their camper door.. a lot!! Maybe it's the younger generation, but we were taught to be respectf
Jan 25, 2021
We had a great weekend at this KOA! Everything was very clean and the staff is super helpful. Being able to send a text to have firewood, propane, etc delivered to your campsite is a definite plus. We will definitely be back!
Jan 25, 2021
This was a great KOA campground. Close to things to do, very easy to get to and very accommodating for us and our dogs
Jan 25, 2021
Amazing stay. Staff was incredible. Most beautiful camp site I've seen outside of BLM or US Forest. Thank you.
Jan 22, 2021
Nice staff; great site; good location
Jan 21, 2021
Been going there since 1970 and will continue to go there. Since i no longer own a camper i will stay in the cabins KOA has provided. Love the location and courteous staff.
Jan 21, 2021
Staff was very friendly and very willing to help with anything we needed... will definitely look forward to staying with KOA for my future tent camping adventures!!!! The grounds and restrooms/ showers were extremely clean also
Jan 20, 2021
The camp cabins were very warm and comfortable on a cold, winter weekend, and the entire campground was incredibly clean. Everyone there was super friendly and helpful, as well. I definitely want to come back.
Jan 19, 2021
Nice park. Nice people. The one thing that keeps me from staying at KOA most of the time is sites are too close to each other. I actually had to walk on the patio of the next site when setting up and tearing down. Their fire ring was also close to our camper which kept them from having a fire.
Jan 19, 2021
Great place to stay, cabin was very clean and cozy.
Feb 25, 2021
This KOA is awesome! Beautiful campground with some river sites. Staff is kind and helpful. Close to GSMNP entrance. Will definitely be back!
- K Kll on Google
Feb 24, 2021
Lovely KOA! Our whole family loved it. We stayed at a deluxe cabin and it was riverside with a fire pit! Also the staff are super nice, the facilities are awesome (great laundromat, playground, and large showers in the bathhouse- though the deluxe cabins do have them as well), and very close proximity to some great hikes in the NP and some great restaurants to eat at.
- Alicia Bartholomee on Google
Feb 10, 2021
We love staying at this location. The staff is very friendly, the grounds are beautiful and everything is clean.
- Tammy Marsh on Google