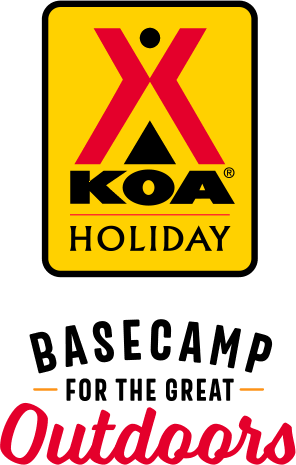 KOA Holiday Campgrounds
Whether you're exploring the local area or hanging out at the campground, KOA Holidays are an ideal place to relax and play. There's plenty to do, with amenities and services to make your stay memorable. Plus, you'll enjoy the outdoor experience with upgraded RV Sites with KOA Patio® and Deluxe Cabins with full baths for camping in comfort. Bring your family, bring your friends, or bring the whole group – there's plenty of ways to stay and explore.
KOA Holidays Feature:
RV Sites with a KOA Patio®
Deluxe Cabins with full baths
Premium Tent Sites
Group meeting facilities
Directions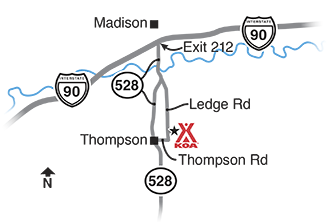 Located only 4 miles off Route 90 Exit 212/Route 528. Take 528 South 2 miles to Ledge Rd. Head east 2 miles; campground is on the left.  Road is dirt for about a mile.
If you would like to stay off dirt as much as possible.  Take 528 South past Ledge Rd.  Take the round about in the Thompson Square and head east on Thompson Rd.  Take a left on Ledge Rd. at the bottom of the hill.  You will still be on dirt but for a much shorter amount of time... less than 1/4 mile.
Get Google Directions
Sep 09, 2021
We believe we reserved a 2 bedroom cabin we got a conformation was put in #5 a great room with separate bunks bar size fridge. We were very unhappy no place to sit other than the bed and a hard dinig chair. Office said they would left management know to this day never heard from anyone. Cabin was clean very nice just not what we spent a lot of money and time to come there for from fla. Camp ok
Sep 09, 2021
The staff was very helpful volunteering to relocate our reservation to a better site when heavy rain was forecasted.
Sep 08, 2021
We had site F4, Andy biggest complaint is all the apples on our lot. Most were rotten & carried a lot of yuk on our shoes. I felt they should have been cleaned up a lot better. So we changed sites for next year, hopefully that will help.
Sep 08, 2021
Place was very clean, friendly and helpful. We have been coming to this campground for past 15 years. Even though we have watched it change hands a few times, we were very satisfied with our latest trip. Only good things to come! Nice job, Glen!
Sep 08, 2021
Air conditioner didn't work, it got cool But not cold. It smelled musty! Golf cart broke night before our last stay.
Sep 08, 2021
Beautiful family friendly campground with very nice onsite owners who care.
Sep 08, 2021
stayed 3 days on our favorite site. many features of the park were not open due to lack of employees. since KOA Corporate took the park over, it is not as well maintained as when it was privately owned. I believe the people working there that KOA will make the improvements over the winter. I have already booked for next year.
Sep 08, 2021
We stay every year here for Labor Day weekend. I must say that this year we were a little disappointed. Although the campground itself was as beautiful as always what we found disappointing was the lack of any type of wagon rides or hayrides, the cafe was closed so we could not get any of the pizza or snacks we are used to having by the pool. The ice cream was not available either.
Sep 08, 2021
Great family campground with lots of activities & open spaces. Even good for oldies like us. Park is well maintained & has a friendly staff. Our site, as with most, was wide & level & more than long enough for our tow vehicle & 40' travel trailer. Quiet hours observed by all. The only problem is getting there down a bumpy 1 mile gravel road. Come in the back way, 1/4 mile of smoother gravel.
Sep 08, 2021
Sight was not cleaned up from previous user
Sep 07, 2021
The koa was a lot of fun!! They had a band Saturday evening that was good! Our site had a cool tower deck to watch the band!! Definitely recommend this KOA!
Sep 05, 2021
We have been here several times, and we always enjoy our stay here. The ppl are friendly and helpful, and the campground is nice and well-kept.
Sep 04, 2021
Fairly private pull through full hookup site for a Viking 16 fb…worked out well! Only issue were the flies… !
Sep 04, 2021
Great property, lots of money in this park Unfortunately the front desk doesn't reflect the Owners interest in their investments Your check in will make or break your park! This is why we will not return! I was told park not satellite friendly? My site was in the trees deal with it! Got out the door and saw a great big open field! Went back to front desk in disgust she moved my site !
Sep 04, 2021
Clean campground. Lovely campsites! Everyone was very friendly. Only thing we did not enjoy was all the traffic coming and going up front by our site.
Sep 04, 2021
Our campsite was very clean, level, and dry. Everyone was very helpful.
Sep 04, 2021
We really enjoyed our stay. The staff was friendly and helpful. We will be going back.
Sep 03, 2021
We had a brief overnight stay-staff was helpful. We arrived after 7 on a weeknight and everything was closed for the night. Weeknights seem very quiet and seems likely that amenities are catered to the weekend. Attempted to purchase ice on the way out but they were out.
Sep 01, 2021
We had a great time as always just concerned about the corporate ownership, they don't serve hot food at this time, didn't have the rental teepees up, and no ice on a super hot weekend ( not sure if they ran out or under ordered ) I hope someone in corporate sees this post and fixes the problems, it is a very nice campground so please try to keep it that way!
Aug 31, 2021
My wife and I broke down on I 90 on Wed 11th, We got our truck towed to a repair shop and I found this KOA on my rvparky app. On Wednesday I call and spoke with K'Lora and she had a reservation for two nights as everything was booked for the weekend. We didn't get the fifth wheel towed until the following day. I spoke with K'Lora again and expalin what happened and we we on the way to KOA. Continu
Aug 30, 2021
Great place and staff
Aug 30, 2021
One of the best KOA's yet! excellent staff VERY helpful clean bath house So much fun!!! Can not wait to come back next year!!!!!
Aug 30, 2021
Very nice campground a lot bigger than we expected
Aug 30, 2021
Great park with lots of room for big rigs. A little out of the way for visiting Cleveland but would stay here again
Aug 28, 2021
T10 was our spot. Very woodsy. The employees were all very helpful. Nice clean campground.
Aug 28, 2021
First time staying here. Very quiet, lots of room at individual site. Very friendly staff!
Aug 28, 2021
The staff was extremely friendly and helpful. They were very patience with us when we had a "slide issue" on our fifth wheel. The park is full of family activities. The dog park is huge and very clean. We had an awesome visit!!
Aug 27, 2021
We had a very pleasant, shady campsite with a lovely view of the lake. The grounds were well maintained and very nicely landscaped.. Though we had no kids with us there seemed to be lots of play areas and activities for kids. The staff was helpful & friendly. Shower house & laundry were clean and looked to be newly remodeled. This was our favorite KOA on our summer trip.
Aug 27, 2021
Everything was great. Only thing was it was very hot outside and only place to eat was outside on deck which was nice but no shade. But everything was clean and everyone was very nice.
Aug 27, 2021
Did not like the road to get to the campground. It was very, very rough. Once in the campground our stay was just fine. Wish we could have stayed longer than 4 nights.
Aug 26, 2021
We have stayed here multiple times. It is a well kept campground! Easy in Easy out! Nice people running the place. Check in staff very helpful! We were shown to our site by a man in a golf card. Hookups worked well!
Aug 25, 2021
This is one of the nicest campgrounds I have ever visited. The spots are flat and spacious, and the entire campground is laid out in a way that makes sense! There is so much greenery as well; most campgrounds don't have even half of what this place does! The local area offers a lot to see and do as well. I can't wait to visit again in the near future!
Aug 25, 2021
Excellent! We really enjoyed out stay. Only suggestion would be dishes. Please replace non-microwave safe plastic dishes with ceramic. Add a serving bowl and spoon and some steak knives. Cabin was clean, bed was comfortable, staff was friendly. The kids had a great time. We will be back next year!
Oct 12, 2021
We really enjoyed our stay here! Had a Deluxe Cabin for 2 nights and it had many amenities included which made our packing much easier. Amenities aren't listed clearly on website. (Bedding,Towels, dishcloths,cups, plates,bowls,silverware, microwave, small fridge, coffee maker, toaster,(nostove),propane grill(they furnish propane,) dish soap, garbage bags, toilet paper, etc. Great kids park with a huge bouncing pillow. Large dog park! Swimming pool, ponds, beautiful views and landscaping. If you're into Halloween this place fills up and most everyone decorates their places! I guess it is a big deal for all ages! (We stayed Sept. 29-Oct1)
- Sherry on Google
Sep 23, 2021
Nice place with lots of amenities.
- Matthew Ebert on Google
Sep 17, 2021
🌾 I love the folks KOA hires to run their campgrounds. The employees are always polite, always helpful, always happy and pleasant. For example, today K'Lora and Evan were working in the office. Not only were they Super wonderful when we checked in, they found my missing phone. And when I came to the office to see if it had been turned in, K'Lora said, " I'm so glad you came to get it; I noticed it only had 3% battery so we charged it in case someone called it". I mean, how considerate was that? 😊 Thompson KOA has worked To make improvements to the campground a little bit each year and it really is a special place to come. The lake is gorgeous. The pool is nice and well-kept. The grounds are always well kept and they try to make each campsite special in its own way for every visitor by adding something special to each site either for privacy or comfort.
- mary d on Google