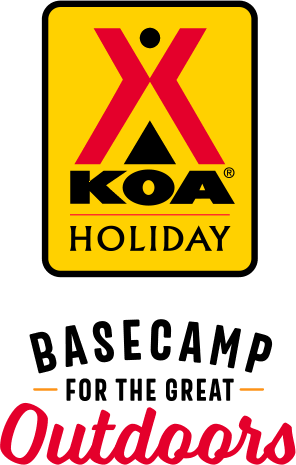 KOA Holiday Campgrounds
Whether you're exploring the local area or hanging out at the campground, KOA Holidays are an ideal place to relax and play. There's plenty to do, with amenities and services to make your stay memorable. Plus, you'll enjoy the outdoor experience with upgraded RV Sites with KOA Patio® and Deluxe Cabins with full baths for camping in comfort. Bring your family, bring your friends, or bring the whole group – there's plenty of ways to stay and explore.
KOA Holidays Feature:
RV Sites with a KOA Patio®
Deluxe Cabins with full baths
Premium Tent Sites
Group meeting facilities
Nov 16, 2017
Very nice campground with many amenities and things to do although the return shuttle from Key West never showed up when we were going back to the campground.
Sep 20, 2017

Sep 16, 2017

REALLY enjoyed it!!! Everyone was helpful and friendly. Want to go back in March 2018 but I don't think it's still there!
Sep 16, 2017

Staff was very friendly. Enjoyed the stay very much. Left the day before mandatory evacuation. Hope they are all safe. I realize Irma made landfall almost at the campground. I hope everyone is safe and the camp will be up and running next year by Labor Day. Please reply if possible about the status of the campgrounds and staff.
Sep 14, 2017
One of the best days ever....I fear that Hurricane Irma was not so kind to this Campground. I hope and pray they will be able to bring this place back. We've stayed here previously and every time has been an ADVENTURE.
Sep 11, 2017
We had an awesome time! We were given a great spot on the beach which I had requested but wasn't sure I would get. The bar & live music was great as always! Staff is super friendly & hardworking! We always have a terrific time here! We love it! Praying for you guys during hurricane Irma! ðð¼
Sep 11, 2017

Great stay, looking forward for more visits
Sep 07, 2017
Very nice RV park.
Sep 06, 2017
The KOA location was good. I would have like more privacy between spaces. It would have been better if there was a row of shrubs between each campsite. The staff was very nice and accommodating. The restrooms were clean. The registration area was under construction and they had it roped off for safety.
Sep 06, 2017
excellent staff
Sep 06, 2017
Very nice all the staff was very very helpful and friendly would definitely stay there when I come to the keys
Sep 05, 2017
Everything was wonderful!!!! Could use a little less bug bites!! I would recommend some full rock in the pot holes in boat parking area
Sep 05, 2017
Loved it very friendly staff and all the guests were very friendly also Thank you for a pleasant mini vacation
Sep 05, 2017
We had an enjoyable stay. We felt it needed some updating. Staff helpful.
Sep 04, 2017

It was awesome. Great staff. Nice and clean cabin. Enjoyed the stay. Will come again soon.
Aug 26, 2017
,Very new nice location if it oils not be for these nasty 'do-see-t'uems'....the KOA team is very nice and helpful.
Aug 24, 2017
We love staying here, everyone is always so helpful and considerate
Aug 24, 2017
I would have given a 5 if I would a received a response to my email about the ability to flush your boat/pwc. Any ways, I wanted to recognize Shep and Kathy! Shep was beyond excellent and accomodating. He and his wife Kathy made me feel as if I was family. I'll be back for lobster mini season 2018. Volumes of gratitude and thankfullness for Shep's customer service and hospitality. Raleigh Barnes
Aug 22, 2017
I loved that this camp! Is quiet and very well kept. The grounds are always clean and tidy which is hard to find these days. The only thing I would recommended is to put some kind of shade (umbrellas or something else) in the pool area because without it there is no chance to escape from the burning sun rays.
Aug 22, 2017

Stayed for the weekend of Friday 8-18 to Sun 20 Stayed in the two bedroom cabin 215 Had a great time Staff was very friendly and courteous. Booked a stay in March 2018 already.
Aug 21, 2017

We were disappointed when we were told that the cabin we requested when booking wasn't available due to the last people trashing it. It was even more disappointing when it was rented the next day to other people. The bar tender Jana and Mike from boat rentals were both awesome.
Aug 21, 2017
Not recommended for tenting. Those non seems are going through the mash of the tent.
Aug 18, 2017

We had a great stay but the person that checked us in was very unfriendly.
Aug 18, 2017
Linda & I had a great time at your KOA during our stay for Lobster fest weekend. We are very new to camping with our new toy hauler in fact this is the first time other than in our driveway that we've stayed in it and I really can't think of a thing that would have made our stay any nicer. Thanks again. Capt. Billy
Aug 18, 2017
Our stay was wonderful! Kids had a lot of fun just wish pool wouldn't have been so warm.
Aug 17, 2017
Great location!
Aug 17, 2017
The staff were great and very helpful! facilities were clean and well taken care of. Mosquito's were a little rough but that's to be expected. All and All had a great time.
Aug 16, 2017

Very clean, staff friendly and always around sight working. Safe environment and pet friendly A+
Aug 15, 2017
Nice location. Close enough to Key West (can take local bus for cheap). Sites are pretty close together so it's somewhat a tight fit with not a lot of space but it is the Florida Keys so space is very limited everywhere. Staff is super friendly. Amenities offered are nice. Only issue is once the weekend hits, the partiers from Miami and Ft. Lauderdale come down and are pretty loud.
Aug 15, 2017
We love coming to this KOA, it's our third time here, and the people who help run it are always so friendly and helpful! They have done some very nice upgrades to the bathhouses, the new showers are beautiful! You will look around and see many upgrades. We love the fact that we have so many amenities in this campground. They have everything you need right here!
Aug 15, 2017
This KOA is in an ideal location for enjoying the lower Keys! It's right in-between Bahia Honda and Key West. We loved the little beachfront at the campground. My son snorkeled right there and saw many different fish. Other wildlife includes iguanas (and their doo-doo - avoid the trees at night). The bathroom/shower house is very modern and clean, with A/C and large shower stalls. We will be back!
Aug 15, 2017
For the most part we enjoyed our stay but the cafe and bar were always closed.
Aug 14, 2017
Facilities were very clean & the staff were amazing. Very friendly & helpful. The marine store is well stocked and had everything we needed for our week of diving for lobster. We'll be back next year
Aug 13, 2017

Awesome staff, friendly, helpful and thoughtful! Great place to stay whether camping or renting a cabin! Our family vacations has been spent at the Sugarloaf Key KOA for the past 11 years, never a complaint, always come home Satisfied with our stay with KOA!
Aug 13, 2017

I enjoy my days because is quiet and good for families to have fun
Aug 13, 2017
no shade at the pool so couldn't use it during the day. No shade at the campgrounds, for the most part. Shouldn't charge guests camping with keeping their boats docked
Aug 13, 2017
Super friendly, helpful staff, great showers, nice tent sites however no water views - disappointing. Not a quiet place at night. No time restriction on entering park so we had large, loud diesel trucks coming in with boats at 12 and 1am parking boats near tents with their bright lights shining in. Also, quiet times are not monitored by staff unless you call an after hours security number.
Aug 12, 2017

WAYYY too many noseeums, horrible, bites galore. I live in Florida beachside and this is by far the worst noseeum epidemic I have seen. Camper in the front (#105) leaks rain/water in the front bedroom, but all in all a decent place to stay. Next time though I will spend the $$$ and stay down literally in the Keys.
Aug 12, 2017
Clean facilities and very friendly
Aug 11, 2017
Great and friendly, we came in after a big rainfall and our spot was totaly underwater. IT was no problem to get an other, dry spot.
Aug 11, 2017
Camp lots too tight, there's not enough space, not even to seat next to your camper. In general we had a great time. Clean pool. Friendly staff.
Aug 11, 2017
$95 in off season summer? Small sites. Low hanging trees made hard to put in just a 20 ft van. Trimming needed?
Aug 10, 2017
Fantastic! The staff was the best and the campground was clean and beautiful. We will be back!
Aug 10, 2017
My daughter & husband had the site next to us.....we enjoyed our stay!