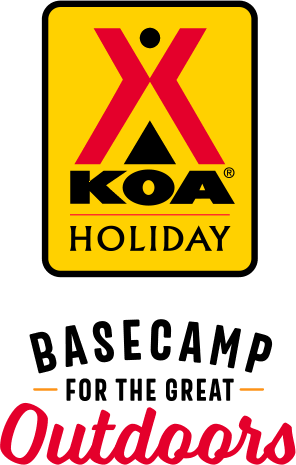 KOA Holiday Campgrounds
Whether you're exploring the local area or hanging out at the campground, KOA Holidays are an ideal place to relax and play. There's plenty to do, with amenities and services to make your stay memorable. Plus, you'll enjoy the outdoor experience with upgraded RV Sites with KOA Patio® and Deluxe Cabins with full baths for camping in comfort. Bring your family, bring your friends, or bring the whole group – there's plenty of ways to stay and explore.
KOA Holidays Feature:
RV Sites with a KOA Patio®
Deluxe Cabins with full baths
Premium Tent Sites
Group meeting facilities
Directions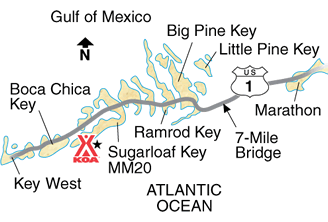 Located at Mile Marker 20 on US-1 in the Florida Keys.
Left on Old State Rd 4a/State Road 939.
Get Google Directions
Sep 19, 2021
This place was nice before Irma, but now it's outstanding . Everyone working here is top notch. We were 1 day before booking 2 more weeks next year. If we didn't have other reservations we would stay longer.
Sep 18, 2021
Absolutely the best KOA we have ever stayed at. Everyone went above and beyond in every way.
Sep 18, 2021
The campground and amenities are so nice and area is beautiful. Everyone was polite and helpful. We will be back. Well worth the $ to stay here. The pool area and bar is amazing.
Sep 18, 2021
Great service! Very clean and comfortable.
Sep 16, 2021
Love the spa & pool.
Sep 16, 2021
This was a beautiful park. It needed more parking for cars in the laundry area. Only had W/C spots.
Sep 15, 2021
This KOA was rebuilt after a hurricane, and they have done a first-class job rebuilding it. The RV sites are in perfect condition. All of the amenities are excellent.
Sep 15, 2021
The location was beautiful. All members of their team were extremely kind and informative. Chino from the marina was super helpful with all questions. Friendly, clean and peaceful campsite. We are definitely going back.
Sep 14, 2021
Our 2nd trip down since the re-opening and once again it was a great trip. As before, the entire staff is amazing, Barbara, Steve & Bubba, Cheryl & Kim, the 2 couples at the marina - all do such a great job. The resort is looking great! Looking forward to our October trip!
Sep 14, 2021
What a beautiful place. Everyone was so nice and made you feel welcome from the minute you arrived. View was beautiful and place was ammaculate. Would definitely visit again.
Sep 13, 2021
I assume the Sugarloaf KOA is the flag ship of all KOA's. Just an awesome facility with outstanding amenities. We stayed a week at an ocean side site. Couple trailers from the beach and it was nice to head there in the morning, kick back in a chase lounge and watch the sunrise. Traveled from Upstate NY. Sewer hookup was high for my trailer, probably because floodplain regulations. Two Thumbs Up
Sep 13, 2021
Exceptionally clean, courteous, and attentive!! Not sure what the campground was like before Hurricane Irma, but the way it looks now is super impressive and the staff is awesome. From my first call, to calls I made before inquiring about rentals, etc., was so professional. The fact that they had a full bar with happy hour was a sweet surprise and Cheryl, our bartender, was the absolute best!!
Sep 13, 2021
Great Place to stay.+
Sep 12, 2021
Amazing location, beautiful campground . Absolutely love what they have done with it! Perfect and the pool area is fantastic. Can't wait to go back…
Sep 11, 2021
A beautiful place with a great pool, gorgeous landscaping and friendly, helpful staff! Very highly recommended!
Sep 11, 2021
Open the cafe
Sep 09, 2021
Love the facility. Very nice, very clean! Y'all really need to do something about treating for no see-ums. I've never experienced them so bad.
Sep 09, 2021
We throughly enjoyed the campsite and amenities. Your staff was wonderful.
Sep 09, 2021
Totally enjoyed staying at Sugarloaf Key KOA. Everything is brand new and exceptionally clean. The landscaping was beautiful and should be very lush in a few years. The personnel was helpful, especially enjoyed guide to our RV spot. One downside was the un-chilled pool, it was tolerable in the morning, but then heated up in the afternoon sun. The beach area was a nice touch, but needed chaises.
Sep 08, 2021
Beautiful campground. The sites are perfect! One of the nicest KOA I've ever seen.
Sep 08, 2021
Staff was super friendly and helpful. Everything is shiny new! The pub at the pool was the perfect remedy for a hot day. We rented the boat twice and enjoyed our time on the water. The only disappointment was the swim area. It was find for paddle boarding, but was really not suitable for swimmers due to the rocky bottom. Other than that, it was a great place.
Sep 08, 2021
802 underwater after rainstorm
Sep 08, 2021
Everything was perfect and employees lovely!!! Lou Jen Barbara we'll be back real soon thank you �
Sep 08, 2021
Awesome campground, renovations were incredible. The staff was excellent, super friendly and helpful!
Sep 08, 2021
We had a great time! The park is Beautiful with all the new upgrades! Awesome job! Can't wait to come back! It would be great for us reoccurring campers to get some special rates or incentives. Thanks!!
Sep 08, 2021
Absolutely one of our favorite campgrounds we've stayed at. Were booking more stays because we know the secret will get out quick. Everything is brand new and spotless. The workers are all trying to keep it that way so lets do our part too.
Sep 08, 2021
Loved this KOA. It's beautiful, the staff is friendly and very helpful. The onsite Pub was great by the pool. Only a short drive to Key West. Bathrooms and Showers were very clean. Hope to be back soon.
Sep 08, 2021
We had a wonderful time. The staff was very helpful and nice. Do wish the store stayed open past 6 though. The no see ums were bad (buy that's nature �. We have already booked for next July and are excited to see all the construction done. The sites are beautiful and well kept.
Sep 08, 2021
The grounds were beautiful and the staff was amazing and very friendly. Bubba helped us find our lot and then gave us great recommendations for food and fun. The campgrounds pool and pool side bar were a hit and Kimberly and the rest of the bar staff were so fun! The KOA also had boat rentals and the snorkeling was amazing! Highly recommend this campground! Thanks for the great stay Sugarloaf KOA!
Sep 08, 2021
A pesar que todavia esta bajo construccion, es un excelente y bellisimo lugar. Todavia falta que terminen, pero ya se ve muy lindo. El wifi no es muy bueno y la playa en la parte de nadar, no esta en condiciones para entrar y salir facilmente. El personal es estupendo y muy cordial. Los volvere a ver en 2 semanas. Gracias
Sep 08, 2021
Excellent service !!! Best staff
Sep 07, 2021
Great location and amenities.
Sep 07, 2021
this has been the best KOA so far great location beautiful maintenance and very friendly staff
Sep 07, 2021
Loved site 415 looking forward to going back in December
Sep 07, 2021
We had a great time this past weekend. The pool and amenities were beautiful and the campground was beautiful. The only complaints were that the beach area didn't have much room and that the landscaping around the sites should not contain oleanders, as they are poisonous to dogs.
Sep 07, 2021
We loved the campground. Everything was nice and clean. The staff was very helpful. We will definitely be back.
Sep 07, 2021
We had a wonderful time. The staff was extremely friendly and helpful. Everything was so clean and new. Beautiful job renovating. So much to explore on the private beach. My favorite was the octopus! Only negatives to speak of were that the Pool was a bit too warm and the nosee ems were Awful but that is a courtesy of Florida! Thanks we can't wait to return!
Sep 07, 2021
Only issue is the rocks are in the way the design does not allow to get you in and out of campsite easy once you park your truck in front
Sep 07, 2021
Absolutely beautiful job on the construction, can't wait to come back.
Sep 04, 2021
TOO NOTCH!! We didn't want to leave. We have a skoolie and they welcomed us with open arms. Amazing accommodations, staff are incredibly friendly and helpful. Can't say enough good things about this place.
Sep 03, 2021
Amazing RV park. I wish all KOA were to this caliber! Will definitely return.
Sep 02, 2021
excellent camp ground, love the set-up, loved the pool and bar, bartenders Kimberly and Gena well excellent, love that you can fish on site, A+++++++++++
Sep 01, 2021
Awesome! Amazing! Not enough words to describe the enjoyment of this resort. From the atmosphere, cleanliness & quality of staff.....top notch! We will definitely return several times a year!
Sep 01, 2021
Best KOA we have ever visited.
Sep 21, 2021
Very nice KOA. Love the camp sites. Great water views. Lots of amenities. Prices are alot higher than most other KOAs but there are no others in the Florida keys. 30 mins from Key West.
- Ken Imel on Google
Sep 18, 2021
Amazing!!!
- Stacey Lyons on Google
Sep 11, 2021
I stayed there once before n it was awesome 😎. However, right now there is construction going on from Hurricane Irma. Very limited space for RVs. When operating pre hurricane, pool, general store, fire pits, bar with local entertainment. They had rental RVs n campsites.
- Ann Leon on Google