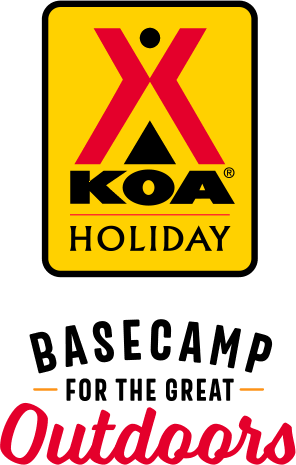 KOA Holiday Campgrounds
Whether you're exploring the local area or hanging out at the campground, KOA Holidays are an ideal place to relax and play. There's plenty to do, with amenities and services to make your stay memorable. Plus, you'll enjoy the outdoor experience with upgraded RV Sites with KOA Patio® and Deluxe Cabins with full baths for camping in comfort. Bring your family, bring your friends, or bring the whole group – there's plenty of ways to stay and explore.
KOA Holidays Feature:
RV Sites with a KOA Patio®
Deluxe Cabins with full baths
Premium Tent Sites
Group meeting facilities
Directions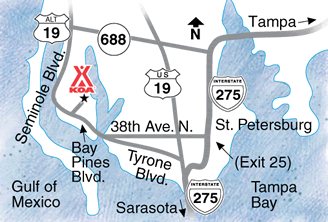 From I-275, Exit 38th Ave N (Exit 25). Go west 5.5 miles, veer right onto Tyrone Blvd (Bay Pines). Move to center lane and go 1.5 miles to 95th St N (Second traffic light). Turn right, go 1/2 mile.
You must call our front desk for the availability of pet friendly lodging. There is a  non-refundable pet fee/per pet
Check in time is 3:00 and Check out is 11:00 am
FREE BASIC WI-FI
Get Google Directions
Feb 08, 2021
We stayed for 3 nights and had a great time!
Feb 08, 2021
Your internet is nonexistent and very poor tv as well. Would have been ok if internet was good for Apple TV or streaming. And have heard that numerous people have complained on internet.
Feb 08, 2021
Always a great place to go camping.
Feb 07, 2021
Everyone we met including staff was very friendly and helpful when needed. Cabin was clean and ready for us to move in during our stay. The amenities were great .
Feb 07, 2021
We really liked this place and can't wait to return
Feb 06, 2021
Great resort campground. Loved the spaghetti dinners! We felt that we were able to stay physically active because of the proximity to the Pinellas County Trail. We walked, ran and biked. Met fabulous people and staff.
Feb 06, 2021
The area leading to the KOA is somewhat industrial, but once on the KOA property, one would never know. Very clean and nice Park with lots of amenities, including water access. We enjoyed our stay.
Feb 06, 2021
Very helpful and accommodating when I had to extend my stay while my husband was hospitalized. Very clean. All personnel very pleasant.
Feb 06, 2021
The view was beautiful and staff was very friendly and helpful. We will definitely be back.
Feb 05, 2021
Love the accessibility to a variety of things.
Feb 05, 2021
Great stay. Appriciate them fitting us in at last minute notice
Feb 04, 2021
Absolutely the most expensive campground we've stayed at anywhere. That being said - we love backing up to the mangroves and the bayou. We love having that great bike trail right out front. We love having a WaWa a half mile away. Wifi - not so much. Water pressure- not so much. Space between coaches - not so much. We'll be back.
Feb 04, 2021
This KOA was fantastic! We had a wonderful time and this kampground exceeded our expectations. Very clean and everyone was super friendly! I wish I would have remembered some of the names of the staff that were so helpful. The guy that has an American flag on the back of his cart and the married couple that work the grounds were fantastic. Wonderful, wonderful stay! Thank you!
Feb 03, 2021
Nice location only one little problems sites are close to each other
Feb 03, 2021
Beautiful loved it. Never wanted to leave
Feb 03, 2021
Great park and very friendly accommodating staff!
Feb 03, 2021
Everyone was so nice.
Feb 02, 2021
Felt that the cost was a bit high
Feb 02, 2021
Everyone was so nice and the place is super clean.
Feb 02, 2021
Had a great time, hot tub and street party were great. the staff was very friendly and the park was very clean. hope to visit again
Feb 02, 2021
Had a bad crowded location, acorn dropping all the time, would like some refund, it was campground lot #622.
Feb 02, 2021
Great stay,. Staff was very helpful and very polite.
Feb 02, 2021
It's a nice clean place, all the staff are very nice. It's nice that KOA is pet friendly.
Feb 01, 2021
Love this resort, alittle noisier than I remembered since last stay, but it was a great.
Jan 31, 2021
Awesome campground and awesome staff.
Jan 31, 2021
Site was very small for our motorhome and we got a scratch down the side door trying to park. All in all was a friendly campground and all beach or near. Each sites are slammed together so just be aware....we could not put out our awning or really sit outside except in front of camper because of close proximity. Was still pretty if you could get into one of the larger sites.
Jan 31, 2021
Promised a back in water view site. Was 20 ft of water and solid trees so no view whatsoever ever. Expensive for that.
Jan 29, 2021
Very clean. Very friendly staff. The pool/hot tub closed too early! Store had a great selection of items u may need. We rented ebikes. Spent $200 for the day..no kick stands..no bungee to hold you stuff. Wires came loose and did work part of the time. We had a great stay!!
Jan 28, 2021
Unbelievable, comfortable, clean, friendly staff, very helpful and very pleasant. We were impressed with amenities and overall vibe of the campground.
Jan 28, 2021
We spent most of our time trying to get the Wi-Fi your advertising promised but did not deliver. I'll never trust KOA again.
Jan 28, 2021
Cabin was very clean! We had a great time, lots to do in the area but honestly we stayed at the campground majority of the trip because it was so relaxing!
Jan 28, 2021
Great campground! Everyone was very friendly and helpful !!!
Jan 27, 2021
I love this KOA but this time the campers behind us and next to us were very loud. They stayed up till 2-3am every night playing music and talking. We were hoping the so called night watch would swing by and tell them to stop after 10::00pm. We had ear plugs so that helped.
Jan 26, 2021
Campground was very well maintained and the staff very friendly. So convenient to ride the Pinellas Trail
Jan 26, 2021
Staff was very friendly. Perfect for riding bikes as it is beside the Pinellas Trail. Somewhat pricy.
Jan 26, 2021
our neighbors fire pit that was your install was right where are bed is had to smell smoke and listen to them chat till the went to sleep. site were very tight. oh and we could hear the high power line arching all day, coud see it arching when it got dark. the water view at site was great.
Jan 26, 2021
very clean with really nice and helpful employees!