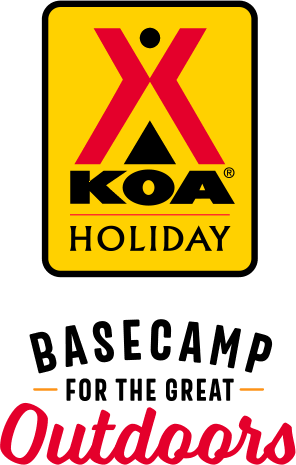 KOA Holiday Campgrounds
Whether you're exploring the local area or hanging out at the campground, KOA Holidays are an ideal place to relax and play. There's plenty to do, with amenities and services to make your stay memorable. Plus, you'll enjoy the outdoor experience with upgraded RV Sites with KOA Patio® and Deluxe Cabins with full baths for camping in comfort. Bring your family, bring your friends, or bring the whole group – there's plenty of ways to stay and explore.
KOA Holidays Feature:
RV Sites with a KOA Patio®
Deluxe Cabins with full baths
Premium Tent Sites
Group meeting facilities
Directions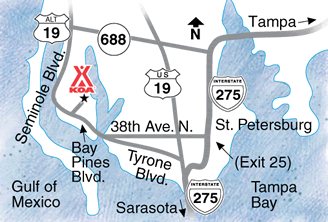 From I-275, Exit 38th Ave N (Exit 25). Go west 5.5 miles, veer right onto Tyrone Blvd (Bay Pines). Move to center lane and go 1.5 miles to 95th St N (Second traffic light). Turn right, go 1/2 mile.
You must call our front desk for the availability of pet friendly lodging. There is a  non-refundable pet fee/per pet
Check in time is 3:00 and Check out is 11:00 am
FREE BASIC WI-FI
Get Google Directions
Sep 18, 2021
We were in a basic cabin day one. Moved up to a deluxe cabin for day 2 and r. The fridge would not cool. God dack door would not lock unless we used the dead bolt. We had to lift the tank lid to flush the toilet. The last thing were the bees on the deck. All issues were told toothed office l we will be back but I felt that on this trip we were over charged for what we received. Thank you
Sep 18, 2021
Was hoping for quiet private time in the adults only Jacuzzi but due an unforeseen pipe bursting it was closed. Maybe next time. Other than that it was great. Thank you
Sep 17, 2021
Very nice and clean, staff is friendly, will be back
Sep 17, 2021
Was short two day, essentially a shake down to see if all systems operating, the RV and us, after not being on the road for over a year due to Covid isolation. Staff was great and helpful. Great place for some relaxation time, with lots of activities, if you are so inclined. We will visit again.
Sep 16, 2021
Very nice amenities and the staff are friendly!! Definitely will be coming back!!
Sep 16, 2021
very friendly and helpful staff, very clean and safe campground, we will come back
Sep 16, 2021
We love your park. We asked to move fron a cabin to a deluxe cabin. Great move and thank you. There were a few issues. The back door would not close unless the dead bolt was locked. Thd fridge did not eofk. The toilet tank would not fill without our help, anc there were hornets on ghe deck. That's a lot. We will be back if you'll have us. But, I think we were over charged for the issues.
Sep 15, 2021
It is a nice place to go. the pool is a very nice size. The staff that road around was very helpful. My one complaint would be the hot water. Frist day hot water came and went during my shower. The second day the water was hot for about 30 seconds and then I took a cold shower. My husband tried about 45 minutes later and had no hot water at all.
Sep 15, 2021
Had a great time. All the employees are super pleasant. The grounds are clean with lots of things to do. The only reason I did not give 5 star is that the cabins could use an update and a better cleaning. Kids bunk bed platform needed to be vacuumed, floors were torn up and dirty and AC unit where air comes out is very dirty and moldy looking & sofa was peeling.
Sep 15, 2021
When we arrived found out price increase of almost 40.00 had already paid in advance. we are local and have been coming here for almost 10 years but between Memorial Weekend Fri & Sat almost 600,00 and this increase to almost 200. a night i think the campground is going to price themselves out of business. not even on water Why would someone not advise by email that a price increase happened.
Sep 15, 2021
It was a great experience, the family enjoyed it . even my pet enjoyed. The only problem was the light under the microwave did not work. Besides that it was a wonderful experience.
Sep 14, 2021
The only thing that I would hve change is apparently there was a birds nest in our initial cabins, which meant that we had to stay further own the road. Other than that, great amenities, the service was Amazing!
Sep 14, 2021
We like going to this KOA very much, close to home to get away for weekend & very relaxing. Pretty water views, very clean, friendly staff & has a great store. (Recommendation with renovations would be keep in mind where hook-ups for sites are, not in neighbors eating area! Also keep sewer hook-ups IN GROUND not above)
Sep 14, 2021
Great hosts. Clean facilities. Nice pool. Lots of no see ems.
Sep 14, 2021
We had a good time. The staff was friendly and plenty to do. We will be returning.
Sep 14, 2021
We come here at least once a year for sure to enjoy the kayaking and bike trail. Our two favorite things in one place�
Sep 14, 2021
Best KOA we have ever stayed at! They have tons of activities for the kids and adults. Cabin was really clean and nice. We will be back soon to go on the lake cause we ran out of time.
Sep 13, 2021
We had a group of 60 people & the KOA did an amazing job of helping us coordinate & keep track of everyone's sites/cabins. The whole campground was well maintained & the pool had a DJ, we will definitely be coming back
Sep 13, 2021
Party for 85th birthday - 60+ people staying in travel trailers and camping cabins. Resort was delightful! Trailers were parked five in a row along the water. Nobody was in our hair. Had a magnificent time! Excellent campground!
Sep 13, 2021
We had my Grandmothers 85 birthday there. Perfect outdoor fun spot. Clean as well.
Sep 13, 2021
Excellent camp sites very friendly helpful staff and nice amenities. We really enjoyed our weekend. The only reason that I did not give 5 stars is the location. You need a car to get to anywhere from the campground. I was hoping it was closer to the beach considering the name "Madeira Beach".
Sep 13, 2021
Nice site with full hookup and water view. Roads need repair as there were large holes that posed a potential danger when walking, riding bikes or on the golf cart
Sep 13, 2021
very crowded lots of traffic some very rowdy people sheriffs department was called about a incident. It is what it is not worth the money for another stay.
Sep 13, 2021
Sites on top of each other. Very little privacy. Had full hookup site but sewer connection was way in the back and hose didn't reach. Had to use dump station. Nice pools, clean. Staff very helpful and friendly.
Sep 13, 2021
Very hard to get out
Sep 13, 2021
Truly enjoyed the view from our RV, backed up to the water. The morning sunrise was priceless, such a serene sight. My first time canoeing, so exciting and yet relaxing. Let me say this park was packed and you could see the kids enjoying themselves on bikes and scooters. Great entertainment from the DJ by the pool. There is a great bike trail right in front of the campgrounds. LOTS of fun here!!
Sep 13, 2021
The campgrounds is wonderful, everyone so friendly. Plan on coming back soon
Sep 13, 2021
The facility was very nice with clean bathrooms, showers and pools. Site 630, however, was very cramped.
Sep 13, 2021
Everyone was so nice! Kids everywhere with activities planned. Great time!
Sep 13, 2021
Doesn't say we can't have EZ tent in our spot. We were made to take it down even though it was only two adults and our dogs. Told it was to prevent other people from being at our spot. We sit out at night in the screen tent to avoid mosquitoes. Yet a few spaces down they had like 30 people and a huge party? People coming and going all weekend.Disruptive. I'm sure all didn't pay. Disappoin
Sep 13, 2021
Wasn't particularly fond of our spot #30 by the Kayak ramp. Was a little too narrow to maneuver our motorhome and too close to the gazebo. On a positive note, we visit this KOA frequently and have had wonderful spots in the past--so we will give a "5." The KOA staff are all fantastic and the grounds are very clean. This location is our home away of home and we will return no doubt. Thank you
Sep 13, 2021
While the campground was good - it has areas that are showing its age. I like staying here and the staff are great. Unfortunately, there was a HUGE group (50+) that tended to take over areas (e.g. pool) and not really be considerate to others. Other kampers were fun and family friendly.Close to beach and water. Some sites are way too close together - especially in areas converted to kabins.
Sep 13, 2021
Staff was very helpful. Enjoyed our stay. Will come again.
Sep 12, 2021
The staff was very friendly and attentive, cabin was clean and comfortable, bathrooms were cleaned frequently and the pool and the rest of the amenities made for an exciting weekend! Special thanks to Stacey for being so sweet and kind to my two little boys! We will definitely be back!!
Sep 10, 2021
We go every couple of months and we have a ball! The staff is awesome, everything is neat and clean. I'm a little frustrated with the adults in the pool with their drinks on the side of the pool! Clearly braking the rules!
Sep 09, 2021
Great cabins - very friendly staff.
Sep 09, 2021
Great service, site, and amenities. Road to the campground is a little iffy, but once in the park it's one of my all time favorite KOAs I've been too!
Sep 09, 2021
Beautiful location, lots of family activities, clean and well maintained sites, restrooms, pool area, etc. Helpful, friendly staff.
Sep 09, 2021
We absolutely love this campground! It is very well maintained and the staff are extremely friendly! We love the Saturday festivities.
Sep 08, 2021
We love this campground!! Staff is always super helpful and area is well kept. We will absolutely be back in the near future. If I could change one thing I would make the price a little more reasonable, even with the Koa membership still pretty high, but hey I guess you get what you pay for. Two thumbs up!!!!
Sep 08, 2021
Amazing place , all clean and great personal .
Sep 08, 2021
This campground is amazing! The staff is so friendly and helpful. The campground, bathrooms, and amenities are all so clean. Perfect location for kayaking, biking, going to the beach or baseball game! Our kids had a blast with the pool, mini golf, kayak rentals and riding their bikes around the campground! The adults had just as much fun but also got to enjoy the most beautiful water views.
Sep 13, 2021
Great place. An oasis of serenity. Close to beaches and some of the most friendly staff around!
- Neil Ledford on Google
Sep 13, 2021
Most definitely satisfied
- CAPTAIN BOBBY Hart on Google
Sep 11, 2021
Very friendly
- Rocky Maki on Google