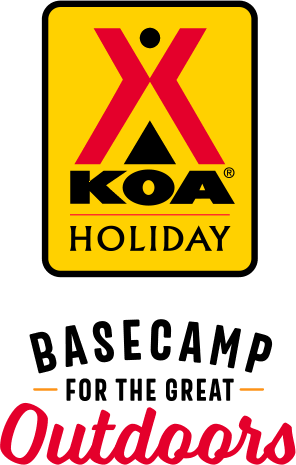 KOA Holiday Campgrounds
Whether you're exploring the local area or hanging out at the campground, KOA Holidays are an ideal place to relax and play. There's plenty to do, with amenities and services to make your stay memorable. Plus, you'll enjoy the outdoor experience with upgraded RV Sites with KOA Patio® and Deluxe Cabins with full baths for camping in comfort. Bring your family, bring your friends, or bring the whole group – there's plenty of ways to stay and explore.
KOA Holidays Feature:
RV Sites with a KOA Patio®
Deluxe Cabins with full baths
Premium Tent Sites
Group meeting facilities
Directions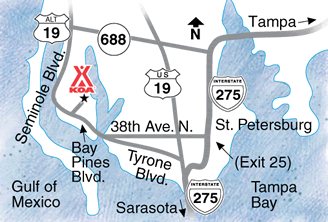 From I-275, Exit 38th Ave N (Exit 25). Go west 5.5 miles, veer right onto Tyrone Blvd (Bay Pines). Move to center lane and go 1.5 miles to 95th St N (Second traffic light). Turn right, go 1/2 mile.
You must call our front desk for the availability of pet friendly lodging. There is a  non-refundable pet fee/per pet
Check in time is 3:00 and Check out is 11:00 am
FREE BASIC WI-FI
Get Google Directions
Jan 13, 2021
The staff is excellent and very accommodating. Our site was beautiful and we will return!
Jan 13, 2021
We were there to visit friends, so we didn't get to use any of the amenities but there were so many things to do there. We thought the sites were SUPER small - close together but other than that, it was a really nice place. People were so friendly there, it was really clean, the staff in the office was really nice, and the amenities were plentiful and very nice. We would surely recommend.
Jan 12, 2021
Great experience. Very friendly staff and great sites. Highly recommend.
Jan 11, 2021
Very nice KOA. It was clean and neat. The staff was very helpful. We would stay there again
Jan 11, 2021
Loved the site and the view of the lake. We will be back when we have more then one night to stay foe sure!
Jan 11, 2021
Everyone was very friendly and helpful with helping to guide me while I backed my motorhome and delivering fire wood to my site.
Jan 10, 2021
Great as always stayed 12 nights loved our lots third year going to this camp ground will be back next year great people great place !!!!!
Jan 10, 2021
Awesome views of the bay. Nice facilities and amenities. Great location!
Jan 10, 2021
Friendly service especially Todd. Live music on Friday night
Jan 09, 2021
I loved this spot. Staff was great. location was great. Campground was we'll Maintained. The only reason I am not giving this place 5 stars is because they quite literally have no WIFI. You can pretty much just get an email or a text. That is it! To me that is crazy. Maybe it's On purpose to keep people from never leaving�. Give me WiFi and this spot is perfect.
Jan 08, 2021
This is the most wonderful site we stayed! It's beautiful, has everything you need, the site is big and comfortable, and everyone there is supper nice! We hope to come again to this amazing place.
Jan 08, 2021
The KOA at St. Pete is beautiful and right on the water. We stayed in 1 of the deluxe cabins and it was clean and comfortable. They even had dog treats, a dog blanket and bowl for our service dog (which was really nice!) The only thing we think that can be improved upon is that they don't offer a veteran military discount (only active duty military), like the other KOAs we have stayed at.
Jan 07, 2021
Please make it easier for the consumer to sites that are available. It seems to be such a secret. And park map doesn't have #s on it!
Jan 06, 2021
Very clean and friendly staff
Jan 06, 2021
Amenities were great and views were beautiful, but we found 2 large roaches in our room, the water for the shower was super cold (no after hour number found to reach staff) and no fitted sheets included for bunk beds.
Jan 06, 2021
Before we booked online, we called for info & were told we could rent bikes & ride an "amazing bike trail." FYI: incorrect. We got there & went to rent bikes, they said we're only allowed to ride their bikes inside camp - bc of insurance reasons. Rented bikes & rode by RVs, trailers, cabins. Not cool. Also electricity pole tower crackled loudly constantly, disturbing. But overall it's a nice camp.
Jan 06, 2021
Awsome . Great place
Jan 05, 2021
The place was very nice and clean. Had not accommodation for my cat trailer, the wife had to drive the car over, a two drive one way.
Jan 05, 2021
Really enjoyed our brief stay. Definitely will return.
Jan 05, 2021
Aways wonderful, people and the sites too!! Great place. Will be back in February, after the 15th. Will call to reserve once, I firm up exact dates. John G
Jan 04, 2021
Great place lots of amenities! Enjoy our space with water bayou in back nice view. Would have like a picnic table but chairs were good too. Will come back again
Jan 04, 2021
Every worker was very pleasant and helpful. If you asked for something, it was there immediately. The cabins were well stocked. I would stay there again.
Jan 04, 2021
We stayed in a deluxe site over New Years 2020/2021. The staff is extremely friendly and helpful. The campground had more permanent sites with than we like to see, but understand not all campgrounds can be true resorts. Allot of the permanent sites use cargo trailers as garages, there are allot of permanent sites that are beautiful. I would have liked to see basketball courts and a bounce pad.
Jan 04, 2021
Enjoyed our stay. Love how clean the facilities and grounds were maintained. I only wish the sites were alittle more private and that there was options to set up a hammock on the individual camping site.
Jan 04, 2021
Muy placentera!!..
Jan 04, 2021
This stay was not as enjoyable as before. It was really crowded around my cabin and there were children everywhere, I didn't really feel comfortable lighting my fire because they were unsupervised and I didn't want to be responsible for watching them due to their parents being absent
Jan 04, 2021
it was the perfect kind of place we were looking for. Very clean , nice sites, pool and hot tubes were very nice, close to everything was close. loved the bike trail.
Jan 03, 2021
21ft TT-1st time at this KOA. Booked in advance and were assigned 1 of 4 sites w/o sewer hookup when we arrived (didn't realize when booked). Campground is clean, bathroom facilities are updated & very clean. Senior staff members are friendly. Location is adjacent to Pinellas Trail great for walking/biking. Didn't have time to kayak, nice kayak launch. Close to Madiera Beach. Very pet-friendly!
Jan 03, 2021
We were very happy with the staff. The campground is very nice with alot of amenities. Sites are pretty tight but when you book in the city thats what you get. We will come back.
Jan 03, 2021
Our favorite KOA so far!!
Jan 03, 2021
Was just for one night. The cabin was very good
Jan 03, 2021
Nice grounds just to close to neighbors and the noise that my neighbors made till we called after 11 was bad. They sat outside and all 5 of them smoked and vaped no fresh air at all. They drank all night. I like quiet when we camp. Got the price we paid we would not stay again. Glad we were there just the one night and could get in at Fort De Soto nice quiet place.
Jan 02, 2021
I would have gave it higher if the pull thru's were paved or concreted. Florida is sandy, couldn't keep sand out of RV. Had to vacuum everyday. Would be nice to have had deluxe pull thru's sites.
Jan 02, 2021
Pull thru spot was dirt and piles of loose chunks of sod. Made reservations in July with friends asked to be by each other and was told no problem, when we arrived we were 7 spaces apart mean while the spot next to us and our friends was empty a lot.
Jan 02, 2021
Site was too small and what is about the barbed fence? Otherwise, everything was good �
Jan 02, 2021
We have stayed here many times, friendly people and staff
Jan 02, 2021
Everything is really nice. The only thing to make it better is to create pathways that cut between the campsites as the streets are to long. One in the middle of each would have made walking to the front store/pool house easier and mitigated people walking through campsites.
Jan 02, 2021
We had a great stay at Madeira Beach KOA!!! Loved the warm welcoming family feel and cleanliness of the campground. The biking/walking trail was a great added benefit!
Jan 11, 2021
Great 👍 place
- Chip Grundon on Google
Jan 10, 2021
Wonderful weekend get away. There are different sizes of cabins. Some are single rusted cabins with no amenities we got one with a private bath. . When we walked in I notice the pet bowls and blanket for furbabies. We didn't take them this weekend but will next time. Don't forget your bikes. Our cabin came with a gas grill and fireplace. Get one overlooking the bay. Awesome view.
- iwalani pettys on Google
Jan 08, 2021
KOA, The Most Beautiful Place In This Part Of The World. KOA MADIERA BEACH! 1. FANTASTIC!!!
- Terry Cater on Google