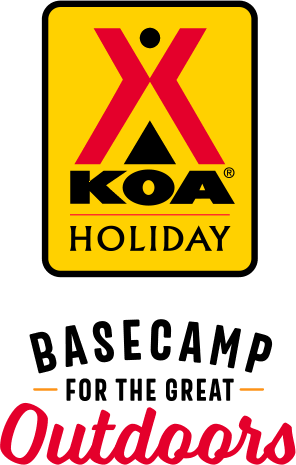 KOA Holiday Campgrounds
Whether you're exploring the local area or hanging out at the campground, KOA Holidays are an ideal place to relax and play. There's plenty to do, with amenities and services to make your stay memorable. Plus, you'll enjoy the outdoor experience with upgraded RV Sites with KOA Patio® and Deluxe Cabins with full baths for camping in comfort. Bring your family, bring your friends, or bring the whole group – there's plenty of ways to stay and explore.
KOA Holidays Feature:
RV Sites with a KOA Patio®
Deluxe Cabins with full baths
Premium Tent Sites
Group meeting facilities
Directions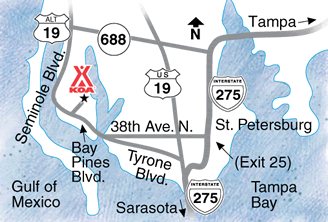 From I-275, Exit 38th Ave N (Exit 25). Go west 5.5 miles, veer right onto Tyrone Blvd (Bay Pines). Move to center lane and go 1.5 miles to 95th St N (Second traffic light). Turn right, go 1/2 mile.
You must call our front desk for the availability of pet friendly lodging. There is a  non-refundable pet fee/per pet
Check in time is 3:00 and Check out is 11:00 am
FREE BASIC WI-FI
Get Google Directions
Jun 16, 2021
Absolutely amazing and very accommodating!! Definitely be back!!
Jun 16, 2021
Very friendly staff very clean cabin was very comfortable and clean will be back next month
Jun 16, 2021
Been coming to you for 25+ yrs. Always nice. Great staff. Mitch Hagee.
Jun 15, 2021
This cabin was awesome for our family! We have 2 boys and they loved having the double bunk beds and we loved having a room for our own. The amenities were wonderful. We traveled with 4 other families and it was a perfect start for summer for us!
Jun 15, 2021
Our stay was great
Jun 15, 2021
1st time there and 1st time at a KOA. We really enjoyed it. Loved all the amenities and the people were super nice. Roads were challenging for the kids to ride bikes because of the pavement.
Jun 15, 2021
It was great....only 2 complaints....pools is too warm for this time of year and kids doing cannon balls in the jacuzzi and pool without any staff stopping it. Otherwise we had a great time!
Jun 14, 2021
Loved the campground and will be coming back in a few months!
Jun 14, 2021
Solid all the way around. Clean. Friendly staff. Camp store is kid paradise, of course
Jun 14, 2021
So much to do on site and very close to other activities around the area. The crew was always out keeping the campsites looking great.
Jun 14, 2021
The facilities were extremely clean and well taken care of. The staff was very friendly and very helpful. We thoroughly enjoyed our stay!!
Jun 14, 2021
We had a wonderful time. There was a slight issue with a Watermain breaking on Saturday night but they had the water up and running rather quickly
Jun 14, 2021
Had a great Time.
Jun 14, 2021
The staff is always friendly, the grounds are always clean, the cabin is also always clean and beautiful. We live locally but this is our little escape when we can and WE LOVE IT!!
Jun 14, 2021
Wish there had been easy access to water near campsite for dishes and things. The campground was infested with red ants.
Jun 14, 2021
Very clean and the staff was nice
Jun 14, 2021
The process of checking in was so easy and they even made it possible for us to camp next to my parents who got there before us. They then escorted us to our spot. We will definitely be back!
Jun 14, 2021
As always we enjoyed our stay here. The staff is always friendly and helpful. The grounds as well as the bathrooms are well maintained. Thanks for the effort that your staff makes throughout the day.
Jun 14, 2021
it was great!!!!
Jun 14, 2021
Beautiful site on the water, great support from KOA staff on my first adventure with my teardrop camper! Clean facilities, roomy site, lots to offer—I'll definitely be back!
Jun 13, 2021
I think our stay would have been ok, but they stuck us in a very run down, majority vacant seasonal section and not with other guests. Pool and store were nice along with employees.
Jun 13, 2021
AMAZING !!!! the campsite was perfect, plenty of room between campers and the water view was just gorgeous. We were able to kayak right off our campsite and saw dolphins, stingrays and tons of fish. Check In was easy and everyone was extremely helpful. The campsite was very quiet at night and bath houses were very clean. Would recommend this KOA and will definitely be returning !!
Jun 13, 2021
At checkin, staff in the office was very helpful and friendly. We reserved and paid for a deluxe site but got a very tiny unkept site with very small parking area. People with pets did not clean up after them nor did they keep their pets from using other sites for a potty. Facilities were dirty/unkept(pool, playground, miniature golf, and laundry). Would not recommend it to anyone.
Jun 13, 2021
We enjoyed our time at ST Pete / Madeira Beach KOA. The campsite is beautiful. We were on the water and the sunrise was awesome. The campsites were the perfect size. The staff was very friendly and plenty staffers around. Looks like it was very well managed. From the pools to restrooms and showers very clean. Plenty of things to do. We rented a kayak and the Bayou was beautiful. We will be back!
Jun 13, 2021
Nice staff, clean park. Backs up to inland bayou. Close to beaches, VA Medical Center, and easy to explore from Sunset Beach to Clearwater along beaches.
Jun 12, 2021
Stay was pretty good. Campground was clean and staff was friendly. The deluxe cabin we were in was very small. Bunk beds were in a room like the size of a closet. The cabins and rv campsites were so close and Everyone was jammed together.
Jun 12, 2021
Could have not been better
Jun 12, 2021
Wonderful stay for the whole family. Brought our 6 years old grandson. When we asked him if he liked camping, he wanted to stay 65 days more.
Jun 12, 2021
Awesome stay as always , this is our third time here and is was fantastic, the sites are spacious, clean, nice facilities and plenty of activities and close to everything.
Jun 12, 2021
So many things to do at this camp and what a great location. Staff was super friendly and helpful and a great camp store. Sites are a little close together and so many vehicles sticking into the roads that it's a little hard to navigate but would still stay here again.
Jun 12, 2021
Amazing stay, very friendly stuff and clean and nice space. I have tent stay for one night, the space is really nice. Water and electricity right on the spot.
Jun 11, 2021
Staff was nice . Moved us from a spot that should not be a site . Couldn't enjoy sitting outside due to everything so close and the sewer connection is in your door and right at your table. To many spots for the area . This place could be the ideal vacation but is ruin by packing so many people in one small area.
Jun 11, 2021
Very friendly staff beautiful clean showers and restrooms That were air conditioned unlike the previous campground we stayed at And to me that's a big deal
Jun 11, 2021
Great KOA to stay at. Quiet location yet with many activities to do. Loved the Kayaking and all the nature we were able the see (especially the dolphins and jumping fish).
Jun 11, 2021
Our stay was fine until I was told at checkout my kids could no longer rent bikes. I was willing to pay additional for late check out or day pass and was denied. Both of my children left the site crying
Jun 11, 2021
Everyone was very polite. It was our first ever camping in our Travel trailer and the gentlemen that guided us to our site also guided us in hooking up our trailer.
Jun 11, 2021
The tent sight had zero shade and I witnessed the staff harassing other guest to the point of a sheriff being in plain sight effectively ruining the peace and calm of my stay.
Jun 10, 2021
We had the worst experience. An employee pulled a gun on a group of us. He was allowed to stay. After telling mgmt we were uncomfortable, (we wrote reports for the police) they told the employee that we complained so he drove by our campsite multiple times in one day intimidating us-he'd never been on our street the two weeks prior. We spoke to mgmt about this, but they kicked us out immediatel
CAMPGROUND RESPONSE / COMMENTS:
Thank you for sharing your concerns; we regret this happened during your stay. We took this incident extremely serious and acted quickly. Use of a firearm on our property is not tolerated. The employee was terminated and left the campground. We cannot express enough, how sorry we are.
Jun 09, 2021
Very large campground with a lot of waterfront. This place has a many cabins and campsites on the water. They also have a very big camp store with everything from t-shirts to beer. Bring your kayak or canoe and your fishing pole. You can also rent kayaks. Only 5 miles to the beach. We would stay here again.
Jun 09, 2021
Kids had the best time!!!
Jun 09, 2021
Had lots of fun
Jun 17, 2021
Had a wonderful stay with my family in a deluxe cabin. I really love how clean the site is. Everything is situated in a very convenient way as well.
- Dailisia Smith on Google
Jun 16, 2021
Awesome spot, kind of a hidden gym actually.
- Teanna Ennis on Google
Jun 13, 2021
Clean friendly Campground with a nice pool. Staff is AWESOME !!!!!
- Tim Abney on Google