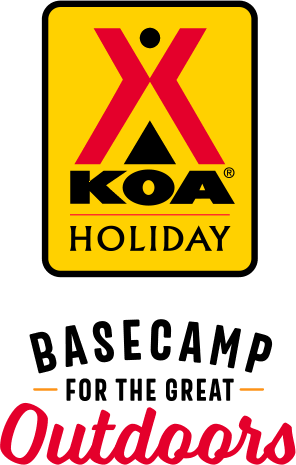 KOA Holiday Campgrounds
Whether you're exploring the local area or hanging out at the campground, KOA Holidays are an ideal place to relax and play. There's plenty to do, with amenities and services to make your stay memorable. Plus, you'll enjoy the outdoor experience with upgraded RV Sites with KOA Patio® and Deluxe Cabins with full baths for camping in comfort. Bring your family, bring your friends, or bring the whole group – there's plenty of ways to stay and explore.
KOA Holidays Feature:
RV Sites with a KOA Patio®
Deluxe Cabins with full baths
Premium Tent Sites
Group meeting facilities
Directions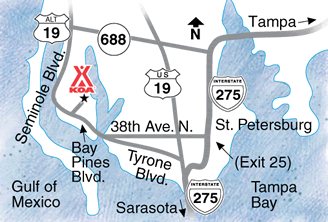 From I-275, Exit 38th Ave N (Exit 25). Go west 5.5 miles, veer right onto Tyrone Blvd (Bay Pines). Move to center lane and go 1.5 miles to 95th St N (Second traffic light). Turn right, go 1/2 mile.
You must call our front desk for the availability of pet friendly lodging. There is a  non-refundable pet fee/per pet
Check in time is 3:00 and Check out is 11:00 am
FREE BASIC WI-FI
Get Google Directions
Apr 06, 2021
We were there for 4 nights and had some the nicest neighbors. The staff were so friendly & kind and the sites were beyond beautiful!!! A little cramped, but nonetheless, it works. I cannot wait to schedule our next trip �.
Apr 06, 2021
Awesome experience. Beautiful Views! Had bad trashy neighbors but that is no fault of the camp ground. Would definitely recommend!
Apr 06, 2021
We look for cleanliness... bathroom was clean, pool was clean, hot tub was clean. We were happy. Staff was pleasant and helpful. The sites on the bayou were very nice, enough space. We saw dolphins as we were cooking dinner. Can't get much better than that. Only negative thing I can say and it was not the campgrounds fault, when we were walking our dogs at 5:30AM there were 2 dogs running loose
Apr 06, 2021
Very enjoyable! From start to finish. We'll be back again! Thank you.
Apr 06, 2021
Very disappointed in our site. It took forever to back in because of how tight it was. Walt was wonderful and after a thousand back and forth we got in. Our fire pit was so close to our camper we could not use it. We have been to this KOA numerous times but this by far was the worse site. For the price of our site would have loved al little more room.
Apr 06, 2021
The grounds incredibly clean. The cabin had more accommodations then expected. But the staff is what we were most impressed with. The absolute friendliest! They genuinely care about your stay. We will definitely vacation there again.
Apr 06, 2021
This was my very first camping trip and the staff here were awesome! Caroline is very nice at check-in and Mike helped me get set up. Had a nice, level site with a fire ring and you can get a cord of wood for $7, and they deliver it to your site. Spots seem a little tight but with only a 17" trailer it didn't bother me. Had great neighbors on either side. Would definitely stay again!
Apr 06, 2021
When I arrived the cabin smelled like cigarettes, dishes and some knives were dirty, and next door neighbor was always drunk, loud, and wanting to fight his friends....I wanted a peaceful get-away from my stressful job as a nurse and I really did not get that...its a shame because I'm a returned customer . Love the area but disappointed with the last stay....
Apr 06, 2021
We were so surprised how crowded but yet quiet this site was during our stay. Everything was clean, accessible and staff was friendly. The stay was last minute relocation from our original camp site and this ended up being a blessing. Nestled between the mangroves- bay side waters and the Pinellas Trial along with the site's amenities allowed for variety of activities to choose from. Thank you!!
Apr 05, 2021
Nice park. Close to beaches, restaurants, stores and fuel. Convenient location to walking and riding trails. Kid friendly with amenities. Recommend for all ages.
Apr 05, 2021
I've visited many KOAs throughout the years. For the first time I was disappointed in how unfriendly staff were. Check-in and out was great-staff energetic and very friendly. Others you see driving around no one acknowledges, waves, looks at you. 1 did wave and say hello out 6 I saw in 10 mins. Just overall do not seem happy or very friendly outside of their own groups. I have more but limi
Apr 05, 2021
Your staff were very friendly, helpful and quick to respond to a question
Apr 05, 2021
Staff was super friendly and they do a good job cleaning. Nice amenities. Could really use better toilet paper in the bathrooms.
Apr 04, 2021
We were there with 8 other families most having children, some were my grandchildren. There were residents that were not happy with the children running, riding their bikes or playing games on the side we stayed. I would not recommend this place if you have children, the perms seem to thing they can control were others walk or children play. Our kids were always supervised.
Apr 04, 2021
Great location and clean facilities. nice grounds, and everyone was friendly. will stay again next year!
Apr 04, 2021
We have a 40 ft Class A and stayed for a week in site WD55. It is a back in full hook up site that backs up to the lagoon. We had plenty of both sun and shade with palm trees on the driver's side. I think it's the best site in the campround. They have a lot of staff and all of them are very nice. Firewood is delivered to your site. The pool is very nice and always full of fun loving kids.
Apr 04, 2021
Very nice campground in a great location. Convenient access to kayaking and biking. Only negative would be the price at $120 a night.
Apr 04, 2021
When I arrived I was charged the wrong amount- we figured it out but the manager was Extremely rude, snotty, unprofessional and unapologetic for arguing with me when trying to charge my $200 extra. Also $80 in taxes for my stay is insane. Nice property/ poor customer service.
Apr 04, 2021
Very nice camping and staff
Apr 04, 2021
Nice area clean with a lot for kids to do. Camped in tent had few complaints kids loud not much you can do kids will be kids and they where sleeping by ten. For most part most us camping in tents got along good and understood noise happens
Apr 04, 2021
Location is excellent and the amenities are very nice. There was a odor of septic system nature floating around that was unpleasant which is why the three stars.
Apr 04, 2021
Was stuffed into a totally unusable site, despite what their "chart" said. 34' Class A on a pad that dropped off severely at the front end. When finally level my wheels, on blocks were over a foot off the ground! Next time we will reserve a site based on what we inspected while we were there. Otherwise a nice park in which to stay.
Apr 04, 2021
Awesome place and stY
Apr 04, 2021
Great campground! Great location!
Apr 03, 2021
The koa itself is clean, nice sites and great staff. I'd love to come back-HOWEVER the seasonals are rude. Our children were supervised by an adult at all times and kept getting yelled at for simply being kids. They were told no scooters, bike, no playing on the porch, no playing any of the games. For as much as we paid, we were harassed by many.
Apr 03, 2021
I love this place. The staff and all the other campers are so nice. There are a lot of activities here.
Apr 03, 2021
Nice amenities, pool, and a great view of the Bayou (if you pay for it). Otherwise, the KOA lost our reservation and we had to initially stay in a site that was not ours; if they hadn't had anything opened we would have been out of luck. The sites are extremely cramped, so much so that I was concerned about having a campfire. Prices are outrageous and you could stay in a hotel for that cost.
Apr 03, 2021
This was a very nice place to stay. Pool and hot tub were nice. Park is very clean. Everyone was very friendly.
Apr 03, 2021
No free dump station
Apr 03, 2021
Very pleasant, professional, and well run. Would surely return.
Apr 03, 2021
Stayed in a very nice and clean cabin. Will be back!
Apr 03, 2021
Amazing stay! It was our first time at a KOA and it was Exactly what we needed. We will definitely be back again and again!!
Apr 02, 2021
This is my 7th stay, The last three cabins have had issues. This time I needed the couch replaced as it was broken. the toilet had to be plunged there was no bulb in the bedroom and 2 were out in the LR. Otherwise - as always we had a great time, I wanted to come in May for the special but all delux were booked. I have to have a bathroom as my mother has SEVERE alzheimers and needs to get up at ni
Apr 02, 2021
Great people. Great hospitality. Friendly staff. Very efficient
Apr 02, 2021
Had fun exploring. Enjoyed the exercise classes and adult hot tub. Great staff.
Apr 02, 2021
Overcrowded campground. Very close and overpriced at $138/night for waterfront which was a glimpse of some water beyond a bunch of brush. Great staff and nice store and amenities provided. Pool too small for number of guests
Apr 01, 2021
Hands down the best place I have ever pulled the camper to. I dont know if I just got lucky with the site cause Expected to get one of the worst but I had water right behind me I have a small toyhauler and I was able to drop the door and I saw the sun rise in the right corner o or the water. It made for the best pictures and seeing the guest enjoying the water activities was great also.
Mar 31, 2021
was there for 5 months, enjoyed it
Mar 31, 2021
First time stayed there, family really enjoyed it.
Mar 31, 2021
Facilities are clean. Very tight camping sites. Registration and store clerks friendly and helpful. Grounds staff gruff and unfriendly at times. Could get a nice hotel for the same price per night.
Mar 31, 2021
We loved the atmosphere and the workers are very nice and helpful the cabin was nice and cleaned also was able to check in an hour early and loved how you had dog bowls and treats for our dogs we will be coming back again thank you
Apr 15, 2021
This is our first time traveling in our RV and this is our first time in a KOA. And, I have to say, I am really impressed! Definitely great driving route that the KOA provides to navigate thru St. Pete, and they encourage you NOT to follow maps route. Great suggestion!
- Rhonda Sapp on Google
Apr 13, 2021
Very nice RV park. On the water and near the beaches
- Mark Shepherd on Google
Apr 11, 2021
Beautiful place! This time we opted to camp in our tent. The view was beautiful! The staff are all friendly. The bathroom and shower area stayed clean during our stay. We'll definitely be coming back!
- Kasey Bragg on Google