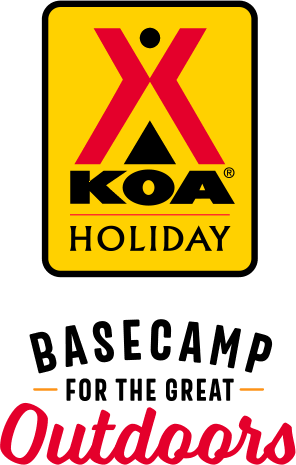 KOA Holiday Campgrounds
Whether you're exploring the local area or hanging out at the campground, KOA Holidays are an ideal place to relax and play. There's plenty to do, with amenities and services to make your stay memorable. Plus, you'll enjoy the outdoor experience with upgraded RV Sites with KOA Patio® and Deluxe Cabins with full baths for camping in comfort. Bring your family, bring your friends, or bring the whole group – there's plenty of ways to stay and explore.
KOA Holidays Feature:
RV Sites with a KOA Patio®
Deluxe Cabins with full baths
Premium Tent Sites
Group meeting facilities
Directions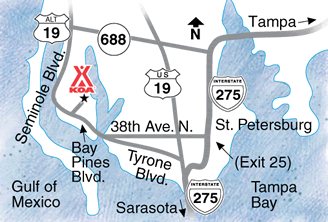 From I-275, Exit 38th Ave N (Exit 25). Go west 5.5 miles, veer right onto Tyrone Blvd (Bay Pines). Move to center lane and go 1.5 miles to 95th St N (Second traffic light). Turn right, go 1/2 mile.
You must call our front desk for the availability of pet friendly lodging. There is a  non-refundable pet fee/per pet
Check in time is 3:00 and Check out is 11:00 am
FREE BASIC WI-FI
Get Google Directions
Mar 01, 2021
Very nice place!
Mar 01, 2021
Loved the area & being close to the beautiful beach. Everyone at campground were very friendly!
Mar 01, 2021
We had a great spot on the water. Campground is on a paved bike trail. Lots of amenities. Very quiet at night.
Mar 01, 2021
Great location, but the best you have is the staff running it. I work in the hospitality industry and I will love to hire all your staff
Mar 01, 2021
The only thing that kept me from giving 5 stars is spacing. Some of the sites are very close together. The staff here is top notch and the keep the park super clean. Very convenient location.
Mar 01, 2021
The most impressive aspect was how extremely friendly and helpful every staff member was, from check in to check out! It was our very first camping experience with our RV and we couldn't have asked for anything better!
Feb 28, 2021
Pleasant campground with tight sites.
Feb 28, 2021
Very helpful
Feb 27, 2021
A little pricey for camping, but a really nice/fun place/area.
Feb 27, 2021
Sites are way too close. Rented a waterfront site but could not get into the site properly because of an overhead branch that we couldn't get our Class A under. The branch had caution tape around it so obviously they were aware of the issue. I don't understand why they put us in that site. To give management credit though they did try to relocate us but the available sites were not much better
Feb 27, 2021
The office staff here is wonderful. Very accommodating for last-minute reservations.
Feb 26, 2021
Had a great campsite with a lovely view! It's pricey but worth the money! Highly recommend! Staff friendly and the grounds are well kept!
Feb 26, 2021
Mike was great to blow the leaves off the Bocci Court as soon as we asked. This is a great campground.
Feb 24, 2021
The staff were friendly and the location is nice, but many of the sites were narrow, on top of each other, and very steep. I put 5 leveling blocks under front tire and the level didn't even move off the far right. This is one of those places you need to visit and pick a good site first. For the price I wouldn't recommend.
Feb 23, 2021
Great time lot was nice workers went out of there way to help you will be back
Feb 23, 2021
Nice staff. Warm welcome. Clean facilities. Good location. Small sites with big price.
Feb 22, 2021
Very clean and organized. Great custoemr service. The pool area is very nice.
Feb 22, 2021
We had a great time and will definitely be back! My only feedback for improvement would be some at the front desk were not pleasant to interact with. We did not need to reach out often but the couple times we did, the staff seemed bothered to help us.
Feb 22, 2021
Our first KOA experience. From check in to the escort to our site, the process was seamless and friendly. Everyone was welcoming. A lot of activities and amenities to keep our kids entertained. Great location on the bike path. Will definitely stay again!
Feb 22, 2021
The staff was great and the amenities (pool, mini golf and bacci) were great. However, the sites were tight so my kids were playing in the street and there was very little grass which made for a dirty camper. The campground was nice but the sites left much to be desired.
Feb 22, 2021
The personnel at the St Petersburg KOA are helpful, very nice and friendly The site we had was a little on the small side and we had a bit of a hard time getting on our site but we were successful with only some minor damage to our truck hitting a decoration.. The KOA guy that lead us to our site helped us back in to our site (had to ask the neighbor to move his truck to allow us maneuver room)
Feb 21, 2021
Great location to the beach. Some sites are narrow.
Feb 21, 2021
Terrific visit. Excellent location and very friendly staff.
Feb 21, 2021
Very clean. Staff was awesome.
Feb 20, 2021
Lovely place .. very expensive but lovely
Feb 19, 2021
Most of the place was filled with full time guests and there were very few families
Feb 19, 2021
Great location! Bathrooms very clean. Bike trails a plus.
Feb 19, 2021
We were in site 622, a small tight spot with a crumbling pad. For the cost the reservation we were expecting more. We weren't able to use any of the facilities since we were in the area on family business.
Feb 18, 2021
great visit looking forward to next year
Feb 18, 2021
Great place, employees are constantly cleaning the restrooms and the grounds.
Feb 18, 2021
Great place. Close to food, shopping, and bike trail.