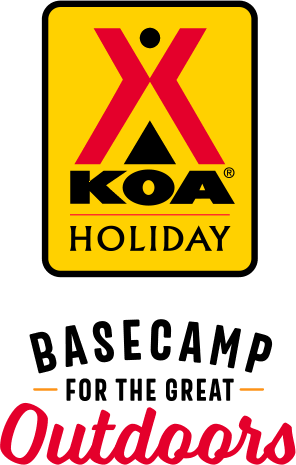 KOA Holiday Campgrounds
Whether you're exploring the local area or hanging out at the campground, KOA Holidays are an ideal place to relax and play. There's plenty to do, with amenities and services to make your stay memorable. Plus, you'll enjoy the outdoor experience with upgraded RV Sites with KOA Patio® and Deluxe Cabins with full baths for camping in comfort. Bring your family, bring your friends, or bring the whole group – there's plenty of ways to stay and explore.
KOA Holidays Feature:
RV Sites with a KOA Patio®
Deluxe Cabins with full baths
Premium Tent Sites
Group meeting facilities
Directions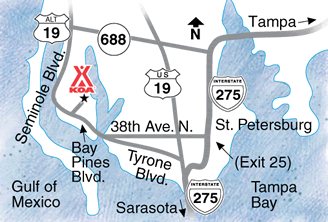 From I-275, Exit 38th Ave N (Exit 25). Go west 5.5 miles, veer right onto Tyrone Blvd (Bay Pines). Move to center lane and go 1.5 miles to 95th St N (Second traffic light). Turn right, go 1/2 mile.
You must call our front desk for the availability of pet friendly lodging. There is a  non-refundable pet fee/per pet
Check in time is 3:00 and Check out is 11:00 am
FREE BASIC WI-FI
Get Google Directions
Feb 24, 2021
Nice place, but staff is abnormally uncaring and at times rude. No one there seems capable of holding true to their word, especially the managers. The only people who seem to want to help customers paying almost $300 per night is the maintenance staff. This information and more will be going to KOA corporate after TJ has gone back on his word and down-right lied about what he told us.
Feb 24, 2021
Will return! Loved our stay! Wasn't long enough, friendly staff, very clean and beautiful spot to stay!
Feb 23, 2021
Excelente lugar para buscar una estadía tranquila
Feb 19, 2021
Excellent grounds and amenities! Service was phenomenal!
Feb 18, 2021
Staff is always friendly, helpful, and responsive. Internet in the cabins is horrible and never gets any better from year to year. Cabins are cozy and well-maintained. Great location, on the water and the Pinellas Trail. My winter home away from home!
Feb 17, 2021
Good times with good friends at a beautiful campground. We enjoy every visit.
Feb 16, 2021
Beautiful cabin!!
Feb 15, 2021
Wonderful cabin.
Feb 11, 2021
Clean cabin, great for families or retirees! Will definitely be back!
Feb 10, 2021
Very clean campground and the employees are so kind
Feb 07, 2021
Everyone we met including staff was very friendly and helpful when needed. Cabin was clean and ready for us to move in during our stay. The amenities were great .
Feb 03, 2021
Everyone was so nice.
Feb 02, 2021
Everyone was so nice and the place is super clean.
Jan 28, 2021
Cabin was very clean! We had a great time, lots to do in the area but honestly we stayed at the campground majority of the trip because it was so relaxing!
Jan 21, 2021
Beautiful and peaceful place to stay.
Jan 21, 2021
All the staff were helpful and kind. The facilities were very clean. The cabin we rented was well kept and extremely clean. There were many amenities available for use. We had a wonderful time during our stay and can't wait to go again!
Jan 20, 2021
All good! Nice place, cabin was clean and well maintained. Staff was friendly and check-in was quick and easy. Firewood was inxpensive and quickly delivered to our cabin. Our third stay here and always enjoy it
Jan 20, 2021
We had a wonderful stay. The campground was lively, but yet we felt secluded and enjoyed our own space. The boat ramp and floating dock were great! Would highly recommend KOA St. Pete/Madeira to anyone looking for a fun place to stay in Florida.
Jan 19, 2021
I had a cabin. The shower temp was just warm. I had the tech come down and he said he was unable to fix it but it would be fixed the next day. It wasn't
Jan 08, 2021
The KOA at St. Pete is beautiful and right on the water. We stayed in 1 of the deluxe cabins and it was clean and comfortable. They even had dog treats, a dog blanket and bowl for our service dog (which was really nice!) The only thing we think that can be improved upon is that they don't offer a veteran military discount (only active duty military), like the other KOAs we have stayed at.
Jan 06, 2021
Amenities were great and views were beautiful, but we found 2 large roaches in our room, the water for the shower was super cold (no after hour number found to reach staff) and no fitted sheets included for bunk beds.
Jan 06, 2021
Before we booked online, we called for info & were told we could rent bikes & ride an "amazing bike trail." FYI: incorrect. We got there & went to rent bikes, they said we're only allowed to ride their bikes inside camp - bc of insurance reasons. Rented bikes & rode by RVs, trailers, cabins. Not cool. Also electricity pole tower crackled loudly constantly, disturbing. But overall it's a nice camp.
Jan 06, 2021
Awsome . Great place
Jan 04, 2021
Every worker was very pleasant and helpful. If you asked for something, it was there immediately. The cabins were well stocked. I would stay there again.
Jan 04, 2021
Muy placentera!!..
Jan 04, 2021
This stay was not as enjoyable as before. It was really crowded around my cabin and there were children everywhere, I didn't really feel comfortable lighting my fire because they were unsupervised and I didn't want to be responsible for watching them due to their parents being absent
Jan 03, 2021
Was just for one night. The cabin was very good
Dec 29, 2020
Nice KOA. Great Christmas decorations. Cabin was clean and well appointed. We did bring our own space heater as one was not guaranteed to be available when we arrived and it had been forecast to be in the 30's. Fire pit was clean and ready to go. Grill only worked on one side but that was ok for us since we were only heating hot dogs. Daughter had a blast and sadly we could not stay another nigh
Dec 25, 2020
We had our AirBnB fall through on our drive to FL. I love most KOAs, but this was one of the best. We stayed in a deluxe cabin. There was enough room for 3 onli e learners and one online teacher. We enjoyed kayaking, the proximity to beaches, running the rail trail. The kids (4 of them) enjoyed the warm pool and games during a rainy day. I would stay here again for sure!
Dec 23, 2020
Simple to book, cabin was clean and had all of the things we needed. We can't wait to return!
Dec 16, 2020
Stayed last year in a deluxe cabin that had a full refrigerator/freezer and bathroom with a sink. Loved the cabin. Got a deluxe cabin that was more expensive this year and only had a mini fridge, that didn't even get cold. No freezer. Smelled horrible. Bathroom between the bed and kitchen with no sink, gross. Not sure what was "deluxe". Will be sure to confirm what the setup is if I stay again.
Dec 16, 2020
We love this campground. Always clean and staff is amazing!!!
Dec 16, 2020
everything was great
Dec 16, 2020
Could not have been more pleased! We are rookie RVer's with our Maiden Voyage in our Remodeled 1984 Airstream so we did not know what to expect.It was such a great experience with Robin at the front desk and Mike who helped this rookie back in the 31' Land Yacht-that was fun! Anyway, had a great surprise Birthday party for our son and may have made me a believer in this RV thing. Thanks to ALL!!
Dec 16, 2020
The campgrounds and staff were absolutely FIRST CLASS!!!
Dec 12, 2020
Needed a place to stay that would be pet friendly as we travel with our dog. This was the best stay we've experienced as she could be with us in the cabin, on the deck and plenty of area to walk. The cabin was spacious, clean and exceeded our expectations. Your employees were all very kind and helpful with any questions we had. Thank you!!!
Dec 09, 2020
We stayed in a deluxe cabin that was beautiful. The cabin was very clean. The view was gorgeous overlooking the mangroves. The campgrounds were very quiet and relaxing and the staff were all very helpful and welcoming. I work in healthcare and these days, are obviously, very stressful so to have a nice little weekend away to relax my mind and rest my soul was very much needed! Thank you!