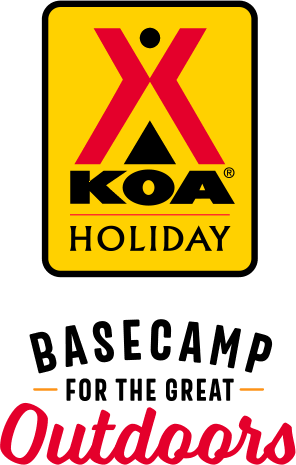 KOA Holiday Campgrounds
Whether you're exploring the local area or hanging out at the campground, KOA Holidays are an ideal place to relax and play. There's plenty to do, with amenities and services to make your stay memorable. Plus, you'll enjoy the outdoor experience with upgraded RV Sites with KOA Patio® and Deluxe Cabins with full baths for camping in comfort. Bring your family, bring your friends, or bring the whole group – there's plenty of ways to stay and explore.
KOA Holidays Feature:
RV Sites with a KOA Patio®
Deluxe Cabins with full baths
Premium Tent Sites
Group meeting facilities
Directions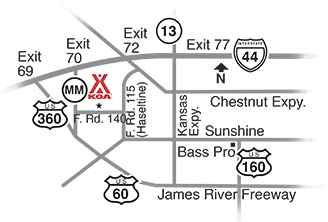 Eastbound/Westbound I-44: Exit 70 (MM), South .2 miles, turn left on Farm Road 140.
From South: Take US 60 West to US 360 Exit MM, North 1.4 miles, turn right on Farm Road 140.
Get Google Directions
May 11, 2021
Very nice place but if it rains the drainage is non existent. Our parking spot just happened to be right where all the water puddles. Had to jump out of our motorhome to get out of it and miss the water pool in front of our door and around the front of our parking spot.
May 11, 2021
We were very disappointed with our stay. We only live 100 miles away but we like to do a few things around Springfield. We have just in the last year been able to go in our rv whenever we want. In the last year we have stayed at KOA's exclusively. Really noisy, late time means nothing. People walking all hours of the night with flashlights & shining them in your windows. WiFi worthless. Just sad
May 11, 2021
The camp workers were nice, friendly, & helpful! The restrooms/showers were very clean. A nice place to stay!
May 11, 2021
Very nice, quiet and clean. Staff was very informative.
May 10, 2021
All people working were nice and helpful. Nice place. Spacing between RVs were good. We were on a KOA patio pad. Need to add some rock to bring up the road bed, reason is the pad is two high and when my steps come out my fifth wheel to sit on the pad my door will not close. Just back up to put steps on grass We had a good stay.
May 10, 2021
The park was clean, easy to find and far enough off the highway not to hear highway noise.
May 10, 2021
Hosts were awesome! Very clean campgrounds.
May 10, 2021
Normally we are very pleased with this KOA, but they need to do some leveling on their grounds and replace rock in order to drain water away from their property sites and road. Had to drive vehicles through muddy wat water. They also need to have a walk way of concrete or rock to the main building without having to walk through mud or all the way around on the road.
May 10, 2021
Very good, no problems
May 10, 2021
We purchased 8 or so bottles of soda. Diet Coke , Mountain Dew. We had to return them because they tasted really weird. When looking, they had ALL EXPIRED in 2017 except 2 bottles that expired 2019. Gross! When we told the guy working the store, he said and I quote "well I just had one this morning and it tasted great!" We were refunded but the next day we saw that they had just restocked the
CAMPGROUND RESPONSE / COMMENTS:
We think there may be some confusion here as all of our sodas are marked 2021 and we do not sell Mountain Dew.
May 09, 2021
Facilities well maintained; restrooms clean. Nice to have food on site. Staff were courteous and helpful.
May 09, 2021
Made to order yummy pizza and generous ice cream cup.
May 09, 2021
Very friendly and accommodating. We were met at the entrance and led to our site. Hostess than brought paperwork to our site.
May 08, 2021
I only stayed one night. Laundry room was clean and organized. Grounds were neat and tidy. The only issue I had was that I had no power from the hookup. I let the gentleman at the office know the next morning and he said he would look into it. Aside from that one little issue everything else was great.
May 07, 2021
Love the BNSF tracks near by and it's close to the city.
May 07, 2021
Husband, dog & I loved our stay. very friendly atmosphere.
May 07, 2021
The office was closed when we got there and closed when we left. I hate that. I like human interaction. There wasn't a little heater in the "glamping" tent, so we were very cold. We were hungry & had no idea where to find something to eat. We had spent all day moving my daughter and granddaughter to town and were all tired and hungry. Since they are living there now, we will indeed be
May 06, 2021
Clean and peaceful setting (except for multiple trains and airplanes). One bathroom had a sign saying it was closed for winter even though our visit was in May.
May 06, 2021
Employees and campground were all very nice. However the frequent train running nearby with whistle blasting was a little disturbing. I realize this is absolutely not in any way this KOA's fault. We stayed 3 nights and were woken up every night multiple times as the train went by. The noise of the train would have been okay minus the train whistle blasting. This might impact us staying at this KOA
May 05, 2021
We have stayed at this KOA multiple times on our way to and from Texas. It is convenient to I-44, it is at a convenient stopping point and we like Springfield, MO. With that said it obviously is an older KOA. The sites are small, cable TV is a joke, electrical system is adequate but no more. This KOA needs some TLC if it wants to provide a first class camping experience.
May 05, 2021
the people and service were amazing and made everything we needed seem effortless . the camp ground showers roads and general store were VERY well kept clean and the store had very nice options . the only downside was the train nearby but an easy item to ignore considering the service scenery and cleanliness of this establishment
May 05, 2021
Loved our stay and will be back in 2 days
May 04, 2021
Campground is kept clean and the people are very friendly and helpful. Campground has easy access from highway.
May 04, 2021
We enjoyed our stay at this campground. We found the staff to be friendly and helpful. Campground was clean and well maintained. We would definitely use this campground in the future. If you're doing a Route 66 trip, it is very conveniently located to old Route 66 The Burrells from Bogart Georgia ���������
May 04, 2021
Our third stay and definitely not our last. Campground is always clean and quiet. Staff are always friendly and very helpful.
May 04, 2021
We stayed 2 nights. We pull a 32 ft 5th wheel with a 12 ft trailer behind it. They gave us a space long enough to unhook the TV and still have room. Lots of families with kiddies and dogs but everyone was well behaved and seemed to follow park rules . Have stayed here once before and will be back. Good pizza too.
May 04, 2021
First time out with an RV and found the park to be a great place to go the first time.
May 03, 2021
Awesome campground! We will be back and have already recommended this campground to our camping friends!!
May 03, 2021
It was very pleasant, nice shaded spots--be very nice in the summer months. Easy to pull into and out of. Easy to access the hook ups. You can't ask for more.
May 03, 2021
Clean, easy to get camp ground and into site. Friendly and all kinds of extras. Noise from highway, train tracks and air port but not bad. Will go back
May 03, 2021
Great. But train traffic loud.
May 03, 2021
Well, we rented a Motorhome space and a cabin and I chose the deluxe cabin because everything was included, and it did except bed linens. The main bedroom did have a mattress cover on it and some sort of blue cover/decoration and the second bedroom had nothing at all. So that was extremely disappointing considering how expensive this "deluxe" cabin was.
May 02, 2021
Loved the roomy Deluxe Patio site. Easy access in and out. We were awaken the first night to train horns at 3:30 and 4 AM. However, surprisingly, we were able to sleep through them for the rest of our 10-day stay.
May 02, 2021
It was a very pleasant and comfortable stay. The campers are friendly and the staff are great and welcoming.
May 02, 2021
Very nice park. Only flaw was weak wifi. The hot wings we ordered from the on-site Hunts Pizza were delivered to our door and were very tasty. Management was friendly and helpful. Will stay there again.
May 02, 2021
Very helpful and friendly. We'll equipped store, clean and nicely landscaped
May 02, 2021
Very clean and well maintained The train wasn't go at all times of the night when we were sleeping and the airport
May 02, 2021
We feel you have housed too many full time residents. Just as we were leaving your campground Wednesday morning, the three policemen were approaching one of the full time residents. Scary!
May 02, 2021
Will recommend this KOA to others.
Jun 16, 2021
Very nice
- Kim Brown on Google
Jun 12, 2021
Excellent tent sites with pet areas at each end.
- M Wallace on Google
Jun 09, 2021
We loved staying at this koa. The bathrooms were nice and clean, great pool, yard games and bikes to rent. The staff was super accommodating and so friendly. One of our favorite things was that you can call the office and order pizza that they then deliver hot and fresh to your camp site. In the morning they make warm cinnamon sugar donuts 🍩 😁
- Bricole Filipovic on Google