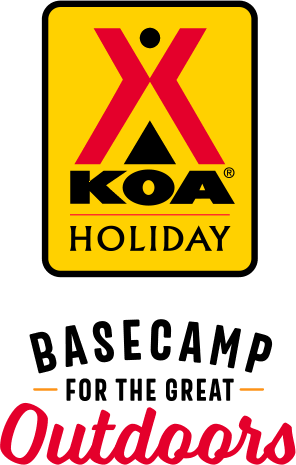 KOA Holiday Campgrounds
Whether you're exploring the local area or hanging out at the campground, KOA Holidays are an ideal place to relax and play. There's plenty to do, with amenities and services to make your stay memorable. Plus, you'll enjoy the outdoor experience with upgraded RV Sites with KOA Patio® and Deluxe Cabins with full baths for camping in comfort. Bring your family, bring your friends, or bring the whole group – there's plenty of ways to stay and explore.
KOA Holidays Feature:
RV Sites with a KOA Patio®
Deluxe Cabins with full baths
Premium Tent Sites
Group meeting facilities
Directions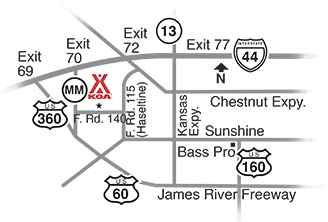 Eastbound/Westbound I-44: Exit 70 (MM), South .2 miles, turn left on Farm Road 140.
From South: Take US 60 West to US 360 Exit MM, North 1.4 miles, turn right on Farm Road 140.
Get Google Directions
Jun 09, 2021
The staff was very accommodating.
Jun 08, 2021
Fantastic tent site. Very nice and polite people
Jun 08, 2021
We had an amazing stay. So glad we stopped. The staff was so friendly and helpful. Campground was very clean.
Jun 06, 2021
Bathrooms need work
May 31, 2021
It was our first stay at a KOA. The overall stay was wonderful. The staff was very nice and helpful. My kids enjoyed the activities; beanbag toss and bikes. The pool was open but it was too cold for us. One negative - the bathrooms were not attended to, even though there is a sign for cleaning daily, but they were not cleaned. That won't keep us from coming back though to enjoy the pool & scenery.
May 31, 2021
Everything was great except our neighbors whose dogs barked all night long
May 30, 2021
Not a quiet TENT campsite, due to planes, trains, and automobiles. SPRINGFIELD AIRPORT FINAL APPROACH, ACTIVE TRAIN TRACKS ON EASTERN PROPERTY BOUNDARY, AND WITHIN EARSHOT OF I44, �. My wife grew up in Baltimore and didn't even notice. Otherwise an enjoyable stay.
Apr 20, 2021
Nice and personable folks. Quiet and clean..
Apr 01, 2021
I love traveling across the US and staying at KOA! However, we may have checked in near closing time for the office, that doesn't mean to be rude and disrespectful to paying customers. I'm sorry that I interrupted your 15 minute conversation with another employee. I politely waited, however DO NOT stomp your foot at me and roll your eyes when I wanted attention. Your bathrooms were disgusting!
Oct 19, 2020
the train came through every hour on the hour, we didn't sleep at all with the train horn blowing. I think they should tell people about the train. we will never stay there again. on a good note the people were very nice and the ground was clean.
Oct 08, 2020
Great park. Great staff. Only issue was that people in motor homes feel it is ok to take their dogs to the tent camping area to do their business.
Sep 29, 2020
On my cross country road trip from LA to Detroit, I've camped at Flagstaff, Amarillo, and Indianapolis KOA's...this is by far the prettiest and best. I just wish Covid-19 issue were taken more seriously. My whole purpose of driving instead of flying across the country was my concern with Covid-19. I was a very disappointed with the lack of concern by hosts and guests regarding this issue.
Sep 29, 2020
Lovely place, lovely people!
Sep 22, 2020
The one thing that we did not like about our stay was the fact that there were camp sites closer to the bathroom and the main office, but we were sent to the farthest one in the corner. besides the dog run at that. There were other camp sites available and i think we should have been able to choose the one we wanted. other than that our stay was satisfactory. Thank You.
Sep 11, 2020
Tent camping was great!
Sep 08, 2020
Had planned to stay for several days, but encountered inconsiderate staff. So left early and won't return. Not recommend.
Sep 08, 2020
It was a fantastic layout and I loved how quiet and cozy it felt. The stay was incredibly nice and helpful!
Sep 06, 2020
First this is the first KOA I've been to that doesn't offer a military discount. Then, I know this isn't their fault but there is a train track not too far away and all night you hear the train and its horn. But what really bugs me, is they had a bunch of empty tent camping spots and when we showed up put us right next to somebody that was already there, why couldn't they put us another site over?
Sep 01, 2020
The staff were wonderful! The lady up front made us feel very welcome. We arrived later in the day and she was still full of energy and eager to show kindness. She took pictures of us in the big chair and was so pleasant to my son and I. The facility was meager compared to many KOAs. But the pizza was a nice touch. Really the thing that made this facility great was the staff!!! Thank yo
Aug 11, 2020
Super friendly.
Jul 27, 2020
Clean and peaceful! Marty I believe wash is name is a great guy and a huge help!
Jul 06, 2020
Great tent site where I could tuck away in the trees. They have a real pizza shop on site and deliver it to your site.
Jul 06, 2020
I had a great time staying here. The people were friendly and very helpful. I plan on staying here again the next time I'm in the Springfield area!
Jun 29, 2020
Very nice! We couldn't find the tetherball that was listed in the brochure. Our kids wanted to play. Overall, great experience!
Jun 29, 2020
So the grounds were great and well taken care of but I have some feedback. The check in room/gift shop had a sign on it that allowed only two people in due to COVID, but when I checked in, there were at least 4-5 people in there. None of the employees were wearing Personal Protective Equipment. Additionally, the table at my assigned campsite had a strange symbol painted on it.
Jun 23, 2020
Best KOA store I've seen yet, well stocked with some nice gifts/souvenirs. They even stock beer. Facilities were clean and stocked. The tent grounds could be a little better prepared, but it was fine.
Jun 22, 2020
It was great! Quiet hours were respectfully observed by everyone around us and the bathrooms were clean.
Jun 18, 2020
Excellent stay. Clean campground, very friendly staff and wonderful tent site
Jun 06, 2020
Our 3 year olds first camping experience was not good and we felt the same. The tent site picked for us had a ridiculously bright light blinding us from back of store/check in building on arrival; we set up our tent and just as we were at the cusp of sleep a train horn about 200ft away had my son in tears and clutching his ears until sunrise. We spent half of our next day relocating instead of fun
Jun 16, 2021
Very nice
- Kim Brown on Google
Jun 12, 2021
Excellent tent sites with pet areas at each end.
- M Wallace on Google
Jun 09, 2021
We loved staying at this koa. The bathrooms were nice and clean, great pool, yard games and bikes to rent. The staff was super accommodating and so friendly. One of our favorite things was that you can call the office and order pizza that they then deliver hot and fresh to your camp site. In the morning they make warm cinnamon sugar donuts 🍩 😁
- Bricole Filipovic on Google