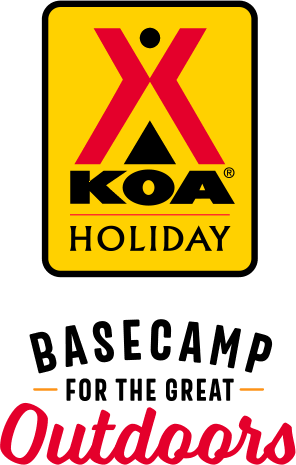 KOA Holiday Campgrounds
Whether you're exploring the local area or hanging out at the campground, KOA Holidays are an ideal place to relax and play. There's plenty to do, with amenities and services to make your stay memorable. Plus, you'll enjoy the outdoor experience with upgraded RV Sites with KOA Patio® and Deluxe Cabins with full baths for camping in comfort. Bring your family, bring your friends, or bring the whole group – there's plenty of ways to stay and explore.
KOA Holidays Feature:
RV Sites with a KOA Patio®
Deluxe Cabins with full baths
Premium Tent Sites
Group meeting facilities
Directions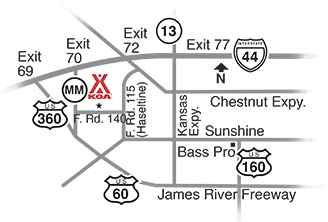 Eastbound/Westbound I-44: Exit 70 (MM), South .2 miles, turn left on Farm Road 140.
From South: Take US 60 West to US 360 Exit MM, North 1.4 miles, turn right on Farm Road 140.
Get Google Directions
Jun 13, 2021
Arrived late and a nice man was waiting to show us the way to our cabin.
Jun 12, 2021
Enjoyed very much ty
Jun 09, 2021
Great place! Friendly staff and was very impressed with the cabin! Very clean and cute!
Jun 08, 2021
We had family stay in a cabin as well as us in an RV site, we all enjoyed our stay.
Jun 08, 2021
The campgrounds were nice and convenient but the freight train blowing its horn every hour was terrible and it took over 3 hours to try and start a fire with wood that was wet and unBurnable
Jun 07, 2021
We were impressed by how wonderful this campground is! It completely exceeded our expectations. Our cabin was adorable, and we loved being able to have pizza delivered straight to us. We'll definitely be coming back!!
Jun 01, 2021
Loved the cabin we stayed in, it was small for the cost and we had ants staying with us, but we were in the wilderness so that's expected. The only complaining I could do was not enough of play ground or equipment for my young kids.
May 31, 2021
We were a family of 13 that rode in a school bus (converted into camper) from MN on a family vacation. We were able to check in early. Fully furnished cabin was very cozy. Nice patio space. Super clean and friendly staff. Very accommodating to us. We definitely recommend this campground. Thank you for the great memories.
May 31, 2021
Stayed at camping cabin. Liked the door better than other campgrounds with the rope. The bathrooms need updating the store needs to offer coffee earlier.
May 30, 2021
Beautiful facility, great people. Occasional train is loud but easily got used to. Grew up a block from train tracks.
May 23, 2021
Good employees and enjoyed our stay.
May 22, 2021
We enjoyed our stay using your cabins. Very comfortable and well-appointed. Thank you for making two cabins available for us.
May 19, 2021
Great staff. Ground super clean. We had a kamping kabin by the camp kitchen. Well maintained. Super uncomfortable and loud bed in the cabin but other than that very pleased!!
May 09, 2021
Made to order yummy pizza and generous ice cream cup.
May 07, 2021
The office was closed when we got there and closed when we left. I hate that. I like human interaction. There wasn't a little heater in the "glamping" tent, so we were very cold. We were hungry & had no idea where to find something to eat. We had spent all day moving my daughter and granddaughter to town and were all tired and hungry. Since they are living there now, we will indeed be
May 03, 2021
Well, we rented a Motorhome space and a cabin and I chose the deluxe cabin because everything was included, and it did except bed linens. The main bedroom did have a mattress cover on it and some sort of blue cover/decoration and the second bedroom had nothing at all. So that was extremely disappointing considering how expensive this "deluxe" cabin was.
Apr 21, 2021
Absolutely loved it here! Friendly staff great environment! Koa team thank you for putting up with us and our crazy kids! Would highly recommend staying here again!! Came to stay in a tent and got a cabin instead! Best idea! 100/100!
Apr 19, 2021
Cute campground with adorable cabins! Clean and friendly!
Apr 19, 2021
Great people, good facilities.
Apr 10, 2021
Nice, clean, friendly folks, other guests are nice quiet and respectful
Apr 06, 2021
It's our second time staying at this KOA. The staff are friendly and helpful. The whole place is clean. There are activities for the kids. It's a great choice for a stay.
Apr 06, 2021
Very nice and clean
Apr 04, 2021
Trains horns were quite loud and woke us up at 4am and 4:30am. Otherwise the KOA did a great job.
Mar 31, 2021
We had a $25 pet fee. We went on to Elk City ok KOA and no pet fee?
Mar 25, 2021
We enjoyed our cabin, had most everything we'd need. Friendly staff brought down soaps and items that were not in the room, was handy for pizza and the general store on property. It rained our entire visit, staying inside relaxing and watching tv was about our only opinions. The internet was not working well nor apps on the smart TV was our only issue.
Mar 22, 2021
Cleanest bathroom/bath house I have ever seen! Staff was wonderful. Our cabin was perfect size and clean. Grounds were so well kept and organized. Yes, we heard some planes, nit a problem for us. Yes, we heard the train several times but it really wasn't a big issue for us. We will be coming back!
Mar 22, 2021
Very nice. Second time to stay there. One issue was remedied. Thank you, R. David Fisher
Mar 16, 2021
Very great staff here !!
Mar 12, 2021
Nice accommodations but very noisy with trains airplanes and truck noises all night long. Over priced!
Mar 10, 2021
Guests & grounds were quiet & peaceful. Trains loud. Accommodations KL1 were beautiful. Overall very happy with my KOA experience would recommend KOA in general, just not Springfield due to the proximity to train tracks.
Feb 17, 2021
The deluxe cabin was really nice. The main bathrooms at the office were okay. Showers were small. Pizza was good.
Jan 17, 2021
Knowledgeable, helpful, and friendly staff! Clean and comfortable campground.
Jan 07, 2021
We have stayed at the Springfield KOA probably five or six times before in our travel trailer. This time we need a Cabin and both my wife and I were pleasantly pleased. It was clean and nice and perfect for our stay avoiding indoor spaces during COVID. In fact, we liked it so well we will probably look for them in lieu of hotel rooms now. Bonus, it was very dog friendly.
Jan 02, 2021
We sayed in a Deluxe Cabin and the place was very clean. The Bed was also cozy. The Firepit too unique. Also campground has alot of trees for shade.
Dec 21, 2020
Everything was optimal!
Dec 16, 2020
great place and folks will come again
Nov 25, 2020
The sheets on our bed were dirty .We had brought our own so we put those on. The toilet water drains out of the tank so have to jiggle the handle and wait for it to fill in order to flush. The coffee pot was not cleaned and still had grounds in the basket that had dried out. It must have been their a while. Other that that, The park was quiet and clean.
Jun 16, 2021
Very nice
- Kim Brown on Google
Jun 12, 2021
Excellent tent sites with pet areas at each end.
- M Wallace on Google
Jun 09, 2021
We loved staying at this koa. The bathrooms were nice and clean, great pool, yard games and bikes to rent. The staff was super accommodating and so friendly. One of our favorite things was that you can call the office and order pizza that they then deliver hot and fresh to your camp site. In the morning they make warm cinnamon sugar donuts 🍩 😁
- Bricole Filipovic on Google