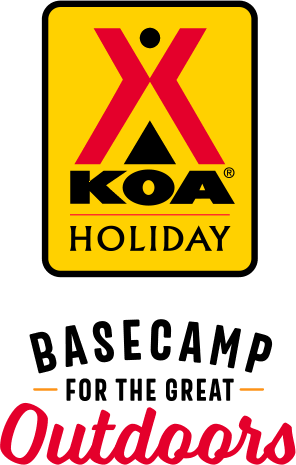 KOA Holiday Campgrounds
Whether you're exploring the local area or hanging out at the campground, KOA Holidays are an ideal place to relax and play. There's plenty to do, with amenities and services to make your stay memorable. Plus, you'll enjoy the outdoor experience with upgraded RV Sites with KOA Patio® and Deluxe Cabins with full baths for camping in comfort. Bring your family, bring your friends, or bring the whole group – there's plenty of ways to stay and explore.
KOA Holidays Feature:
RV Sites with a KOA Patio®
Deluxe Cabins with full baths
Premium Tent Sites
Group meeting facilities
Directions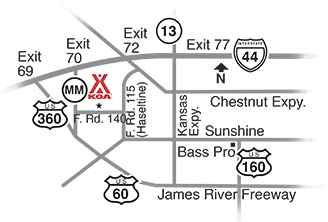 Eastbound/Westbound I-44: Exit 70 (MM), South .2 miles, turn left on Farm Road 140.
From South: Take US 60 West to US 360 Exit MM, North 1.4 miles, turn right on Farm Road 140.
Get Google Directions
Jan 15, 2021
There was no internet. We called two numbers that were posted including a cell. No one responded. There is a train VERY close and runs through out the night. We have stayed at many koas but this was the worst. Asked for discount because we depend on WiFi she responded "I don't have the power to do that"
Jan 11, 2021
Over night stop on a loner trip. Very nice store with friendly people. Nice camping areas
Jan 09, 2021
Stayed Jan 2021 for overnight Sites very narrow, about 6 in of gravel ea side of tires. Our site needed gravel refreshed. Big mud puddles on both sides. Could not avoid at least one. Asked for another site I saw coming in. It had good gravel and no mud. I was told this was an upgrade and Chged $16 extra. Many empty sites. Expected to be moved at no chrg since assigned site was bad.
Jan 07, 2021
We have stayed at the Springfield KOA probably five or six times before in our travel trailer. This time we need a Cabin and both my wife and I were pleasantly pleased. It was clean and nice and perfect for our stay avoiding indoor spaces during COVID. In fact, we liked it so well we will probably look for them in lieu of hotel rooms now. Bonus, it was very dog friendly.
Jan 03, 2021
Very pleased! Beautiful grounds. We arrived after closing and the process was so simple! We picked our spot, filled out the envelope and parked. Would absolutely recommend!
Jan 02, 2021
We sayed in a Deluxe Cabin and the place was very clean. The Bed was also cozy. The Firepit too unique. Also campground has alot of trees for shade.
Dec 29, 2020
Easy access clean.
Dec 28, 2020
Awesome place, love the pull thru! Had pizza for dinner one night from their kitchen, was really good. We placed the order & they delivered it right to our trailer.
Dec 28, 2020
Nice KOA. Well maintained. Courteous, excellent staff. Great breakfast pizza. This was our second stay here. Always impressed.
Dec 22, 2020
Just a quick overnight stay. The grounds were in good shape and the staff was helpful.
Dec 21, 2020
Everything was optimal!
Dec 16, 2020
great place and folks will come again
Dec 15, 2020
Very big and nice. Great amenities and so wooded it looks like your really camping!
Dec 15, 2020
Very nice spot for the money!
Dec 10, 2020
Very nice stay staff was friendly this was our second stay and will go again thanks to everyone
Dec 08, 2020
i had an amazing time for 5-weeks. The staff is overly accommodating and all of the amenities and laundry are spotless. I missed my pets while I was gone and had a few kittens to feed and pay attention to while I was there. Plan to go back for an extended stay very soon.
Dec 07, 2020
Great service. Clean campground
Dec 07, 2020
WiFi was horrible. I had to go elsewhere to get online.
Dec 07, 2020
Good stopping point off the interstate, but there are multiple trains going by in the middle of the night that are super loud. The office staff was very nice, and the store had some cool Route 66 stuff. The campsite we had was a nice pull thru, but the sites are right on top of each other. We were just stopping for the night, so it wasn't a big concern for us.
Dec 03, 2020
We pulled in after hours and left before light. It was great as far as we saw :)
Dec 03, 2020
Great place, very helpful staff.
Dec 02, 2020
Very nice, comfortable spot, with really easy in and out and great freeway access. The hosts made check-in easy even despite our late arrival. Heated water pipes were great, especially with temps sub-freezing. Nice patio slab. Spacious sites and clean well-kept grounds. Only possible downside - which didn't bother us - was a nearby train track which got some use.
Dec 01, 2020
Fire pit was completely full of coals when I got there, and I mean completely full. There is no excuse for this as far as I am concerned. I also did not realize there were train tracks so close to the campground. We were the closest site, it was pretty annoying and made sleeping a challenge at times. Employees were very nice though. I will not be revisiting this campground in the future.
Dec 01, 2020
We only stayed overnight, but we were escorted to our site. The parks was well maintained. They had several pet areas throughout the park. The sites were very nice and well maintained. We visited during the pandemic so most things were not open. I would still visit again.
Nov 30, 2020
Nice and clean. Very friendly at check-in.
Nov 29, 2020
Oh those trains��
Nov 25, 2020
The sheets on our bed were dirty .We had brought our own so we put those on. The toilet water drains out of the tank so have to jiggle the handle and wait for it to fill in order to flush. The coffee pot was not cleaned and still had grounds in the basket that had dried out. It must have been their a while. Other that that, The park was quiet and clean.
Nov 24, 2020
Stayed for 2 months and loved it! Everyone made us feel right at home and we will definitely be coming back soon � Thank you Cameron and KOA crew!
Nov 24, 2020
We were very close to the train tracks but the site itself was beautiful.
Nov 23, 2020
Very friendly and helpful staff! Sites are clean and well-kept, store was fully-stocked. We didn't do much besides hang out with the dog (there are 2 dedicated dog play areas) due to rainy weather and COVID restrictions but we hope to be back next year to spend some quality time in town.
Nov 22, 2020
We had a 2 month extended stay and were very pleased with the staff and the amenities. We never had even a small issue the whole time we were there. If anything needed to be improved it would be the wifi or the cell service in the area, but that is pretty much standard across all locations. Thank you for making our stay a memorable one.
Nov 22, 2020
The facilities were nice and clean. The staff was friendly and helpful. The only issue was the train tracks directly beside the campground. Nearly every hour of the night (even until 1am) the train passed by and had to blair the horn because of the nearby intersection. The facilities on site were very nice, but I am unlikely to recommend to a friend or restay because of the noisy train.
Nov 19, 2020
Very nice. Campground very neat and clean, hosts are lovely.
Dec 13, 2020
Very courteous, helpful gentleman. Reservations made easy with late arrival even. Early departure for cleveland after night stay. Thanks koa springfield, mo.!
- Dennis Schaefer on Google
Nov 13, 2020
Our favorite thing about this campground is its natural beauty! The grounds are gorgeous, with beautiful trees and adorable cabins. We paid the small uncharge for a deluxe site and our patio was awesome. We had a porch swing, a nice fire pit, a table and a gas grill! We also had a small dog park we only shared with two other sites (in addition to the main dog park). The playground was nothing to brag about, but they do have one! Our kids preferred hanging at the campsite and were very entertained by a friendly cat roaming the grounds. The park is right next to a railroad and you will hear train horns! It didn't bother us, but notable for sure. We will stay here again next time we're in the area!
- allisontE7628JQ on Trip Advisor
Nov 11, 2020
Great people, excellent service. Nicely maintained campgrounds!
- Becky Goings on Google