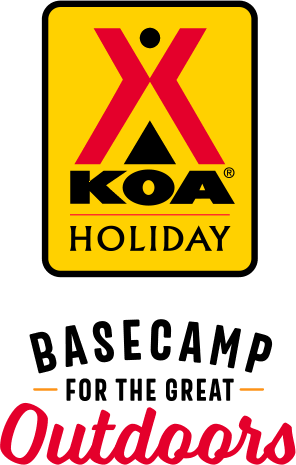 KOA Holiday Campgrounds
Whether you're exploring the local area or hanging out at the campground, KOA Holidays are an ideal place to relax and play. There's plenty to do, with amenities and services to make your stay memorable. Plus, you'll enjoy the outdoor experience with upgraded RV Sites with KOA Patio® and Deluxe Cabins with full baths for camping in comfort. Bring your family, bring your friends, or bring the whole group – there's plenty of ways to stay and explore.
KOA Holidays Feature:
RV Sites with a KOA Patio®
Deluxe Cabins with full baths
Premium Tent Sites
Group meeting facilities
Directions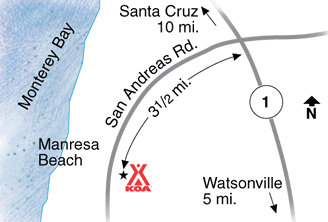 We are located 11 miles South of Santa Cruz.
Take Hwy 1 South to San Andreas Rd Exit 432 and go W 3.2 miles on San Andreas Rd.
We will be on your left. Look for the Yellow KOA Sign!
**If you are traveling on Hwy 1 North-DO NOT TAKE BUENA VISTA EXIT.
And despite what GPS, Google maps or other services may inform you, DO NOT TURN ON PEACEFUL VALLEY DR.**
Take Hwy 1 North, take exit 425 onto W Riverside Dr, take a left on W Riverside Dr toward Lee Rd.
In .2 miles, take a right on Lee Rd
In .2 miles, take a left on W Beach St
In 1.4 miles, take a right on San Andreas Rd
In 4.2 miles, destination will be on your right - look for the Yellow KOA Sign!
Get Google Directions
Nov 13, 2021
Cabin was nice but by 7:45 am, construction started outside my window in the remodeled bathroom building. Quiet hours are supposed to be from 10-8. So much for that. Here's a suggestion. Even if they waited until 8, it kind of ruined a nice morning. Please don't put guests next to a construction site. And if you must, please let them know so they can be aware before deciding to stay.
Nov 13, 2021
Scenic, quiet, clean pool and spa. Spacious site with cement patio was nice.
Nov 12, 2021
Nice facility
Nov 10, 2021
We have been visiting for Haloween weekend many years and always had a wonderful time. It has been our tradition and we were allowed to book with the first option for the following year. We were very sad and upset that KOA had opened up the reservations/We lost our spaces. Sad to learn "the new manager didn't know about blocked weekends". SO MANY FAMILIES ARE UPSET! Time for new traditions
Nov 09, 2021
Since the new manager has taken over, he has changed rules and broken up a 20 year, annual camping tradition for our group of family and friends by no longer allowing us to have priority booking for our same site for the next year. All of us lost our sites and cabins and stopped our annual tradition. He's treating this as a hotel, instead of the family tradition place that it was/should be.
Nov 09, 2021
Since the new manager has taken over, he has changed rules and broken up a 20 year, annual camping tradition for our group of family and friends by no longer allowing us to have priority booking for our same site for the next year. All of us lost our sites and cabins and stopped our annual tradition. He's treating this as a hotel, instead of the family tradition place that it was/should be.
Nov 09, 2021
Great outdoor space for family and safe!
Nov 09, 2021
Very nice place to camp with your motor home. Lots of cabins to rent out. Clean place ! Great activities for children and the pool is big for everyone to enjoy.
Nov 08, 2021
It was clean and well maintained. They really take care of all your needs. Staff were friendly and helpful. My kids had a blast.
Nov 08, 2021
Bathroom was being worked on so that was a bummer. If we stay for 2 nights there should have been 4 Keurig pods for coffee and 4 cups (2 for each morning). Everything else was fabulous.
Nov 08, 2021
This place is so fun for families. I have stayed here 3 times and plan to come back soon.
Nov 08, 2021
Great spot backing onto the nature preserve. Very quiet and cjean
Nov 07, 2021
Very nice park - offers so much for families! As a retired couple, we were glad we did not have reservations for the October 15-16 weekend after staying there Tue - Thur - it would have been a noisy zoo!! The park was very well maintained, the restrooms were very clean, and the people working in the office were all very friendly and helpful. Again - a great park for families!
Nov 07, 2021
This property offers young families a great playground area and pool. Nice coastal location. The facilities were kept very clean including bathrooms. Staff were pleasant. The only criticism is that while they do have WIFI, they don't allow video streaming, and if you do try this, we read that your WiFi would be turned off for 24 hrs. That means if working away—no ability for video conferenc
Nov 07, 2021
The bathrooms to serve our area were under construction and no portable toilets were provided. That left 2 women's stalls to serve an enormous area of the campground. One of them had no toilet paper and the other had a flooded floor. We were not warned about any of this when checking in. Also we were made to move our campsite after getting everything set up. But it's near the beach.
Nov 06, 2021
Overall, our stay was 5 out of 5. This place is comfortable and the current staff are passionate with grounds upkeep and daily operations. Due to The Awesome pool at this place, we had no choice but to extend our stay by a few days before traveling onward. Thank you for great time!
Nov 05, 2021
Our most recent stay was during a Halloween wknd celebration. Very fun and well run. Thank you. It had been a while since we visited the SC/MB KOA ~ wonderful to see all of the new improvements. Very disappointed in how next year's Halloween wknds have been managed. As it turns out, our 9 year fun of fun at KOA at Halloween has come to an end. Sure wish there had been different communicati
Nov 05, 2021
Lovely surroundings, impeccable grounds, friendly staff!
Nov 04, 2021
The stay was nice; however, we probably won't return since the reservation process changed and we are no longer able to get a spot for Halloween weekend. Disappointing.
Nov 04, 2021
Always enjoy our stay at Santa Cruz KOA...we have family in the area & this KOA is in perfect proximity. The staff is always very friendly & helpful, the park is well maintained.
Nov 03, 2021
Long-time guests of the SC KOA. I found the upgrades to the bathrooms delightful. The communication (other than the reminders of the rules) was slow. Questions were asked 2-3 times before being answered if at all. For the price, I felt like I was nickeled and dimed.
Nov 03, 2021
We had a great time. Karen in the front office was very patient and helpful. We will be back.
Nov 02, 2021
We had a great time as usual. Patty was very cordial and professional. We found some of the other staff to not be as friendly. We did like the way the manager handled the out of control guests. For the price we paid, we expected the bathrooms to be in better condition. The prizes fir the Halloween contest were not nearly as generous as before. But, a good time was had by all. Thank you
Nov 02, 2021
Pretty dissatisfied with last weekend. We've come to this KOA for years and stayed throughout the year sometimes 2-3 times. Upon showing up for the Halloween weekend, we wanted to make a reservation for next year and were told that they were already booked. We received no communication that bookings would open in June. Your new management sucks! We won't be returning ever.
Nov 02, 2021
I have never filled out one of these surveys. KOA has everyone's' email yet the reservation change police was not communicated to anyone in advance It is the cooperate option to operate the organization in any manner. I believe a change policy for the advance reservation process could of been implemented satisfactorily with proper notification with an advance change date and a sunset policy
Nov 02, 2021
Over priced for tight sites. Sites are, mud, sand, dirt, Loud music, loud voices, drinking, way beyond 12 am from other campers. Unaware of the new reservation policy no one informed us that you need to book way in advance usually when you stay you can book for the following year. Went to do that was already sold out for Halloween 2022.
Nov 02, 2021
The bathrooms were absolutely disgusting!! We had a cabin that did not have a bathroom and in the past we haven't had an issue. They were out of toilet paper almost the entire stay! The floors were covered with paper and trash. Then eventually 2nd night in they were vandalized and not cleaned up for another good portion. It was very disappointing.
Nov 02, 2021
This year's Halloween festivities were calmer and quieter than the past few years. Thank you to management for stopping so many extra visitors from entering the park for free. The staff is not as visible as they were in years past. Garbage sits, bathrooms are not tended too as often. It was also a bummer having the contests and prizes eliminated for the holiday weekend.
Nov 02, 2021
Extremely disappointed! Family/Friends group have been going to the KOA for 6 yrs. now for Halloween fun! This year, new owners-we felt it. Less activities, what they did offer was poor-how do you tiedye t-shirts without the t-shirts?No t-shirts available! AND-no loyalty to all of us regulars that go every year and book for the next year when we leave, they opened it up in July so we all lost out!
Nov 01, 2021
Had a great time ! Place was very clean ! Events were organized ! No complaints !!! ��
Nov 01, 2021
I would have left and even higher response but they needed to clean the bathrooms more often. It was a sold out Halloween weekend so the bathrooms had heavy use. Toilet paper ran out for more than 12 hours. The floors and sinks were disgusting and felt unsanitary. Other than that it was excellent.
Nov 01, 2021
It was sad to know there is new management. This is our 6th year of going at least 3 times a year. Every year we get to hold our spot for next and did not find out until arrival we could not. We lost our spot after 6 years straight. The new staff is unfriendly and honestly done right rude. You will lose a lot of campers!! You have lost us !!!!!
Nov 14, 2021
Best koa in the area. By far.
- Michael A on Google
Nov 14, 2021
My family stayed in the airstream and it was great. A lot of things inside the airstream had a lot of wear and tear and probably needs an upgrade but it did have everything you need to be comfortable for a weekend trip. Gas stovetop, microwave, propane bbq grill, outdoor fire pit, separate heater water for shower and bathroom, small television, toaster, hair dryer, AC, heater and tons of cabinet and storage space throughout. Also had a table, chairs and benches to sit outside. Please note that the bathroom and shower are small and probably not made for someone large in size or over six foot tall! Quiet time at 10pm is strictly enforced. I was the only one with campfire on after 10pm. Tons of day time activities for the kids and is mostly a family oriented place.
- Danny Chu on Google
Nov 08, 2021
Love this camp ground!
- Nicole M on Google