Santa Cruz / Monterey Bay KOA Holiday Recreation
The activities listed below are seasonal. Activity days and times will vary, call for info.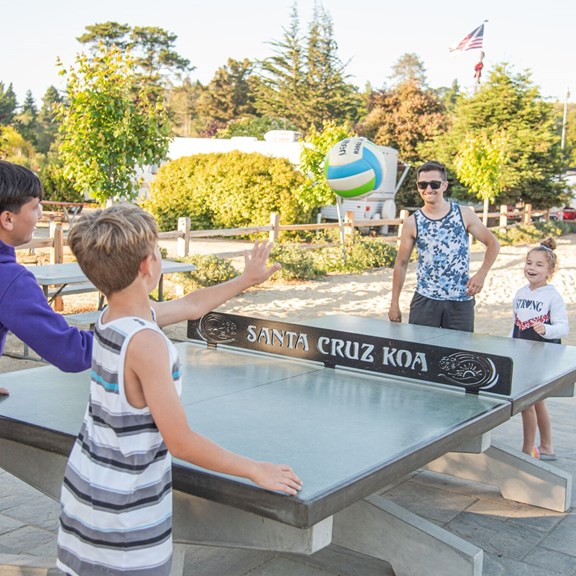 RESTRICTED - NEW Recreation Area
DUE TO COVID-19 THIS AREA IS PARTIALLY CLOSED. THE JUMPING PILLOW IS OPEN (FACE MASKS REQUIRED). OUTDOOR GAMES ARE OPEN BUT THE EQUIPMENT IS NOT SANITIZED. FACE MASKS ARE REQUIRED IN THE SAND SHACK/BEACH ZONE AREA.
The resort-style recreation area we have been dreaming of is now a reality! Kids will love the sandy play areas and jumping pillow. Adults can enjoy relaxing in our outdoor lounge area with waterfall feature! The new area features outdoor games such as ping pong, bocce ball, corn hole and ladder ball; so bring the whole family out for fun in the sun!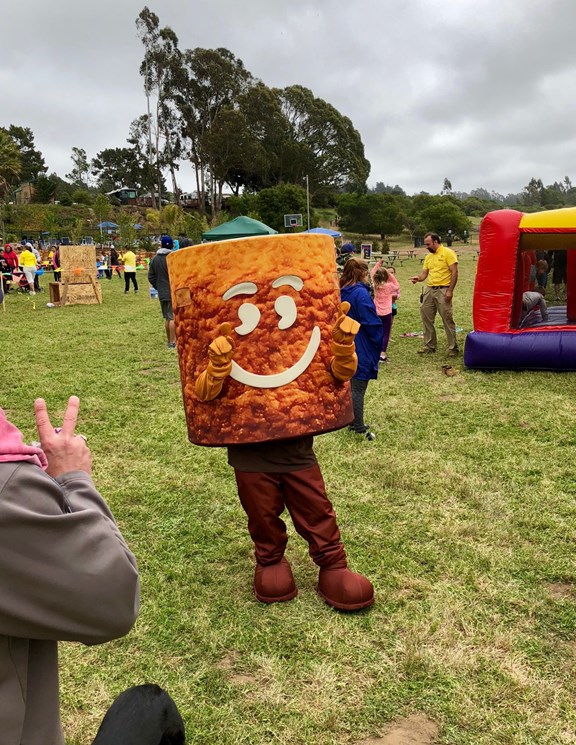 RESTRICTED - Activity Schedule
DUE TO COVID-19 WE WILL BEGIN HOSTING RESTRICTED ACTIVITIES FRIDAY 7/3/2020.
Looking to see what fun-filled activities are going on during your trip? Our Facebook page is updated each week for that week or weekend's activites. Our schedules usually come out the week of, so please continue to check there for an updated list as the time gets closer. If you have any questions, please call the friendly front desk staff at 831-722-0551!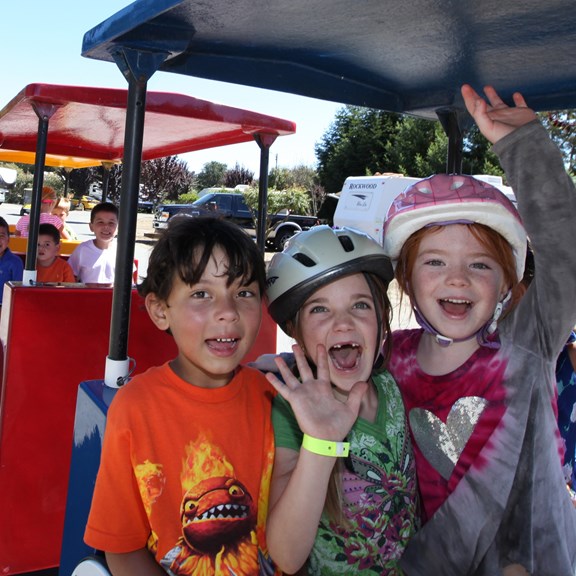 CLOSED - KOA Express Fun Train
DUE TO COVID-19 THIS AREA WILL BE CLOSED UNTIL FURTHER NOTICE.
The KOA Fun Train chugs through camp at daily scheduled times, with your conductor pointing out campground highlights and fun things to do. All aboard! Available between Memorial Day and Labor Day. Weather permitting.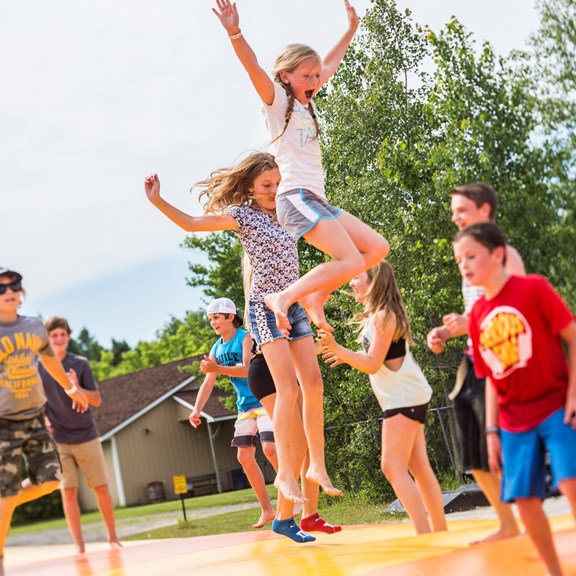 Jumping Pillow
What do you get when you cross a trampoline with a bounce castle? A Jumping Pillow! This safe activity provides countless hours of exercise and entertainment for the young and young at heart.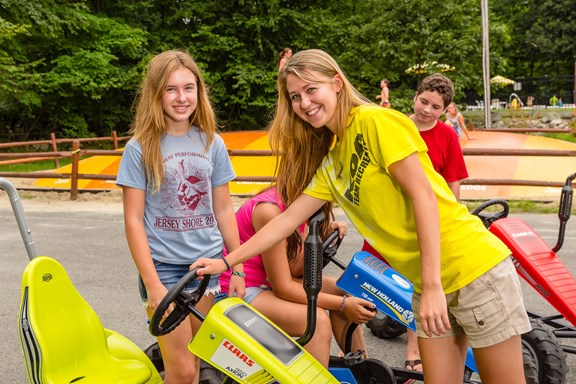 Bike rentals
Ride around our campground in style with one of our bikes! Rentals are $10-$40 per hour. Times for bike rentals vary. Weather permitting.
CLOSED - Climbing Coconut Palm Trees
DUE TO COVID-19 THIS AREA WILL BE CLOSED UNTIL FURTHER NOTICE. 
Get strapped in and climb the 21 foot tall Palm Trees. When you get to the top, SCREAM.... I made it!!!! Days vary/Weather permitting.
Campfire Time
When the sun goes down, campfire time begins. Campfire time promises all the classics: toasting marshmallows, eating during sing-a-longs.
CLOSED - KOA Breakfast
At our breakfast, we serve up a scrumptious stack of pancakes hot off the griddle. We round out the meal with sausage links and fresh coffee. We also offer a biscuits and gravy plate served with hot coffee. Juice is available for $2 extra.This seasonal activity is usually offered  Saturday morning for  $7.00/plate. Please check with your friendly front desk staff to see if we are offering this activity during your stay!
Outdoor Cinema
The outdoor cinema is like a drive-in movie without the car. You can enjoy a family-oriented film under the stars. Grab your blanket and some change for the Kampstore for  tasty treats and drinks. Be prepared to get comfortable and enjoy the show! Time and dates will vary.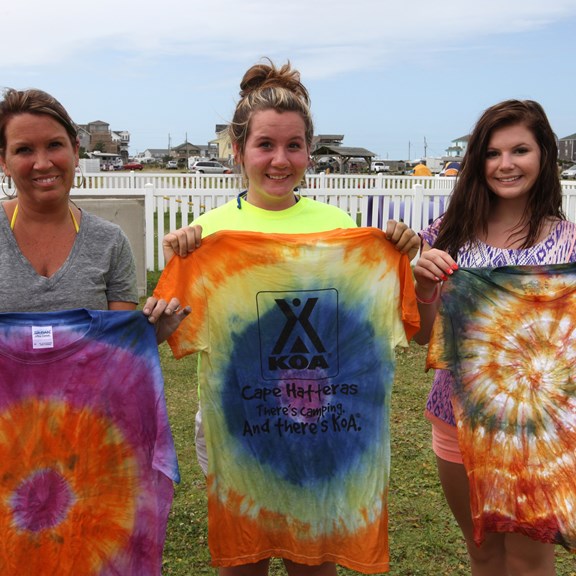 RESTRICTED - Tie-Dyed T-Shirts
DUE TO COVID-19 OUR TIE DYE ACTIVITY LOOKS A BIT DIFFERENT THAN USUAL TO ALLOW FOR SOCIAL DISTANCING.
oin us during the summer for weekend Tye Dye. Bring a piece of your trip home with you: make a tie-dyed t-shirt during craft hour. Your tie-dyed t-shirt will be a wearable memento from your vacation. With a demonstration and all supplies provided, this retro activity satisfies campers of all ages. Remember, there is no right or wrong way to tie-dye! Prices, times, and dates vary.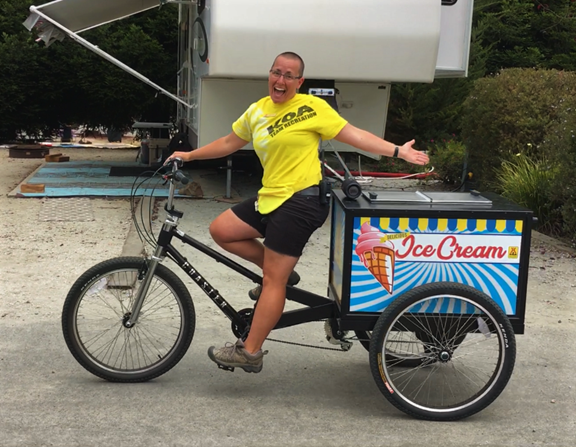 RESTRICTED - Ice Cream Bike
DUE TO COVID-19 THE ICE CREAM BIKE WILL NOT BE GOING AROUND THE CAMPGROUND AT THIS TIME. PLEASE SEE OUR ACTIVITIES SCHEDULE FOR TIMES WHEN THE ICE CREAM BIKE WILL BE STATIONARY IN THE BEACH ZONE. AS ALWAYS, ICE CREAM IS AVAILABLE AT THE BIKE RENTALS AND IN OUR STORE.
 I scream, you scream, we all scream for ice cream! Listen for our ice cream music on most weekends in the summer to catch the ice cream bike. Please call our campground to see if we will be offering this sweet treat when you are here! Price, times, and dates vary.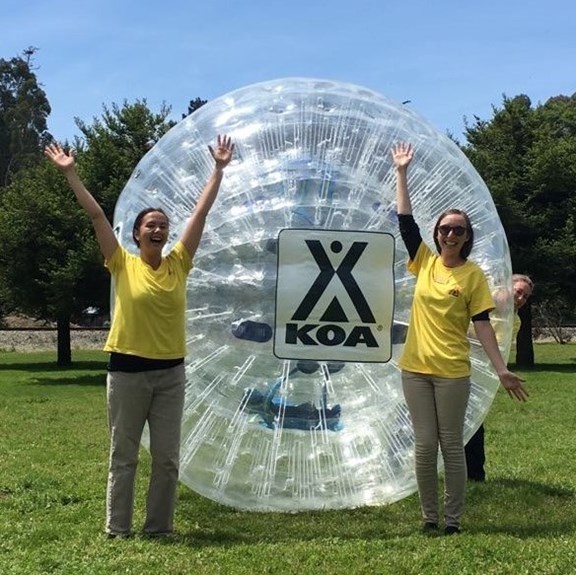 CLOSED - Zorb-Human Hamster Ball
DUE TO COVID-19 THIS AREA WILL BE CLOSED UNTIL FURTHER NOTICE.
Have you tried our Zorb ball yet? Run inside the Zorb ball like a human hamster! One thing is for sure, you will want to bring a camera, because it's going to be a ball! **Based on availability/seasonal.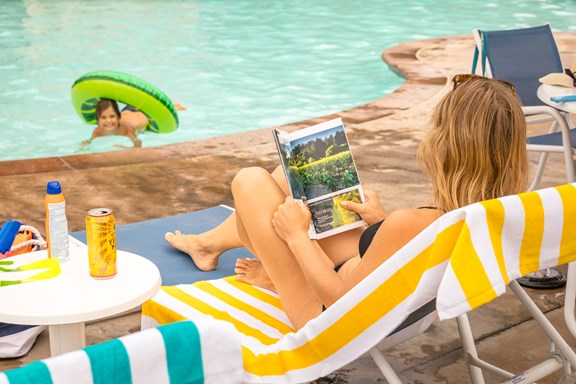 RESTRICTED - Pool and Hot Tub
DUE TO COVID-19 THE HOT TUB WILL BE CLOSED UNTIL FURTHER NOTICE. POOL WILL REMAIN OPEN WITH AN OCCUPANCY LIMIT OF 50 PEOPLE. 
Camping and our pool go hand in hand. You'll love our extra large, upgraded pool staying cool all day long with the whole family.
Playground
Every childhood memory comes with a playground. We have upgraded our playground this year and it's even more beautiful than ever. Bring the kids out to play while you enjoy a relaxing time on the cool grass.
Local Area Recreation