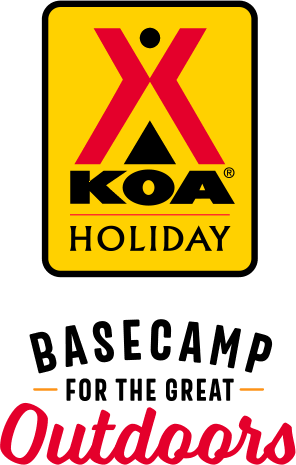 KOA Holiday Campgrounds
Whether you're exploring the local area or hanging out at the campground, KOA Holidays are an ideal place to relax and play. There's plenty to do, with amenities and services to make your stay memorable. Plus, you'll enjoy the outdoor experience with upgraded RV Sites with KOA Patio® and Deluxe Cabins with full baths for camping in comfort. Bring your family, bring your friends, or bring the whole group – there's plenty of ways to stay and explore.
KOA Holidays Feature:
RV Sites with a KOA Patio®
Deluxe Cabins with full baths
Premium Tent Sites
Group meeting facilities
Directions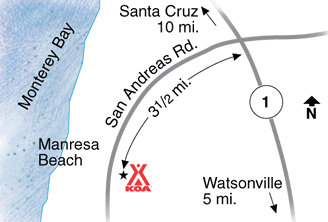 We are located 11 miles South of Santa Cruz.
Take Hwy 1 South to San Andreas Rd Exit 432 and go W 3.2 miles on San Andreas Rd.
We will be on your left. Look for the Yellow KOA Sign!
**If you are traveling on Hwy 1 North-DO NOT TAKE BUENA VISTA EXIT.
And despite what GPS, Google maps or other services may inform you, DO NOT TURN ON PEACEFUL VALLEY DR.**
Take Hwy 1 North, take exit 425 onto W Riverside Dr, take a left on W Riverside Dr toward Lee Rd.
In .2 miles, take a right on Lee Rd
In .2 miles, take a left on W Beach St
In 1.4 miles, take a right on San Andreas Rd
In 4.2 miles, destination will be on your right - look for the Yellow KOA Sign!
Get Google Directions
May 08, 2021
Very close quarters in some areas totally fun and friendly environment a great alternative for big groups
May 08, 2021
Beautiful and exceptionally clean! The young lady working the desk on our checkout day needs to learn good people skills.
May 07, 2021
My daughter and I were very scared when we attacked by a dog off leash at your park. Luckily the owner was able to get the dog away from us without harm-3 days later and my daughter is still scared form the instance. When I called the desk, they said they would talk to the pet owner. I felt they should have been asked to leave. I left my stay early instead. Please monitor the park to be safe.
May 07, 2021
Great stay - clean, relaxing and lots to do for kids!
May 06, 2021
We had a great time! We wish the bushes/greenery between campgrounds was a bit bigger to help create some more separation, but other than that, it was nice!
May 06, 2021
Friendly staff and wonderful facilities. Great for kids
May 06, 2021
The nicest, cleanest, most friendly, KOA,, hands down, we have ever stayed in. We will be back.
May 05, 2021
Great place to stay. Shower rooms are super clean with hot water. Great service.
May 05, 2021
Grounds staff very nice and helpful. Very disappointed in Internet service. This is by far the most we have spent for an RV park and we would expect better connectivity. Hope this can improve.
May 04, 2021
So many fun things to do. Great activities provided by the staff. Friendly staff. Beautiful property in a great location.
May 04, 2021
I love staying at your campground. It is very clean & all employees are very helpful. I love the Hiddy Ho texts.
May 04, 2021
We arrived later than we planned but found one of the nicest KOA Campgrounds we have seen. We talked with other campers that evening, who confirmed what a nice KOA this is. We will be back when we can stay longer!
May 04, 2021
The KOA is just too packed, we had neighbors in our campsite because they couldn't fit in theirs.We woke up the first morning to find a huge water puddle in front of our fifth wheel.They came and dug it all up to fix it and it was just muddy.Water was shut off so we left for the day.There was never any mention of compensation for the inconvenience.We love the KOA but disappointed this time around
May 04, 2021
Our first time visiting and we plan on returning many times!
May 03, 2021
Kids were entertained the entire day with all the different activities for them to do!
May 03, 2021
Loved our stay. The kids beach area was loud early in the morning. 9:00 am should be the open time for that area. Kids were jumping on the bouncers at 7AM.
May 03, 2021
We took all our kids and our grand baby in 2 cabins next to eachother. It was our 2 year old grandsons first time camping and he loved it! We went to the beach, the pool and all the activities at KOA. It was great fun for everyone!
May 03, 2021
Clean sites. Clean bathrooms. We stayed at the cabin/tent combined site so there was plenty of space. Loved taking our dogs to the dog park on site. Couple issues with the water being turned off on both days (resolved within an hour) but overall a good stay. Wish the sites weren't so close to other sites, doesn't feel like there's much privacy.
May 03, 2021
We love the airstreams. I would recomend for camping, cabins, or glamping in airstream/delux cabins. Especially if you have kids.
May 03, 2021
The campgrounds were very clean. Tons of stuff for the kids to do. Staff was very nice and helpful. The water had to be shut off for a bit for a repair. But things happen. Definitely will recommend and will return.
May 03, 2021
Cleanliness of cabins and environment felt safe for family.
May 03, 2021
Super fun amenities, our kids loved the bouncer and the big pool. Can't wait for the arcade and hot tub to reopen, we'll definitely be back. Easy driving distance to
May 03, 2021
FIRST TIME THEIR AND LOVED IT! OUR DELUXE CABIN WAS AWESOME! WE GOT SO MUCH REST AND RELAXATION THAT WAS MUCH NEEDED! STAFF WAS NO FRIENDLY AND WAS ABOVE AND BEYOND! WE HAVE PLANS FOR ANOTHER TRIP IN AUGUST!
May 03, 2021
Very kid friendly. Staff was friendly. Sites were clean. Nothing bad to say. Planning on taking the grandkids back again.
May 03, 2021
It would be nice for them to have more surveillance besides their camera to their store entrance as to who walks in and out of their property. It is a family place and to think that something worse could have happened fears me. Unfortunately, our chained bikes from our truck were stolen and cameras were not available to try to catch the people that have been going in and taking stuff from campers.
May 03, 2021
This was our first KOA stay and we are already planning another!!! Great family environment and plenty to keep the kids busy. Great accommodations. Thank you for a relaxing weekend!!
May 03, 2021
it was a really fun visit. the pool is nice and warm, it was fun renting bicycles. the cabin is really well appointed for a group and it was great to have a fire pit and chairs and a table outside for our use. i think our only issue is that people are supposed to wear masks (even kids) on the jumpy play structures and almost none of the kids were. so my kid didn't feel safe using those items.
May 03, 2021
Soooooooooooo crowded/cramped/close together...quiet hours? what quiet hours? My lord- it was like camping in a parking lot. At least the toilets were clean. Thanks- but no thanks.
May 03, 2021
We stayed 3 nights and 3x's our water was shut off. The both times i was in the shower and then we were in the restroom. As I understand these happen, the problem was it happened each day.
May 03, 2021
It was a wonderful stay. The only problem was water being shutoff without a long enough warning. Maybe giving the guests 24 hour notice would be appropriate.
May 03, 2021
Unfortunately, water was shut off a couple of times throughout our stay, but only for a short period of time. The water spiket also did not work at our site, but once reported it was quickly fixed.
May 03, 2021
This was one of the best RV parks we've stayed at. This facility was well landscaped, well kept, and one of the few we'd like to just visit for itself - location is good too! It's definitely a place to go for families with kids. They definitely thought of just about everything - grills, some sites had pens for pets, volleyball, ping pong, bocce ball, a bouncy mat and pillow. Will come her again!
May 02, 2021
Absolutely wonderful, great place and people.
May 02, 2021
This RV resort is one of the most expensive I have seen in the USA. For environment this is a very nice park and they seem to keep everything in good shape with the exception of their infrastructure like Power and Water, which went off twice in our 6 day stay, and others at the RV park said this happens all the time. Due to the overpriced fees, and infrastructure problems we will not be returning
May 02, 2021
Beautiful location. Easy access to area. Friendly and helpful staff. Many camping/glamping options. Great stay!
May 02, 2021
Very nice camp sites, well maintained campground. Nice amenities especially for families with young children.
May 01, 2021
We enjoyed our 2nd stay very much. The location is great, midway between Santa Cruz and Monterey. The grounds are well kept, with amenities for adults and families, very quiet at night.
May 01, 2021
Nice place real clean real pet friendly.
Apr 30, 2021
The stay was great kids had a blast. Spots are a little tight depending on what you get but otherwise very comfortable. Only downside was our $3200 Electric bikes got stolen, even locked up to the trailer. Cable was cut. I know it's not KOA fault just be aware and hide valuables.
Apr 29, 2021
An awesome KOA, we're coming back
Apr 28, 2021
Beautiful park. Super clean and organized. Close to Monterey and Carmel.
May 09, 2021
What a fun family weekend. They have so much to do for the kids and adults. Definitely will be back.
- Scott Buchanan on Google
May 05, 2021
This KOA is very well-maintained, beautifully landscaped and has a wide range of facilities. We stayed for five nights and our 'pull-through' patio site was great. With easy access to the local beach, where we could take our dog, the only problems we encountered were due to the Californian COVID restrictions at locations outside the park. If we return to this area, we would choose to stay here again.
- Scotlyon369 on Trip Advisor
May 03, 2021
OUR FIRST TIME THEIR AND IT WAS AWESOME! WE DEFINITELY GOT OUR R N R! STAFF WAS AWESOME! ABOVE AND BEYOND! KOA STORE IS GREAT! HAVE PLANS FOR ANOTHER STAY IN AUGUST!!
- Joanne Martinez on Google