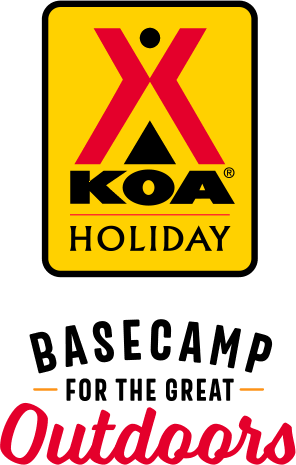 KOA Holiday Campgrounds
Whether you're exploring the local area or hanging out at the campground, KOA Holidays are an ideal place to relax and play. There's plenty to do, with amenities and services to make your stay memorable. Plus, you'll enjoy the outdoor experience with upgraded RV Sites with KOA Patio® and Deluxe Cabins with full baths for camping in comfort. Bring your family, bring your friends, or bring the whole group – there's plenty of ways to stay and explore.
KOA Holidays Feature:
RV Sites with a KOA Patio®
Deluxe Cabins with full baths
Premium Tent Sites
Group meeting facilities
Directions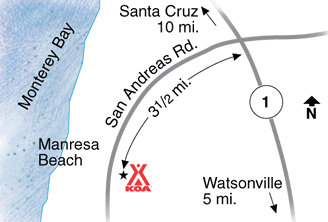 We are located 11 miles South of Santa Cruz.
Take Hwy 1 South to San Andreas Rd Exit 432 and go W 3.2 miles on San Andreas Rd.
We will be on your left. Look for the Yellow KOA Sign!
**If you are traveling on Hwy 1 North-DO NOT TAKE BUENA VISTA EXIT.
And despite what GPS, Google maps or other services may inform you, DO NOT TURN ON PEACEFUL VALLEY DR.**
Take Hwy 1 North, take exit 425 onto W Riverside Dr, take a left on W Riverside Dr toward Lee Rd.
In .2 miles, take a right on Lee Rd
In .2 miles, take a left on W Beach St
In 1.4 miles, take a right on San Andreas Rd
In 4.2 miles, destination will be on your right - look for the Yellow KOA Sign!
Get Google Directions
Feb 21, 2021
Amazing as always! Hoping that more activities for kids will open up though for the summer.
Feb 21, 2021
Over all nice. Trash on the picnic tables went we came on Wednesday still there on Saturday. Half the kids wearing mask other half said "well no one is watching" or "no one comes by to ask us to wear it." Room was nice. My bed was soft the kids bunks where hard. Loved how close to the beach it was! The bathroom keep in the cabin smelled like sewage back up. Hopefully they can get that fix
Feb 21, 2021
Here's the perfect place for kids. Tons to entertaining them.
Feb 20, 2021
This was a great place especially for the kids. The only thing I would recommend is putting some rocks or other material down to help with when it rains. The packing up was very muddy.
Feb 20, 2021
The campground was great, however the weekends are CRAZY LOL
Feb 20, 2021
Staff was very friendly, campground, restrooms and showers very clean, great place to stay.
Feb 19, 2021
Had a wonderful time. Super clean and lots for the kids to do.
Feb 19, 2021
Our first impression was a great one. When checking in, we needed a few items from the store. The prices we found in your market were VERY reasonable. So, we check in and head to the cabin, even bigger shocker; spotless roomie and well stocked. Our picnic area was very well maintained, staff was super friendly and anything we needed was at an arms reach away. Definitely staying again.
Feb 19, 2021
The campground and restrooms are very clean! Very friendly staff! Thank you!
Feb 19, 2021
Always a great place to stay
Feb 19, 2021
In this time of COVID, over 90% of the campers and 50% of the staff were unmasked. It felt incredibly unsafe. The woman mentioned that the mask rules could not be enforced. If that is the case, it is YOUR responsibility to book at less than capacity and have monitors in public spaces like the playgrounds. My masked family could not participate in any activities.
Feb 19, 2021
Thanks for the heated pool. Perfect weekend spent! The only negative was a young cashier (black, curly hair) Not very good at customer service, no smile, no " good morning, welcome", horrible at giving directions, not very helpful:/ opposite of all other staff. Minus cashier, would have been 5 star. Thanks yall
Feb 18, 2021
We've been coming for 14 years always like it but this time you let the Trump nuts run amok.Big crowds blocking the road way,no masks, driving to fast in their golf cart with Trump flags flying make remarks toward my 3 granddaughters. They were just looking for a confrontation.I'll think twice about coming back.Not what I call a friendly environment....
Feb 18, 2021
Upon arrival the sight was flooded with water. Had to ask the maintenance guy to blow the water out, which he did, but still took us sweeping and blowing water out of our sight before we could set up. Should of been done before we arrived. But other than that the place was great
Feb 18, 2021
1st day there were SO many people there, hanging out together, not wearing masks AND there were TRUMP FLAGS! Sorry, that was a big disappointment. Especially after the riots, if you're not into Trump, you feel a bit nervous. No matter what your political affiliation is, NO ONE should be allowed to display political flags
Feb 18, 2021
Was a great stay and the staff was polite and courteous.
Feb 18, 2021
Friendly and helpful staff, clean and tidy, lots of amenities, large variety of items and souvenirs in their store. The only issue that's outside their control is rough poorly maintained California roads leading to the KOA.
Feb 18, 2021
Awesome! Just wish the hot tub was working
Feb 17, 2021
We did not hear the frogs until Monday afternoon due to the large gatherings and the loud music. No social distancing or mask wearing by the large group gatherings. We were very uncomfortable. Not recommended for quiet weekends away.
Feb 17, 2021
So much fun! Staff is amazing!!
Feb 16, 2021
The stay was nice, but the Basketball Court rim was broken, the pool was open, but the spa was closed.
Feb 16, 2021
It's was very nice . But you're Wi-Fi it's is not good at all . We can do nothing on it. So hope that in the future you guys will be improved the Wi-Fi, and it's getting very expensive. Thank you
Feb 16, 2021
This past weekend (President's Day). There was almost ZERO masks being worn by anyone. We saw several employees without masks and no one was there to enforce masks in the main community areas. One group had over 20+ people in it waving their political flags around on golf carts and driving through the campgrounds. We felt extremely unsafe during our visit and almost left early. It's a shame!
Feb 16, 2021
Facility is clean and well kept with lots of kid friendly activities. Staff was helpful and courteous
Feb 16, 2021
Clean bathrooms and grounds, nice staff but mask wearing not enforced anywhere! Kept to ourselves. Did not feel comfortable with all activities or play areas. Will be back, but after Covid.
Feb 16, 2021
The camp ground was packed as usual, but most people and kids were not wearing masks. A sign saying to wear a mask on the bouncy pillow but Noone was following. Our neighbors were drunk and had the loudest music, with 20 or so people visiting their site. We have been coming here for 20 years. Never again.
Feb 16, 2021
It was a horrible experience. I have made a formal complaint to corporate with pictures and explaining our weekend spent here. absolute nightmare.
Feb 16, 2021
I was disapointed that there were not strict policy in people waring face mask, even workers at KOA, my family could not walk around the KOA because most people didnt wear a face mask., We have to spend most time outside of the KOA
Feb 15, 2021
we had a great time but the walk to the beach was a little risky for a family of 4 and had to walk the railroad tracks.. but we had a great time and loved the bikes, the big pillow and jumping stuff. We stayed next to a huge party that had a ton of family members that parked in our site and had to wait for a while to settle in , but the guy in the gold cart was very helpful.
Feb 15, 2021
4 stars because a few things weren't working properly in our deluxe cabin
Feb 15, 2021
It was a quick one-night get away for my wife & me...we really enjoyed the peaceful campground with all of the well-maintained amenities and look forward to coming back with our grandchildren.
Feb 15, 2021
Great Place for the kids! Staff was accommodating and friendly!
Feb 15, 2021
Great staff, modern equipment, clean campground. We will be back! Can be very busy with lots of kids during the weekend.
Feb 14, 2021
Nice layout!
Feb 14, 2021
friendly professional staff, very clean and a very nice stay
Feb 12, 2021
We enjoyed our stay very much. Our pull-thru space was well-equipped with paved patio table and 4 chairs, gas BBQ, fire pit, rocking bench, and its own fenced doggy area. The grounds are well-maintained and located near to Manressa and Sunset State Beaches. It's a short drive to Santa Cruz and Monterey area. Would definitely consider a return.
Feb 24, 2021
It was like a dream that came true
- Mason Cervantes on Google
Feb 22, 2021
Beautiful, well kept campground. Staff was super friendly and helpful. One of the best managed KOAs we've every been to!
- Josh Deskin on Google
Feb 14, 2021
Great location! Great sites with good space between. Be careful of the site you book, as not all of their back-ins have full hook ups. This KOA is heavily populated so there will be a lot of campers so it may be loud past the quiet time. They also have wood fire pits for every site so bring your own wood or buy there.
- Chris B. on Google