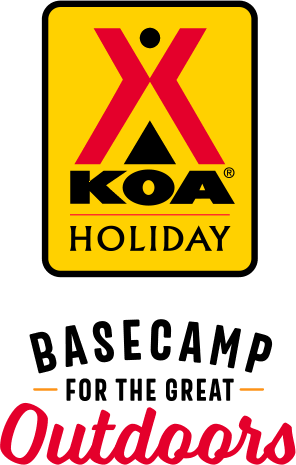 KOA Holiday Campgrounds
Whether you're exploring the local area or hanging out at the campground, KOA Holidays are an ideal place to relax and play. There's plenty to do, with amenities and services to make your stay memorable. Plus, you'll enjoy the outdoor experience with upgraded RV Sites with KOA Patio® and Deluxe Cabins with full baths for camping in comfort. Bring your family, bring your friends, or bring the whole group – there's plenty of ways to stay and explore.
KOA Holidays Feature:
RV Sites with a KOA Patio®
Deluxe Cabins with full baths
Premium Tent Sites
Group meeting facilities
Directions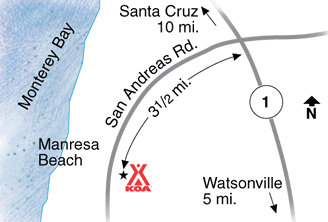 We are located 11 miles South of Santa Cruz.
Take Hwy 1 South to San Andreas Rd Exit 432 and go W 3.2 miles on San Andreas Rd.
We will be on your left. Look for the Yellow KOA Sign!
**If you are traveling on Hwy 1 North-DO NOT TAKE BUENA VISTA EXIT.
And despite what GPS, Google maps or other services may inform you, DO NOT TURN ON PEACEFUL VALLEY DR.**
Take Hwy 1 North, take exit 425 onto W Riverside Dr, take a left on W Riverside Dr toward Lee Rd.
In .2 miles, take a right on Lee Rd
In .2 miles, take a left on W Beach St
In 1.4 miles, take a right on San Andreas Rd
In 4.2 miles, destination will be on your right - look for the Yellow KOA Sign!
Get Google Directions
Jul 23, 2021
We had a wonderful time together with our granddaughter. Our RV site was just right, in perfect walking distance of playgrounds, game area, bike rental and swimming pool. The bathrooms were kept very neat and clean. We were able to vist Monterey bay aquarium, Cannery rd, Santa Cruz boardwalk and beach. This trip was my 60th birthday gift to myself and purchase of my trailer. We will be back soon.
Jul 23, 2021
The park was so clean and everyone was so helpful. Great place to take children with lots of activities. We were in a quiet area which was nice, our children are adults. Camping for tents, RVs and cabins if you prefer. Will definately go back.
Jul 23, 2021
The site was great until the stench of sewage water running down the street ruined our breakfast. I'd understand this was a maintenance issue but it took over 40 minutes for an employee to come stop the leak, and then clean and disinfect the area. Myself and fellow campers had to inform children coming in and out of the play area of the unsanitary mess until the crew finally arrived.
Jul 23, 2021
The facility and location is great. However their services are unethical. We were given a spot that had poison oak! A neighbor told us that he just checked out of the spot due to poison oak and 45 min later they gave us the spot. Thank goodness for the neighborly person Telling us since we have young kids. We were given another spot but bamboozled to pay extra. That was not cool.
Jul 23, 2021
Cool activities for kids. Nice pool. Not sure why the pool has to close at 7 pm. The last KOA, the pool was open til 9. For people traveling long distance, that is not enough pool time if you arrive late! The grounds are nice but the showers were not clean at the time I looked. We really appreciated the curbside garbage service.
Jul 23, 2021
Great stay as usual. One of our favorite KOA's
Jul 23, 2021
We loved all of the amenities like the dog wash and enjoyed the clean grounds and enforced quiet time. It was a lovely place to stay!
Jul 22, 2021
We stay at KOA almost exclusively as we travel across the country. Your campground is very clean and employees are friendly. Your layout and sites however are very tight and difficult. We have a 40ft class A and parking is very difficult. I would suggest you reevaluate your sites and consider which sites are class a appropriate. We observed many large rigs having the same difficulty.
Jul 22, 2021
We rented 2 RV sites and an Airstream. They were all located together and provided lots of space and versatility. The staff was wonderful and the restrooms/showers were mostly clean. I would blame fellow campers and not the staff for any mess that was in the restrooms/showers. This was our second trip to this KOA and will definitely not be our last.
Jul 22, 2021
Impressed with the stay. First time glamping! Clean cabins. Adequetaly stocked kitchen. Clean bathrooms in the deluxe cabins. Staff friendly. I liked that someone came everyday and cleaned/organized the patio area. Garbage pick up had hiccups. Other then that no issues at all.
Jul 22, 2021
It was a clean location abs very pretty. The only bummer for us was that we were not able to book next to our friends. We were not told of the advanced request or fee.
Jul 22, 2021
Excellent staff and everything was very clean. Lots of things for kids to do. Will definitely be back and will recommend to others
Jul 22, 2021
Helpful crew.
Jul 22, 2021
Due to an unfortunate event we were asked to move for the last night of our stay. The camp host compensated the night and we got to experience a different site type. My son absolutely loves the bounce pillow area and I love that I can see him from our spot. The campground does a great job of entertaining the kids with lots of activities. We will return!
Jul 22, 2021
Very nice campground, well kept. The campers next to us were extremely noisy well passed the 10:00 pm quiet time.
Jul 21, 2021
The bathrooms/showers were not well maintained. For the cost of the glamming camping, I would have expected something to cook on, not just a fire pit. New management appears to be forfeiting quality for profit.
Jul 21, 2021
Great location. Staff was friendly and professional. Site 214 was a bit tight for our 5th wheel. We will return. Thank you.
Jul 21, 2021
Such a great experience! My family and I had so much fun. My 9 yr old son didn't want to go home lol. Patty was very helpful at the front desk and when we had issues with the grill she sent her husband to help us fix it. Mike came by and showed us how to "burp" the grill. He was very helpful and even showed us how to build a proper fire. We will definitely return. Thank you for a wonderful weekend
Jul 21, 2021
Staff was very accommodating. There a a short at the shore power and they got us into a safer site with no problems. Campground was safe and the kids had a blast withallthe activities and playground. Very relaxing for the parents.
Jul 21, 2021
Well kept campground, pleasant place to stay.
Jul 21, 2021
We rented a deluxe cabin for about $ 350 a night for three nights. We were assigned cabin no. 83 and it was nothing but a disappointment. It was run-down, cramp, and it smelled. The kitchen was only sparsely equipped with few plates and glasses, and there was NO STOVE! We packed up and requested refund for two nights. We wasted $ 350 for a bad cabin. What a rip off! Will never ever return.
Jul 20, 2021
We loved all that there was to do for the kids! We came for our daughters birthday and she had a blast along with our other daughter! We will be back for sure!
Jul 20, 2021
Great park . Fun for the kids. Close to the boardwalk.
Jul 20, 2021
Great site with lots of activities for families, very clean and well maintained!
Jul 20, 2021
Not as many activtes as other KOAs. Custmer service was poor. Staff seemed to care ite about the guest experience compared to how engaged they are at other KOAs
Jul 20, 2021
We were not able to check into our spot early even though there were plenty of spots available before others arrived. The space we got was not ready and the people before us checked after the 11 am time. We wanted it before that,but waited until after 1pm. I don't know why others can check out late? We checked out at the 11 am. They also left the spot unclean as well, the place was just ok.
Jul 20, 2021
We love it here! The grounds are beautiful, well maintained and a perfect family friendly environment.
Jul 20, 2021
The area is small. The picture we saw on the website is so deceiving, is way far from the actual view..
Jul 20, 2021
We had a blast. The kids enjoyed the pool, jumping pad, kids craft time, playing at the park, and riding bikes on the dirt trails on the back side of the cmapground. The campground is very clean, has friendly staff, and the beach is a 5 minute drive away. The only down side to this KOA is that the RV sites are way too close together. Overall, we will be back!
Jul 20, 2021
We requested handicapped cabin and we're turned down because we made reservations online even though cabin was still available upon arrival. Not very good.
Jul 19, 2021
I was a little disappointed this time around. Our first site given to use was so small we couldn't get our trailer backed into it. We had to take the spot next to us and thankfully the people were nice about it. I found the staff to be not very friendly and two kids on the golf carts were driving SO fast I thought a child was going to get hit. One staff member nearly hit two cars.
Jul 19, 2021
My family and I had a great time. We would definitely stay there again.
Jul 19, 2021
We stayed in a deluxe cabin and will definitely return. It was so clean and comfortable. We had a great stay!
Jul 19, 2021
Liked the text messages. Friendly staffed and promp if a problems occurred. Fully stocked store.
Jul 19, 2021
I felt the staff was very rude. I paid nearly $800 for two night stay in a cabin. The lot had a patch of weeds more than big enough and out of the way for a 3 person tent. I was HARASSED to take it down . Ruined my trip. Also staff made my kids BUY towels for the pool ($40)when they only had 4 towels in a cabin that sleeps 6. RIDICULOUS. I will NEVER go back.
Jul 19, 2021
This was our first time at a KOA! We loved how nice each space was kept (clean, patio area, fire pit) and how many amenities were offered. The staff were friendly and helpful!
Jul 19, 2021
Everything with the deluxe house was great with one exception. The only drawback was that the bar b que didn't work properly.
Jul 19, 2021
I tented for2 nights. The staff was helpful and the restrooms were clean. I think since fresh fruit is so close to the campground that crates of berries and fresh muffins would be appreciated.
Jul 19, 2021
Great camping site for family
Jul 19, 2021
This campground was beautiful and so well taken care of! We loved all the fun features and can't wait to come again
Jul 18, 2021
The spaces in dirt are very messy and not well kept. Children run and play around the camp with no supervision. They don't have enough employees revising that the camp rules are met. The internet is minimal to almost none, and you can't even look at your email. Streaming is prohibited. The facilities are good.
Jul 25, 2021
Nice clean campground crowded in July
- Gary Dilley on Google
Jul 18, 2021
Amazing place for family and kids ❤. The atmosphere and weather are everything you could ask for. Perfect.
- cccecily Butterfield on Google
Jul 13, 2021
Beautiful place to bring the family.
- Britney on Google