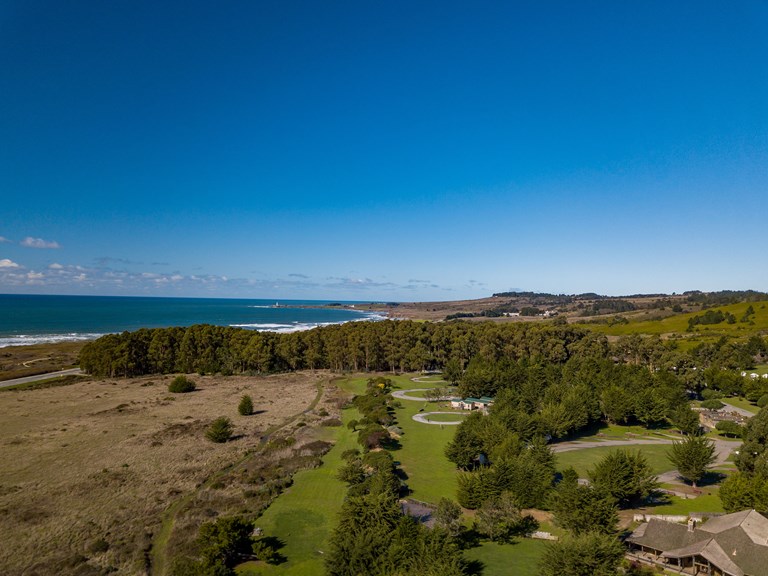 Santa Cruz North / Costanoa KOA Reviews
Directions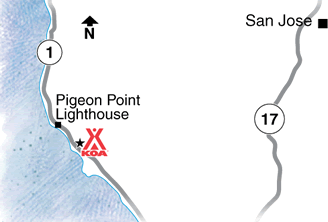 Driving South From:

San Francisco: 1 hour south on HWY 1

Half Moon Bay: 25 miles south on HWY

Entrance is on the left, 3 miles south of Pigeon Point Lighthouse. Look for Rossi Rd and signs for Costanoa and KOA.
Driving North From:

Santa Cruz: 25 miles north on HWY 1

Entrance is on the right just north of Ano Nuevo State Park signs.  Look for Rossi Rd and signs for Costanoa and KOA.
Get Google Directions
Jul 22, 2019
Under 5 Kids are allowed in spa and one of them pooped in it. No one under 5 or kids in diapers should be allowed in the spa area. A bit pricey at 137/night for RV back in. Poop in the spa ruined it for us.
Jul 22, 2019
It was a nice stay. Could use a little more space between trailers.
Jul 21, 2019
Lovely... wish there was a place for dogs off leash
Jul 21, 2019
Tent sites are close together but overall great place.
Jul 20, 2019
Didn't care for the original location and the $25.00 check in charge for coming in before 2:00. But they lucky we were able to move to a better location we're our MH could be leveled Otherwise the stay was good.
Jul 20, 2019
Beautiful place, enjoyed the peaceful surroundings.
Jul 20, 2019
Walk to the most fabulous beach, gourmet dinner in the restaurant. Camp site with a deck! California quail posing for photos....and the bathrooms beautiful. Camping doesn't get any finer
Jul 20, 2019
Great overnight tent stay. Book more than one day! Fun walk to the beach (standard fitness level required) Felt clean and safe. Children's park and games available. Friendly staff.
Jul 20, 2019
Great location, super friendly staff.
Jul 19, 2019
Never have encountered so many Ticks! Used spray and avoided high grass...yet found them on our dogs and in our hair. Would have appreciated a "heads up" on check in...like State Parks do. Dissappoin Disappointed at only 13 cable TV stations...Particularly at the current price for enjoying otherwise well managed KOA. Found wider TV selection at several less expensive KOA's during MayX-country tr
Jul 19, 2019
We arrived after hours and located our paperwork easily. The tent sites are way off to one end. It rained all night and we packed up and headed out first thing. There was only one shower in the comfort station and it was always occupied. Overall, it was a pleasant stay, but we will choose another location next time. We parked wrong and some worker asked us to move. He seemed in a bad mood.
Jul 18, 2019
Simply magical. We enjoyed the chill atmosphere and had an amazing full moon hike! We also enjoyed the plethora of amenities. What a wonderful place to stay. We'd like to come back at Thanksgiving!
Jul 18, 2019
Beautiful grounds. A little pricey for not being on beach
Jul 17, 2019
Great amenities, sites and activities for families! Short travel to local beaches and state parks. Only negative I had, they do not allow electric toy UTV vehicles for kids in the campground, but overall great time!
Jul 17, 2019
Very friendly staff and easy check-in process. Setting is quiet (we were tent-camping), with a good mix of sun and shade. Close to Hwy 1 and therefore within minutes of the many beaches along PCH. Affordable family vacation. Clean showers and bathrooms (being attended daily by staff - the same folks who set up and start a wood fire every night). Additional plus for kids: ADORABLE GOATS!
Jul 16, 2019
We have done a big group trip here now 3 years in a row. It was wonderful as always! We had 9 families this year and we are already planning on coming back next year!
Jul 16, 2019
Nice please, friendly staff
Jul 16, 2019
Beautiful grounds, sites well groomed with pretty plants growing between each site, clean, modern restrooms, entertainment available. Staff friendly, trash clean and well managed. Everyone seemed to be having a very good time with or without their families.
Jul 15, 2019
Clean, great amenities.
Jul 15, 2019
I made a mistake when I made my online reservations but the host and management made adjustments and were able to accommodate me and my wife. We completed our stay without a hitch. Also found the entire property very clean and lots of open space for the kids ( or grandkids). Great comfort areas with hot showers and clean restrooms. Thank you Debbie and the rest of the Costanoa gang.
Jul 15, 2019
Super clean, friendly staff & great walk to the beach. We are coming back!
Jul 15, 2019
My granddaughters enjoyed all the activities. Thank you
Jul 14, 2019
Great place to camp.
Jul 13, 2019
Campground is lovely however I would not recommend staying there in the summer. We have enjoyed it completely in the off season. The camp store is totally unique and worth a visit. For some reason the check-in staff does not know how to apply our earned credits. When the campground runs $100 a night it would be nice if they could apply at least a portion of our credit dollars.
Jul 13, 2019
Way too much smoke from campfires. Sites are very unlevel.
Jul 12, 2019
Beautiful campground, very clean, very close proximity to the beach, very quiet and peaceful. We hope to be back very soon!
Jul 11, 2019
Beautiful site
Jul 11, 2019
We had a great time, and the grounds were kept so clean! We will definitely be back for more family fun!
Jul 10, 2019
Beautiful. Extra clean restrooms/showers!! It just needs someplace for teens to hang out. Maybe ping pong tables, pool table, video arcade. Activities were for 13 and under. I had 4 teenage girls with me. A hot tub would be nice. The ocean is freezing cold and it was really windy so we couldn't stay down there very long.
Jul 10, 2019
It was a personal vacation, and so nice to have had some wonderful weather! Enjoyed my excursions to Santa Cruz and Half Moon Bay! The park is such a lovely venue!
Jul 10, 2019
Absolutely gorgeous!! We just visited 3 other RV parks along the coast and this was a wonderful retreat from the crowded hustle and bustle of the other sites. Super clean, great service and plenty of nature in every direction. The bathrooms are clean and warm. Our kids had a great time riding their bikes and frolicking around. My favorite part was the little store! Top notch! Highly recommend
Jul 09, 2019
Very nice campsite. Family and kids friendly. Walking distance to the beach, but you have to cross the highway 1. It takes about 15 mins walking. Campsite is very close to each other, good for big groups and several families going together. It doesn't feel too much sounds from the tent next to you even the site is very close to each other. Shower and bathroom is very clean.
Jul 09, 2019
My family loved the animals, garden, and playground.
Jul 09, 2019
It was very nice people really respect each other
Jul 08, 2019
Costanoa was a very nice park, however, the sites in the Coastal area are very small. We have a 32 Class A and the original site was very small, barely enough room to put out our awning and not intrude on others. Very thankful that another site in Coastal was available so we could move. If I go back, I would definitely book in Seascape, better sites with more room and grass.
Jul 08, 2019
We have stayed at this KOA many times previously..most recent stay about 1 year ago....something has changed with regard to attitude of the staff towards customers...somewhere between indifferent and hostile by at least two staff members. Has there been an ownership change, a management change or has something prompted a change of attitude. Out of allotted feedback characters.
Jul 08, 2019
For over 100.00 a night it's very very expensive. The spaces are way close together, we weren't able to even put up our canopy on our trailer due to the trailer next to us being too close. Also, opening up your front door into your neighbors septic tank hookup is disgusting! We have been here before and each time keep hoping it's a little better. It's not. Way too expensive for very l
Jul 31, 2020
We love it here. The grounds are beautifully maintained. Great restaurants and accommodations to suit most people's needs
- Kathie Fitch on Google
Jul 28, 2020
This might seem on the pricey side for a KOA, but there is definitely a spa resort feel to it. The restaurant uses produce from the garden and there are lots of organic treats in the general store. It is across the street from the gorgeous seascape of the Año Nuevo State Park.
- Sarah Lacasse on Google
Jul 21, 2020
Our final destination on our 26 day COVID - RV Road trip was at Costonoa. Perfect end to a great trip! As soon as we pulled in we knew we would like it. If you are into glamping this is the place for you. There are many different options for accommodations but my review is for the RV section. During our 3 night stay we enjoyed the beach. It's not too far of a walk from the campground. It is not a swimming beach. It is not a dog friendly beach however it is so quiet everyone brings their dogs down. We also hiked and biked. Word to the wise - when they say there are ticks they mean it. Our dog who was on leash for our hike was covered in ticks after our hike. We even found some on us. So beware! I would have loved to have dined indoors at the sit down restaurant but it was closed for dine in service due to COVID. We did get food from Pine Tent on more than one occasion. Food was tasty and hit the spot when we were burnt out from cooking. Costonoa is not cheap but the amenities and location make it all worth it. Of course we happened to have amazing weather which I'm sure added to the experience.
- rwheeler1977 on Trip Advisor

Santa Cruz North / Costanoa KOA
Open All Year
2001 Rossi Road at Hwy 1
Pescadero, CA 94060
Check-In/Check-Out Times
RV Sites, Tent Sites
Check-in: 2:00 pm, Check-out: 12:00 pm
Santa Cruz North / Costanoa KOA
Get Google Directions

© 2020 Kampgrounds of America, Inc.