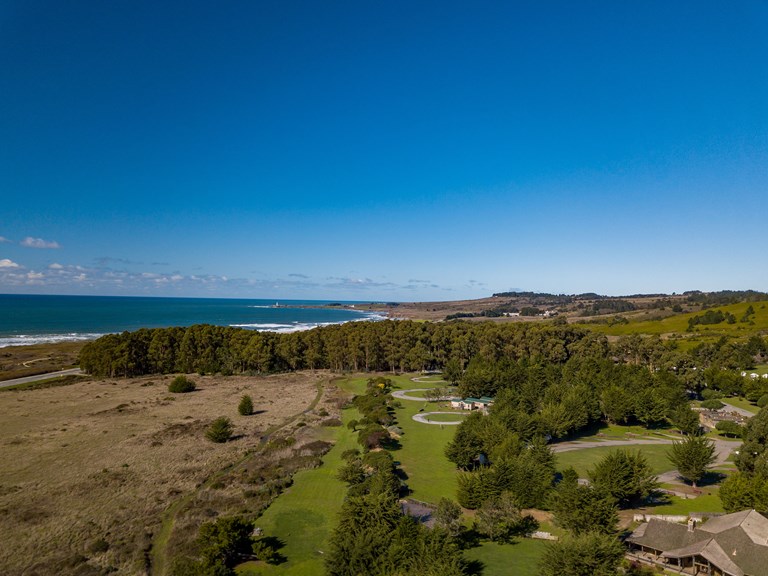 Santa Cruz North / Costanoa KOA Reviews
Directions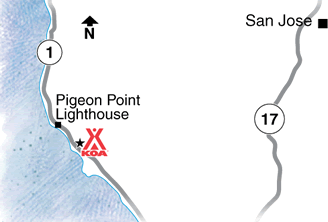 Driving South From:

San Francisco: 1 hour south on HWY 1

Half Moon Bay: 25 miles south on HWY

Entrance is on the left, 3 miles south of Pigeon Point Lighthouse. Look for Rossi Rd and signs for Costanoa and KOA.
Driving North From:

Santa Cruz: 25 miles north on HWY 1

Entrance is on the right just north of Ano Nuevo State Park signs.  Look for Rossi Rd and signs for Costanoa and KOA.
Get Google Directions
Sep 19, 2020
It's a really nice park in a gorgeous setting. The staff were friendly, helpful and plentiful. The restrooms are very nice and kept clean. The restaurant was delicious and the general store very convenient. The proximity to beaches, Pigeon Point Lighthouse, Ano Nuevo and more is fantastic. Our only gripe is that the sites (we were in Whale North - pull through sites) are extremely narrow.
Sep 19, 2020
Property has trails with access to open beach area. On site facilities were in the process of reopening due to fires. RV spots were narrow but clean. Would likely come back and look for a different site - with grass and more space between sites.
Sep 19, 2020
There was no drinking water And thereforE not complete hookups thus the exorbitant rates should have been reduced!!
Sep 19, 2020
We like coming to Costanoa. The resort is beautiful & relaxing, but we are very disappointed in the staff. The security are very rude and unprofessional. We follow the rules of the resort but notice they only apply and hassle certain guests of their choosing. The staff should be retrained for people skills, professionalism and kindness. Ask to speak to Trina, manager but she never came to see us.
Sep 19, 2020
Great stay. Beautiful! My only complaint is my 55 year old husband as an electric bike. Pedal assist. He has bad knees. We did not see anywhere that these bikes are not allowed. My husband was actually pedaling and a security guard came after him and was so rude to him. There are ways to explain things. He's way was wrong. Bikes like this are the future. My husband was respectful. He was not!
Sep 19, 2020
No wi-fi and drinking water while we were there. No one picks up the phone at the front desk ever.
Sep 19, 2020
We loved the large back in campsite! It is a beautiful location with lots of beautiful places to hike. I just wish Covid was not happening so more activities on the site would have been available.
Sep 18, 2020
This a great campground! Brian was so very happy and helpful. We came in the dark and smokey, he helped us to find our spot & followed through with everything throughout our stay. Very clean & well kept. Everything was so convenient for us & our dogs!! Thank you!
Sep 17, 2020
It's a great campground and staff are welcoming and friendly. We always live it when we visit. The water not being on our entire stay was a challenge, everyday staff would say tomorrow, this went on for five days. we should have gotten a discount for the inconvenience.
Sep 17, 2020
Our stay was amazing even with a little smoke ! The staff in the office were so nice and helpful ! The park was under massive clean up from fires Everything was very clean !!!
Sep 16, 2020
It is absolutely beautiful! The upgrades they continue to make are awesome!
Sep 16, 2020
The staff is very helpful and the campground is incredibly clean. I can't wait to visit again.
Sep 15, 2020
We love it. Just can't wait for live music to come back. So blessed it was saved by the fire department. It's our favorite place.
Sep 15, 2020
Place is beautiful, well maintained and staff is very nice. The only set back is that no phone signal at all and wifi is very limited to some locations. So if planning to visit and work at the same time, be aware that it will be very difficult with not connectivity.
Sep 15, 2020
Other than parking restrictions, it was an extremely enjoyable stay :)
Sep 15, 2020
As RV camps go it was very kick back yet complete.
Sep 14, 2020
Always a great stay, with friendly and helpful staff, but extra special this time with the new site improvements and facilities!
Aug 26, 2020
Thank you for a great stay, albeit shortened by the fire. Hope all is well there!
Aug 25, 2020
Had to evacuate early due to wildfires. Not all people were wearing masks away from their sites!
Aug 24, 2020
Trip was disappointing. Checked in Sunday afternoon & relaxed. Monday morning, awoke to hammering/drilling: builders putting together decks 2/3 sites away, ALL DAY! Tuesday, more drill/hammer noise. Angry about not being advised in advance re: deck building noise for 2 FULL days, straight. Went for peace & serenity, and got all-day construction noise. Would've made a diff decision if I had known
Aug 24, 2020
Liked the camp ground very much but was not able to stay because we had to evacuate because of the fire on the hills
Aug 23, 2020
Asked about refund for approaching fire and was told not available. We left and later campground was evacuated.
Aug 22, 2020
SPEED BUMPS must be removed. They are harmful to RV suspension and slow evacuation processes when told to evacuate by the fire department and sheriff department, which happened during this stay. I will not return unless the speed bumps are removed. The campsite was nice. The KOA mgmt when asked if the local fire would affect us, said they would keep us informed. They failed.
Aug 22, 2020
Had to evacuate due to fire only there 2 nights. Had to leave trailer there due to flat tire at time of evacuation. Had refrigerator full of food. Left power on which apparently is off. How would you rate it
Aug 22, 2020
The facility was fine, except I Will not come back until you have Cellar service thought out the Camp/RV sites!
Aug 22, 2020
This is a large campground and is family oriented with yard games and a garden and ranch to enjoy. We walked a few trails to beautiful views of the ocean. Very relaxing to sit at your site or visit the restaurant and many seating areas.
Aug 21, 2020
With a fire coming straight at us they delayed evacuation. You have to ask yourself why?
Aug 21, 2020
All good until evacuation. Wifi could use a lot of improvement. Friendly staff. Quick refund when we had to evacuate. Will come back.
Aug 21, 2020
Well, we got evacuated due to fire our second night so that was kind of a drag. The property is very nice and we enjoyed the restaurant and bar. Internet/WiFi access could be improved considerably, it was practically unusable even if we went over near one of the 3 hot-spots. We have a WiFi Ranger on our RV and it could not connect to any network, very unusual as it has significant range.
Aug 21, 2020
Had to evacuate our first night there so we only spent about seven hours there. Didn't get to stay the second night because of the fire.
Aug 21, 2020
Unfortunately, Tuesday 18th, due to will fires in the area, we had to evacuate the campgrounds around 10:30 at night. For me I was very difficult evacuating because I was on a bicycle tour. I had to bicycle 24 miles back to Half Moon Bay not knowing if I was going to find a place to sleep,
Aug 19, 2020
Great stay. Clean campground. Friendly staff. Thanks!
Aug 19, 2020
Charged us an extra $20 for arriving one hour early and then had their maintenance staff dump a load of dirt at the edge of our site while setting up, dust everywhere including the side of our clean coach. Second time visiting, unfortunately our last.
Aug 19, 2020
Love the campground. Clean, safe and has many amenities!
Aug 19, 2020
We did enjoy our stay and the staff was very friendly, I think the next time we reserve a place we will get the drive thru space there's a little bit more room there. Thank you for making us feel welcomed.
Aug 19, 2020
The site was located in a beautiful area, Carla and Roland were the BEST but we need guaranteed connectivity, there was No phone service nor internet service. This creates a very unsafe environment. Worst thing was that we told we would have these.
Aug 18, 2020
The sites are mud pits when it rains - which it did this past weekend. Also, the check in process was less than convenient. We drove a separate car when traveling short distance and were not allowed to check in until my husband pulled in with RV. I was not allowed to pull my car into our site to assist him pulling in. Was made to feel like a criminal! What difference does it make what vehicle??!
Aug 18, 2020
The grounds were beautiful. However, we were in the Eucalyptus Loop and had sap on everything after 3 nights. The other sights seemed nicer than where we stayed. I would not stay in this loop again. I would like to try the first loop which looked like it had better accommodations.
Aug 18, 2020
It was an easy check-in and I even joined the KOA club! The folks at the front desk were lovely and helpful. It was easy to find my RV space and people were respecting the COVID requirements, in general. So, I felt very safe. The grounds are absolutely gorgeous and the restaurant choices were excellent. My dog had plenty of space for walks and there was even a doggy bag/trash can station!
Aug 18, 2020
We had a 17 month old with us. We were very happy with the restaurant take out and the convience of getting to the beach. The staff gets a 10 for helpfulness, and very friendly! Thank you!
Aug 18, 2020
Everyone was extremely accommodating and helpful. The grounds were immaculate and maintained on a daily basis without disturbing the guest. I highly recommend this campground and I will be returning.
Aug 17, 2020
Rules were well enforced as was the corona virus social distancing recommendations. We felt safe and secure and all facilities were immaculate and fabulously clean! Thank you for a great getaway
Aug 17, 2020
Beautiful place to stay but the people that work there were very rude. Especially at Casade restaurant. This was our second time staying here and we love it but after all the things that happen this last visit we probably won't even stay at this koa ever again
Aug 12, 2020
Best KOA I've been to. It's near a lighthouse and not far from the Santa Cruz boardwalk. They have a garden and great views of the ocean. Bring a camera.
- James Nixon on Google
Aug 10, 2020
(Translated by Google) Good place to cool off (Original) Tempat yang baik untuk menenangkan diri
- Semuel Lentho on Google
Jul 30, 2020
We love it here. The grounds are beautifully maintained. Great restaurants and accommodations to suit most people's needs
- Kathie Fitch on Google

Santa Cruz North / Costanoa KOA
Open All Year
2001 Rossi Road at Hwy 1
Pescadero, CA 94060
Check-In/Check-Out Times
RV Sites, Tent Sites
Check-in: 2:00 pm, Check-out: 12:00 pm
Santa Cruz North / Costanoa KOA
Get Google Directions

© 2020 Kampgrounds of America, Inc.