Directions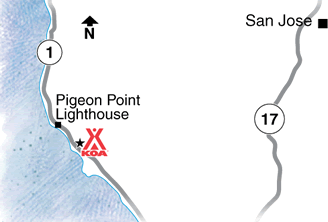 Driving South From:

San Francisco: 1 hour south on HWY 1

Half Moon Bay: 25 miles south on HWY

Entrance is on the left, 3 miles south of Pigeon Point Lighthouse. Look for Rossi Rd and signs for Costanoa and KOA.
Driving North From:

Santa Cruz: 25 miles north on HWY 1

Entrance is on the right just north of Ano Nuevo State Park signs.  Look for Rossi Rd and signs for Costanoa and KOA.
Get Google Directions
Jul 23, 2021
Great experience!
Jul 23, 2021
customer service was great and very nice staff.
Jul 23, 2021
Great place to relax, friendly staff, clean facilities, good location.
Jul 23, 2021
Well it was for only one night. I had a great time. The amenities are fantastic. The people, extremely nice. Overall great time. Thank you. Joe
Jul 22, 2021
Check in was super friendly. Great stop along the coast. Nice operation w clean bathrooms and showers. Could improve WiFi since there is no cell coverage.
Jul 22, 2021
Best KOA camp I have ever stayed at. Impressed with healthy items at General Store. Restaurant food was delicious. Will I stay again? Definite YES!
Jul 21, 2021
Very friendly group of people love it
Jul 20, 2021
Loved Costanoa and all its amentities! We can't wait to return!
Jul 20, 2021
Beautiful property, great location and very friendly staff!
Jul 19, 2021
We love Costanoa & the help from manager Scott was priceless. We were having trouble connecting our water hose with the pressure regulator and he walked us through it. The only reason I gave the location a 4 instead of a 5 is that the internet reception is so poor. Thank you! It has become a yearly destination for us.
Jul 19, 2021
Our site lost power, was never fixed. We were charged for a pet fee, but had no pets, and the employees driving around enforcing rules were rude and disrespectful. Too strict!
Jul 19, 2021
The campground and employees were all very nice. The pull-thru rv sites were uncomfortably close together, with little space for chairs. Wouldn't recommend pull-thru sites at all.
Jul 19, 2021
It was beautiful! I took off a star because the wireless hardly ever worked. We wanted to do a little work while we were there and couldn't get on wireless. Costanoa would get more of my business if there was phone signal and hardy wireless.
Jul 18, 2021
We had site #54 and it was horrible! Luckily we had friends staying in another section because we spent all our time there. Nice campground but this site is the worst. No room to put out our chairs, picnic table in the back by the sewers, ugly perm. Trailer next to us, the deck would have been nice if it wasn't two campsites over, in the middle of several campsites. We felt uncomfortable.
Jul 17, 2021
Excellent stay. Loved the campground. Wish the Pine Tent restaurant was open every day and that the wifi was better. If those happened I would give it a 5.
Jul 17, 2021
The campground was very clean and the people were super nice (both staff and other campers). Will definitely be back!
Jul 17, 2021
Beautiful view of the ocean and truly a wonderful park. Wi-Fi was spotty at best. If they improved by putting in additional hot spots and increased bandwidth I do believe this very large RV park would benefit to match the need. The Pine Tree food was amazing.. This place would be a definite multi-night stay for us if we weren't on our way to So Cal.
Jul 17, 2021
It was our first KOA stay and the Costanoa KOA was perfect. The staff was friendly, we got a great spot and the hookups were the best I've used. We will definitely be back soon.
Jul 17, 2021
The Kiosk receptionists are awesome! Bathrooms are clean and well maintained. Just one thing... hope that bottled water are not that costly.
Jul 16, 2021
I would like to thank HOUSEKEEPER ESTER who helped me open the log cottage my daughter's family rented. I was able to find a money clip exactly where they asked to be searched, on the shelf above the trash can. Lodge mgmt told them it wasn't there, but I left my trailer and could see it from the locked slider door. FOUND THE CLIP.
Jul 16, 2021
Beautiful KOA but a little to pricey
Jul 16, 2021
Clean and nice!
Jul 16, 2021
We've stayed at Costanoa many times and love the park. However, the space we were assigned this time was poorly maintained and uncomfortable. There was mud in the area by our truck the whole time and no space along side the trailer to sit because it was so narrow. The space in back of the the trailer was a jumble of tables and fire pits, difficult to distinguish spaces.
Jul 16, 2021
It was very pleasant. The amenities are great. It would be nice if the pine tent outdoor restaurant was open during the week. They did a test run for one day but they sent out a text to say they were open at 7pm and we already had dinner so it wasn't enough notice. It would make the stay nicer if it was available all week. Thank you
Jul 16, 2021
Beautiful clean landscape and amenities. Such a great location we cannot wait to return!
Jul 16, 2021
The campground and facilities were great, however, I would only give the Cascade restaurant a rating of a 1. We have dined there multiple times of the year and have told everyone how wonderful it was. This time our dinner order came out incorrectly prepared twice and we ended canceling the order and sharing one meal at that point. Horrible experience.
Jul 15, 2021
Costanoa superb. Campsites clean, everything one needs~ hookups (of course), water (of course), BBQ's Spirit Webers very clean, nice tables and chairs. I love tables have holes which act like stands in the center so our umbrella needs separate stand.If you camp like we do, that's a plus since our Classic Clark Cortez is small storage space is limited. The best is the quiet at night quiet!
Jul 15, 2021
first visit to this site. the camp hosts were great. everything was nice and clean lots of friendly campers all around us.
Jul 15, 2021
Enjoyed all the activities!
Jul 15, 2021
Our fave get away
Jul 14, 2021
Wonderful place but we experienced a couple of very rude staff members. I would think people who are lucky enough to work in such a beautiful setting would have better attitudes.
Jul 14, 2021
This is such a beautiful campground! One of our favorite KOAs. Be prepared to be off the grid, though. The restaurant is delicious, the views are great.
Jul 13, 2021
Nice garden setting. Staff is excellent. Very beautiful and accessible hiking trails starting on property. The live music (by the band, "Lady and the Tramp") on Saturday night at Pine Tent was fantastic!
Jul 13, 2021
We had a great time and enjoyed some fabulous weather.
Jul 13, 2021
The welcome committee (who walks through the rules) was very draconian and the tone of that welcome made me feel like, "oh, ok...we must follow the rules." However, they were not enforced. I'd rather not be "sold" on being a rule follower if they are enforced equially. Otherwise, it was a lovely visit. You should prob put dog restrictions in terms of where they can gomore prominent on the site
Jul 13, 2021
We stayed in the seascape loop. We enjoyed our view, the activities, and the pine tents pizza and other foods. We ate at Cascade one night and were very disappointed. The nearby beaches are nice. We drove into Santa Cruz and to Monterey a few days and enjoyed our visits there also. I wish there was better wifi and at least one more laundry room. All that said, we will be back for sure.
Jul 13, 2021
I was told - quite clearly - that no fires (including smoking) permitted in Eucalyptus Tent area. Reason cited was the grove of flammable trees surrounding the area. I was dismayed to see that not only was one party disregarding this rule in high winds, but there wasn't enforcement which told me that there is no patrol, despite "security" presence. Don't feel so safe.
Jul 13, 2021
Clean, comfortable, extremely friendly & helpful staff. Thoroughly enjoyed our stay. Thank you !
Jul 13, 2021
Tent camp lot are too crowded.
Jul 13, 2021
This KOA is in a great location. Tucked away, yet right next to the ocean. Our campsite had an ocean view. Only a 25-30 minute drive to the Boardwalk and lots of nice beaches in both directions. There are nice restaurants and bars onsite. Our campsite was really narrow, but it still worked for us. Overall, we loved it and will definitely be returning!
Jun 20, 2021
Picturesque
- magikman55 on Google
Jun 13, 2021
Very nice experience! We were not disappointed except that the spa services were closed due to Covid 19. The camp facilities are superb!
- Fred Scatena on Google
Jun 06, 2021
We have been camping here for over four years. The grounds are gorgeous and clean. The staff and amenities are outstanding.
- Shannon Vargas on Google