Directions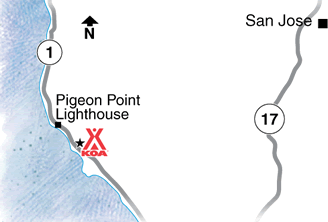 Driving South From:

San Francisco: 1 hour south on HWY 1

Half Moon Bay: 25 miles south on HWY

Entrance is on the left, 3 miles south of Pigeon Point Lighthouse. Look for Rossi Rd and signs for Costanoa and KOA.
Driving North From:

Santa Cruz: 25 miles north on HWY 1

Entrance is on the right just north of Ano Nuevo State Park signs.  Look for Rossi Rd and signs for Costanoa and KOA.
Get Google Directions
Oct 19, 2021
Very Helpful Staff!
Oct 19, 2021
It's was perfect. Very clean! And the weather was perfect
Oct 18, 2021
it was very pleasant and the weather was perfect. The grounds were not at clean as our last visits in the past.
Oct 18, 2021
We just love camping in Seascape loop every fall!
Oct 18, 2021
So much fun, as usual. Great food, happy kids running around, perfect weather
Oct 18, 2021
The most complete, beautiful experience campibg with our families I've ever had. Staff was super friendly. Every amenity was perfect for every age group. Thank you and see you next year.
Oct 18, 2021
Everything was great with one exception. Twice I tried to use the showers between Seascape and Coast Village and both times there was not hot water.
Oct 17, 2021
We love this place! So many things for the kids. Everyone is friendly! We come back every year with the family!
Oct 17, 2021
was very nice very clean and quiet at night
Oct 16, 2021
Everything was great! Check-in was smooth and easy and we really enjoyed having WiFi. Campgrounds were clean and love the BBQ and fire pit.
Oct 16, 2021
We enjoyed our stay very much. The only con is how narrow the sites are on Eucalyptus. The vegetation between sites is offset from the utility hookups and makes access difficult, and reduces the "usable" space. Otherwise, perfect.
Oct 16, 2021
Beautiful site...Great bathrooms..We'll be back..
Oct 16, 2021
This time of year, Costanoa is beautiful and very festively decorated. The staff are always very nice and accommodating. We look forward to returning.
Oct 15, 2021
It was wonderful, the site was great, staff was exceptional (always taking care of things) and with the wide range of lodge housing options and the wonderful restaurant, our extended family had a great time. Oh, and the easy access to trails, beaches, and bike routes made it a winner!
Oct 15, 2021
All great, but our shower station had no hot showers!
Oct 14, 2021
This place is great. Lots to do plenty amenities. Only thing I found odd was no bags of ice available to purchase at the General store. Had to drive into town. Otherwise we had a great time and will be back.
Oct 13, 2021
Very friendly staff and clean facility.
Oct 13, 2021
Very nice campground, well maintained and cared for by wonderful staff. Beautiful location too!
Oct 12, 2021
This is a very nice, clean and safe place to stay. I would definitely recommend this place.
Oct 12, 2021
The resort is lovely and our camping buddies were so much fun to get to know. one little item was the rv site was a tad small or the 40' rv. but the entire site was large, patio, grill, chairs with table, excellent. our vehicle had to be in parking lot. Restaurant was fabulous and little market was nice too. we will be back..
Oct 12, 2021
Great campground and facilities! Super helpful staff! We will definitely come back!
Oct 12, 2021
Clean. Friendly staff. Great location
Oct 11, 2021
Beautiful place! What an absolute gem. So many details we weren't expecting. Kids craft! Free morning yoga! Hot and beautiful showers and surroundings! Highly recommend
Oct 11, 2021
Gorgeous grounds….loved the seasonal decorations…. Restaurant had delicious food!
Oct 11, 2021
A very well maintained and equipped facility. As a touring bicyclist the availability of electric power to charge safety lights and navigational systems was appreciated. The hot showers were excellent. All of these perks come at a cost and I understand the concept of quality costing more. Still, it seemed a bit over the top to pay ~$58.00 For one person to pitch a tent for one night.
Oct 11, 2021
Great park! All just about perfect. Only negative - very limited cable tv choices. Fox News not available.
Oct 10, 2021
Wonderful location, very clean, great hikes, beautiful ocean. But poor wifi, restaurant is expensive, 30min. drive to the market, and shower water is cold.
Oct 10, 2021
Had a few crazy nights on the road. It was great to relax here, have a chill time, and get my self cleaned up.
Oct 09, 2021
The grounds are well kept and beautiful landscape. The restaurant is fabulous dinning experience with excellent food. The staff is very friendly . A delightful place to stay.
Oct 09, 2021
Great time great staff can't wait to go again
Oct 09, 2021
Loved the proximity to the ocean, all the facilities, gardens, lawns comfort stations and the on-site restaurant... extremely well maintained! Thanks.
Oct 09, 2021
Nice camp. A little more cramped than us Idahoans are used to. Friendly and accommodating staff.
Oct 08, 2021
Love this place, pricey but very nice!
Oct 08, 2021
Great place, friendly staff, and it was beautiful decorated for fall, pumpkins everywhere!!
Oct 08, 2021
Enjoyed our stay in October very much. Friendly staff and beautiful grounds!
Oct 08, 2021
Awesome eco retreat. The trail to Smuggler's Cove was excellent. Water supply had a green tint but tasted fine.
Oct 08, 2021
It was pleasant with great amenities. If I am in the area again, I will stay again.
Sep 08, 2021
Really nice place to stay!
- Linda Novak on Google
Sep 07, 2021
Excellent restaurant on site very friendly staff.
- Tom Vega on Google
Aug 29, 2021
We had a great time in our motorhome, the restaurant and the grocery store was a plus and the spot had everything we wanted. Full hookups and nice ocean air can't be beat!
- Chris Nordby on Google