Directions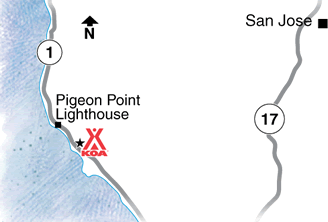 Driving South From:

San Francisco: 1 hour south on HWY 1

Half Moon Bay: 25 miles south on HWY

Entrance is on the left, 3 miles south of Pigeon Point Lighthouse. Look for Rossi Rd and signs for Costanoa and KOA.
Driving North From:

Santa Cruz: 25 miles north on HWY 1

Entrance is on the right just north of Ano Nuevo State Park signs.  Look for Rossi Rd and signs for Costanoa and KOA.
Get Google Directions
Jan 21, 2021
lots to diane staff us friendly
Jan 19, 2021
we camp here the same weekend every year. The grounds are clean and well kept. Like the improvements and the gas BBQ! The staff is very pleasant and eager to assist. Needless to say, we have already booked next year!
Jan 19, 2021
Great campsite, clean and following COVID recommendations well
Jan 19, 2021
Always First Class
Jan 19, 2021
Our stay was wonderful. We had an end of street spot. Many spots were too crammed, though - I would not have been as happy.
Jan 18, 2021
This was a great getaway so close to home! From the moment we arrived everyone was super friendly and kind. Spots are a bit tight but our site was awesome and you do get a great amount of space behind your spot. The walk to the beach was a great adventure, and when we returned back to the park the bar cart was coming around- what service! Overall a wonderful experience, we will be back!
Jan 17, 2021
the grounds were very well maintained. We are already talking about planning another trip. overall it is a great place to spend time with the family.
Jan 17, 2021
Very nice area, very aware of covid precautions and I saw many processes to keep us all safe. Hope to return again post covid.
Jan 17, 2021
Very kink and helpful camground staff and manager.
Jan 16, 2021
Great place super clean kids had fun even with covid restrictions beach is close.
Jan 12, 2021
We felt very safe with the social distancing and hygiene precautions put in place. We were glad the store and lodge restaurant were still open. Thank you for a much needed connection with nature on the coast.
Jan 12, 2021
Very friendly staff. Felt safe. Clean accommodations.
Jan 12, 2021
The staff was very friendly and helpful.
Jan 12, 2021
Great staff, clean and maintained.
Jan 11, 2021
Good except we got no tv reception or cable. Followed all the rules. E32 was a beautiful view though. Good cocktails and food. Very clean. Thanks. Marge
Jan 11, 2021
As always the grounds were kept up very well and the staff was super friendly and accommodating.
Jan 07, 2021
It is the only KOA I have stayed at that feels like you are staying at a high end spa/resort. Which technically you are since it is attached to a resort that has a spa. The grounds are well maintained and have plenty of the usual KOA activities.
Jan 07, 2021
Camp hosts Brian and Carrie go over and above everything!Always friendly and accommodating, the rv sites are clean and well kept
Jan 06, 2021
We enjoyed our stay, the sites are alittle close together but overall very happy
Jan 06, 2021
Mixed feelings. Love the area/property with lots to do, great site in S loop. The holiday rate was $$$$. You would not know COVID was happening. People walking around NO masks all over the property & gathering in large groups over the "allowed 6", no enforcement of rules at all, yet security told us to lower our American flag as it was higher than our trailer??!! On site store way overpriced.
Jan 04, 2021
The most beautiful and clean KOA you can imagine. Great staff and beautiful sites. They have invested a lot of money to make this place somewhere special and magical. Great job Costanoa! Love the new patios!
Jan 04, 2021
love costanoa
Jan 04, 2021
Excellent place. Nice, helpful, and happy staff. Clean grounds. Plenty to offer for everyone. They do a great job here.
Jan 03, 2021
Great stay, 3 night min and 175 a night for Holiday rate is a stretch on price but very cool setting and friendly staff
Jan 03, 2021
We truly enjoyed our stay and will be back very soon! Great location, clean bathrooms, very nice store and restaurant to order food to go! Loved it!
Dec 31, 2020
We enjoyed the peaceful atmosphere, but would have appreciated a much better internet connection.
Dec 30, 2020
Best KOA ever! Clean and Beautiful! Don't miss an opportunity to stay here! We're coming back with our friends
Dec 30, 2020
Beautiful and very clean place. Love being close to the beach and Santa' Cruz
Dec 30, 2020
Splendid stay. Lovely weather.
Dec 30, 2020
The campgrounds were very clean from the campsites to the bathrooms/showers. Staff was very friendly. We will definately be staying here again.
Dec 30, 2020
Booked 3 nights, but leave after 2 nights. Hard to sleep while the neigbor with loud party noise till midnight. Unfortunately, seems no management staffs to stop them.
Dec 30, 2020
Staff were super helpful accommodating our changes in the reservations and also accommodating our change in site selection once we were there. Super top notch people there at Costanoa!
Dec 29, 2020
Perfect, the camp hosts were amazing. And my dinner of salmon with Swiss chard was the best meal I have ever had. Thank you for a wonderful holiday visit!
Jan 18, 2021
Beautiful and clean place to camp
- Chandler Bender on Google
Dec 23, 2020
Great spot, bit pricey. Lots of nature. Beach access possible, it means crossing the highway.
- Jan Hertsens on Google
Dec 22, 2020
This place is amazing. Very cozy environment, friendly & helpful staff, great amenities. ++ restaurant is great, ingredients are fresh, make sure you eat there at least once before you go ++ hikes to the beach is wonderful, well maintained and not crowded ( visited in a warm December during covid so not sure typically if it's so spacious) +has a nice small dog park for our pup to run + well maintained flower beds, makes the ambiance relaxing and cozy
- Jason Wang on Google