Directions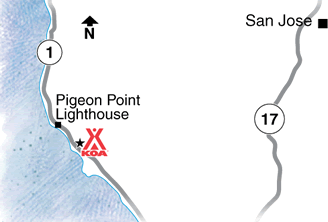 Driving South From:

San Francisco: 1 hour south on HWY 1

Half Moon Bay: 25 miles south on HWY

Entrance is on the left, 3 miles south of Pigeon Point Lighthouse. Look for Rossi Rd and signs for Costanoa and KOA.
Driving North From:

Santa Cruz: 25 miles north on HWY 1

Entrance is on the right just north of Ano Nuevo State Park signs.  Look for Rossi Rd and signs for Costanoa and KOA.
Get Google Directions
Sep 22, 2021
Courteous and helpful staff. Delicious food! Clean and well kept. I hope to visit again soon!
Sep 20, 2021
We had a wonderful stay at KOA Castanoa the location was great. They had a band and restaurants. Very clean! We will be back soon!
Sep 04, 2021
Beautiful and comfortable place. The sauna is broken and some amenities seem to be poorly kept.
Sep 02, 2021
The staff was lovely, everything was nice!
Aug 30, 2021
Great comfort stations, but sooo many RVs... glad it was connected to a resort though - great experience for food+drink+activities.
Aug 29, 2021
I pitched a tent on a grassy field. There was plenty of room, the field was pretty flat, the area was clean, and there were tons of amenities in the compound.
Aug 29, 2021
It's a serviceable camp site but far from plush. Stayed 5 days later at north Campground, Pismo Beach. Much nicer. Turf with soft ground that accepts tent stakes. Fire pits. Drive up sites. BIG areas per group. Would guess 6 times the area allocated to each reservation at Costanoa. Costanoa campsites are a place to sleep, period. Pismo campsite are a place to hang out.
Aug 28, 2021
Exceptionally nice campground. There is even a sauna and a campfire by the showers and toilets. Beautiful surroundings. For those who want to visit San Francisco: a short drive to Daly city and the BART. Also Palo Alto is only 40 minutes away with a beautiful drive not to ne missed. The cabins are not cheap, but if you have a tent it is 50 dollars per night
Aug 27, 2021
Although the setting is lovely & the amenities are well-kept, the camping areas are very strange. The facility is more like European campgrounds, with walk-in tent sites close together & enclosed behind fences. The prices are very high as well. We ate breakfast at the Cascade Restaurant. Although the menu was interesting, the food was poorly prepared. Food was very oil, salty and tasteless,
Aug 26, 2021
We had a great time. Nothing to complain about.
Aug 26, 2021
this was my first time at a KOA and I was very surprised and pleased. They put us in an overflow spot that they just created because they were fully booked and it had to be the best spot in the place. We were tent camping and our spot was 1/2 shaded, right next to the sink and electric plugs, not a far walk to the bathroom, and right off the path to the beach. We did not stay for any activities.
Aug 24, 2021
Everything was wonderful, with one drawback: the tent-camping campsite (Lighthouse) is very compact, so it's quite noisy. You really have to talk in low voices inside your tent or the people in the other ten adjacent tents can hear you. Some people arrive late and some get up quite early, so there isn't much of a window of total silence at night. But, otherwise, perfect.
Aug 23, 2021
This KOA location completely exceeded our expectations. The campground itself was in the perfect location right off of the PCH. The grounds were beautiful there was a thriving vegetable garden right by our campground. Bathrooms and showers were clean and there was even a sauna and fireplace just outside of the bathrooms as well. Staff was very friendly and there was an outdoor bar with live music.
Aug 20, 2021
It was as described to me in advance: expensive but luxurious. Impeccably clean, well run, quiet. I was only passing through for one night, but this would be a great place to spending a week relaxing.
Aug 19, 2021
My rating is specifically for the tent sites. The campground in general is great, but the bring-your-own-tent sites are uniquely terrible. They're so bad I'm convinced it was a deliberate design decision. The layout has all eight sites together in one small parcel with nothing but spray-painted lines separating them, and it's far, far windier than any other place in the campground. Super lame.
Aug 18, 2021
Tent camp are was very basic… no separation from other campers. Bathrooms and restaurants were good and convenient.
Aug 18, 2021
We were on our 3rd night and came back to the tent site to find all of our stuff gone. Went to camp check in and found they lost our reservation. They gave us a new one and gave us back our stuff. Had to set up in a wind storm. Other than that it was a nice stay. Steve checked us in the first time. No receipt or koa card given
Aug 17, 2021
Great campground! Super nice surroundings.
Aug 16, 2021
There were families/individuals in the tent area that were very loud beyond the 10pm curfew. This made trying to fall asleep impossible.
Aug 14, 2021
Can't put up hammocks anywhere. The camp was just full of RVs. Tent camping area was small and too cramped. Paid for a site but just drove home at 2AM. won't be staying here again.
Aug 13, 2021
Was a nice place for our two nights there. We only used the showers and the camp site, but talked about coming back another time and doing more in camp.
Aug 10, 2021
We've been coming here for over 10 years and love Costanoa. Always clean and orderly. Fun for everyone!
Aug 09, 2021
Second time camping at KOA Pescadero & really enjoyed our stay - looking forward to going back again soon
Aug 07, 2021
This was an absolutely lovely campground. There was some strict rules but that's understandable to keep the campground looking lovely. The man checking in at the KOA reception was grumpy and rude but other then that a lovely stay.
Aug 07, 2021
Really enjoyed our stay in our first KOA campground. We were surprised that the campsites were basically rectangles of lawn on a camping paddock, but it ended up working out fine. We could hear everything going on at the other campsites, but people were pretty considerate, so that wasn't really a problem. A bit pricey for just a square of lawn, though, with little privacy.
Aug 06, 2021
Our star way great. The saunas seems alittle out of order. The bathrooms were clean and the showers were hot with great pressure. Food options were awesome.
Aug 06, 2021
It was a nice quick little get away. The sites are bit close together so there isn't much sense of privacy, but I guess land is at a premium on the coast. The facilities were great and all the staff were very friendly and helpful.
Aug 06, 2021
An oasis on the coast.
Aug 05, 2021
We enjoyed our stay. It was clean and comfortable. I was disappointed gay the general store did not have basic supplies like sunblock and campstove fuel (butane cartridges). Campfire boxes with grill plates would be a helpful addition for the tent camp sites.
Aug 02, 2021
The property and the amenities are very nice. The bathrooms were excellent. I'm not happy about the eucalyptus grove for camping. The trees dumped sap on us continuously and everything was a huge mess. The second night so much sap dumped on us that I thought it was raining and kept me up. Everything I own has to be deep cleaned now. I would not return for tenting in this expensive area.
Aug 02, 2021
This is the 1st time staying at a KOA campground and we absolutely loved it. Mind you, we all have kids, (we camped with two other families,) and the amenities were really great to have. We had such a great time that we will definitely keep KOA campsites in mind when booking trips in the future.
Aug 02, 2021
Super friendly pwrson at the kiosk. He made sure that everything was optimal.
Aug 01, 2021
Wish there were more individual fire pits. Not as convenient to have to try to catch one of the community ones. Nice place though for campers who are ready to rough it all the way. �
Aug 01, 2021
We love kOA! This location is amazing! Clean, well maintained and friendly staff!
Jul 31, 2021
The location is amazing for this camp. By the ocean and hikes and has the restaurant too. But they've now shoved in a ridiculous number of sites onto the grass lawn. Used to be 9 sites and now is 12!!! When each person can have two tents that's way too crowded. The prices have also gone up. Feels like they're just being greedy about making money rather than giving customers a good experienc
Jul 28, 2021
We had a large group that camped in the tent sites. The facilities were clean, grounds were beautiful, and amenities (picinic tables, restaurant, general store and fire pits, etc.) were fantastic! The KOA camp management was wonderful! Thanks so much!
Jul 26, 2021
The tent sites spaces were not very big and felt like you were right on top of your neighbors.
Jul 23, 2021
Great place to relax, friendly staff, clean facilities, good location.
Jul 23, 2021
Well it was for only one night. I had a great time. The amenities are fantastic. The people, extremely nice. Overall great time. Thank you. Joe
Jul 22, 2021
Best KOA camp I have ever stayed at. Impressed with healthy items at General Store. Restaurant food was delicious. Will I stay again? Definite YES!
Sep 08, 2021
Really nice place to stay!
- Linda Novak on Google
Sep 07, 2021
Excellent restaurant on site very friendly staff.
- Tom Vega on Google
Aug 29, 2021
We had a great time in our motorhome, the restaurant and the grocery store was a plus and the spot had everything we wanted. Full hookups and nice ocean air can't be beat!
- Chris Nordby on Google