Directions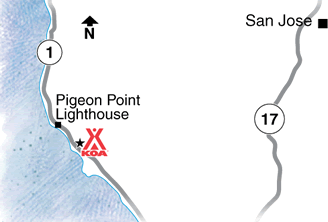 Driving South From:

San Francisco: 1 hour south on HWY 1

Half Moon Bay: 25 miles south on HWY

Entrance is on the left, 3 miles south of Pigeon Point Lighthouse. Look for Rossi Rd and signs for Costanoa and KOA.
Driving North From:

Santa Cruz: 25 miles north on HWY 1

Entrance is on the right just north of Ano Nuevo State Park signs.  Look for Rossi Rd and signs for Costanoa and KOA.
Get Google Directions
Sep 23, 2021
Our first time there camping. The resort is very clean and the staff is very friendly. We stayed in the Seascape portion of the RV park. Very nice. Propane bbq, propane, and camp fire ring included. I'd definitely stay here again.
Sep 23, 2021
I've never stayed in KOA before this trip. I was very impressed with the facility. Every looked clean and well maintained. I look forward to going again.
Sep 22, 2021
I was disappointed that some features were not available (spa), and that there was no electricity for my entire stay. I was looking forward to a hot shower, but showering in the dark is not my thing. Also, the reason for the ratings: This campground had many rules that were not on the website, and I only found out about them when I checked in. Most of them were very negative and left a bad feel
Sep 22, 2021
Great campground keep it up!! thanks Matt & JoAnne... We will be back!
Sep 22, 2021
Very strict policies……. And reminders to leave on time…. Which we were. No stay off the trail with dog signs. Not a friendly environment.
Sep 21, 2021
Horrible, we lost power on our first day and it was never restored. Some campers right next to us had their generator running all night. No one from KOA asked them to turn it off. I will not recommend to anyone.
Sep 21, 2021
All was good except we had no power for 2 days.
Sep 20, 2021
We want $$ for the biggest issue was the Electricity going out and not coming back on, it was a huge disappointment. We lost the power on Saturday at 11:00am but we left early morning Sunday and didn't get to enjoy our stay until check out. Yet Restaurant and pub area had generators. We all felt that this should have been communicated to us that PG&E was doing a rolling blackout.
Sep 20, 2021
We understand that when PG&E goes out it is out of anyone's control. But our sites were next to the store and we heard the generator run all day & night. It was miserable. as well as my mother-in-law paying 300+ a night for no power on Saturday night and the front desk was not able to give her a discount. We Our frequent stayers at pescadero and would never rate of two out of five stars. Thank y
Sep 20, 2021
Very pleasant stay. Clean campsites all around
Sep 20, 2021
The part we were in were way to close together. I had to step over a sewer hose if my neighbor to get to my car. The ocean was much further than represented on the website. And no one adhere's to the 9am quiet rule. It was so house at 6:30am I thought I woke up in a packed restaurant. And then to top it off we had no power Saturday and Sunday. I won't return.
Sep 20, 2021
Very nice campground! Clean, quiet, and spread out. We've already booked two more trips for next year. They have planned activities for kids, like tie-dying T-shirts, but we didn't see a schedule posted anywhere. Wish those were promoted better!
Sep 20, 2021
The power was out during our stay.
Sep 20, 2021
the park was without electricity for over 24 hours. I received two texts providing updates that it would be fixed by the that evening. Both were factually incorrect. you clearly have the ability to communicate via text messages to your guests but did nothing. no one came around to ensure the guests were ok. no discounts offered on next stays. you missed an opportunity to keep your customers.
Sep 20, 2021
We had a great time on our 2nd stay. Unfortunately the power went out after the first night but that didn't disrupt our stay.
Sep 20, 2021
Beautiful for RVs in a premium space. Close to general store we were hammered by the sound of generator after power outage. Not the parks fault but not handled well. Staying at a "resort" & premium rates, comes with a service expectation. C/S lacking. I paid for electricity I expected to have it. A discount would have gone a long way. Dog park is 1 family at a time. Dog areas very limite
Sep 20, 2021
Power outage for half of my stay. No compensation offered. Paid for full hookup and ended up dry camping with no power. Should have paid dry camping rates ( half of full hookup rates) for the last day, not full hookup rates. If no resolution with KOA, I will fight the charges with my bank.
Sep 19, 2021
Nice, relaxing stay. The workers were very, very responsive to a problem we had—an unknown car parked in our site! Couldn't have asked for a better, faster response. Thank you!
Sep 19, 2021
The pizza was good and convenient but a dog barking and loud music next door was a little annoying
Sep 18, 2021
Great place to stay. Beautiful grounds and everything you need to enjoy a vacation. Friendly staff and very helpful. Cascade restaurant was awesome!! Love the fresh local grown food and high quality. Would definitely come again and again! Brussel sprouts were amazing���
Sep 18, 2021
The Costanoa KOA is beautiful!! Great views from most of the RV sites and very clean facilities. We stayed during the week and even though there were alot of other campers it was very quite and felt like we had quite a bit of space to ourselves. We will be back!!!
Sep 17, 2021
Very disappointed in the rv sites. They were not level and narrow. Slide out was in bushes and steps were in dirt. Expected more from a full hookup park. Only sites that looked good were in the Seascape loop. Restaurant was good for dinner not so much for lunch.
Sep 17, 2021
This was our 4th stay at the park. Love everything about it, except for the price they charge for a bundle of wood, camping areas are always clean when you back your trailer in except this time. It was obvious that it wasn't cleaned after the last guest departed. Table and chairs were dirty and scattered around and there was sticky stuff on the pavers. We shrugged it off and cleaned it ourselves
Sep 17, 2021
Very relaxing and the best part was the QUIET!
Sep 16, 2021
WAS OUR FIRST TIME THERE, WAS VERY NICE AND RELAXING, OUR SPOT WAS VERY TIGHT REALLY CLOSE TO OUR NEIGHBOR , HAD TO SLIDE OVER ALOT SO MY SLIDEOUT WOULDNT HIT THE BUSH NEXT TO US. LOVED THAT WE WERE SO CLOSE TO THE OCEAN. WOULD STAY AGAIN MAYBE A DIFFRENT SITE.
Sep 15, 2021
Loved Costanoa! So fun to explore the beach and the ocean every day and enjoy the beautiful views every night. The gardens, flowers and grounds are gorgeous. All the staff were very accommodating and interested in making our stay enjoyable. Did I mention the Booz Cart?! Such a fun experience - can't wait to go back!
Sep 15, 2021
My absolute favorite place to camp!!
Sep 15, 2021
Definitely will come again. However, for $150 (Deluxe RV Area) the spaces could be bigger, the wi-fi better, and in our case, the cable TV hook-up didn't work.
Sep 15, 2021
From check in being slow, to a really horrible camp spot crammed in next to a wooden cabin, to a long exit from the property while an RV sat in the roadway whilst the driver had an extended conversation with staff. Cars and other RV's waited behind while this guy attended to his business. No one asked him to pull out of the way of other vehicles. Will Not return.
Sep 14, 2021
Very family oriented. Activities for the young and the young-at-heart. Our site in the Seascape loop was exceptionally clean and manicured. Where most campgrounds have a small concrete pad for the picnic table, Costonoa had pavers by the RV and extending to the eating area where the clean table and chairs were located. A like-new gas Weber BBQ was provided, which had been cleaned quite well.
Sep 14, 2021
Awesome amenities; restaurant is great; shower houses super clean!
Sep 14, 2021
Great location and restaurant on site was excellent!
Sep 13, 2021
The staff was friendly and helpful and the views and campground were lovely.
Sep 12, 2021
Our stay was wonderful as it usually is, I will no longer recommend Costanoa to friends however, due to the new higher prices. Your RV park is already the most expensive one we go to. Just because you can raise prices, doesn't mean you should.
Sep 12, 2021
We moved campsites after our first night. Our neighbors had a huge group and people were encroaching on and passing thru our area. They were loud early in the am. They poured water in our site. Staff was helpful in changing our site Our power at the next site was weak so our fan kept going out all night. The hosts and staff are helpful and friendly.
Sep 11, 2021
Since we drive so far and have a large 5th Wheel trailer, we have always stayed in the Seascape Loop. As always, a great stay. However, the price increases are getting ridiculous. Weekends $145 low season after 11/1, weekend $165 peak after 5/1, with Holidays at $195! Woman at the booth said, "well, people keep coming". C'mon KOA admin, juts because you can doesn't mean you should.
Sep 11, 2021
Very nice, friendly staff well kept sites! Quite during weekdays!
Sep 11, 2021
Very nice and spacious park.
Sep 11, 2021
It's a beautiful s i t e. Lots of native trees. Very clean and well-maintained. And the people that work there are extremely friendly and nice.
Sep 10, 2021
Beautiful peaceful and quiet! Loved it! Only one issue is very pricey to camp overnight! Stayed two nights and with hubby not working because of a work injury, it was hard to afford. Maybe giving a discount to those who served in the military and discount for first timers as well. This was our first KOA experience. Thank you for keeping the place so beautiful and clean!
Sep 08, 2021
Really nice place to stay!
- Linda Novak on Google
Sep 07, 2021
Excellent restaurant on site very friendly staff.
- Tom Vega on Google
Aug 29, 2021
We had a great time in our motorhome, the restaurant and the grocery store was a plus and the spot had everything we wanted. Full hookups and nice ocean air can't be beat!
- Chris Nordby on Google