Alert
As of June 24th WE ARE OPEN and following CDC and Covid best practices. All guests and must be registered on a site with a max of 6 people per site. Sorry No Visitors. Currently the playground, jumping pillow and other group recreation is closed. (POOL IS OPEN! with restrictions reservation are required for a time slot) Our grocery store, laundry facilities, petting farm, dog park and propane are available with social distancing and more frequent sanitizing for your protection. Facial coverings are required inside buildings. Reservations can be made online www.petalumakoa.com (recommended) or at (707)763-1492. We look forward to seeing you all back for another great summer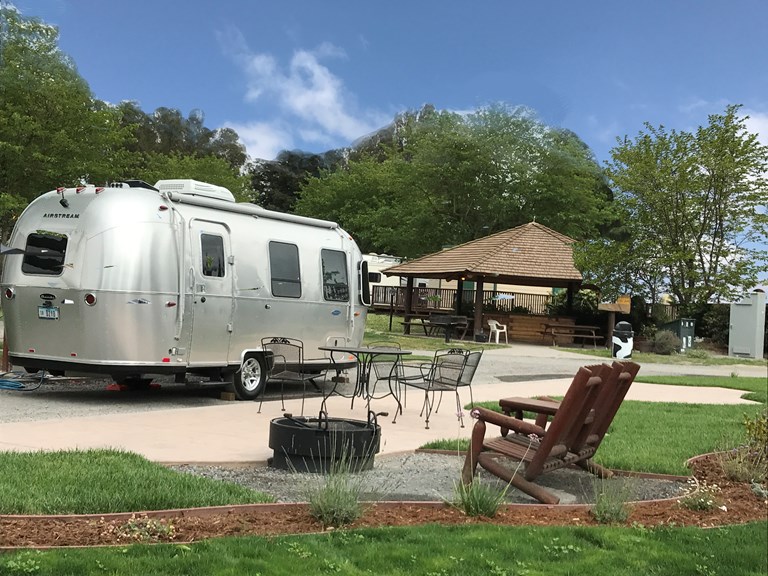 San Francisco North / Petaluma KOA Reviews
Directions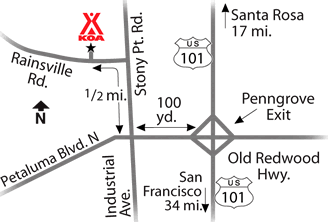 US 101 at Exit 476 - Penngrove. Most Northern Petaluma exit. Proceed to South/West side of freeway. Right turn on Stony Point Rd and Left on Rainsville Rd. See you Soon
Get Google Directions
Jul 03, 2020
We all had a wonderful time while feeling safe
Jul 03, 2020
Wonderful place to stay, at first we were Leary thinking it wouldn't be "real camping" but it was that and more a sense of community kids playing people having a great time. Great vibe lots of amenities including a massive pool and a petting zoo... You can't go wrong with this camping resort. The only problem is you will be having so much fun you won't want to visit the beach.....
Jul 02, 2020
It was great, our first outing since the shut down. Much needed. The staff was awesome and we will be back for sure.
Jun 30, 2020
We had such a great time! The campground was very clean and the Deluxe Cabin w/Loft was beautiful!!! It was the perfect "home away from home". We will definitely be back again and will highly recommend to family and friends. Can't wait to check out the many other locations as well! Thank you!
Jun 30, 2020
We had a great time. Staff addressed COVID well and always had masks. We'll certainly return.
Jun 30, 2020
This was my families first time camping here and we loved it! We will be visiting again very soon:)
Jun 27, 2020
Our cabin was not stocked as it has been in previous stays. I understand this may be because of COVID-19, it just would have been nice to know in advance so we could have brought the necessities, life coffee mugs and knives. Also, there was a concern that the cabin wasn't entirely cleaned and only two wash clothes given for five people.
Jun 26, 2020
We had an amazing stay. We wanted to stay longer and Mike was amazing. He helped us find a way to do so.
Jun 18, 2020
Very clean campground. Felt very safe with the precautions they put into place related to the pandemic. Quiet. peaceful. Easy access to freeway.
Jun 18, 2020
I loved it! Really nice people and facilitates. I want to come back when the pool and everything is open.
Jun 14, 2020
We loved the new deluxe cabins. But was sad the pool was closed huger will be back when it opens again!
Jun 12, 2020
We love the KOA. It is our happy place.
Jun 10, 2020
Sad the pool was not opened but glad to get out during this Covid TIME
Jun 10, 2020
Hello !!! I was so excited , till we got there . We were not told that all facilities were going to be closed. I under stand what's going on with the Virus , but it would be nice to had been told . I spend $633.00 for nothing, we had nothing to do but just walk Down Town Petaluma. My kids were excited to do activity's at Kamp.EVERYTHING WAS. CLOSED!! I should have been told !!
Jun 10, 2020
Fun with limited activities. Staff always courteous and helpful.
Jun 03, 2020
Our stay was very nice and the lodge was really spacious clean and well supplied. The only negative experience was in the camp store the prices were super inflated for things like milk During this pandemic it would be nice not to take advantage of people
May 24, 2020
Beautiful, well kept grounds, the staff are friendly. Very good place to relax!
Apr 12, 2020
We love this KOA, have stayed there in our camper many times. However this time we stayed in a cabin. Was a bit disappointed that the website said there was a coffee pot, we bought coffee and filters only to find out it's a kureg. Also has a great porch to sit on but no patio furniture to sit out there. Other than that we had another great stay. Definitely check this place out!
Mar 17, 2020
The pool should always be heated. Monitor the pool a little closer...tough adults playing music that is not suitable for younger kids.
Mar 16, 2020
It was for a birthday party for my granddaughter. The girls had a wonderful time. The reason I did not rate it a 10 has to do with housekeeping ie; cobwebs. Otherwise a wonderful place.
Mar 10, 2020
They exceeded our expectations! Wonderful water pressure, too.
Mar 07, 2020
It was beautiful and my family had an amazing time! I will definitely be coming back in the summer
Mar 04, 2020
Everything was very clean! Staff was helpful. Beautiful views with peaceful, respectful campers. Great experience!
Mar 02, 2020
We booked a cabin and the heater was broken. We were moved to a different cabin and that one had a dirty very uncomfortable couch and there was no batteries in the tv remote. The bed was also so uncomfortable and noisy that we didn't sleep well. I wouldn't suggest a cabin stay at all. We are avid KOA visitors with our trailer so this was very disappointing because of how expensive the cabins w
Feb 25, 2020
The grounds were beautiful and we loved the amenities (dog park, fire pits, etc). The actual cabin we had was great. Small issues - tv controller didn't work, maybe needed batteries and the tv didn't seem to work. The floors were a bit dirty but it is a campground. :-) All in all, we enjoyed our stay and would recommend
Feb 24, 2020
I only have the greatest things to say about our entire experience! The staff and everyone was so accommodating and nice. This campground is extremely well run and you aren't hassled by anyone for doing your thing. Most places have so many strict rules but they just keep things run so well and everyone is so respectful. We traveled far to come here and will absolutely be back!
Feb 24, 2020
Our cabin was very clean and warm. The fire pit was a highlight! The cabin has no oven, but the Weber outside did the job perfectly!
Feb 21, 2020
Everything was perfect. Cabin and facilities were super clean. The best weekend getaway we've had in a long time.
Feb 11, 2020
Staff accommodated us when we had trouble with our cabin. The weather took a bad turn and heater was not able to warm cabin. We were upgraded to a lodge and saved our weekend. This was a very memorable trip I have 2 little one that will always have a special place for KOA Petaluma. Thank you.
Feb 09, 2020
I found a random pill in the room on the heater vent! I have a child! And the bed was so uncomfortable and the hot tub closes way to earlier! Not going back there again!
Feb 03, 2020
Excellent.We will be back
Jan 25, 2020
Clean comfortable cabin. Everything we needed was there.
Jan 22, 2020
The campground is great, love the improvements. We really enjoyed the cabin. We only had one problem, the mattress was uncomfortable, & noisy. We kept waking up through the night, every time one of us moved. It would be nice if the bed was as comfortable as the ones in the more expensive cabins. We paid just as much as a 5 star hotel per night. We expect better quality beds for that price.Thanks
Jan 21, 2020
The main bathroom near cabin 80 was closed for renovations. This would have been great to know during the reservation process. Or prior to check in. The closest bathroom was very far away and we probably would have booked cabin with bathroom if we knew the bathroom was closed.
Jan 21, 2020
We had a Lodge and our daughter and her family had a pull through space....very accomadating for us. Celebrated our grandsons 13 birthday, that's what he wanted�. We did day trips from there.
Jul 07, 2020
great location, nice & clean with lots of trees for shade
- Denise Gonçalves on Google
Jun 27, 2020
Super clean, great location,staff is friendly
- Beth Birdsell on Google

San Francisco North / Petaluma KOA
Open All Year
20 Rainsville Road
Petaluma, CA 94952
Check-In/Check-Out Times
Accommodations
Check-in: 3:00 pm, Check-out: 11:00 am
RV Sites, Tent Sites
Check-in: 2:00 pm, Check-out: 11:00 am
San Francisco North / Petaluma KOA
Get Google Directions

© 2020 Kampgrounds of America, Inc.