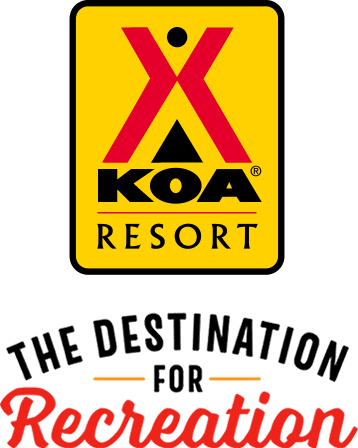 KOA Resort Campgrounds
KOA Resorts offer a carefree vacation in the great outdoors. Enjoy robust recreation and staff-led activities, kick back and relax by the resort-style pool, or grab a bite to eat, all while never leaving the campground. And with plenty of RV Sites with KOA Patios® and Deluxe Cabins with full baths to meet your needs, it's the ultimate camping getaway.
KOA Resorts Feature:
RV Sites with a KOA Patio®
Deluxe Cabins with full baths and linens
Premium Tent Sites
Resort-style pools
Indoor and outdoor group facilities
Directions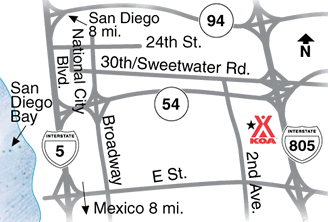 From I-5: Take E Street Exit in Chula Vista.
From 805: Exit 9, Sweetwater Rd. Turn left at bottom of ramp, go west on Sweetwater. Turn left on Second Ave, KOA is on left after bridge.
East from I-5, West from 805 to Second Ave. North on Second 1 mile
GPS: N32.656988, W117.081751
Get Google Directions
Aug 25, 2021
This is a great place to have fun during weekend! Close to downtown and beach, but much less expensive.
Aug 25, 2021
We bought fire wood from the little store and waited for like 30 mins; it wasn't delivered, check with the clerk and say it was on its way; waited for about 20 mins or more...after all I had to cancel it cause the kids fall asleep with out smoores or bone fire ����... Disappointed!
Aug 24, 2021
The stay was great however very disappointed with the fact that very young children were allowed in the jacuzzi. There were so many children inside the jacuzzi , adults could not get in.
Aug 24, 2021
We had a wonderful time enjoying all of the activities and being outside. Thank you!
Aug 24, 2021
I used to love staying at KOA . I have to say, I absolutely did not like camping on dirt during my 4 night stay. We usually have a strip of grass but I see that has been removed. Also there were several groups camping together with kids playing til 2:30 am and what may have been their parents partying til all hours of the night. Also, if I'm paying ahead I should be able to choose specific sites.
Aug 24, 2021
We come here every year at least twice. This is our daughters favorite place to come because she has so many things to choose from. We always look forward to coming here to relax and enjoy the amenities. The staff here is awesome. We hope to be back soon...
Aug 24, 2021
You must do something about the blackbirds! I have stayed there numerous times in the past, but this was the worst stay ever!! The excrement is horrible, not only to the sites and RV's, but tow cars as well. Cleaning off a picnic table at least twice a day is simply not fun!!
Aug 24, 2021
Always a good time . My only complaint is 7mph needs to be 7mph
Aug 24, 2021
Pros- Staff was good and helpful and the restrooms were very clean! Cons- The BIRD POOP was terrible! Not only do you get woken up super early By the birds in the trees but they poop everywhere. You cannot leave anything out because it will all get ruined by the bird poop. It was so bad you can't even have a drink open afraid the bird poop. Never again and would not recommend to friends/ family
Aug 24, 2021
We brought a brand new truck and the birds came by the hundreds every night for 5 nights and pooped on everything on site. We had to have our RV and new truck professionally cleaned for 350 to get bird crap off. Love the campground hate the birds..
Aug 24, 2021
It was great. The family and kids had a great time. There was lots to do.
Aug 24, 2021
They gave me a site that still not available The gardeners are blowing leaves to our site
Aug 24, 2021
WIFI didn't work well, unable to pull up files on my laptop. Unable to get anything on cable by local channels. On Sunday, tlried to get some horse Shoes, Front desk refer me to Kids Club, Kids Club refer me to front desk. No one had any horse shoes and have the guess had left for the weekend by 3:30pm when I made my request.
Aug 24, 2021
Nice place but nowhere to Park near Cafe and pool. Long walks to get our meals for seniors.
Aug 23, 2021
We always love staying with you guys. The only issues we experienced was all the crow poop falling from our tree. Our RV got bombed on. We love the trees for shade though. See you soon.
Aug 23, 2021
We love SD Metro KOA! They always provide. excellent service. We were experiencing trouble with our TV so they sent two young media techs to help us. They isolated the problem and were able to fix the problem. Customer service is always a perfect 10 there!
Aug 23, 2021
We paid for a patio site and it didn't even have a picnic table. There were other patio spots that were empty until the last night we were there with picnic tables. Would rather be able to pick which spot. Like first come first serve.
Aug 23, 2021
Always a great time! Thank you.
Aug 23, 2021
This was by far one of the nicest KOAs we have stayed at. It was clear they put a lot of thought into their recent remodel. That and they had a pool, playground, climbing wall, sports courts and field as well as a ton of activities planned for the kids. Thanks for hosting us on vacation!
Aug 23, 2021
This campground is a fun place for families. The sites aren't too small, but there is always people everywhere and all hours of the day. It can be a bit of a challenge with kids on bikes, scooters, electric toys and them darting across the roads. The only big complaint we have is the bird poop. I'm just two days our rig and truck were covered in bird poop. It looked like we were there for a mo
Aug 23, 2021
I usually love this campground so much but this particular stay was a little disappointing. It was extremely over crowded. There was trash everywhere. Employees were rude. The pool was almost impossible to swim in. The quiet times were not enforced. The grounds were not as clean as normal. I will most likely be back because I love it there. I would hate to see this amazing campground go downhill
Aug 23, 2021
Unfortunately we did not stay. The camping site that was assigned to us was way way too small. Our tent trailer barely fit there. RVs were very overcrowded (almost on top of each other) in our assigned area. There was mud off the paved area. The space for picnic table was uneven. Campground was great but not the site assigned to us. I wish we could have chosen our camping site.
Aug 23, 2021
This campground is all about Family with a capital F....I mean, if you have children of all ages, they will go wild here and there's something for each. Even though it was just my husband and I, we did have my brother visit and the atmosphere was festive; he had a ball. Great location too!!!
Aug 23, 2021
Office staff does not seem as friendly and helpful as they were in the past. We had question about our site, and the staff acted like we were bothering them with our questions. Not the experience we are use too.
Aug 23, 2021
Love your KOA but had a few concerns this past stay- 1-Tried calling the office for a question- could not get through. Suggest some additional staff to help answer phones. 2-I suggest you post camper etiquette. I see kids and adults cut through occupied sites. I find that to be very rude and I just don't appreciate it. 3-There we're dogs barking like crazy Saturday night that woke us up.
Aug 23, 2021
really enjoyed our stay and all the accommodations! Staff was great!
Aug 22, 2021
Great place to stay for the kids! Tons of great things to do for the kids all around the park! The pool, multiple play structures, bouncy playground, dog parks, and more. It stays real loud til about 10pm. but after that its manageable! Great time for parties!
Aug 22, 2021
We've rented deluxe camper cabins at other KOAs and found this layout to be the most cramped with the least amount of storage space in the kitchen/bathroom. When we checked in, out bedding set for one of the beds was incomplete (no pillow in the package) and when we asked at the front desk for a pillow, we were told we couldn't get one because they are all packaged as sets. All else was very good.
Aug 22, 2021
Great stay only bad thing I experience was. I ask for a late check out and they told me no due reservations. But there were 3 empty spot next all prior day and at time of check out. I came back later that day to visit friends and my spot was still empty. An extra hour would have been nice. But still a great KOA.
Aug 22, 2021
At first we were delighted to stay. The problems we had were the KOA website said the swimming pool closes at 10:00 p.m., but when we took the kids to swim at 9:05 p.m., we were told by staff that the pool closed at 9:00 p.m. without explanation. We complained about the time, but no good. The worse thing was one of our adults came away with bug bites from sleeping on a bunk bed in cabin 104.
Aug 22, 2021
We thoroughly enjoyed our stay from check in to check out. It is a great campground with great activities for the kids. The bathrooms/showers were the cleanest I have ever experienced at a campground and the variety of accommodations can suit any camper from the cabins to the RV sites to the glamping tents. The staff are all customer oriented. Our family had a very enjoyable stay and will be back.
Aug 22, 2021
My stay at the cabins were nice despite having a very hot and humid weekend. My nephews had so much fun swimming and enjoying the planned activities. I'm glad there were so many things for them to do because all they do is play video games at home. They were very active that weekend. I'm not a huge fan of the economy tent sites so I'll remember not to get one of those ever again.
Aug 22, 2021
I had a tent site under some trees! It was terrific. The freeway was a bit close, but the facilities were top notch!
Aug 21, 2021
Great place, huge and clean.
Aug 21, 2021
Site 1909 is a safety hazard! Tree roots are coming up from the ground. It needs to be fixed someone is going to get hurt.
Aug 21, 2021
Our group had a wonderful time at the camp and everything was clean however, those crows were so annoying!! Otherwise great place to stay.
Aug 21, 2021
The staff was amazing and helped us get our coach started when our chassis batteries completely died. Kurt helped us with jump and even checked the voltage on the 50 amp breaker when we started having electrical issues. We will definitely be coming back!
Aug 21, 2021
The area is not the most beautiful, but the campground was very nice. Very family oriented, but beware of children on the camp roads speeding around on their electric scooters and bikes. Our site was very nice with a BBQ and fire pit with chairs. We had 2 picnic tables but no grass. Smaller sites had grassy areas. We stayed here in a 45' motorhome. No complaints about facilities.
Aug 21, 2021
The sites were great! The other people camping there need some etiquette lessons about not walking through your camp. On several occasions I had people and families walking between my picnic table and my camper then around my truck blocking the front to go to the jump pad. I suggest upon arrival making it known to not walk through occupied camp sites. The crows and ants were annoying.
Aug 21, 2021
Had to pay to upgrade camp space due to excessive Mud in space# 2005
Aug 21, 2021
Great location peaceful my only complaints are ants and the lack of WiFi in the back areas of the park. I would still recommend people to stay here tho.
Sep 13, 2021
Family owned and operated, as a homeowner in Chula Vista I love seeing local businesses flourish, great place to bound with your family and make great memories
- Joseph Ugi on Google
Sep 12, 2021
Good place & good service
- Arce Iniguez on Google
Sep 08, 2021
Is awesome 👍
- Irma Shamon on Google