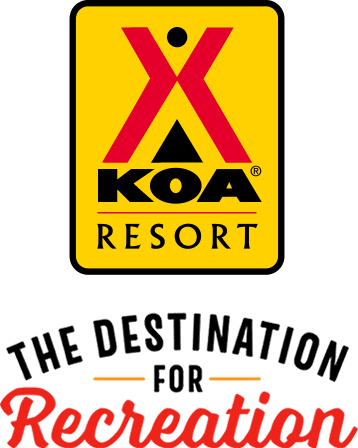 KOA Resort Campgrounds
KOA Resorts offer a carefree vacation in the great outdoors. Enjoy robust recreation and staff-led activities, kick back and relax by the resort-style pool, or grab a bite to eat, all while never leaving the campground. And with plenty of RV Sites with KOA Patios® and Deluxe Cabins with full baths to meet your needs, it's the ultimate camping getaway.
KOA Resorts Feature:
RV Sites with a KOA Patio®
Deluxe Cabins with full baths and linens
Premium Tent Sites
Resort-style pools
Indoor and outdoor group facilities
Directions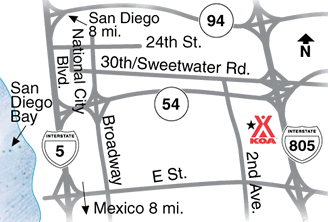 From I-5: Take E Street Exit in Chula Vista.
From 805: Exit 9, Sweetwater Rd. Turn left at bottom of ramp, go west on Sweetwater. Turn left on Second Ave, KOA is on left after bridge.
East from I-5, West from 805 to Second Ave. North on Second 1 mile
GPS: N32.656988, W117.081751
Get Google Directions
Sep 20, 2021
It's our 6th stay and we're definitely coming back!
Sep 20, 2021
It was amazing will definitely be coming back
Sep 20, 2021
Check in was very stressful. Once checked in all was great. The roads are smooth for scooters. Pool was nice. Lots of activities for the kids to keep them entertained. Showers and bathrooms very nice. My kids definitely want to camp here again.
Sep 20, 2021
It may not be a KOA problem but somewhat management/crew's fault that after 10pm it should be a quiet time. Especially KOA campers come with little kids, and they do go to bed early(around 10pm). People were constantly throwing bean bags and screaming after few shots of hard liquor even at 12am! Management would never answer their hot line. Golf-cart crew would not stop them when they pass-by.
Sep 20, 2021
Is was a great first experience camping for me and my family. The crowd killed me every morning. Wish I had a better understanding of the park especially since it was our first time.
Sep 18, 2021
Love the new facilities and gift shop. Overall a fantastic stay. I was frustrated the sand castle cafe was not open according to the posted fall hours, also when it finally was open the sand castle cafe staff were unable/unwilling to answer food allergy questions by looking at ingredient list. Probably will not plan to eat at the cafe in the future.
Sep 18, 2021
Appreciated moving my tent away from restroom noise I heard non-stop through the night… although I do pay more for a centrally located site. Sometimes I wish there was even $5 off if only one tent for one person on the site, but such is the way of business, so I get it!
Sep 14, 2021
Very clean. Good maintenance. Lot of fun for kids~
Sep 13, 2021
had a blast. will be coming back
Sep 08, 2021
The improvements since my last visit are fantastic. The pool, clubhouse, tent electrical, and additional cabins are great additions.
Sep 07, 2021
I enjoyed my stay very much...I noticed alot of new housing and upgrades to the preferred tent sites...very nice...clean restrooms and showers..Friendly staff..A great relaxing place for the family..My only upset was the removal of the slushie machine at the general store..Overall very satisfied and enjoyed my stay at KOA.
Sep 07, 2021
Someone stole our towel at the pool. It was a new expensive one, so that sucked. Inquired at the front office and they said to gobto kids club, who told me to look for a lost and found in the pool area which there was none out. Wasn't very helpful.
Sep 07, 2021
The amenities are new, clean & fun, especially the pool and restrooms. However, the tent camp sites were very cramped together, and the economy sites were subject to constant loud noises from the freeways all day and NIGHT! A neighbor right outside the camp played loud music at 4am! The worst part of the experience is the mosquito infestation. We were eaten alive by them at dawn and dusk.
Sep 07, 2021
Everything was great from the activities for the kids to cleanliness of the showers and restrooms. However the bird droppings everywhere needs to be cleaned up better. All in all we had a great time.
Sep 01, 2021
Would have been better if annoying rv guest with RC cars racing all day and night would be more considerate with noise. So loud can't sleep rest relax with annoying noise. Overall too many of that kind of individual not considerate or respectful of other guests. If you want relaxation rest peaceful enjoyment of outdoor camping this one not for you.
Aug 30, 2021
Overrated - not for tent campers - men's rest room constant smell of urine - 50/50 with paper towels - no family weekend evening activities? - really no adult activity options - busy jamming in rental spaces versus adult options ( volleyball, corn hole, etc, something) do have horseshoes - tent site crappy - great view & sounds of the 805 - overall - OVER RATED & OVER PRICED
Aug 30, 2021
Stayed in the tent site under the freeway by the entrance. It was clean but cramped. And sort of felt like we were camping with under the freeway which we were it would help to have known that before hand. The park is nice overall. It seemed like you were having a little trouble keeping the bathrooms clean just due to shear volume of people in the park. But it met our needs For a base
Aug 30, 2021
The kids declared this their favorite spot, aside from Yosemite, and insisted we come here all the time! Between the bikes, the pool, the playground, and the jumping pillows… We almost didn't make it to Seaworld, which was our actual destination! LOL
Aug 29, 2021
Campsite was decent size, has everything you need. I went with my 7yo son and he loved the pool and the playground and the train ride. I was able to order firewood through a text message and a few minutes later it was delivered right to my site, I only stayed for the night so that kind of convenience is priceless when you are trying to maximize time. Overall great experience will stay again.
Aug 28, 2021
Great stay. Loved the pool and all kids activities. Clean sites, friendly people.
Aug 28, 2021
Definitely recommend to stay in Koa San Diego, staff is very friendly, nice size pool, clean restrooms. Lots of activities for the kids.
Aug 26, 2021
It may be a great place for RV's, but tent camping isn't good. Non-stop noise from the freeway was irritating and made it hard to sleep. The wood chip area for the tent was uncomfortable. The camping sites are packed together like sardines in a can. For the price I paid, I could have gotten a room at a local Motel 6. Good thing- it was down the street from where I needed to be the next morning.
Aug 26, 2021
We appreciate all the activities available for families and the cleanliness of the facilities. The two young ladies in charge of the bike rentals were extremely nice and helpful (our group was annoyingly indecisive and the two ladies in charge were accommodating and kind to the very end)! We will definitely be back. Thank you!
Aug 25, 2021
We bought fire wood from the little store and waited for like 30 mins; it wasn't delivered, check with the clerk and say it was on its way; waited for about 20 mins or more...after all I had to cancel it cause the kids fall asleep with out smoores or bone fire ����... Disappointed!
Aug 24, 2021
I used to love staying at KOA . I have to say, I absolutely did not like camping on dirt during my 4 night stay. We usually have a strip of grass but I see that has been removed. Also there were several groups camping together with kids playing til 2:30 am and what may have been their parents partying til all hours of the night. Also, if I'm paying ahead I should be able to choose specific sites.
Aug 22, 2021
I had a tent site under some trees! It was terrific. The freeway was a bit close, but the facilities were top notch!
Aug 19, 2021
The employees are great, especially with kids. There was something to do all day long and you were never bored.
Aug 18, 2021
Clean, fun and best campground all around!
Aug 16, 2021
The economy sites are way over priced for their locations; however if you score a premium tent site or any other site then it's great. I still think it's very expensive to stay here. Would I recommend this place? Absolutely! Kids have so many things to do here.
Aug 10, 2021
Great stay, clean campground. The only thing you could do better is change your MLOS stay pattern to prevent a wall on Saturdays, this way you'll have better straight line availability on sites.
Aug 09, 2021
Really loud awful birds at around 5am. No info about birds so almost everything we owned was pooped on. I still can't see one side of my tent from all the poop. Facilities were nice but I'll never stay again.
Aug 09, 2021
Great place for family get away
Aug 08, 2021
Love coming here! Had a very good time!
Aug 07, 2021
Likes… it's in San Diego, nice facilities, clean, landscaped, gift shop, cafe/bar, pools, jumping pillows, train for kids Dislikes… freeway noise, mosquitos, closeness of neighboring sites, extra charges for 2nd car per site, no lifeguard at pool
Aug 06, 2021
I grew up camping coming to this KOA site my experience was always amazing.Now that I am older and can bring my own family. It was the worst experience. It was frustrating being forced to upgrade and forced to pay 50 dollars EXTRA to get a site away from the freeway. We got a site we didn't request.This was the worst experience.I wish there were more tent options. Or an option to select your site.
Aug 05, 2021
Seemed to have a lack of staff. I saw trash on the ground in multiple places for multiple days. That kind of stuff would be gone within the hour in the past.
Aug 05, 2021
We had a great time, the place was clean (especially the bathrooms) and I appreciated seeing lots of staff. The tent camp sites were small and the "tent pad" was just wood chips. The local crows and mosquitos were quite problematic. We plan on returning (with more bug spray!!)
Aug 05, 2021
It was great! Very clean.
Sep 17, 2021
The best glamping experience i have ever had recommended for everyone
- chris downs on Google
Sep 12, 2021
Good place & good service
- Arce Iniguez on Google
Sep 08, 2021
Is awesome 👍
- Irma Shamon on Google