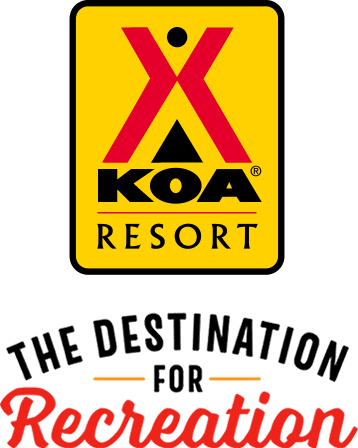 KOA Resort Campgrounds
KOA Resorts offer a carefree vacation in the great outdoors. Enjoy robust recreation and staff-led activities, kick back and relax by the resort-style pool, or grab a bite to eat, all while never leaving the campground. And with plenty of RV Sites with KOA Patios® and Deluxe Cabins with full baths to meet your needs, it's the ultimate camping getaway.
KOA Resorts Feature:
RV Sites with a KOA Patio®
Deluxe Cabins with full baths and linens
Premium Tent Sites
Resort-style pools
Indoor and outdoor group facilities
Directions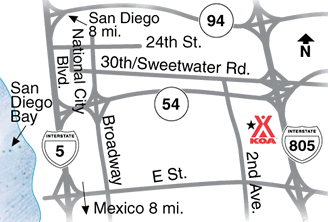 From I-5: Take E Street Exit in Chula Vista.
From 805: Exit 9, Sweetwater Rd. Turn left at bottom of ramp, go west on Sweetwater. Turn left on Second Ave, KOA is on left after bridge.
East from I-5, West from 805 to Second Ave. North on Second 1 mile
GPS: N32.656988, W117.081751
Get Google Directions
Oct 19, 2021
Wonderful stay! Very impressed with new renovations and staff this year. The only thing I wanted to mention was the electric at site 1208 was showing a fault, I reported it to the front office, and the kid that helped me could not have cared less. Seems like something that should be addressed �����‍���
Oct 19, 2021
We have a 39ft 5th wheel. It was a bit difficult getting around the narrow roads.
Oct 19, 2021
Very clean staff friendly had a blast
Oct 19, 2021
Love everything about KOA SD. The Fall Festivities are the best. The kids love the jumping pillows, the costume parade was awesome.
Oct 19, 2021
Was very good. Only one thing. The pool needs more care. We see you in June.
Oct 18, 2021
Check in was a disaster we didn't get any of our request
Oct 18, 2021
We've been coming for this same weekend for many years and love it. We've extended our time from 3 days to 6 and love every one of them. The campground has made some really nice improvements to an already great place.
Oct 18, 2021
Everything was great. Events were well scheduled Only comment to make is it would have been nice to have more than one balloon guy. Took 3 hours in line to get balloon animal.
Oct 18, 2021
Staff is always so friendly and helpful. This is something we do yearly and truly look forward to it all year.
Oct 18, 2021
See you in 2022, we love visiting!
Oct 18, 2021
We had so much fun!
Oct 18, 2021
Very clean, fun and enjoyable
Oct 18, 2021
This review has been removed by KOA due to profanity.
Oct 18, 2021
We are happy with our stay! Staffs are helpful and the overall amenities are great. The kids had fun and we plan to come here next year.
Oct 18, 2021
We had an amazing time. The campground is beautiful and we had so much fun decorating and trick or treating for Halloween. The pool is amazing.
Oct 18, 2021
Our stay was ok but our experience with the restaurant there at the camp ground was terrible. The food was cold and the staff very rude. Please do something about this.
Oct 18, 2021
My wife and I have stayed here on a few other occasions. Since our last stay the KOA has made some wonderful improvements and we will definitely be back at any further stays in the San Diego area. As for a recommendation, I always tell my family and friends to stay here.
Oct 18, 2021
Nice facilities, I wish security would enforce quiet hours. Many youths riding bikes, assorted contraptions late at night making lots of noise. Many rude " glampers" having large gatherings, all fun but quite disrespectful of others. Lots of small trash from the month long Halloween party. Good location.
Oct 18, 2021
Tent #3504. Horrible nights sleep. The people next to us had 3 dogs barking all day. Sleeping under that overpass is the pits. Too noisy with cars & those spots should be removed. I looked online & saw 1 avail cabin. Asked in the office if I was able to upgrade to the cabin for the 2nd night and was told no. I had to have 2 consecutive nights in the cabin. Poor hospitality service with that regard
Oct 18, 2021
Grandkids always love it there...Halloween fun for all...great people at the KOA...will always come back
Oct 18, 2021
There were less activities this time around than usual but overall still a great experience and my son loved it. No mistake that my son chose to spend his 8th birthday at San Diego KOA and invite his cousins and friends.
Oct 17, 2021
Was not told at check in about gate locked at 8pm. Kuckily someone answered the phone. Park is very tight for large 5th wheels. Thursday night park filled up, very loud and noisy until midnight.
Oct 16, 2021
Absolutely love this KOA!
Oct 16, 2021
One of the nicest KOAs I have stayed in. Had a pull through so it was easy to get in and out. Grounds were clean. Did not rate it a five as the last night they removed the fire pit and the box they had it standing on to raise it off the ground. It was an amenity and I was going to have a fire that night. They could have emailed the guests and told us they were going to do this, or told us at check
Oct 16, 2021
Could have been more relaxing without the near constant sound of leaf blowers and sweepers. Lots of the work could have been done with a broom. Lots of small pieces of trash from Halloween candy, EVERYWHERE. Friendly staff and beautiful pool.
Oct 15, 2021
Great friendly staff. Very nice facility. Cable and Wifi not working.
Oct 15, 2021
Friendly staff, Park is clean and well maintained. Great for families with children.
Oct 15, 2021
Everyone was so nice , cabins , grounds were kept clean and beautiful we loved our stay and can't wait to come back
Oct 15, 2021
Very nice KOA to stay.
Oct 15, 2021
We came to San Diego to visit our grandsons. Several days before we were scheduled to pull out, our oldest grandson was killed in a car accident. We needed to stay over 2 weeks longer than planned. Bianca and Paola could not have been more wonderful. Originally we had to move to a 30 amp site, then Bianca kept us in our 50 amp site for 2 more weeks. Your staff was awesome.
Oct 15, 2021
Excellent as always
Oct 14, 2021
The Fall Festival was perfect. Helpful staff, great campsite, and a fun weekend with friends. This is my favorite place to camp.
Oct 14, 2021
Always fun atmosphere, well kept landscape and facilities. It is amazing how well kept the park is considering the volume of campers.
Oct 14, 2021
Had a great relaxing weekend in a nice cabin. Cabin was clean and ready when we checked in. Great service
Oct 13, 2021
The site we stayed in was paved with asphalt with tree roots pushing through. My my wife, kids and myself all tripped and fell multiple times over them. Staff was friendly
Oct 13, 2021
We booked last month not knowing it was the fall festival. Our first night, was horrible. People were up screaming and yelling, talking about inappropriate things, and using profanity, and getting more and more intoxicated until 3am. Not once did someone come tell them that it was quiet hours. We have small children who had to listen to that while trying to go to sleep! I was very disappointed.
Oct 12, 2021
wonderful as always. I wish that someone would answer the front desk phone when we call. too many times there is no answer. Last year there would be an answer every time someone calls.
Oct 14, 2021
Great KoA! Clean, very nice pool. Typical freeway noise. Wake up call was the crows cawing
- Jonathan Millet on Google
Oct 10, 2021
Love everything about this family fun camping trip
- Michelle Ivers on Google
Oct 08, 2021
It is out first time here and my husband booked this campground in February for and October trip. KOAs are known to have lots of activities in October for kids and at the time it was the last spot available. We got to our spot on a cliff back by employee parking. We brought our 3 year old for trick or treating and we didn't think we would get a lot of trick or treaters so far back. I went to the front desk and Ramon helped me find a new spot and even offered to pick my husband up to go look at the spots before moving. He was very helpful and got us a fire pit (free upon request) right away. Ramon went above and beyond to help make our stay memorable. We live koas for the amenities and so far we have not been disappointed. This campground has a resort style pool, something called jumping pillows and a nice store and restaurant. The majority of the spots are spacious and cement with a little bit of grass. We will definitely be coming back.
- Stephanie Harkness on Google