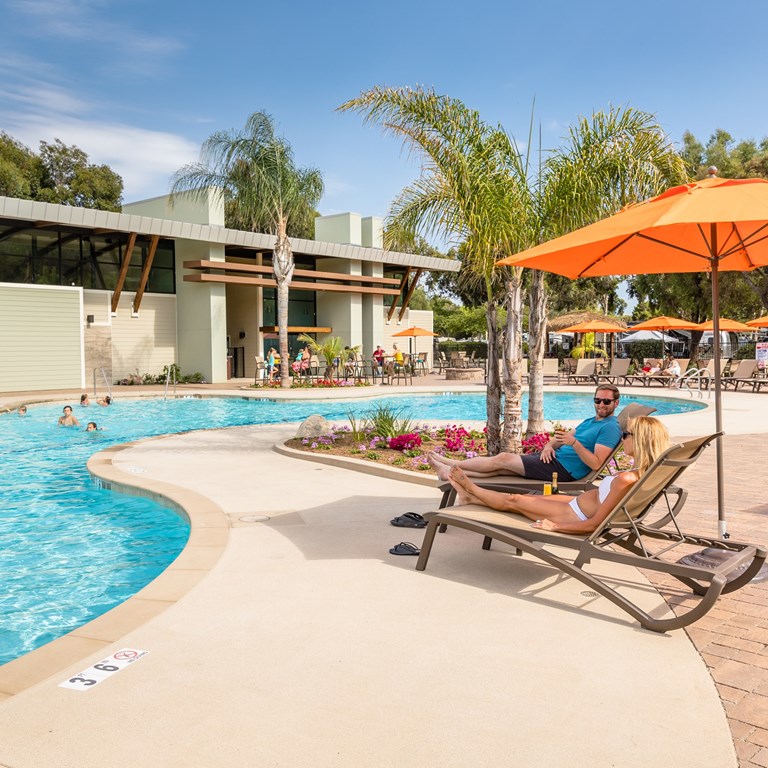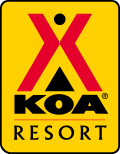 San Diego Metro KOA Reviews
Get the latest information about our amenities and hours in compliance with COVID-19 safety.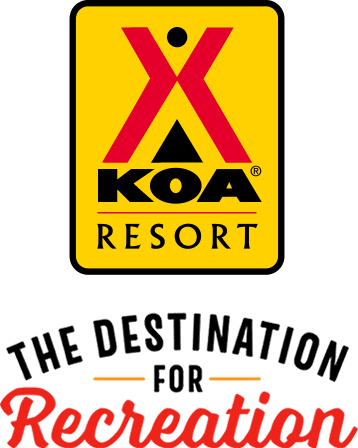 KOA Resort Campgrounds
KOA Resorts offer a carefree vacation in the great outdoors. Enjoy robust recreation and staff-led activities, kick back and relax by the resort-style pool, or grab a bite to eat, all while never leaving the campground. And with plenty of RV Sites with KOA Patios™ and Deluxe Cabins with full baths to meet your needs, it's the ultimate camping getaway.
KOA Resorts Feature:
RV Sites with a KOA Patio™
Deluxe Cabins with full baths and linens
Premium Tent Sites
Resort-style pools
Indoor and outdoor group facilities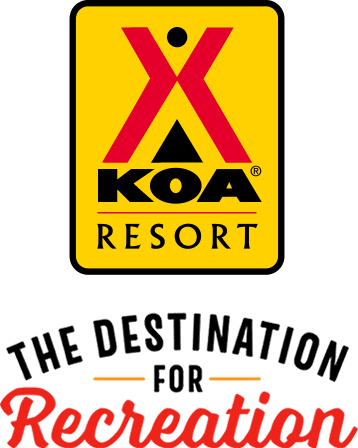 KOA Resort Campgrounds
KOA Resorts offer a carefree vacation in the great outdoors. Enjoy robust recreation and staff-led activities, kick back and relax by the resort-style pool, or grab a bite to eat, all while never leaving the campground. And with plenty of RV Sites with KOA Patios™ and Deluxe Cabins with full baths to meet your needs, it's the ultimate camping getaway.
KOA Resorts Feature:
RV Sites with a KOA Patio™
Deluxe Cabins with full baths and linens
Premium Tent Sites
Resort-style pools
Indoor and outdoor group facilities
Directions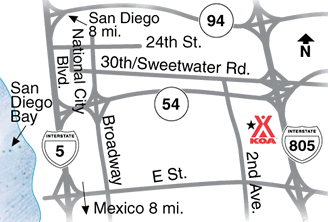 From I-5: Take E Street Exit in Chula Vista.
From 805: Exit 9, Sweetwater Rd. Turn left at bottom of ramp, go west on Sweetwater. Turn left on Second Ave, KOA is on left after bridge.
East from I-5, West from 805 to Second Ave. North on Second 1 mile
GPS: N32.656988, W117.081751
Get Google Directions
Aug 11, 2020
We love this please. Super clean, friendly, lots of activities for the kids. Only wish the pool was kept a little warmer. Other than that...GREAT place!!!!!!
Aug 11, 2020
Only thing I can complain about is that the majority of people were NOT wearing masks. This is important to me and I wish it would of been enforced.
Aug 11, 2020
We only stayed over night, but it was great. It was a little frustrating that we weren't able to get ahold of anyone by phone the day of our arrival to let them know we were going to be late. The speaker at the gate didn't seem to work (and we had no after hours code), but they must have heard us, and let us in. Other than that, our stay was flawless. Hi
Aug 11, 2020
This is our favorite Rv Resort. The staff is always so helpful, accommodating, and very pleasant to deal with. We had an amazing stay!
Aug 11, 2020
Great customer service. Employees were more than willing to help with questions or concerns. My family and I stayed in a deluxe cabin for the weekend and enjoyed every second of it.
Aug 11, 2020
Short but sweet as usual. Plz open Jacuzzis asap. Best Regards
Aug 11, 2020
Pretty campground. Landscaping was lovely.
Aug 10, 2020
Grounds were nice at best, but the Staff is lacking in basic customer service. I have never been spoken to or treated in such a negative way as I did with most if not all the staff. Between the check in process, contacting the managers with the issues we had, his lack of professionalism and the negative attitude most staff had, training is needed. I would not recommended this facility.
Aug 10, 2020
Upon arrival tents no set amount whatever fit just not on grass. NO grass around site Showers dirty, two days human waste in the shower.family came for a B-Day Party. BBQ pits Beyond dirty. Wood chips on ground with powdered dirt U cant stay clean dirt everywhere. Pd for wood @8:am check out @ 11:am still no wood. So I got refund. EXTRA charge ON MY BILL for parking. No Happy with service.
Aug 10, 2020
We had a wonderful weekend and will surely tell others about it. It was our first time but wont be our last.
Aug 10, 2020
Very nice RV park. Well maintained and plenty of activities for the family.
Aug 10, 2020
Sadly due to corona many activities were closed but I did enjoy the limited people in the pool. The Cafe was yummy and most of the staff was super friendly. The worst part by far were the bathrooms. They definitely need frequent monitoring and cleaning. Overall it was an awesome trip!
Aug 10, 2020
We stayed 7 days at an RV site. Always a fun & memorable experience in SD! COVID-19 restrictions didn't stop the fun from happening! We felt comfortable and in safe surroundings, most wore masks and/or stayed 6 ft away. Thank you to all the KOA staff!!! ������
Aug 10, 2020
We had a blast, The grounds were clean, the pool was beautiful and the kids had a blast!
Aug 10, 2020
I attempted several times online and over the phone to get accommodated with family members who always stay at your location and store their RV at your location. There was no effort to accommodate us. There was a spot open all weekend across from us yet no attempts or mentions about our requests. There was multiple families together that we noted yet no effort for my request or my families request
Aug 10, 2020
Very clean. Staff was friendly. Fire wood deliveries were included with purchase of wood bundles which was great! We stayed in the cabin without a restroom but felt safe to go to the restroom in the middle of night just a short walk away. The lock on the door didn't work with the key and the bike we rented was broken but overall a good glamping experience!
Aug 09, 2020
My stay at your facility was very relaxing. We had a great time. I always feel safe to take my family camping at San Diego KOA
Aug 09, 2020
the koa san diego is not following covid guidelines . there were way over limted amount of people at each area. especially the amount of people allowed in pool area. we rented cabana for 2 days. which we left after hrs due to amount of people. I sad to say site was not kept clean i found stool in one shower by pool area. we have been coming here for 14 years. staff was rude and un caring about peo
Aug 09, 2020
We love this campground. It's one of our favorite places to stay as a family. This time just felt off. Between the construction, and no warning that was given about the fact that it would be happening right in front of our site, to the horrible ants at our site, and neighbors who just didn't care, it wasn't our best stay. But the site itself was great.
Aug 09, 2020
Only because there wasn't alot of thing open. Climbing wall, play ground etc.
Aug 09, 2020
Well, we have stayed here several times before this visit. It started off badly when our site (3002) was dirty. I actually picked up enough trash to fill a dog poop bag! Then, because there was food on the concrete (melted chocolate, half a pancake, and something red and sticky) I actually had to hose down the concrete before setting up the dog corral or rug. Very noisy all around us, too.
Aug 09, 2020
We were so happy to add a couple of days to our stay! Thank you to Ramon to be able to Find us a space! The snack shack was amazing! The food was a little pricey, but very good! Hope to be back very soon !
Aug 09, 2020
What a wonderful surprise! We had no idea this campsite was here. Then when we booked it we never expected it to be so clean, beautiful and fun!! Can I live here?
Aug 09, 2020
I spent $150 just to use the pool and it was not disclosed at reservation, email confirmation or at check in that we needed to make a reservation for a pool slot. It was hidden in a flyer that was given to us at check in & of course, Sat was fully booked. When I complained how unfair it was, the staff tried to kick me off the property bc it was 2hrs past check out. WORST CUSTOMER SERVICE EVER!
Aug 08, 2020
We thoroughly enjoyed our time at your KOA. Even in this time of pandemic it was a wonderful get-away for us. Thank you.
Aug 08, 2020
During COVID-19 we thought it would be great to get away. We were told to wear wrist bands. My husband and I were the only ones wearing them. NO ONE was wearing a mask. Kids were riding there bikes thru our campsite. It was total mayhem there. Not 1 worker cared or stopped anyone without a wristband or mask. Why waste your money if you don't enforce it. You make might want to train your employee
Aug 08, 2020
Beautiful park! A lot of activities for the family and pet friendly. The only negative thing I could say is that there are a limited number of bathrooms for all the campers (RVs, tents, cabins).
Aug 08, 2020
Very nice and clean campground.
Aug 08, 2020
After coming here for nearly ten years we're finally done. In fact we packed up a day early and left at 6pm rather than stay another night. This is no longer a campground it's a Party Village. The music is out of control, the drunk parents hooting and shouting are everywhere. There is no escaping the blasting tunes from competing parties. You're not family friendly and we're never coming back.
Aug 08, 2020
Loved it! Already made reservations for our next two stays!!!! The Ohlin's p.s. - we also signed up for the rewards program ���
Aug 07, 2020
We stayed in cabin 09. It was not as good as 12 that we stayed in 2 years ago. You need to add shelves above the sink for food storage as there was nowhere to put anything. The bbq did not start without calling for help and the bedroom tv remote didn't work. The pool was a huge improvement and my grandkids loved it. They missed the other activities but with Covid it was understandable.
Aug 07, 2020
Dirty picnic tables and filthy grills. Finicky wifi. I expected better for $80 per night tent camping in a parking lot. Website made it sound like activity packets would be provided for the kids due to covid and their features (playground, jumping pillows etc.) being shut down. Instead they were charging for the packets. Ridiculous!
Aug 07, 2020
It is like an Oasis in the suburbs. Well kept every one is real friendly great place for families. Because of the times we are in now we needed a break of staying at home. We only live 10 miles away great stay-cation.
Aug 07, 2020
Camp grounds were clean and well cared for, however very cramped and on top of each other. Staff was very kind and courteous. However our neighbors were playing loud music until 2am and the other neighbor kept setting off their car alarm all night, 2 nights in a row.
Aug 07, 2020
Everything was great except the bed gave me a really bad backache. We normally stay in the eco tents but had more people with is this time so got the large cabin and my back still hurts. Other then that we always love KOA san diegi
Aug 07, 2020
Staff made EVERYTHING so easy! Their customer service here is top notch. Pool is great! We like to mix up our camp experiences between super rustic and more manicured and this was perfect for a more "metro" feel. The only issue is the crows, but we knew that in advance and brought ear plugs and cleaner. Before we packed up, my bf spent about 15 minutes with a cloth and scrubbed it off the tent
Aug 07, 2020
Clean, friendly staff but terrible location.
Aug 06, 2020
Love the staff. Love the campground
Aug 06, 2020
Clean and beautiful setting. However, the large eucalyptus trees make it impossible to get a satellite signal.
Aug 06, 2020
Site #1913 was not good (terrible) very crowded & muddy. Had trouble with the Cable connection (face plate was off, etc.). After 4 nights moved to #9006 which was great. Only problem was Internet did not work properly. 3 calls to tengointernet over 30 minutes each time still no access. They said caused by our move & extending our stay. We'll be back.
Aug 10, 2020
Good
- juan zamora d 3 on Google
Aug 05, 2020
Hands down our favorite camping site in all of SoCal from Venture to SD. We camp twice a month and we keep coming back here that it's our home away from home. What we love is that it is kid and family-friendly with beautiful, scenic tree-lined streets, movie-like cabins/glamorized tents nice pool and awesome bike rentals. The best part is that it feels like you're transported to a nice small, neighborhood and can't even tell you're in the heart of SD. It's spacious, every row is lined with large trees for shade and feels likes we're in a movie. Our favorite part is walking around after dinner and walking by the cabins, glamorized tents, and log cabins. There's lots of places that feel different and for the kids to explore. We had a great experience and both during COVID pandemic times. We know it will be way better once the playground, trampoline and pool is open! (It's open now but we don't want to risk anything). Definitely a nice getaway with good planning that went into this! Highly recommend whether it's your first time to experience or you're a tent camper to Class A. There's something for everyone here! Not to mention the weather is always sunny, clean fresh air and beautiful at 70 degrees here too!
- AL M on Google
Aug 09, 2020
Very nice and clean place for you and your children to camp.even the pool was open
- Ashli Armstrong on Google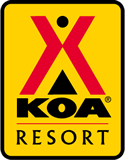 San Diego Metro KOA
Open All Year
111 North 2nd Avenue
Chula Vista, CA 91910
Check-In/Check-Out Times
RV Sites, Tent Sites
Check-in: 1:00 pm, Check-out: 12:00 pm
Accommodations
Check-in: 3:00 pm, Check-out: 11:00 am
Get Google Directions