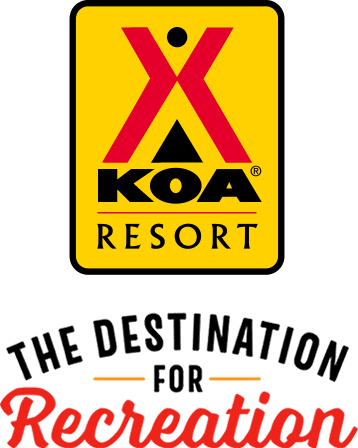 KOA Resort Campgrounds
KOA Resorts offer a carefree vacation in the great outdoors. Enjoy robust recreation and staff-led activities, kick back and relax by the resort-style pool, or grab a bite to eat, all while never leaving the campground. And with plenty of RV Sites with KOA Patios® and Deluxe Cabins with full baths to meet your needs, it's the ultimate camping getaway.
KOA Resorts Feature:
RV Sites with a KOA Patio®
Deluxe Cabins with full baths and linens
Premium Tent Sites
Resort-style pools
Indoor and outdoor group facilities
Directions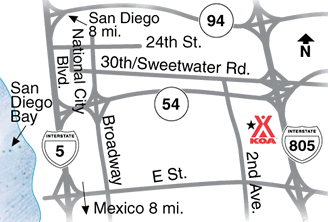 From I-5: Take E Street Exit in Chula Vista.
From 805: Exit 9, Sweetwater Rd. Turn left at bottom of ramp, go west on Sweetwater. Turn left on Second Ave, KOA is on left after bridge.
East from I-5, West from 805 to Second Ave. North on Second 1 mile
GPS: N32.656988, W117.081751
Get Google Directions
Jul 26, 2021
Had a blast the employees are nice
Jul 26, 2021
we had really good time at KOA SD!!! we will definitely come back here every year!
Jul 26, 2021
Recently stayed for two nights Friday-Sunday for our first time. We loved all the activities for the kids and pool. Sand Castle Cafe was great and the store was stocked with any items you may have forgotten. Definitely will come back.
Jul 26, 2021
Another great stay! Been coming here for years. Everything was as expected. The only negative for this stay was there weren't as many activities as usual. Probably do to Covid concerns. Also the younger staff running activities weren't very engaging. Normally they always went above and beyond when engaging with kids. This time it seemed they did the bare minimum.
Jul 26, 2021
It's pretty nice but the tent site parking was very limited and the office will not enforce if another car takes your paid spot even if it is an extra car on the other site. They just say "sorry bout that go park in over flow." Other than that it was nice enough.
Jul 26, 2021
Very well maintained campground with lots to do!
Jul 26, 2021
It was our first time staying at a KOA And it was a blast ! My kids loved it! Can't wait for more camping trips at KOA San Diego
Jul 26, 2021
I have been coming here since 2011, and has always been great. Accommodations are more than adequate and the "grill" is doing an excellent job. Downside: 1) Driveway access and entrance to the park allows anyone to enter the park without checking in. There are more vehicles with out the yellow tag than are. Need a Kiosk were the entrance splits to control who enters. 2) No tents in RV spaces.
Jul 26, 2021
Very kid-friendly resort which is the main reason we stayed here. It's my kids favorite because there is so much to do! Between the playground, giant bouncy pillows, and pool there is never a dull moment. Staff is friendly, and very helpful. Definitely recommend!!
Jul 26, 2021
Great as always! Friendly staff, clean site. Love this location.
Jul 26, 2021
Great location with awesome amenities. One of our favorite places to frequent. Will be back again soon!
Jul 26, 2021
This was our first time coming to stay. We absolutely loved it. The park is super clean, the employees are friendly, the activities for the kids are the best. Our kids were entertained the whole time. We can't wait to plan another trip! Best KOA that we have stayed at!
Jul 26, 2021
This was our first time at a KOA facility and it was so great! Everything was clean, and well set up. The staff was very friendly and helpful. We stayed in a onr room cabin and it was a perfect fit for my family of 4.
Jul 26, 2021
Family and I had a great time. The only issue we had was the much delayed delivery of our fire wood on the first night. There's plenty of activities and the grounds are kept clean. We stayed at one of the lodges with no bathroom and the area we were in was very nice. We will definitely stay here again but most likely book the higher amenities lodge.
Jul 26, 2021
MyFamilyAnd I had an okay visit to the SanDiegoKOA. Check in was good, employees were friendly.I requested a campfire ring mulit times and never rec'd.Was told that it would be delivered soon.The pool wasOUT OF CONTROL! The pool was shoulder to shoulder people.My husband and I were looking forward to using the spa but it was always full of LittleChildren(under7). No employee involvement at pool.
Jul 26, 2021
Really enjoyed the stay however the reservation process and trying to get someone on the phone was awful. Never could reach someone at the SD metro KOA was nearly impossible.
Jul 26, 2021
Always a great time at KOA chula vista. Best glanping in the area.
Jul 25, 2021
There's a huge problem with birds coming at 5am and pooping all over the tents. We had to clean our tent several times while camping and again when we returned home. Additionally, the tent sites were much smaller than we expected (we have stayed at the KOA in Temecula and we're expecting something comparable in size). I would also say that not having a lifeguard on duty makes it more stressful
Jul 25, 2021
Been camping there for 20 years and it is still a great place to stay. Thank You for making it better every year.
Jul 25, 2021
Fabulous stay! Beautiful grounds keep sparkling clean! Loved the shady campsites with grass! Pool upgrade is so perfect! Loved the amenities and attention to detail given to this campground. Already planning our next stay! Thanks for a great week! (PS, don't park under the eucalyptus trees of you can help it. The bird droppings are the worst We've ever seen!
Jul 25, 2021
We love coming there it's a great place, lots to do.
Jul 25, 2021
Camping under a freeway overpass & next to a channel turned homeless encampment. Buried in the event itinerary it mentions the grass is irrigated overnight. We didn't read that until after all of our belongings we soaked by the sprinklers. Instead of a relaxing retreat, we found ourselves in the ghetto. We were so disappointed in our stay that we packed up and left early.
Jul 25, 2021
We enjoyed our stay. Clean facility with lots of activities for the kids. The employees are very nice and helpful. We plan to come back in the future.
Jul 25, 2021
Been to this KOA at least 4 previous times with our grandsons; stayed in deluxe cabins in the past which were not available. We were able to book a glamping tent & really enjoyed it. Was good that showers & bathrooms are close. We did find that there was a wait for showers due to amount of campers. Excellent customer service as usual. Thank you!
Jul 25, 2021
Loved our stay at the koa campground very clean lots of activities for the kids and family friendly environment.
Jul 24, 2021
We loved the place. it was clean and no one was uptight about rules.
Jul 24, 2021
We loved everything about this KOA. The grounds were perfectly maintained. The design and layout are, or should be, award-winning. The different shapes and sizes of each section are very clever. The mix of cabins, RV, and tent sites brings a variety of campers together as neighbors. Refreshing. The place was packed but in a good way. As a retired couple, we enjoyed the sites and sounds.
Jul 24, 2021
We had a lovely stay. We loved how this KOA has so many activities for children and their family. The gift shop has a variety of items that make great gifts for Christmas.
Jul 24, 2021
Love this KOA! Beautiful pool, lots of trees and very friendly and helpful staff! Great KOA for kids!
Jul 24, 2021
Beautiful Park, but there were so many children riding bikes, skateboards and pedal cars that it was flat out scary to drive in and park. Also, the 3100 row is way too tight for a truck and 40 foot 5th wheel. I needed help from neighbors to get out without hitting something.
Jul 24, 2021
The sites are very nice, also the jump pillows, courts, playgrounds. The pool is amazing. The laundry area wonderful too. Only problem isn't with the KOA, but with the homeless and graffiti that are immediately outside the grounds. It's a shame because that walking/bike path right outside the park is really nice.
Jul 24, 2021
great crew and best pizza in Chula Vista....we love it here and its close,....we'll be back.
Jul 23, 2021
I wish there was an hour in the morning for special needs pool use. My son with autism was yelled at by another adult. He didn't want to go to pool again, and in fact went home early from our trip.
Jul 23, 2021
Had great time but wished more activities available. Enjoyed pool, bikes and basketball!! Had delux cabin pool side; it was smaller than expected especially loft however location was awesome. Staff very helpful great customer service.
Jul 23, 2021
This was at least our third time staying here. It has become more like a busy hotel and less like a camping experience. "Campers" staying in cabins don't know camper etiquette and we had constant foot traffic through our campsite. There was no enforcement of the quiet hours. The shower located in the pool area only had cold water.
Jul 25, 2021
Its amazing how this place after a few years of remodeling; new cabins, glamorize safary tents, light poles at tent sites, brand new and bigger pool with 2 Jacuzzis and club "house" looks great. A place so close to home and yet secluded enough for a nice get away.
- FRANCISCA ROSIBEL PALACIOS on Google
Jul 21, 2021
Yes, this place offered the best camping experience you can imagine. Combine city and wild camping fun, and it has it all. Loved it
- Jennifer Estes on Google
Jul 15, 2021
Great place to take the kiddos! Ride bikes, scooters, rent bikes, scooters, three wheelers, 4 wheelers, rock wall climbing, big pool, bounce pads, dog run, bb court, fire pitts, tents cabins, RV full hook ups. We took the grand kidds and they had a great time from sun up to sundown and more. Showers and nice sites. We had such a good time!!!
- Joe St.Pierre on Google