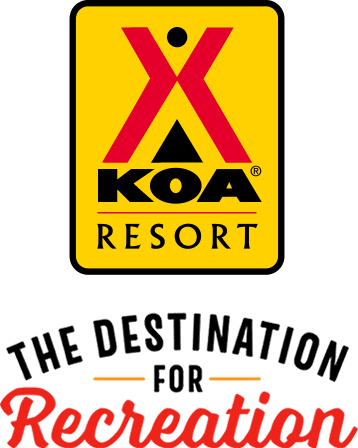 KOA Resort Campgrounds
KOA Resorts offer a carefree vacation in the great outdoors. Enjoy robust recreation and staff-led activities, kick back and relax by the resort-style pool, or grab a bite to eat, all while never leaving the campground. And with plenty of RV Sites with KOA Patios® and Deluxe Cabins with full baths to meet your needs, it's the ultimate camping getaway.
KOA Resorts Feature:
RV Sites with a KOA Patio®
Deluxe Cabins with full baths and linens
Premium Tent Sites
Resort-style pools
Indoor and outdoor group facilities
Directions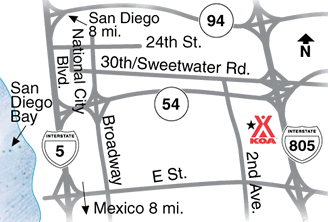 From I-5: Take E Street Exit in Chula Vista.
From 805: Exit 9, Sweetwater Rd. Turn left at bottom of ramp, go west on Sweetwater. Turn left on Second Ave, KOA is on left after bridge.
East from I-5, West from 805 to Second Ave. North on Second 1 mile
GPS: N32.656988, W117.081751
Get Google Directions
Jan 23, 2021
This was our second stay at The San Diego Metro KOA. The staff was great and helped us with some information for scheduling a large group stay .The grounds are beautiful and well maintained. We will come back soon.
Jan 22, 2021
Nuestra estadía fue genial, solo hay un pequeño detalle cuando rentamos el lugar yo había visto que el lugar costaba $149.00 dlls. Por noche y un día me lo rentaron por $235.00 no lo tome en cuenta en ese rato, hasta 2 días después y me dijeron que había sido por el día festivo, pero es aquí el pequeño detalle nunca se me dijo que me saldría 80 dlls mas, y es demasiado dinero por una no
Jan 22, 2021
It was fantastic other than I am new and one of the associates told me I should have a 30 amp parking space and I should have had a 50 amp and I burned up one of my cables
Jan 21, 2021
Showers that don't have enough flow to get soap out of my ears. New Wi-Fi isn't any better than last Wi-Fi. Cable TV isn't any better (if not worse) than previous Cable. Noise of Freeway. Called office for assistance, no answer. Walked immediately down. 3 staff just standing around doing nothing.
Jan 21, 2021
Very pleasant..everyone enjoyed the trip despite the pandemic rules. Will always come back
Jan 21, 2021
Clean, feel safe and helpful staff.
Jan 20, 2021
Great place to stay with family and friends.
Jan 20, 2021
We really enjoyed our stay at KOA.
Jan 20, 2021
We have stayed at the KOA Chula Vista several times... And they never disappoint... The staff are exceptional... The grounds are immaculate. And the food is awesome. We do not have any small children but we do have two little dogs and they love it there as well... Thank you to all for making our trip awesome...
Jan 20, 2021
Gorgeous park filled with happy families!
Jan 20, 2021
Have been to this campground before but it had been several years. Since our last visit the campground has made some wonderful improvements to the pool and playground areas. The campground is very well maintained and the management is great. You can tell just by looking around how much people are enjoying themselves here. We'll definitely return in the future!
Jan 20, 2021
Roy helped me out multiple times ! This man is a hero and hard worker!
Jan 20, 2021
Always a pleasure to stay with your KOA! I feel safe knowing security is driving around to check the grounds. My family LOVED visiting my little spot. Please keep up the great work to make our little community of KOA safe and welcoming place to stay. God bless you all especially during these uncertain times. I look forward to when you can safely open up all your fun activities for the kids to do.
Jan 19, 2021
Had a great time
Jan 19, 2021
We wanted to get out of our house and we enjoyed our time sitting by the fire and playing music. It was great seeing all the kids having a good time there - you provide a very "essential" service to the community.
Jan 19, 2021
I had bed bugs all over my body and there were little speckles of bloodstains on bed sheets when we checked in. I told the front desk girl and she said she would talk to the manager. No one has called or compensated us for this issue. I would never come back.
Jan 19, 2021
Camp grounds were very well maintained. There were many amenities available to kids and the staff was friendly and attentive to our needs.
Jan 19, 2021
Service and food at the cafe was perfect! We were by the bounce pillows and there were a few times when I didn't see an attendant, but my grandchildren loved it. There were lots of kiddos riding electric scooters and bikes, which I support. I hope you can continue to allow it.
Jan 19, 2021
It was nice and clean. They have done a lot of upgrades since the last time my family and I were there. We Definitely will be back!
Jan 19, 2021
This is our favorite KOA!
Jan 19, 2021
I was very disappointed that no one was enforcing mask wearing in any of the public areas. We didn't feel safe going to us any of the amenities be cause the vast majority of the other people were not wearing a mask. Additional the staff driving around often either had no mask or had their masks on with their nose sticking out. We spent a lot of money to be there and didn't feel safe at all.
Jan 19, 2021
Beautiful clean place and very friendly staff, helpful
Jan 18, 2021
We loved it, nice and clean campground will be coming back again. Thank you
Jan 18, 2021
Construction by our site, did not give discount as promised Very loud traffic noise.
Jan 18, 2021
Had a wonderful stay Simply concerned about the no mask enforcement policy during this time of COVID.
Jan 18, 2021
Always a wonderful time at KOA!
Jan 17, 2021
We move SD Metro KOA!!! We came down for the week and it never disappoints! The only issue we had was the lagging WIFI. Need to boost/improve connectivity around camp as we had work and school and needed stronger internet.
Jan 17, 2021
We are regular visitors to Chula Vista KOA. Our checkout was Thur 1/14 and we were running a bit behind. The park was only at about 25% capacity given that it was a weekday etc. on Thursday morning I called to inform the office that we were running 15 mins behind, which has never been a problem before, and the girls working the office were rude & ridiculous.
Jan 17, 2021
Had such a good time stayed an extra night thanks for the great memories
Jan 17, 2021
Get family staycation.... i have 4 small kids and this was perfect..... the cabins are always a fun experience for the kids!!! Always well maintained and clean.... amazing customer service!! Cant wait for our next stay!!
Jan 16, 2021
Great campground. Suggestions: replace microwave in DC213, make the living room heater controller easier to use and function. Allow bicycles to be rented during the week. Thank you
Jan 16, 2021
One this I was very upset about is—prior to us booking I emailed and asked about what was open during our stay. Which happened to be during the week. I specifically asked about the bike rentals because my son was dying for that. They told me yes the are open during your Stay. So we booked and when we arrived that wasn't the case. The bike rentals were only open Friday-Sunday.
Jan 15, 2021
Nice place to relax, clean bathrooms.
Jan 14, 2021
This KOA is the most impressive that we stayed in during our East -West-East trek. Very clean. Super friendly staff! Definitely will visit here again.
Jan 14, 2021
Stayed in the deluxe cabin, we had a blast. Only thing is check in time is to late. 1pm would be a lot better time. Also need some lighting outside where the grill and fire pit area is. To dark at night, other than that. We love it, thank you!
Jan 13, 2021
Clean campground friendly staff nice amenities and activities for kids highly recommended.
Jan 12, 2021
We had a great time there. Will be back soon.