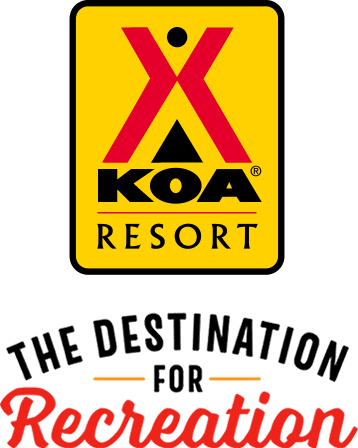 KOA Resort Campgrounds
KOA Resorts offer a carefree vacation in the great outdoors. Enjoy robust recreation and staff-led activities, kick back and relax by the resort-style pool, or grab a bite to eat, all while never leaving the campground. And with plenty of RV Sites with KOA Patios® and Deluxe Cabins with full baths to meet your needs, it's the ultimate camping getaway.
KOA Resorts Feature:
RV Sites with a KOA Patio®
Deluxe Cabins with full baths and linens
Premium Tent Sites
Resort-style pools
Indoor and outdoor group facilities
Directions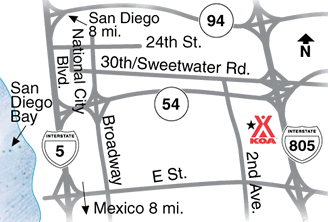 From I-5: Take E Street Exit in Chula Vista.
From 805: Exit 9, Sweetwater Rd. Turn left at bottom of ramp, go west on Sweetwater. Turn left on Second Ave, KOA is on left after bridge.
East from I-5, West from 805 to Second Ave. North on Second 1 mile
GPS: N32.656988, W117.081751
Get Google Directions
Apr 06, 2021
We enjoyed our stay with KOA! the poolside cabins are perfect only thing needed was a small couch in the living area.
Apr 06, 2021
Everything good except trash dumpsters needed to be dumped more often. Overflowing all over the ground. We were near the pool. The black birds were horrible. You get waken up at 4:00 a.m. everyday. I have never seen so many birds squawking and crapping. Our trailer and truck were covered in crap. We had just paid 600.00 the week before now it looks worse than before idetailed. DO NOT GET #3212.
Apr 06, 2021
We love this KOA. Everything about this place is Great. The one and only thing that I didn't like was waking up every morning at 4am-6:30 am due to the dozens of Crows that sleep in the trees in the campgrounds. They would start crowing at 4am every morning. Other than that we love it.
Apr 06, 2021
Great time had by all in our group. Your staff was very helpful and courteous. Park looks beautiful.
Apr 06, 2021
It was great. The kids enjoyed the pool and the deluxe cabin. The WiFi is better, and the cleanliness is remarkable. Thanks
Apr 06, 2021
I had requested to be near / close by the cabin where my casillas fam stayed at & sadly disappointed that was assigned my RV site clear on the east side of cabins . Not a happy camper
Apr 06, 2021
We are frequent visitors to this KOA. Everything is always very well thought out and all staff is helpful and friendly. . My only request is that there are enough fire pits for all sites. We were not able to get one our first night due to none being available.
Apr 06, 2021
We had requested to be all together with our family we had 3 family's staying for the holiday. It was very hard to do all the things we had planned being separated from the other party's. We love to stay at this location but don't think we will be returning.
Apr 06, 2021
We had an RV site and a tent site. At 3:00 in the morning the people next to us at the tent site had full blown argument and were yelling and throwing things. Did not get any sleep and didn't know who to call. The people in the RV that was staying across from our RV site set up their chairs halfway in the middle of the road and would get mad when we had to park our cars.
Apr 06, 2021
Very nice as usual, everyone was very friendly and helpful. A very Well kept campground. Lots of things for kids to do.
Apr 06, 2021
Great experience staff and campground
Apr 06, 2021
It has been awhile since our last stay. I have to say, I am impressed with the improvements and upgrades. The price is on the high side but I guess you have to pay for the perks. I have referred many of my friends.
Apr 06, 2021
We had a great time, my family enjoys it every time we go, even though some areas were close we understand it is for every ones safety.
Apr 06, 2021
Our stay was fun. People were friendly. The staff was very helpful and had great customer service.
Apr 06, 2021
very clean facilities, bathroom kept w toilet paper, nice grass area near tent site for children to play
Apr 06, 2021
I was lied to about my space lady said I would have a drive in spot a tables fire ring and. BBQ. All I got was gravel cable didn't work either your place is not cool waited for fire ring all day never got one what a joke
Apr 05, 2021
Love coming to SDKOA every time we have a great experience ( we do come quite often). Very clean facilities, friendly staff. This is definitely our FAVORITE place to stay!!!
Apr 05, 2021
We loved our patio site! The kids loved the bouncy thing, gaga ball, pool and bike rentals! We'll be back for sure!
Apr 05, 2021
We usually have a great time at your KOA but there is one thing I wish you would change. I wish I could specify my site number. Even if I had to pay extra like in Temecula I would gladly do it. I like picking out the campsite that I want.
Apr 05, 2021
This place is amazing, it offers everything you need for a great vacation.
Apr 05, 2021
They need cameras in public areas like the playgrounds. And why the bell would anyone out a playground next to the bathrooms!
Apr 05, 2021
I liked the activities available for our kids. I was disappointed with our site. It was very small and I don't believe our size and style trailer was an appropriate fit to that site. I don't understand what are the differences between our site and some of the others. If we return I would want to know the site differences and make sure we get a site we can fit well in.
Apr 05, 2021
Because we were across the restroom and showers the sites parked behind us and to the left of us kept walking through. No masks, drunk, sometimes 2 men at a time. I have 2 young children. I asked them to go aro I, ried blocked the path but its like we weren't there. The Sunday we were packing, was the same. Had families walking through and parents with kids. It was an uneasy, unsafe experience.
Apr 05, 2021
Had a great Easter Week and Weekend. We always have a great time as there KOA Employees go above and beyond to keep us Adults happy and our kids entertained.
Apr 05, 2021
Great place to get away without having to go far! Kids are always safe and have a blast!
Apr 05, 2021
Great place for a family! Only con is our site was the birds favorite place to drop their droppings. Our trailer and car was full of poop. �
Apr 05, 2021
my family always has a great stay at san diego koa. Unfortunately this time our 2 room cabin was dirty and there was alott of trash and marijuana butts around the porch of our cabin. My 2 year old grandson picked up a marijuana butt, which really made me angry.
Apr 05, 2021
Everything was amazing! Thank you!
Apr 05, 2021
Fun for the kids, clean and easy however I wish there had been more enforcement on the quiet time rules
Apr 05, 2021
The facilities were great, but the noise rules were not enforced and we had two sleepless nights with very noisy neighbors with music, talking and laughing until 1:00AM. I'm sure 6 to 8 other spots were also annoyed.
Apr 04, 2021
love to come each year, This year seemed to be a little different. I wouldn't say we didn't enjoy it. I tried from check in to book an xtra day to be told no avail, but then to find it on the web.Usually VERY friendly, but this time it seems new younger employees also came with attitudes and less smiles. I try to take into the fact we are in tough times, maybe people aren't nice to them eith
Apr 04, 2021
We had an awesome time. All of our requests were met!
Apr 03, 2021
We loved this campground! Our spot was nice and clean. The bathrooms were clean. My kids loved the take to your site craft kits. Hardly anyone was following the mask rules and unsupervised kids would wander into our campsite.
Apr 03, 2021
Perfect place for families. Very clean and organized. Staff is friendly. This was our second time and we even booked another trip in a few months. One of my favorite places.
Apr 03, 2021
The guest fee for them to bring car in for a dinner visit is pretty extreme. $11
Apr 03, 2021
The facility was extremely clean. Our cabin was super close to other cabins which wasn't the best. There was one girl in the office who wasn't up to KOA customer service but then I went back twice and was helped by other staff who were extremely pleasant.
Apr 06, 2021
It has been awhile since our last stay. I have to say, I am impressed with the improvements and upgrades. The price is on the high side but I guess you have to pay for the perks.
- Daniel Mello on Google
Apr 06, 2021
Loved this place, will definitely stay again!
- Sarah Souza-Ward on Google
Apr 04, 2021
Clean, family friendly, fun and easy. Quiet time rules are not enforced which makes for a long night, but hey... they kids were happy. Solid 4 stars! Check this place out.
- Jodie Gerhardt on Google