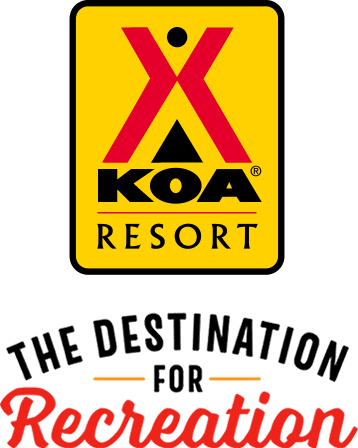 KOA Resort Campgrounds
KOA Resorts offer a carefree vacation in the great outdoors. Enjoy robust recreation and staff-led activities, kick back and relax by the resort-style pool, or grab a bite to eat, all while never leaving the campground. And with plenty of RV Sites with KOA Patios® and Deluxe Cabins with full baths to meet your needs, it's the ultimate camping getaway.
KOA Resorts Feature:
RV Sites with a KOA Patio®
Deluxe Cabins with full baths and linens
Premium Tent Sites
Resort-style pools
Indoor and outdoor group facilities
Directions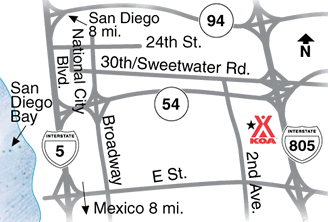 From I-5: Take E Street Exit in Chula Vista.
From 805: Exit 9, Sweetwater Rd. Turn left at bottom of ramp, go west on Sweetwater. Turn left on Second Ave, KOA is on left after bridge.
East from I-5, West from 805 to Second Ave. North on Second 1 mile
GPS: N32.656988, W117.081751
Get Google Directions
Sep 20, 2021
Great experience everything looked very clean and well kept once you're inside there's no way you would believe you're in the city still . Definitely coming back
Sep 19, 2021
We loved everything about it we had a good time and definitely looking forward to coming back and telling family and friends about it than you guys so much for making a comfortable and happy stay for us
Sep 15, 2021
wow wow wow! its been a few years since we've been here and it just gets better and better, enjoyed our stay in a loft lodge, would have been nice if the cafe was open but its seasonal, i get that. cant wait to visit again!
Sep 14, 2021
I was sent text messages just days before our stay giving the hours of the Cafe. It was a difficult week and we were really looking forward to rest and relaxation. With that, we did not bring food and fully planned to eat each meal at the cafe. BUT IT WAS CLOSED. ALL. WEEKEND. LONG. We find food to go. No heads up, just closed. VERY irritating and really threw a wrench in our relaxation.
Sep 10, 2021
Was clean peaceful and full of things to do!
Sep 09, 2021
Fun, good amenities, staff consistently cleaning.
Sep 09, 2021
First time at KOA SD ,we had a great experience. Rooms were clean , activites for the kids a +. One complaint would be at the pool. Both days saw people bringing snacks which I don't mind, what I didn't like was having snacks inside the pool . You could see food and plastic floating . We took an empty bottle and couple of gummy bags out from water People should be more responsible or KOA should n
Sep 08, 2021
Great time! Will return again and again!! Friendly service, clean areas, no issues to complain about.
Sep 08, 2021
Very good very clean
Sep 08, 2021
Great accommodations and I enjoyed the clean restrooms and showers.
Sep 07, 2021
Thumbs up to another memorable year! Our yearly trip with friends and family is always a heart filler. Loved all the improvements that have been done to camp ground. Thank you KOA - Chula Vista, CA!
Sep 07, 2021
Covid protocols � sanitation � constant cleaning in bathrooms and common places like the kitchen �. Paola at the front desk / store friendly and wonderful. Girls assigned at the snow cone for both days wonderful and patient with the long line and undecided kids �. The Cafe staff great... Food great. we've been coming here since 1996 that speaks for itself. Thank you KOA metro. We'll be
Sep 07, 2021
We have been coming to San Diego KOA for seven years.Our annual family reunion.It just gets better every year. So many improvements and great staff.We always rent a deluxe cabin which makes packing so much easier. Always a great time !
Sep 06, 2021
My stay was amazing got to experience some of the imentities I will definitely be back
Sep 06, 2021
Great stay with family. Yoir staff was great! Especially Kirk, Eddy and Chrisine. Only thing needed is that you need to put fresh ground cover. (Very dirty than before) Thank you �
Sep 04, 2021
We didn't have a TV remote, we had a DVD remote but no DVD player. Toaster didn't work. Waited & waited for firewood delivery. Loved everything else.
Sep 01, 2021
We booked Sun-tues. Our primary day on site was Monday and there were zero activities that day. It would have been nice to know that when we were booking the stay as we were surprised by it and up a creek without a paddle.
Aug 31, 2021
The kids enjoyed most of all!! Bikes, rock climbing, pool, everything you had to offer to them. Cabins and surroundings were very clean and accommodating. We definitely will plan a family trip there for next year.
Aug 31, 2021
Great service, and excellent accommodations for the whole family.
Aug 30, 2021
We had a great stay. Grounds and cabins were clean and our request to stay close together was fulfilled as much as possible.
Aug 29, 2021
Great concept. Workers were young & lack the ability to be good host. Stayed in cabin 3 nights; day 2 no hot water & was told it was nothing that could be done until 830 the next morning. Had to show the worker how to change the propane on our cabin. Linen included but they would not give a new set until day 3. Etc. Too many issues for the $. Kid friendly, and kids had lots of fun.
Aug 28, 2021
We were there for 3 nights. No clean towels were furnished. (Only 3 face towels provided for a 6 person cabin.) There was a cobb-web on upper, right kitchen wall. Cabin was not dusted thoroughly. (Under microwave very dusty, on top of DVR dusty.)
Aug 28, 2021
All the staff is polite, helpful & friendly. The pool & area are very clean & inviting. We enjoyed the glam tent. Having a fridge is very helpful. The activities for the children were also great. My grandchildren had a lot of fun. All & all, it's a lovely place for families & I would definitely come again.
Aug 27, 2021
Finally a long needed rest, relax, peaceful weekend, with some much needed exercise included. We liked the friendly staff. Hope to make our way back again soon.
Aug 26, 2021
Our cabin was very clean. Friendly & helpful staff! Love the beautiful new pool & spa area! The kids had lots to do & didn't want to leave!
Aug 26, 2021
You need to fix your TV. During the day we didn't watch TV because we were out doing things but at night it was a different story!! TV did not work and when it done it only lasted 2 mins if that.
Aug 26, 2021
kitchen electric stoves were not working too good
Aug 25, 2021
The Registration staff seem to have a lack of communication between each other and need to make people feel more welcome ! No smiles no welcoming feeling!
Aug 25, 2021
Everything was wonderful. This was our first koa visit and we were so pleased with everything. The beds were comfortable, the cabin so nice and new. My only complaint would be the floor was very dirty, it seemed as though it had not been mopped, and the water pressure of the shower is very weak and makes it hard to wash thick hair. But that was not enough to take away from the great time we had!
Aug 24, 2021
We had a wonderful time enjoying all of the activities and being outside. Thank you!
Aug 24, 2021
Nice place but nowhere to Park near Cafe and pool. Long walks to get our meals for seniors.
Aug 23, 2021
Always a great time! Thank you.
Aug 22, 2021
We've rented deluxe camper cabins at other KOAs and found this layout to be the most cramped with the least amount of storage space in the kitchen/bathroom. When we checked in, out bedding set for one of the beds was incomplete (no pillow in the package) and when we asked at the front desk for a pillow, we were told we couldn't get one because they are all packaged as sets. All else was very good.
Aug 22, 2021
At first we were delighted to stay. The problems we had were the KOA website said the swimming pool closes at 10:00 p.m., but when we took the kids to swim at 9:05 p.m., we were told by staff that the pool closed at 9:00 p.m. without explanation. We complained about the time, but no good. The worse thing was one of our adults came away with bug bites from sleeping on a bunk bed in cabin 104.
Aug 22, 2021
We thoroughly enjoyed our stay from check in to check out. It is a great campground with great activities for the kids. The bathrooms/showers were the cleanest I have ever experienced at a campground and the variety of accommodations can suit any camper from the cabins to the RV sites to the glamping tents. The staff are all customer oriented. Our family had a very enjoyable stay and will be back.
Aug 22, 2021
My stay at the cabins were nice despite having a very hot and humid weekend. My nephews had so much fun swimming and enjoying the planned activities. I'm glad there were so many things for them to do because all they do is play video games at home. They were very active that weekend. I'm not a huge fan of the economy tent sites so I'll remember not to get one of those ever again.
Aug 20, 2021
We had a blast!
Aug 20, 2021
It was our first time here and we were overall happy with our stay. Just wish spaces were a little more farther apart
Sep 17, 2021
The best glamping experience i have ever had recommended for everyone
- chris downs on Google
Sep 12, 2021
Good place & good service
- Arce Iniguez on Google
Sep 08, 2021
Is awesome 👍
- Irma Shamon on Google