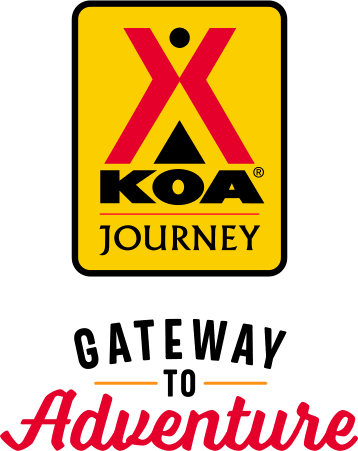 KOA Journey Campgrounds
KOA Journey campgrounds are the perfect oases after a day on the road. Whether it's along the way or a quick getaway, they've got you covered. Located near the highways and byways of North America with long Pull-thru RV Sites, they deliver convenience to the traveling camper. Pull in, ease back and take a load off.
KOA Journeys Feature:
Pull-through RV Sites with 50-amp service
Premium Tent Sites
Well lit after hours check-in service
Directions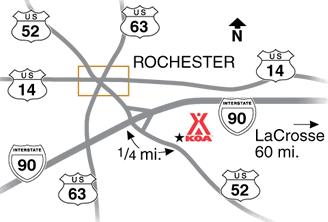 On US 52: 1/4 mile south of I-90 (off I-90 Exit 218).
GPS: N43.94466, W92.34813
Limited facilities spring and fall! (Water may be off)
Get Google Directions
Oct 13, 2021
Great level campsite. Clean laundry area. Friendly staff.
Oct 12, 2021
Great place to stay whether you need to go to the Mayo Clinic, are visiting in the Rochester area, or just passing through. Barb and Roger are great hosts and try to accommodate whatever you reasonably need.
Oct 12, 2021
Very quiet night
Oct 11, 2021
Fantastic camp host and best KOA we have stayed at for having a dog. The space and facilities are great.
Oct 11, 2021
Very nice place!
Oct 09, 2021
We spent 4 nights at the campground and found it very relaxing. Very friendly staff!
Oct 07, 2021
Clean bathroom and grounds are nice. Hosts were not the most hospitable when we first arrived - she warmed up after a while so I think maybe she was having a bad day.
Oct 05, 2021
Pros-Very good price(around$40/night). We were just passing through for 1 night. WiFi and cell service is good. Sites are level, clean. Very nice friendly staff. Cons-Obstacles(rocks and poles) and tight corners in campground. Pull through sewer and electric connections not usable locations. Couldn't reach. Had to change sight to back in site which was nice.
Oct 05, 2021
The host Barb was very helpful and made my stay enjoyable
Oct 05, 2021
Helpful staff. Nice clean park. Easy off and on freeway.
Oct 02, 2021
Our site was located in back of the building and was a bit tight getting into. Not a lot of room to manuever, we actually had to ask the campers in the next site to move their vehicle so we could get in.
Oct 02, 2021
Appreciated being escorted to our campsite. Very friendly staff. Campgrounds very peaceful. However, because I don't have levelling jacks and our campsite was a bit tilted, my RV was not level and my head tilted down in my bed. Had to turn the other direction.
Oct 02, 2021
Clean the people are very nice and helpful
Oct 01, 2021
The manager or owner or whoever checked us in was the most unwelcoming and unfriendly person I have encountered in the many campgrounds I have stayed at. It just set a unpleasant vibe for our entire stay such that we left 2 days early
Sep 30, 2021
Very nice folks there and a great stay. Highly recommend this is our 2nd time and great experience both times.
Sep 28, 2021
The staff was very friendly and helpful!
Sep 27, 2021
The grounds are very nice. The bathrooms were very clean and I especially liked that they were heated. We were very happy to stay at this KOA>
Sep 27, 2021
Adequate and clean. No problems. No jazz.
Sep 26, 2021
It's a beautiful campground and the location is very easy to get to. The staff were so friendly and the facilities extremely clean.
Sep 25, 2021
Barb and Roger were very helpful and understanding. We loved staying in such a green and beautiful place. The facility was very clean. We will return next year. We highly recommend this KOA
Sep 25, 2021
It was short, one nite.
Sep 25, 2021
Well maintained and plenty of space for kids. Clean facilities. And a quiet area despite being close to highways and I90.
Sep 22, 2021
The camp host was very accommodating and helpful to us! We stayed there 4 nights as we had appts with our daughter at the Mayo Clinic. Due to her disability, the handicap shower was not adequately equipped with safety equipment that we needed. They immediately went out and purchased a shower chair and a hand held shower head. It made all the difference in the world for us. Entire camp was lovely!
Sep 21, 2021
Great place to spend the night.
Sep 20, 2021
We had trouble backing into the site so our guide called ahead and found a pull through site that was empty. We really appreciated it! Enjoyed our quiet 2 nights, our first time at a KOA.
Sep 20, 2021
Great stay. One minor issue with showers...the facilities were over the top clean and well maintained. However when entering the shower, The showerhead was quite large for the space, so was unable to position it to avoid being sprayed. A smaller showerhead would be all that is necessary to fix. That said....one of the best kept KOAs I have stayed at!
Sep 18, 2021
We had a warm welcome. The lady helped us by giving us a KOA keyboard with our member number and gave us a new KOA directory. Their laundry facility was outstanding. The RV park was beautiful and well maintained.
Sep 18, 2021
Nice clean camp ground. I asked for quiet and I got the quietest and I think the best camp spot for my 23' trailer. In the back corner it was so quiet and relaxing while visiting a family member at the Mayo. Loved being here.
Sep 18, 2021
Stayed at the Marion KOA multiple times. Had good rapport with Barb. Called TWO MONTHS ahead of time to book & to GET THE SITE we wanted. When we arrived we were told that site would be taken by someone else coming in two nights,then another. We were to be there weeks! I was there for surgery and got put in a site we hated! I was pissed the entire time! Trust was broken. WE WILL NOT BE BACK!!
CAMPGROUND RESPONSE / COMMENTS:
When you arri8ved I told you about several sites I could put you in. You picked the one you were in. I did tell you I could put you in the site you wanted in a few days. You decided to stay where you were. Like you people are here for the clinic. Never know when they will be leaving. Sorry.
Sep 17, 2021
Campground and common areas ( ie bathrooms) were spotless. Excellent showers. Fast and reliable wifi. Only around 8 miles from Mayo Clinic. This KOA is truly a gem. Glad we discovered it!
Sep 15, 2021
Very modern, clean showers and bathrooms; pretty location; very well maintained; all-around great place to stay.
Sep 14, 2021
Great place well run one of the best koa's I'have been too to date they went out of their way to me. Scott
Sep 13, 2021
Rude operation. Better place across town. SAD, I always try to stay at KOA, but wont stay at this one until changes are made..
Sep 13, 2021
Camping was fine just disappointed in the playground. Should be replaced and updated with safe toddler friendly features!
Sep 13, 2021
We don't use the rest rooms or pool so can not comment on that, but we have been coming here for 20 plus years and have enjoyed each trip. A little road noise but not bad at night. Grounds are kept neat and clean. Wednesday the test siren goes off and it is very loud so prepare for that. We just chose to come in on Thursday to avoid it now. All and all, one of our nicer camping experience
Sep 13, 2021
Between the owner being rude, wanting to charge extra for cleaning the cabin (its there job to clean) charging for extra guest after complaining about it. using pretreated, and scrap pallets for firewood, There is no way in the world you could pay me to go back to this place. I love KOA, but as far as going back to Rochester KOA not a chance in the world. Very Rude, Charge for everything.
CAMPGROUND RESPONSE / COMMENTS:
We do not charge extra for cleaning the Kabin. We do not use scrap pallets for fire wood. We do chare for visitors it is covid time.
Sep 11, 2021
We are new rv campers. We had a reservation for just one night, but I had made an error with on line registration . We needed a longer site and thankfully she was able to find an open site next to the office. She was very helpful and the site was great. It was flat, hard surfaced, clean and quiet! Thank you for making our stay pleasant .
Sep 30, 2021
Nice Campground. The operators were very nice and helpful.
- Michael Wanta on Google
Sep 27, 2021
What a nice little campground..,asked for a quiet place and ingot the best spot in the park ... Thank you so much for the stay! Clean public areas and level spots! Hosts were awesome and so nice.
- David Strom on Google
Sep 20, 2021
Only stayed about 12 hours but the people were helpful and we would definitely stay again😁
- William Janos on Google