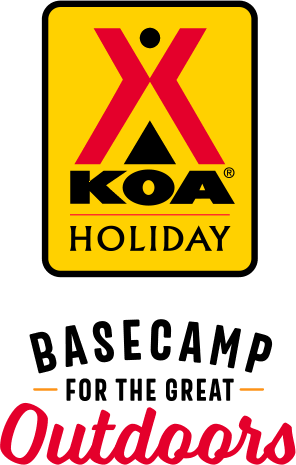 KOA Holiday Campgrounds
Whether you're exploring the local area or hanging out at the campground, KOA Holidays are an ideal place to relax and play. There's plenty to do, with amenities and services to make your stay memorable. Plus, you'll enjoy the outdoor experience with upgraded RV Sites with KOA Patio® and Deluxe Cabins with full baths for camping in comfort. Bring your family, bring your friends, or bring the whole group – there's plenty of ways to stay and explore.
KOA Holidays Feature:
RV Sites with a KOA Patio®
Deluxe Cabins with full baths
Premium Tent Sites
Group meeting facilities
Directions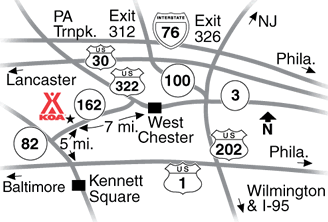 From US 1: North on US 202 to West on PA 3 through West Chester to PA 162 West 8 miles to the campground. 
From PA Turnpike: South on US 202 to West on PA 3 through West Chester to PA 162 West 8 miles to the campground.
Go around the barrier indicating the bridge is out for the last 1/4 mile to the campground.  The road is open to the campground.
Get Google Directions
Oct 19, 2021
we enjoyed our weekend, our spot was a little tighter than we liked but we checked out the rest of the campground and when we visit again we know what spots to look for. Campground was clean, staff pleasant, and there's a lot to do in the area.
Oct 19, 2021
I always have an amazing time at this KOA!
Oct 19, 2021
Loved my stay ! This was my 3rd time renting an RV to see if I want to buy. Been to a couple local places. This KOA made my decision!!. I'm going to buy one mainly because I want to become a "regular" at your place. Loved the waterfront spot (104). Scenery is great. Very clean and well maintained grounds. The "young" girls behind the desk…were extremely NICE and helpful.
Oct 18, 2021
Great visit as always. Just wish they would leave the community lodge open for use, especially in a rain storm. No reason not to leave the space open for use of the pool table, restroom, etc.
Oct 18, 2021
Beautiful setting, great staff. Bathrooms kind of messy late Saturday night, but understandable with a large amount of people staying there! Also problems with walnuts dropping on our new camper and giving us a couple of dings, but that's nature, you can't help that! We'll definitely be back!
Oct 18, 2021
The campground was nice and so was the staff. The camp store had a nice variety of items and some cute souvenirs. Our site was nice, just wish there was more gravel because once it rained it was a muddy mess. There were activities for the weekend that looked nice, but we didn't participate due to being out of the campground seeing areas. Would stay there again
Oct 18, 2021
We were disappointed that the trick or treating wasn't rescheduled due to the heavy storms we had. I had messaged them a few days in advance on instagram asking if trick or treating would be rescheduled for Friday instead of Saturday since thunderstorms were in the forecast and never even received an answer. would have been nice if an activity was held in the lodge during the rain instead
Oct 18, 2021
My site (52) was the worst, esp for the KoA premium cost. How hard is it to make RV sites a bit closer than 9" off level from side to side?????
Oct 18, 2021
Thanks to Rick who escorted us to our site and assisted with backing our camper in. No campground has done that before!
Oct 18, 2021
Beautiful tent sites by the river, however too close to each other and a mite expensive for a tent site
Oct 17, 2021
'Glamping Tent' experience. The tent is not sealed... the corners and several other places had 'cracks' and openings so there were many bugs inside. There were a lot of stink bugs, which I did not mind, but at night I was eaten alive by mosquitos, there were spiders (one bit me) and pincer bugs (earwigs). Paid way too much for this. Staff was 5/5 and things to do 5/5.
Oct 17, 2021
Sites need to be better signed, more lights needed and roads are really bad. cable TV did not work, owner tried to fix but not able to. A refund of some amount should have been offered. when you pay for FULL service you should get it.
Oct 16, 2021
Nice quiet getaway from the reality that is now known as this world
Oct 15, 2021
Beautiful place even with road/bridge issues were very helpful notifying and getting us in and main office super helpful and nice !!
Oct 14, 2021
0/N stay, very nice staff. Assisted us with driving instructions to Hershey, PA we were able to avoid bridges and flooded areas. Campsite and grounds well-maintained. Lots of bugs, ouch!
Oct 14, 2021
Very nice campsites, clean, good dog park, activities for kids.
Oct 13, 2021
We had a great time , rv site and cabin rental , really enjoyed our stay, grandson enjoyed very much our mining activity and fishing in the river.
Oct 13, 2021
First time we ever stayed here!! Will be coming back next year!!
Oct 13, 2021
Campground was extremely clean, the check-in process flowed very well and all the people who worked there were friendly and helpful.
Oct 12, 2021
We loved the location, the amenities and especially the activities the campground offered! We were camping with three other families and we had such a great time!
Oct 12, 2021
Nice people running the KOA and good group of campers.
Oct 12, 2021
Very clean and quiet. All of the staff members were kind and helpful.
Oct 12, 2021
Great campground, kids had a blast. The mini-golf course could use an upgrade/expansion.
Oct 11, 2021
Cabin was nice and clean. Staff is friendly and helpful. Plenty to do for the entire family.
Oct 11, 2021
Cabin was immaculate! They had some great fall activities planned. We had a wonderful stay at West Chester KOA.
Oct 11, 2021
The manager and staff were all very friendly and helpful. The manager took time to suggest historic places to visit in Philly and gave us maps and directions to get there and even where to park! Our back-in patio site was excellent. Just be sure to follow the campground's directions on how to get to the campground - the hurricane washed out a bridge, so there's only one way in at this time.
Oct 11, 2021
Friendly and helpful staff. Clean good store with great ice cream, Bring back the cookie dough with pretzels. We stayed at a site with a patio and loved it. My brother in law and his wife traveled 3 hrs to come with us they will be coming back next year and so will we.
Oct 11, 2021
We had a great time. We were happily surprised. The kids enjoyed all the events you had planned for them.
Oct 10, 2021
Really enjoyed our stay. Must have been about a month we were there. Wish they didn't have to cut the grass and grade so much during the day.. Nights are very quiet be quiet.
Oct 08, 2021
This campground is beautiful! Very family friendly which made me feel safe. The cabin was nice and the people are nice. There was fishing, canoes and little hiking trails. Even a park for the kids and a jump pad. My kids and I had a great time and can't wait to come back. I do wish the firewood was cheaper but other then that we had a blast :)
Oct 07, 2021
Was great. Rode train to Philadelphia, drove to Valley forge.
Oct 07, 2021
we love the Sunday thru Wed. special. b2g1 KOA is the best
Oct 07, 2021
Quite, clean and relaxing time
Oct 06, 2021
The glamping tents should NOT be listed as heated. Two tiny heaters that kept flipping the circuit breakers on a 48 degree night. The tent floors were not clean and the sofa had big stains. There was also a stink bug infestation inside the tent. There at least 20 climbing inside on windows and I found 8 more in the luggage. The hill is steep with loose gravel, too. I would not stay again.
Oct 05, 2021
The camp ground was nice and the staff was friendly and helpful. We will not stay there again until the bridge on route 162 is repaired. It is just too much of a inconvenience on the back roads. Most of all when towing a trailer.
Oct 04, 2021
I could see huge amounts of upgrades since 2019-so great job! The bathrooms were the disappointing part. Out of paper towels, toilets not functioning correctly, long lines at the girls bathroom due to only 3 stalls, air drier hard to get to turn on and tricky automation sinks. But the paving and such was nice!
Oct 04, 2021
This would get 5 star if not for two major things, We stayed at a deluxe cabin and the toilet seat broke early on our second day which we mentioned shortly after and it wasn't addressed. My wife was pretty uncomfortable with the state of the ladies restroom in the main area. There was a hole in the wall filled with paper and was just generally unkept. We've stayed a few times without issues
Oct 04, 2021
This is our third time at Holiday KOA and they are consistently great. Grounds are in excellent condition, especially considering we stay in the fall, towards the end of their season, staff is wonderful, and the cabins are always well equipped and immaculate. Thanks.
Oct 04, 2021
It was good. We were there for an organized "camp"
Oct 04, 2021
Very clean and well kept.
Oct 04, 2021
I really enjoyed the Phila/West Chester KOA for the Smores and Meeples event. The camping cabins were basic but clean and well-built with more than adequate mattresses for "roughing it". The bathroom sinks were the only small issue. They operate on a sensor and were pretty tricky and sometimes had pretty low flow/pressure. Otherwise, a great place to stay that I would definitely return to.
Oct 19, 2021
Loved this place ! Been trying to decide if I want to buy RV. This was my 3rd time renting….went to a few local places (Gloucester County NJ) Staying here at this KOA West Chester actually made my decision to buy !! I found my close to home vacation spot. Had water(front) , quiet , roomy, convenient spot.. for my rented 25ft. Motor home. Loved the view! Very clean. Lovely Brandywine Creek to enjoy with canoes. Super NICE girls working at desk. I can't wait to become a regular camper here.
- Theresa De Martini on Google
Oct 19, 2021
Beautiful campground, wonderful staff. Spend some time canoeing, the river is calm, clear and lovely.
- Jude Finnell on Google
Oct 17, 2021
Really enjoyed staying here. The staff was super helpful and nice. I felt super safe because it also had security. Plenty of sites for tents and campers. The only problem I saw, (that was no fault of theirs), was the swarming mosquitoes! They were horrible, but, it had been super wet and rainy for a while before we got there.
- Wendy Ray on Google