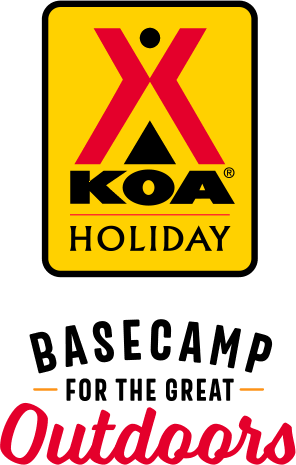 KOA Holiday Campgrounds
Whether you're exploring the local area or hanging out at the campground, KOA Holidays are an ideal place to relax and play. There's plenty to do, with amenities and services to make your stay memorable. Plus, you'll enjoy the outdoor experience with upgraded RV Sites with KOA Patio® and Deluxe Cabins with full baths for camping in comfort. Bring your family, bring your friends, or bring the whole group – there's plenty of ways to stay and explore.
KOA Holidays Feature:
RV Sites with a KOA Patio®
Deluxe Cabins with full baths
Premium Tent Sites
Group meeting facilities
Directions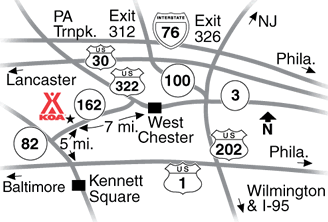 From US 202 & US 1: South on US 1 to PA 82. North 3 miles to PA 162, east 3 miles.
From PA Turnpike: Exit 312, take PA 100S to US 202S to US 1. South 10 miles to PA 82. North 3 miles to PA 162. East 3 miles to campground.
Do not follow GPS, use directions.
Get Google Directions
Jul 22, 2021
For $70 a night, you should be put in a decent campsite - NOT a downhill runoff site that really shouldn't be a site at all. This was the most terrible camping experience we have ever had. It has us reconsidering staying in a KOA again and certainly never this one. The site was a narrow hill with a trough made by the runoff going through the site. We will warn others on other review sites!
Jul 22, 2021
Delightful staff; welcoming and gracious. Lots of fun and activities available. Clean, tidy and well maintained.
Jul 21, 2021
Very quiet campground. Our site was a bit hilly.
Jul 20, 2021
Pleasantly surprised how nice our cabin was and how relaxing the weekend was. Wish I could check in earlier and leave a little later. Would love to have extra time to play mini golf and fish a little!
Jul 20, 2021
I was a bit disappointed that our tent camping site was little more than an open spot on a lawn. There were no trees for shade, no nearby water, and we were surrounded by RVs. I would recommend making it clear that sites 100-103 are not particularly prime spots for tent camping. That being said the facilities and employees were top notch.
Jul 20, 2021
Campground was clean, had some fun amenities for all ages. Workers were not very pleasant though. Campsites we're small!
Jul 20, 2021
The pool, and jumping pad closed at 8 on a Friday and Saturday? That is absurd. It would be nice if you rented golf carts. We have never had to be told about quiet time before, but we did there. It seems like a campground for older people. We wouldn't come back. However, it was very clean
Jul 20, 2021
The staff and facilities were exceptional, very pretty area, however the sites need attention. Our site #56 was basically a hillside and trying to level our travel trailer was very challenging and with nothing but a little grass and mostly dirt, it rained so it was quite muddy. Other than the poor site it was great.
Jul 20, 2021
We love this campground that is close to home. All of the staff we encounter are very friendly and helpful. The site was in excellent shape and everything worked without incident. Love going down to the Brandywine and sitting by the water. It is just getting harder to walk back up that hill. PHEW !
Jul 19, 2021
Staff was extremely helpful (and patient) with this first timer.
Jul 19, 2021
Sites are a little too close to what we are used to. Not really conducive to bike riding. Pool was a welcome sight because of the extreme heat but was rather dirty. Store was clean and well stocked but $3.50 per dip of ice cream was extreme.
Jul 19, 2021
Loved this out of the way campground - that's close to everything. Meticulously maintained in a great location. We WILL BE BACK!
Jul 19, 2021
What a beautiful and CLEAN KOA. Everyone was wonderful! Will be back again and again!!
Jul 19, 2021
Beautiful grounds with a lot of things to do onsite & very pleasant staff! Thank you all!
Jul 19, 2021
Every thing to do with this KOA was a 6 on a scale of 5. We called on the day of needing a place and were not only accommodated with a very nice campsite but told of a buy 2 nights get the third free. The laundromat was clean and big enough for no wait in getting machines. But best of all Matt helped my husband figure out and solve an rv problem.
Jul 18, 2021
Everyone was incredibly polite and it was a pleasure dealing with the entire staff. I don't think I have EVER been to a campground managed by nicer people. Well maintained grounds and sites. Super happy with this place and the staff. Would definitely stay here again.
Jul 17, 2021
Lovely campground!
Jul 15, 2021
Everyone works so hard to keep this place clean and safe for everyone there. My kids had a ball swimming and fishing.
Jul 15, 2021
Very well maintained and friendly
Jul 15, 2021
Their website said the site I wanted was gravel. It was mud!
Jul 14, 2021
Great place to bring the family! Lots of activities - you never need to leave the campground! But, handy to lots of interesting places to go!
Jul 13, 2021
My family (Wife, Daughter and Son - whom are both under the age of 5), stayed in one of the "glamping" tents. IT was a great experience. The kids loved the facility - the pool, jump pad, the river, etc. The tent was great as well. It was more like a cabin. Super worth it. Thanks!
Jul 13, 2021
Too small for our taste. Need more activities. Also, staff needs to answer phone when it rings. I called several times and had to leave a message before and during my stay. Also, need to see staff around the campground more. Only person I saw willing to help with anything was the cleaning man.
Jul 13, 2021
The safari cabin was great! Gave us a unique camping experience with our own bathroom and shower. The fan supplied helped with the heat, and it was great to have the little kitchen with plates, cups, utensils and keurig. It's our first time staying at this type of campground so can't compare to similar places, but staff and amenities were great.
Jul 13, 2021
First time at a KOA, it was very nice the bathroom and showers were clean, well stocked store and friendly staff. Would definitely come back! Jim and Sheri
Jul 12, 2021
Amazingly beautiful campground
Jul 12, 2021
First time camping with my family. Wife and 2 daughters (9 and 6). Great place, plenty of amenities, very kid friendly. Love staying here....especially with the river to fish. Staff were very friendly. Definitely be back.
Jul 12, 2021
Very nice campground. Our site was beautifully shaded & separated by trees from our camping neighbors. It was very unlevel because on middle of a hill, but the trees and hearing the creek absolutely made up for it! The hulking trail was fabulous. Used Uber to get to Longwood Garden without problems. Bath houses were clean. Butterfly garden & playground very nice. Pool was overly crowded.
Jul 12, 2021
All the amenities are great and the staff is awesome! The sites are the problem. The first site I was in had only enough room to sit at the picnic table. I asked for another site because there was no room and was charged a extra $20 for a upgraded pull thru site. I could literally reach out the window or our camper and touch the camper next to us on one side, the other side of my camper was a hill
Jul 12, 2021
Tent site was very nice and employees were all pleasant and helpful.
Jul 11, 2021
Great property with good amenities. Very clean. Camp store is very well stocked with staples, toys, and decor. Friendly staff. It's a windy narrow route to get there, but we managed fine in our 33ft Class A pulling a Jeep.
Jul 10, 2021
Really nice campground with friendly staff. Lots to do in the area. The safari tents are amazing!!!
Jul 10, 2021
The first part of our stay was so wonderful that we extended a day. We thought the staff was awesome, the location was great and the area perfect. Unfortunately, we were told only spot 57 was available for us to move to for an extension of another night. We moved to the spot and it was absolutely horrible. We couldn't level in the tiny location and had the most uncomfortable experience.
Jul 10, 2021
Great, clean and friendly campground.
Jul 08, 2021
A very nice campground but not worth the expensive rates
Jul 08, 2021
Fabulous place, and we absolutely love it. Our only complaint? Needs more bathrooms. Other than that, the perfect place to camp.
Jul 20, 2021
Absolutely breath taking
- Derrick Lundberg on Google
Jul 19, 2021
A great place to go camping at... fantastic people and everyone is so helpful... I loved the pool and my tent was right in front of the river... you can go rafting or canoeing....
- Lucinda Jaso on Google
Jul 16, 2021
Great place for a family with young kids!
- Chris Lin on Google