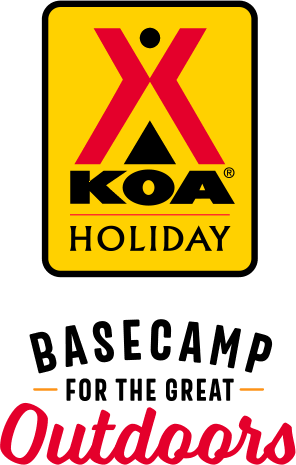 KOA Holiday Campgrounds
Whether you're exploring the local area or hanging out at the campground, KOA Holidays are an ideal place to relax and play. There's plenty to do, with amenities and services to make your stay memorable. Plus, you'll enjoy the outdoor experience with upgraded RV Sites with KOA Patio® and Deluxe Cabins with full baths for camping in comfort. Bring your family, bring your friends, or bring the whole group – there's plenty of ways to stay and explore.
KOA Holidays Feature:
RV Sites with a KOA Patio®
Deluxe Cabins with full baths
Premium Tent Sites
Group meeting facilities
Directions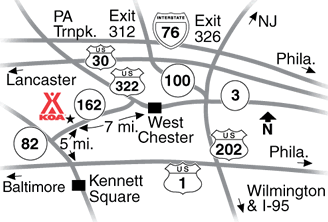 From US 202 & US 1: South on US 1 to PA 82. North 3 miles to PA 162, east 3 miles.
From PA Turnpike: Exit 312, take PA 100S to US 202S to US 1. South 10 miles to PA 82. North 3 miles to PA 162. East 3 miles to campground.
Do not follow GPS, use directions.
Get Google Directions
Jan 14, 2021
I was part of the board gaming group. Everything was great as times before. Even with the Covid restrictions everything was good. All the staff wore masks. Plenty of hand sanitizer around.
Dec 03, 2020
We always have a great time while staying at Philadelphia/West Chester KOA. Great and friendly place to stay. Lots of trees and space to enjoy our time there.
Dec 01, 2020
The lodging was excellent and clean, the staff was very friendly and helpful. We will definitely be back!
Nov 30, 2020
We had a great time at Philadelphia/West Chester KOA! The property is beautiful and very well taken care of. The staff was super nice and very accommodating. It was a great way to spend Thanksgiving. We definitely plan on going back!
Nov 30, 2020
The staff were incredibly welcoming and friendly. Campground and bathrooms were exceptionally clean and maintained. We look forward to visiting again in 2021!
Nov 30, 2020
Staff were great. Place was very nice. Only area of improvement I suggest is road maintenance and site maintenance. Our site was not level only narrowly level. As we stepped out of door you almost fell down the hill. Invest in more gravel or asphalt.
Nov 30, 2020
My family thanks you for the wonderful stay. Beautiful campgrounds, lots of activities, and a wonderful staff.
Nov 29, 2020
Love it here!
Nov 29, 2020
So glad to have found this place. So many things to do, and everything is beautifully maintained. We are so glad to have found such a phenomenal place to have fun safely.
Nov 29, 2020
Beautiful grounds, wonderful staff.
Nov 29, 2020
We had a lovely Thanksgiving day stay in a deluxe cabin. The accommodations were all we hoped for-our first time in a cabin vs. tent camping. The office staff was helpful and friendly. It's a lovely setting.
Nov 29, 2020
A neighbor went to this KOA a few months ago, and showed us pictures. We made reservations immediately, and we have been there five times since. I don't think it's an exaggeration to say that after being in our home for about eight months during the pandemic, finding this campground has saved my sanity, put a smile back on my son's face, and rejuvenated my family. Thank you to the amazing staff.
Nov 28, 2020
Immaculate campground with very kind and helpful staff. Highly recommend!
Nov 27, 2020
Wonderful and friendly staff!!
Nov 27, 2020
We loved our site. The individuals in the office were fantastic. Wonderful stay.
Nov 25, 2020
Everyone on staff was friendly and helpful. Campground is clean and well kept. Although it was too late in the season to enjoy the beautiful pool or rent canoes/kayaks, we had a wonderful time walking on the nature trail and by the creek. The campground is 15 minutes from Longwood Gardens-(the reason for our stay.) The area is picturesque- stone farmhouses ,windy back roads and tons of history.
Nov 24, 2020
The campground was beautiful & they had COVID precautions in place & they were followed. We will definitely be back!
Nov 24, 2020
Beautiful location and just minutes from Longwood Gardens. We loved our deluxe cabin. We will definitely stay again.
Nov 23, 2020
This was our second stay at this KOA. We tent camped previously and this time we had deluxe cabin C1. The sites are clean, the cabin was clean and completely stocked with everything we could have possibly needed. We are already looking at dates to book the cabin again when it opens in the spring. Fantastic experience.
Nov 23, 2020
MY STAY WAS AWESOME IT ITS MY THIRD TIME A KOA AND I LOVE EVERYTIME JUST PEACEFUL STAFF AND OTHER GUEST ARE VERY PLEASANT AND NICE I WILL BE COMING BACK IN MAY AND CANNOT WAIT.
Nov 23, 2020
Awesome. Friendly and helpful staff, clean, well run and lots for the kids to do. My wife and I were looking for a campground within 2 hours to make it our easy weekend choice when we want to limit the time driving in our RV---we think we've found that campground! Must be awesome when the pool opens up as well.
Nov 23, 2020
We really enjoyed the river front and the distance placed between campers.
Nov 23, 2020
Grounds were not the best but we enjoyed ourselves
Nov 23, 2020
The staff went above and beyond very clean and I wish you were open all year long
Nov 19, 2020
We were impressed with all the services provided by the campground-playground, pool, garbage services, cable, walking paths, cleanliness, store, etc. Everything was first rate.
Nov 18, 2020
Mixed feelings about this campsite- Not the campground's fault but the roads were narrow getting there. At the campground the roads were potholed and uneven. Our site was uneven and muddy. The store was great, the trail was nice. Stayed here as closest to family. Otherwise would stay elsewhere.
Nov 17, 2020
Given the character limit, I guess you don't want a real review! Most sites are uneven and somewhat steep and very close together. Ours was eroded on one side. Shower stall too small for easy undress/dress. Shower/toilet clean but quite dated, needing some repair. Our fire pit was in a hole. Our picnic table was on the eroded edge of the site. KOA people were friendly. Rural setting nice.
Nov 17, 2020
Our stay was great. The restrooms were super clean and the sites were well maintained. Everyone was very friendly and helpful. We will hopefully be returning in the spring/summer!
Nov 16, 2020
Very nice campground, well kept.
Nov 16, 2020
We had a great stay. Very impressed with how clean and nice the grounds, cabin and general store was. The staff was also nice and helpful. We will be back again!!!
Nov 16, 2020
Great place to stay. Friendly place to stay. Beautiful campground.
Nov 16, 2020
Great, helpful staff. Beautiful campground. Will be back!!
Nov 16, 2020
very clean, quiet place.
Nov 16, 2020
Only a short stay of less than 48 hours. The site could be more secure/level for RV's in my opinion. I am comparing a private campground to State and National park sites that we spend 95% of our visits.
Nov 16, 2020
In general KOA, including this KOA is a safe bet. I love this KOA because of the stream close by for kayaking. It was a first at renting one of their cabins. I don't think we'll be doing a cabin at this KOA again. Unfortunately, they are located very close to one another and don't have any privacy.
Nov 15, 2020
The location is great for various activities, hiking, biking, history, as well as the campground being scenic with a setting along the Brandywine Creek; a well stocked store along with gift items; and well kept facilities. Staff that I interacted with were always pleasant and helpful (and I interact a lot).This was my second visit to this KOA campground, and I will return there when in the area.
Nov 15, 2020
No bathroom/ shower facilities available- all were closed- campsites very little space and congested grounds- we paid full price -
CAMPGROUND RESPONSE / COMMENTS:
Thanks you for your comments. You may have only checked one of our bathhouses as the main bathhouse has been open and remains open until the end of November.
Nov 14, 2020
This was my 4th time camping at the West Chester KOA. I always stay in site 109 down by the river and am almost always the only camper there, I always stay off season. It's quiet, clean and the camp store staff and grounds staff are always friendly. There's also a great nature trail to hike with my dog and you can rent canoes as well. I love staying here, I always leave relaxed. Thanks KOA
Nov 12, 2020
We love the tent sites down by the creek.
Nov 10, 2020
Office closed early, no signage for getting around the park, dirt and gravel roads. One of the roughest KOAs we've ever stayed at.
Nov 10, 2020
Perfect. Staff exceptional. Facilities clean and well managed. We can't wait to come back in the summer!
Nov 10, 2020
Wonderful. Weather was superb which helped, but the site was clean and well laid out. Had some neat sites around the edges, but seems to have something for everyone. Big groups and privacy also
Nov 20, 2020
Everything was well maintained with friendly staff.🙂
- Debbie G on Google
Nov 10, 2020
Awesome time here with my family and we will be returning in a few weeks. The staff was kind and attentive to our needs while in our cabin. However the wifi was not working at all and that left us without internet access and there's little to no service at the camp ground.
- Designs By Sye on Google
Sep 30, 2018
Beautiful spot. Accommodating staff. Overall a very pleasant experience. Thanks to Gary and a special thank you to Kristen.
- Mr Incognito on Google