Directions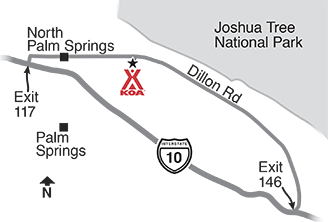 From Interstate 10, Exit Palm Dr. Turn North and continue 3.1 miles to Dillon Rd. Turn East (Right) and continue 3.9 miles to the park entrance on your right. 
GPS: N33.924806, W116.433342
Get Google Directions
Sep 14, 2021
We stayed 3 nights and received top notch service from Adrian. What a great representative of KOA and this park. The park was extremely clean. We used the laundry facility and were very impressed. The showers were up to date and squeaky clean.
Sep 13, 2021
The customer service was great but our stay was not as comfortable as I'd like. The pool was closed which was a big incentive for booking and although that was communicated ahead of time, we had already planned our trip. We had site 204 and in 100 degree weather it was SUPER hot and not one tree or shade structure and although we brought shade... it was uncomfortably hot.
Sep 13, 2021
We had a wonderful stay and would definitely go back. Thank you
Sep 10, 2021
Nice and clean sites, easy in and out.
Sep 08, 2021
The park itself was very clean. Staff was helpful and friendly. The location is not too far away from shopping, food, entertainment, etc. The grounds are patrolled frequently, the neighbors friendly and quiet. This would be a 5 star if not for the pool/hot tubs being closed for repairs. My only complaint was the extreme hot weather, which is just part of desert living. Will 100% be coming back.
Sep 08, 2021
It was hot! It was good and quiet. Just need more trash cans place thought out the camp ground. See you next time. Thank you, Jeff Moore
Sep 07, 2021
Nice clean KOA. Quiet and pet friendly.
Sep 07, 2021
Outstanding service, everything was 1st. Class. Only thing was it was hot in tent, ac worked hard to keep us cool.
Sep 07, 2021
not the KOA fault but it was too darn hot 115 degrees and of course the pool is broken. Interesting set-up with the site #130 was on the sewer hook-up is in the back of the site requires about 20 foot or so of hose to reach, I don't carry that much ever. There is no dump station strange huh ? I dumped at a pull through site. Also no shade except sites 90 - 100 or so have shade in the afternoon
Sep 07, 2021
We stayed in one of the deluxe cabins. It was very clean and comfortable. And the A/C worked very well. Best if all, it was very quiet at night.
Sep 07, 2021
Good, clean, and quiet.
Sep 07, 2021
It was great, appreciated the communication!
Sep 07, 2021
I enjoyed the location, cleanliness and friendly staff. The only thing I would suggest is putting a fan in the bathroom. It was really hot and humid in the restroom.
Sep 07, 2021
Staff was friendly and helpful. The campground was clean and neat.
Sep 06, 2021
Super hot in June!!! Planned to camp but had to get the cabin with A/C. Staff was friendly and accommodating to make the switch on the spot. Cabin was super nice!!!!
Sep 05, 2021
Not very accommodating staff. Only one trash area open. I walked all around camp to find open trash area in >100° weather. Not very customer friendly.
Sep 05, 2021
It was very nice. The park was very clean and organized. We will be back! Love this place.
Sep 04, 2021
The staff was friendly and helpful. The park was clean and well cared for.
Sep 01, 2021
Clean helpful staff. Would have been better if there was cable. Would stay there again
Aug 28, 2021
Spacious spots and plenty of room…bummer that the pool was closed though!
Aug 28, 2021
It is not close to Joshua Tree, closest entrance is over an hour away. It's misleading and I wanted to be by Joshua Tree. I should have checked the distance before I booked, but trusted it was near, the web page shows all sorts of pics of it. Didn't like the area at all.
Aug 26, 2021
Paula & Jonie we're both very helpful. Sony was the first person I interacted with at the campground and she offered us a quiet and secluded space, it was the best recommendation. Paula was very sweet front desk receptionist and gave us great tips overall. I will be coming back, hands down the best experience
Aug 25, 2021
KOA was clean and staff professional and friendly. We just stayed overnight.
Aug 23, 2021
We had a great stay in the cabin at this campground. It was clean and very comfortable.
Aug 23, 2021
The restroom and shower room were clean. Staffs are kind. The only downside was the swimming pool was under construction.
Aug 18, 2021
the campground was very clean and well maintained. The late arrival welcome was great and people are very friendly. This was the best campground we have visited during our road trip in California.
Aug 18, 2021
We struggled with the on-line reservations as we decided to stop for the night after 4 pm, the cutoff for same-day reservations. There's a glitch in the phone-in system, so we entered the park after 11 pm, without reservations! The gatehouse was open and the process to register was easy. Best of all, we were met by the owner and personally guided to our site. Clean, well-maintained, quiet!
Aug 16, 2021
It was not busy at all so I was one of the only RVs there - but I felt very secure as I saw the security constantly surveilling the property. The property was impeccably clean and the one staff person I interacted with was super helpful and friendly! Very consistent with my KOA experiences!
Aug 16, 2021
A nice stay. Very quiet obviously due to the time of year. Super clean everywhere! The hosts were pleasant and professional and made it a very welcoming environment! And I know we could've cancelled and only forfeited $10, but an email AFTER we had booked to tell us the hot springs pools and swimming pool was closed was disingenuous. Also, the wi-fi was non-existent. Check it daily, please! :-) MK
Aug 14, 2021
Great stay, only one night but everything was clean and the staff was friendly and helpful.
Aug 11, 2021
I am giving this KOA a 2 because we came in the summer and the pool was out of order. We were nit notified until 7-10 days in advance. We would have re-routed our stop or chosen a different RV park to stay in. 106F is too hot, not to have their mineral pool that was advertised working. Also, it would be helpful when guiding guests to sites to explain the whole site. We were confused on area.
Aug 09, 2021
Facility ground are beautiful, very well organized. Bathrooms clean without clutter will definitely recommend to family and friends.
Aug 09, 2021
It's a bad idea to have gravel for tent spots but other than that it was a great site.
Aug 08, 2021
So helpful every time we're here. Bathrooms are clean. Sites are nicely spaced apart. Beautiful sunrises and sunsets.
Aug 04, 2021
A little bit out of the way but a nice property. The girls at the office were very helpful and courteous. Coffee available at the office was a big plus!!
Aug 02, 2021
Timing is everything, summer, heat wave, pool being redone( out of order) bathrooms were spotless and up to date but no fans made for sweltering conditions when showering or whatever. The park was well maintained with friendly staff and probably is an awesome place in the other three seasons. Will try again when the weather is colder.
Aug 02, 2021
STAY WAS EXCELLENT, WE WERE IN A CABIN. A/C WORKED GREAT. STAFF VERY HELPFUL WITH TOURIST SUGGESTIONS. CLEAN AND COMFORTABLE. THANK YOU.
Aug 01, 2021
The service is very good. The restroom and shower room is clean.
Jul 30, 2021
We did a quick turn and burn overnight stay here, but it was a great campground. Gated, with after hours gate keeper and clean bathrooms. Loved our glamping tent!!!! Had a good nights rest! Loved the landscaping and new tents!
Sep 01, 2021
Kinda out of the way. Well maintained. Showers, bathrooms and laundry room very clean. Dogs welcome. Amenities were not open. Had a problem with breaker box that 5th wheel was plugged into but they came pretty quit and fix issue.
- Kat Williams on Google
Aug 28, 2021
I'm always here
- Eli Coolie on Google
Aug 20, 2021
We stayed here on our way to Yosemite and the way back. The campground was very nice and well kept. The pool was not operational, but that was no concern of ours. There is a miniature golf course within the campground if you have kids with you. They have 50 and 30 amp hookups, and all have pull-through spots if you are towing. The campground is quite a ways off the interstate, but not too bad. If we travel back through here I would stay again.
- rogerythat on Trip Advisor