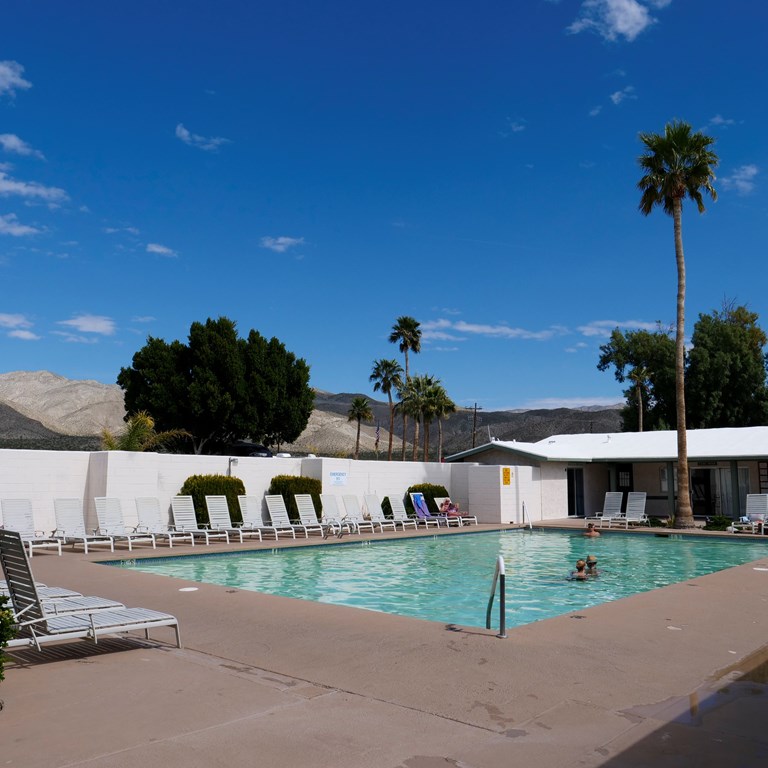 Palm Springs / Joshua Tree KOA Reviews
This Fall, Book 2 Nights and Get One Free!
Directions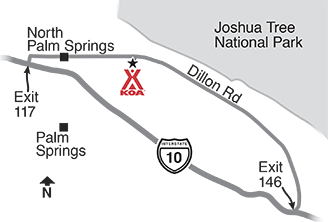 From Interstate 10, Exit Palm Dr. Turn North and continue 3.1 miles to Dillon Rd. Turn East (Right) and continue 3.9 miles to the park entrance on your right.  GPS: N33.924806, W116.433342
Get Google Directions
Sep 21, 2020
So clean, fun, great customer service, amenities, location. One of the best parks we have stayed at
Sep 21, 2020
Pool open so heat not an issue, look fed to 3 spas opening again. Same space when possible (#43) to please better half. Also good stepping stone for travel to 1000 Palms, Arizona, etc. Erika & Jamie are great!
Sep 16, 2020
Unfortunately, the water system was not working, so we left a day early. We loved the shade at site 97.
Sep 16, 2020
They had so many problems with their facilities. Water was out during our whole stay so we couldnt wash dishes, cook, shower, or use restroom. They told us that they will refund half of our stay but didn't.
Sep 15, 2020
Clean showers,pool,laundry room....clean everything
Sep 09, 2020
Was very hot loved the park and all a great bunch that work there I had a problem with electrical on my lance camper. Roger camp Mgr. helped with getting my camper plugs fixed so I finish out my stay I'm sure Roger will remember he sent me for parts him and I started fixing plug and cord , Temp was 118 that day Roger needs to get a Atta Boy from KOA I Thank him Thank You Dennis camp site # 97
Sep 09, 2020
Clean and Great Pool. Nice Staff.
Sep 08, 2020
The staff was amazing, the grounds were VERY well maintained. Cant wait to revisit!!!
Sep 06, 2020
Courteous and helpful staff. Very accommodating. Love this place and the people who run it. Amazing experience. Clean campground. Hot water, sanitizes bathrooms. Will come back again the first chance I get
Sep 06, 2020
Little vegetation and no trees which would have improved the campground and provided shade. We rented the 'deluxe' cabin which was spotlessly clean. Thank you to Tania the cleaning person.
Sep 04, 2020
Level / roomy spaces, which are raked and tidy. Backin spots have some shade for either morning or afternoon. Clean bathrooms / showers, altho no fan in women's restroom so very stuffy. Friendly staff. Paula was terrific.
Sep 01, 2020
We stayed 2 nights and the park was the bathrooms, showers, pool and campground were so clean and well kept! The staff we're all friendly and so helpful! Would and will definitely come back!
Aug 31, 2020
It's always a pleasure to stay at KOA Campgrounds over in Palm Springs to Joshua Tree it's awesome the people are friendly the staff it's awful clean the dog park is well maintained the park is just beautiful I would recommend it to anybody to come over I would like to see the spa open but due to the covid-19 I know that's not possible at this time but the pool is beautiful
Aug 30, 2020
Beautiful! Loved the campground!!!
Aug 25, 2020
We love staying at the Palm Springs/Joshua Tree KOA! The entire staff is incredibly helpful, polite and friendly. There's lots of activities for the kids and plenty of safe roads for them to ride bikes.
Aug 24, 2020
We were close to the pool, which was welcome in 110* heat.
Aug 24, 2020
I arrived just after the office closed. Very visible sign at front gate directing me. A very nice lady came out and helped immediately. She was so kind to grab my packet (excellent information on park) and drive me to my site. She helped me line up my RV to access the hook-ups. All in all she was very helpful and friendly. The site was clean, well manicured and great hook-ups. Great park!
Aug 20, 2020
Very polite, clean, great amenities!
Aug 20, 2020
A beautiful park!! Very clean! The woman that checked us in was very friendly!!
Aug 15, 2020
Short one night stay but KOA all the way! Thank you!!
Aug 14, 2020
Awesome! Clean very cute cabin super friendly staff and area was so so clean! only negative no big waste bins anywhere near by and the AC was a bit weak but there is the pool. The cage behind the playground is a bit off putting and creepy looks like something out of a horror movie where you would see kids locked up. Kind of give a weird vibe to the playground but we had an awesome time
Aug 05, 2020
Nice place, large pull through spaces, quiet camp ground. Just a bit far outside of town.
Aug 03, 2020
Horrible the pool was absolutely the dirtiest pool I have ever seen at a KOA we were supposed to camp for 3 nights we left the same day we arrived within 2 hours of our arrival. Worst KOA I have ever stayed at .
Aug 03, 2020
It was great. The staff is very friendly and helpful. Lot of great amenities .
Aug 03, 2020
That is the quietest KOA Park I've ever stayed, I believe. I came in a little bit late and Scott took care of me when he didn't have to. He's amazing. I will very definitely be staying there in the future. I come through every couple of years. I can't say enough good things about this park.
Jul 31, 2020
Our family enjoyed the campground. Everything was clean and very well maintained. There is a cute mini golf course the kids enjoyed and the pool is pretty large We were able to socially distance in the pool and still feel like there was plenty of room to play. The very large pull through space makes any size rig pull in without a problem.
Jul 31, 2020
Very clean and friendly environment. Pool is nice and perfect temperature
Jul 29, 2020
It was quiet, clean, lots of space between sites, and the pool was awesome!
Jul 28, 2020
The staff was great and the park was pristine. If it weren't so hot, it would have been perfect!
Jul 28, 2020
The night sky was nice.
Jul 27, 2020
Staff was amazingly helpful and courteous. Great activities for adults and kids. Facility was clean, and we felt safe with the various signs posted everywhere to remind guests of social distancing.
Sep 01, 2020
SUCH A NICE CAMPGROUND!!! My husband and I came here for a long weekend stay and didn't want to leave! We had a tent spot for a few nights and was amazed at the facility! The tent site was big and had trash bins and sinks easily accessible throughout. The bathrooms and showers are extremely nice and big! The facility has some cool bikes to rent, putt putt and even a nice big swimming pool and mineral water spas! The staff is SO friendly and wants to get to know their campers! The area is very family friendly! A 17 minute drive will get you into food, shops and gas! I was happy to see the employees and campers following the covid 19 restrictions. Without that cooperation having the campground open wouldn't be possible.
- Jess Heyman on Google
Aug 01, 2020
It's among the best KOA parks I've ever frequented. Not only is the staff amazingly friendly, this park offers at least much as any other KoA Park (except good shade trees, but of course it is in the desert).
- Robin Fletcher on Google
Jul 27, 2020
Love staying there! Nice pool ! Good staffsand clean area
- Denise David Miura Shellhart on Google

Palm Springs / Joshua Tree KOA
Open All Year
70405 Dillon Rd
Desert Hot Springs, CA 92241
Check-In/Check-Out Times
RV Sites, Tent Sites
Check-in: 12:00 pm, Check-out: 11:00 am
Accommodations
Check-in: 2:00 pm, Check-out: 11:00 am
Palm Springs / Joshua Tree KOA
Get Google Directions

© 2020 Kampgrounds of America, Inc.