Local Area Attractions Near Palm Springs / Joshua Tree KOA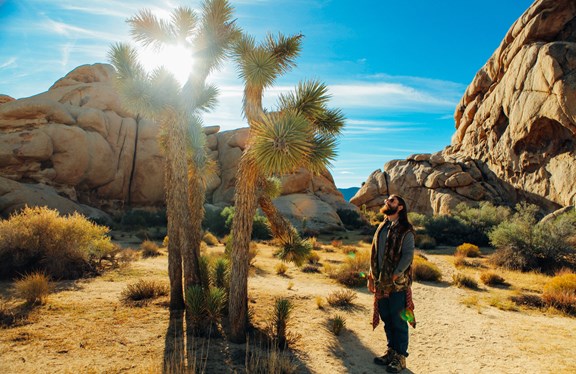 Joshua Tree National Park
Two distinct desert ecosystems, the Mojave and the Colorado, come together in Joshua Tree National Park. A fascinating variety of plants and animals make their homes in a land sculpted by strong winds and occasional torrents of rain. Dark night skies, a rich cultural history, and surreal geologic features add to the wonder of this vast wilderness in southern California. Come explore for yourself.
Places to GoFind out about different parts of the park, from must-see spots like Skull Rock and Keys View to the quieter areas around Cottonwood Spring and Black Rock Canyon.Things to DoThere's so much to do in Joshua Tree! Whether you're interested in a short nature walk or a strenuous backpacking trip, stargazing or joining a ranger-led tour of Keys Ranch, or something else entirely—you'll find information and inspiration on these pages.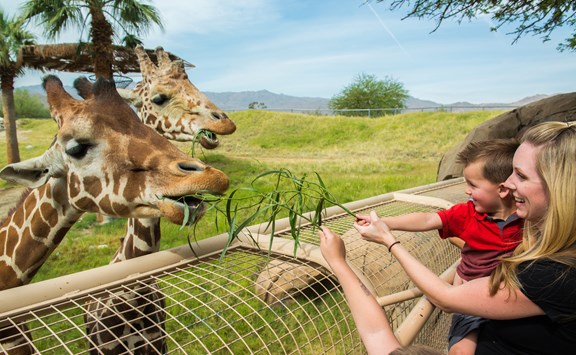 Living Desert Zoo & Gardens
Daily activities:  Check our website for updated events, programs, or demonstrations.Timing is important:In the desert, the morning can begin quite cool, but by noon, temperatures may be uncomfortable. It is recommended that you allow 3-4 hours to see the park and participate in some of the daily activities.The best time to see your favorite animals:Visitors who come to The Living Desert in the early morning are in for some delightful surprises! In the cool of the morning, most of the animals on exhibit are at their peak activity. Playing, some eating breakfast, catching the wind for the scent of other nearby animals, stretching and prowling. As the day warms up, so do the birds of prey, fanning out their huge marvelous wings to the sun. The tortoises and lizards come out of their hiding places to feel the gentle warmth. Warthogs and javelinas rout and romp in the morning hours, contentedly grunting during nap time in the midday sun. Meerkats seem to play all afternoon, each taking a turn being the lookout, while the others scamper about. Late afternoon is the wake up call to nocturnal creatures. The cheetahs often climb to the top of their ridge and majestically watch the sun set.Clothing:Make sure you wear comfortable walking shoes, preferably closed toe. Dress accordingly to the season. Summer days can reach well above 100 degrees F / 37 degrees C. Even though most visitors think less clothing means cooler body temperatures, this is not true. Long sleeve 100% cotton shirts are the best to keep you cool. Allowing sweat to completely evaporate from your skin will make you hotter and dehydrate quicker. Hats, sunscreen, even an umbrella is recommended for all seasons. Winter day temperatures sometimes warrant a jacket or sweater. For the health, safety and comfort of all guests, shirts and footwear must be worn at all times. Provocative, revealing, or offensive clothing and bathing suits are prohibited. Disguises, costumes, or articles of clothing that conceal a visitor's identity are also prohibited. Park admission may be denied if clothing is deemed by management to be inappropriate.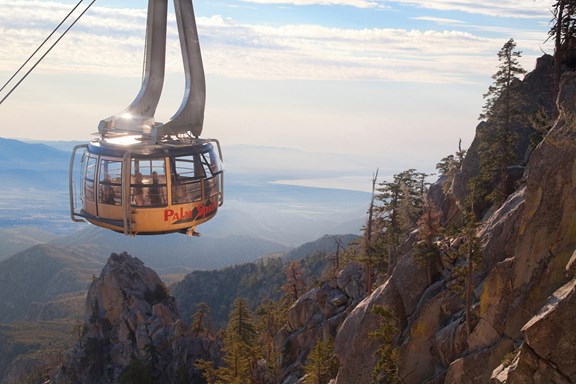 Palm Springs Aerial Tramway
What's at the top?There are two restaurants, a cocktail lounge, observation decks, a small natural history museum, two theaters showing State Park and tram construction videos, a gift shop, Magic Memories for photo viewing, and over 50 miles of hiking trails along with other nature activities.How long does the tram ride take?Approximately ten minutes in each direction.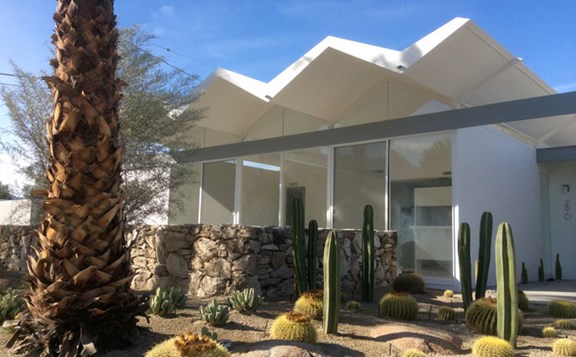 PS Architecture Tours
Experience Palm Springs' world-famous collection of mid-century modern architecture on a personal tour with Trevor O'Donnell, one of the area's most knowledgeable, experienced and entertaining guides. Palm Springs is a living museum with hundreds of homes and buildings designed by some of the 20th century's finest architects. Join Trevor for a fascinating exploration of the city's magnificent collection. Learn about a remarkable group of architects, builders and Hollywood celebrity clients, and listen to the back stories that add life, humor, intrigue and awe to Palm Springs' extraordinary concentration of modernist buildings.Tours run daily at 10:00 AM from "Just Modern" in the Uptown Design District (just north of Downtown Palm Springs). Private tours and group tours by advance reservation.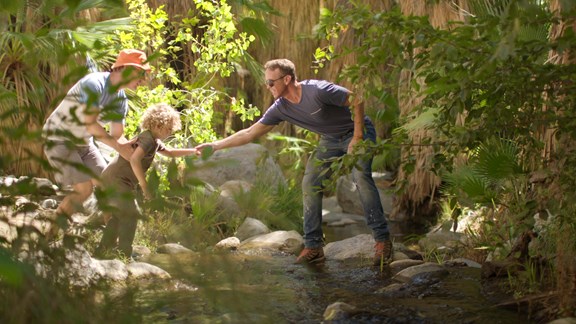 Hiking in Palm Springs
Hiking trails are abundant in Palm Springs. From easy walking trails to difficult terrain, the outdoor enthusiasts will experience spectacular mountain vistas, waterfalls, natural streams, rocky gorges and unusual rock formations. The pristine desert air mixed with giant palm trees and an alpine wilderness create the perfect setting of natural desert beauty. Hike the world's largest fan palm oasis in Palm Canyon, the tranquil and intimate Andreas Canyon , or the secluded and wandering Murray Canyon. Tahquitz Canyon rewards hikers at the end of a moderate hike with a beautiful 40 ft. waterfall. For A Complete Guide To All The Hiking Trails In The Area : Find A Hiking Trail Here! For additional Palm Springs hiking information, Click Here
Local Area Recreation Near Palm Springs / Joshua Tree KOA