Palm Springs / Joshua Tree KOA Recreation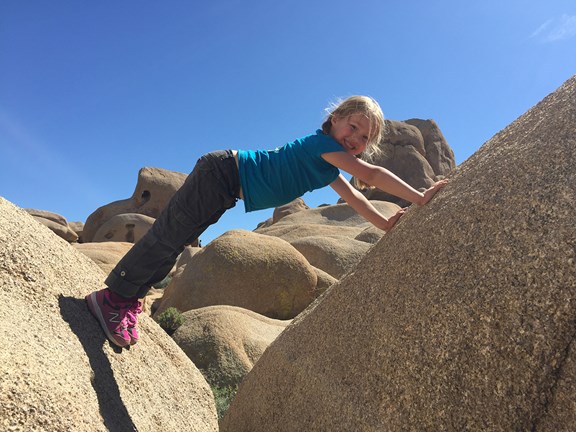 Daily Recreation
Join us for daily fun all winter long with outdoor movies under the starry desert sky, poker tournaments, workout classes and so much more! Download our example schedule of fun below, exact offerings will vary week to week.
Discount Golf
A trip to Palm Desert wouldn't be complete without a game of golf in our oasis of green grass and blue skies. Ask at our front desk about discount golf packages with convenient tees times. Play with your partner or meet some fellow campers for 18-holes at local courses.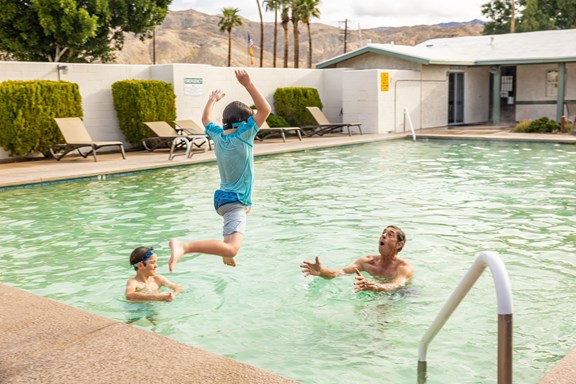 Swimming Pool
Our swimming pool is fed by natural hot springs and stays at a refreshing temperature of 89 degrees.  It's a great way to cool off after a day of exploring Palm Springs or hiking in Joshua Tree National Park.
Hot Tubs Fed by Natural Hot Springs
Our 3 hot tubs are fed from natural hot springs. The 3 hot spring fed pools have natural temperatures of 96-102 degrees.
Mini-Golf
Play a full round of mini-golf or just practice your putting.  This complementary activity is great for the young and young at heart!
Open Dawn 'til Dusk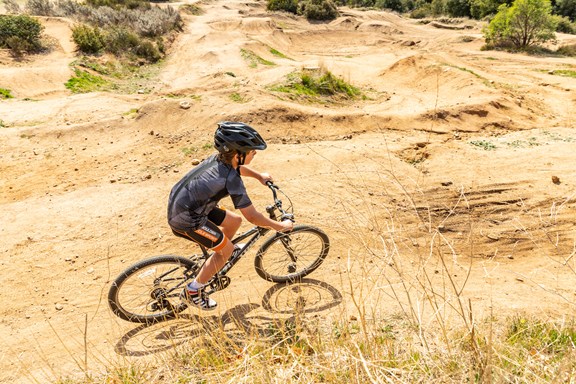 COMING SOON: Bike Pump Track
Bike-lovers, tweens, teens and twenty-somethings rejoice! Our new pump track is open! Designed and built by one of southern California's premier trail building and bike park experts, our pump track will provide hours of fun for early and advanced riders alike.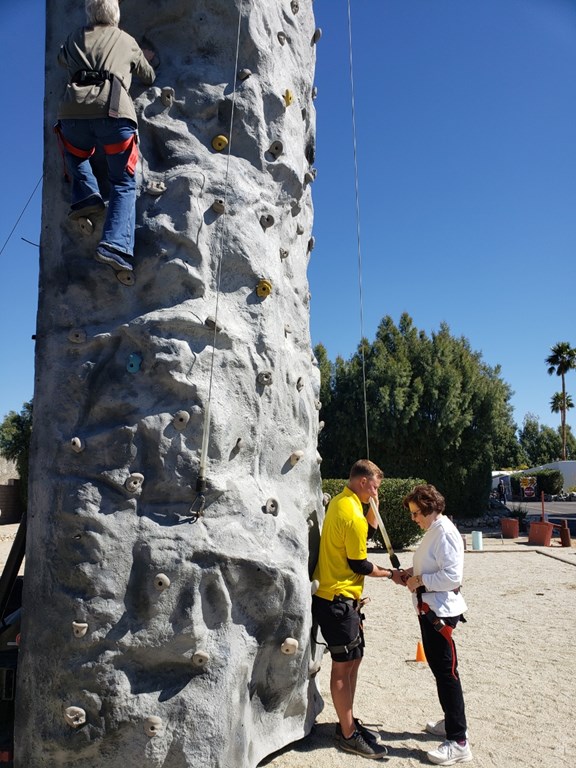 Rock Climbing Wall (Seasonal)
Get in on the world's greatest rock climbing right here at the campground with a self-belaying rock wall climbing experience.  Available seasonal.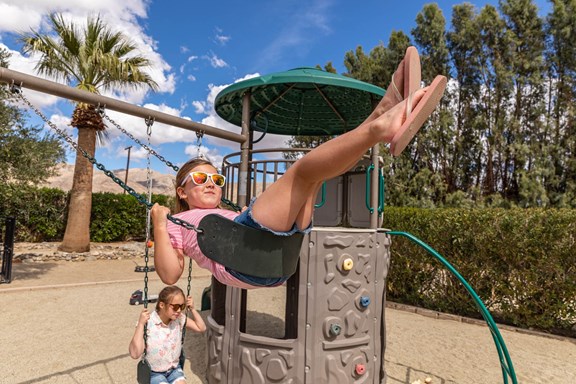 Playground
Our playground is great for the kids to burn off some steam after a road trip!
Game & Card Room
Join the fun of a great community with card games, tournaments, and other games!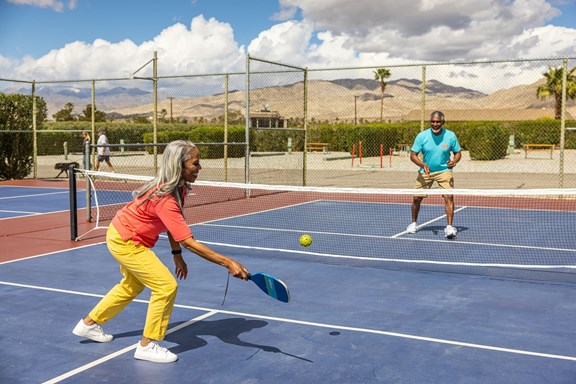 PickleBall
Enjoy everyone's favorite pastime on our two beautifully maintained courts.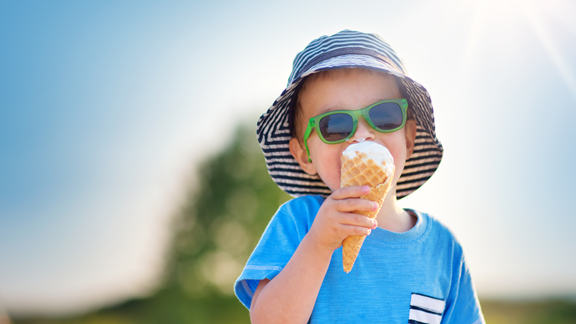 Ice Cream Socials ($) (Seasonal)
I Scream. You Scream. We all Scream for Ice Cream! Cool off and get your fellow campers!
December - April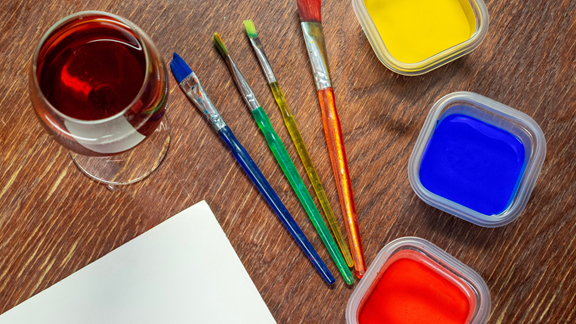 Paint & Wine ($) (Seasonal)
Come get crafty! All supplies are included for a fee. Bring your own wine.
December - April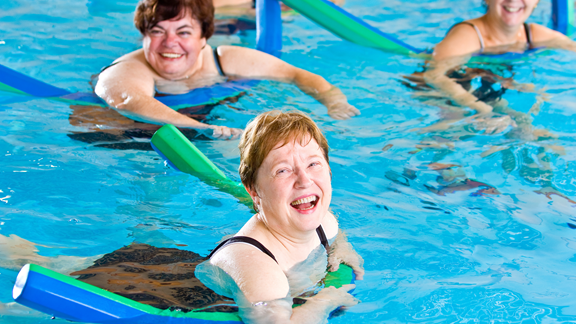 Water Aerobics (Seasonal)
Join Cindy for a water workout. Stay cool in the pool while you work out!
December - April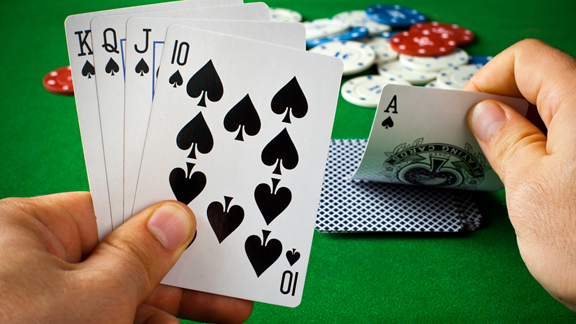 Texas Hold 'Em Poker Games
Join us for twice weekly games in the game room--this is a community favorite activity!
From December - April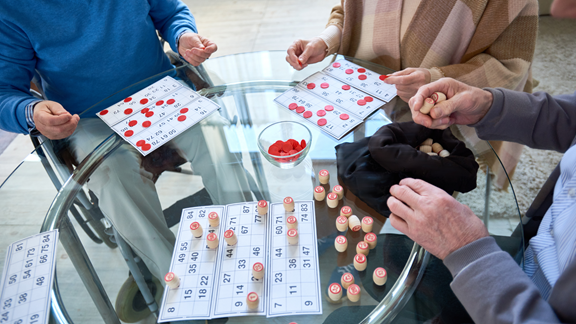 Bingo
Join us for our twice weekly Bingo games--our most well attended activity for our snowbird community.
From December-April Chair Yoga
Not as bend-y as you used to be? Chair yoga is designed just for you!
From December - April Line Dancing
From the Electric Stroll to the Boot Scootin' Boogie. Come dance your heart out!
From December - April Walk Away the Pounds
Join Cindy for an energizing stroll through the campground.
From December - April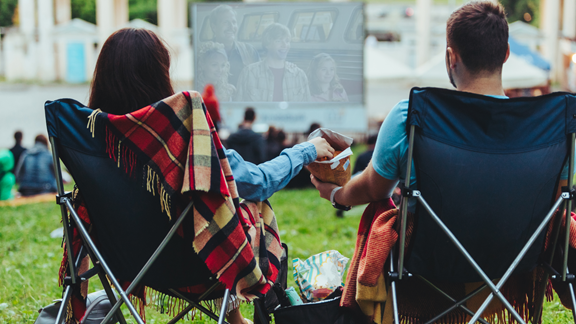 Movie Night (Seasonal)
Relax at the end of your day with a family movie.
December - April Yoga (Seasonal)
There's No Place Like Ommm... And no better way to start your day with a Yoga class at the campground!
December - April Weekly Guest Dinner
Join our community and join in the fun of weekly guest dinners. Get to know your fellow snow-bird guests and make plans for a pickle ball match!
December - February Karaoke & Dancing
Get ready to have the time of your life with your fellow campers for Karaoke and Dancing in the dining room!
From December - April Thai Chi (Seasonal)
Part exercise and part meditation. Come learn all the health benefits of Thai Chi.
December - April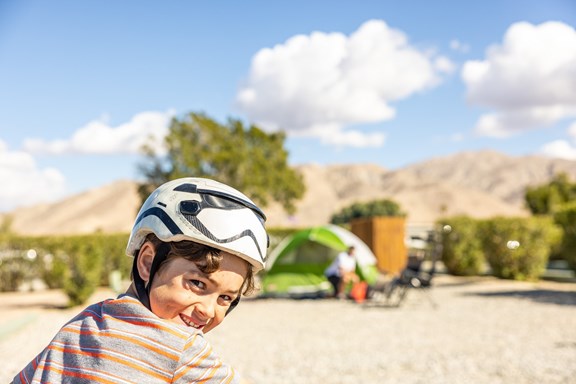 Fun Cycle BIke Rentals
Try out some fun bikes that you don't have at home! You know you want to!
Local Area Recreation