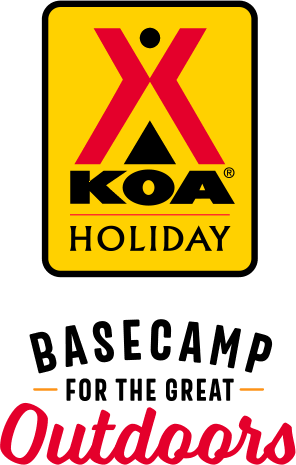 KOA Holiday Campgrounds
Whether you're exploring the local area or hanging out at the campground, KOA Holidays are an ideal place to relax and play. There's plenty to do, with amenities and services to make your stay memorable. Plus, you'll enjoy the outdoor experience with upgraded RV Sites with KOA Patio® and Deluxe Cabins with full baths for camping in comfort. Bring your family, bring your friends, or bring the whole group – there's plenty of ways to stay and explore.
KOA Holidays Feature:
RV Sites with a KOA Patio®
Deluxe Cabins with full baths
Premium Tent Sites
Group meeting facilities
Directions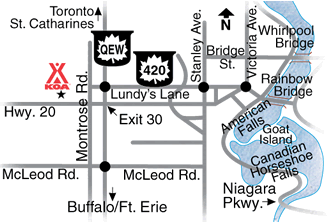 Exit Lundy's Lane ( exit 30) off QEW:
Turn left at first light (Montrose Road), turn right at second light (Lundy's Lane), go 3 blocks and we are on right side of street.
Get Google Directions
Jul 27, 2021
The service was not good, everything close early and the smille of the staff was not there. It's the first KOA I had without activities and more. And it's not because of the covid the office close at 8 ���‍���
Jul 27, 2021
The place was nice but the campsites were a little smaller than I expected in the bathrooms on Sunday we're not cleaned all day for 3 out of 4 that were used had no toilet paper and one had blood on it all day
Jul 27, 2021
Major rippoff $87.00 per night for a very small back in and just power & water! They advertised on their site an indoor pool that has not been open for years! If you have any children you have to pay $9.00 a day extra for each one! Any visitors have to pay $10.00 a day! Their dumping station is right beside the jumping pillow and almost impossible impossible to get to! Worst ripoff ever!
Jul 27, 2021
Il manquait d'ombre sur notre terrain, mais plein d'autres avaient de gros arbres matures, on a juste pas été chanceux. Par contre, tout le reste était parfait. Les employés super sympathique, les salles de bains étaient très propres.
Jul 26, 2021
Je suis arrivé sur mon site qui était dans un trou d'eau de bouette devrais dire et pour la semaine nous avons dû vivre avec cette boue autour du site et bien entendu dans la roulotte. Les employés ont été très gentil et on essayer de m'aider.
Jul 26, 2021
Trop de chien qui aboie constamment sans que les propriétaires soient avertis. Si non notre séjour c'est bien passé. Très bien situé et propre.
Jul 26, 2021
Pools rules was rigid and more severe than the health public rules (covid19). Somes sites was beautifull but ours was a dump (the services of our neigbour was right in the middle of our site and the campground water installation was briken so the water was spilling all day long si our site was always like a swamp. We cancelled the second week... Instead of that, he staff was nice.
Jul 26, 2021
Found the campground very clean and accessible. So many things to do. Would recommend it to anyone
Jul 26, 2021
Wonderful, loved our site with the concrete stamped pad and patio furniture...well worth it for us. Within a short drive to everything.
Jul 26, 2021
Great location, very clean and friendly staff. Many fun activities for the children and the whole family.
Jul 26, 2021
Was great. Really organized and clean. I really liked.
Jul 26, 2021
Great cabin, fun activities.
Jul 26, 2021
Our sites we booked were not given to us on the day we arrived. We were not advised of the hold fee we could have paid when we booked so our group was not together. Our time started with disappointment. The 45 time for the pool was reduced to 30 minutes and very hard to get a spot upsetting the kids. Our site was on such a lean that our picnic table was unless.
Jul 26, 2021
very nice place, very clean, lots to do for the kids
Jul 26, 2021
Le camping est bien situé mais j ai été très déçu de voir des photos sur le site pour les VR que je croyais avoir mais rendu sur place nous avons plutôt eu un site sur de la Gravel et un sol imbibé d eau et de gazon .. j avais inscrit un couple d amis alors j étais gêné car ce n était pas ça que je leurs avait promis
Jul 26, 2021
It was an amazing trip the only bad and downfall was the pool. even though I do understand the protocols I think having 12 people in a pool at a time is not efficient and the fact that you can not book again and you have to wait 10 min for someone to show up is kinda not effective. that's my only complaint!
Jul 26, 2021
You should definitely give families a head's up about pool times during Covid. We were itching to go to the pool on the day we arrived only to learn that we needed to have made a reservation. This really put a hamper on our plans and is why I am giving a rating of 4 out of 5 instead of 5 out of 5.
Jul 26, 2021
We enjoyed thank you
Jul 26, 2021
It was good and fun. I just felt a little attitude from some staff.
Jul 26, 2021
For a family campground I was a little taken back that my teenage daughters was scolded for being off their site after 10pm for quietly going for a walk while the folks two sites down had music playing loudly Then to spend a fare amount of money for wood that was in my opinion wet and having to spend an incredible amount more for kindling. Never an issue to start a fire before.
Jul 26, 2021
We had si much fun!
Jul 25, 2021
Better Wifi would make this place awesome!
Jul 25, 2021
Great stay a lot of stuff to do in that location-just wish there was more room with big rig lots Felt squeezed in and no room to play games etc…
Jul 25, 2021
We all had a great time. Friendly staff and well organized. Lots of things for the family to do all day. Very well stocked camp store. We stayed in the deluxe cabins and they are very clean and kept in top condition. -Very comfortable! Lots of hot water! Close to everything within a 5-15 minute drive. Will recommend to anyone looking for a place to get away for a few days.
Jul 25, 2021
A bit crowded but very clean and staff are very attentive. Great location as well.
Jul 24, 2021
NOUS AVONS LOUÉ UNE CABINE DE LUXE SANS CUISINIERE ET NOUS ETIONS 3. SUFFISAMMENT D'ESPACE. SEUL POINT NEGATIF, LES MATELAS DES LITS SUPERPOSÉS NE SONT PAS TRES CONFORTABLE. S'IL PLEUT C'EST UN PLUS GRAND DEFI POUR FAIRE à manger
Jul 24, 2021
Nicest k.o.a. I've ever stayed at in terms of facilities. Cleanest washrooms, close to amenities. Only beef is some of the other campers do not respect the 22:00 to 08:00 quiet times. Staff should do a patrol at just after 22:00 to ensure compliance.
Jul 24, 2021
Was great time. Would definitely do it again
Jul 23, 2021
The pool situation of only one half hour time slot was basically what destroyed the vacation. Also half the showers closed due to social distancing. But there individual units. So there is no contact with anyone so not sure why half are closed. Also the bathroom stalls are half closed due to the same when no other public wash room is like that. There not actually keeping up with the provincialrule
Jul 23, 2021
Tres bien. Certains sites ont besoin d'entretien...
Jul 23, 2021
Camp was clean, but very congested. Small sites, close to roads. No trees. Pavement. Scarce grass. Staff friendly.
Jul 23, 2021
Improve WI-FI service and add cable TV
Jul 23, 2021
Wow! It was our first time! We love this place. Highly recommend!!!
Jul 23, 2021
We had a great time staff was very friendly and helpful. Facility was clean and cared for
Jul 24, 2021
Good experience.
- Adele Garbutt on Google
Jul 20, 2021
We visit KOA every summer and haven't had a bad experience. It's a well kept resort. There is plenty to do for children and adults. This is a great alternative to staying in a hotel when visiting the Niagara area
- Danielle Froats on Google