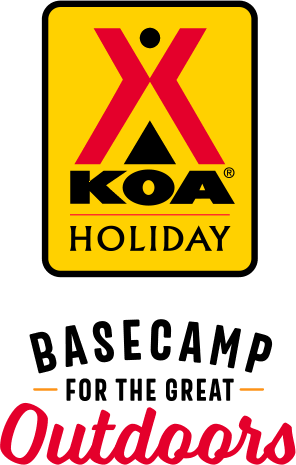 KOA Holiday Campgrounds
Whether you're exploring the local area or hanging out at the campground, KOA Holidays are an ideal place to relax and play. There's plenty to do, with amenities and services to make your stay memorable. Plus, you'll enjoy the outdoor experience with upgraded RV Sites with KOA Patio® and Deluxe Cabins with full baths for camping in comfort. Bring your family, bring your friends, or bring the whole group – there's plenty of ways to stay and explore.
KOA Holidays Feature:
RV Sites with a KOA Patio®
Deluxe Cabins with full baths
Premium Tent Sites
Group meeting facilities
Directions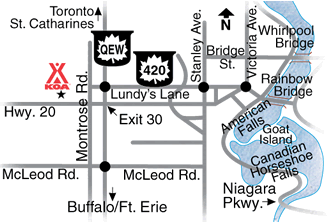 Exit Lundy's Lane ( exit 30) off QEW:
Turn left at first light (Montrose Road), turn right at second light (Lundy's Lane), go 3 blocks and we are on right side of street.
Get Google Directions
Nov 03, 2021
Overall it was very good. I had problems with WiFi...couldn't keep a reliable connection. the sewage inputs were way too high, hard to dump uphill. That is too bad as it took away from everything else.Daughter's family stayed in a cabin, that worked well.
Oct 28, 2021
Love going here. Staff great Lisa runs campground awesome
Oct 27, 2021
Staff are so nice and accommodating. The mini putt needs a little work as the cups are too high from the green to sink the ball. The washrooms are always spotless and it shows all the extra care staff take. This time, we knew the outdoor pools would be closed, but were unaware the indoor pool was open. Perhaps a note on the website or added to the reservation confirmation would help. Thanks!
Oct 26, 2021
Amazing...very clean cabins
Oct 26, 2021
Staff is incredible Look forward to seasonal
Oct 26, 2021
Enjoyable every time. 5th stay and looking forward to many more.
Oct 26, 2021
Very kind man helped my back my big A class into the spot. As a petit woman and only 5th time driving it, he was a Godsend. Nice to be able to use the indoor pool and as always, the campground was so so clean and well kept.
Oct 25, 2021
Excellent stay. Clean facilities and grounds and friendly staff!
Oct 25, 2021
Thank you as always for another great year.
Oct 25, 2021
Our deluxe cabin was amazing. We could not have been happier with the amenities. Our 3 year old loved the playground, jumping pillow, and pool. It was the perfect fall getaway!
Oct 25, 2021
our stay was fabulous! We can't wait for spring so we can book again.
Oct 25, 2021
Very nice campground. Clean and well maintained. Nice amenities.
Oct 25, 2021
Everything was so perfect until I opened the refrigerator. The fridge was so dirty, mold everywhere. I had some baby food that had to store in fridge, so I spent a long time cleaning and sanitizing it. Other than this, the cabin was nice and neat.
Oct 25, 2021
Last camping of the year. Great site and well maintained facilities. See you next year. �
Oct 23, 2021
Love your.clean facilities
Oct 22, 2021
Loved it. Very close to the falls
Oct 22, 2021
Didn't spend much time in the campground, but it was very nice. It was super clean, well maintained and seemed to have a lot of activities.
Oct 22, 2021
We love everything but find it too expensive and crowded in prime time.
Oct 21, 2021
Very friendly staff, great location given proximity to special attractions and shopping. Many amenities.
Oct 21, 2021
Always a great stay from beginning to end. Sadly, not affecting how I feel and will always come back giving the chance, my camp site (158) was very muddy where my stairs were but the staff was very accommodating and brought me over a carpet. My fire pit was submerged in water Friday and Saturday. My bag of wood from the store wouldn't stay lit no matter how many firestarters I used..
Oct 21, 2021
My stay was a 4 day trip mid October, fall conditions so some of the recreational opportunities were not available … but that did not take away from the efficiency of staff and park facilities that were available. The bus into The Falls is available at the front entrance of the park for a quick trip into the Falls area … very convenient. We will be back again for sure.
Oct 21, 2021
Deluxe RV sites are nice but expensive.
Oct 20, 2021
We had a really great time camping. Everything was so clean which was greatly appreciated, especially during the pandemic. The only thing that was a bit disappointing was not being able to check-in until 4:30pm yet pay for a full day, a partial charge instead would have been nicer. That being said I do understand the need to have cabins cleaned so I appreciate that
Oct 19, 2021
Have stayed here a few times. Very nice staff and facilities. Close to the Falls and wineries. Had a deluxe patio site and they are nice and spacious. WiFi is a bit to be desire, kept needing to log in. Easy to drive around with trailer on. Water pressure is very high so make sure to use a regulator,,or you'll be sorry. Made reservations for next year already.
Oct 19, 2021
The cabin was great -- clean and in good shape. Washrooms were nice and clean too. It was disappointing that much of the activity equipment was "closed for the season". Items like horse shoes, putters, bean bags and table tennis equipment would have been very welcome.
Oct 18, 2021
We love Koa Niagara Falls, everyone is so helpful and friendly the park is very clean, showers and washrooms are kept stocked and clean. Close to shopping and restaurants, easy access to the Wego bus for transportation.
Oct 18, 2021
We had a deluxe cabin. Very clean. Staff very friendly. Had a great weekend!! Coming back next year for sure!
Oct 18, 2021
This place is very nice... clean & organized..kids have playground and more..... i will be back for sure....see you guys next time....
Oct 18, 2021
I enjoyed the stay , the camp grounds was nicer the koa in Milton . Staff was awesome and polite helpful .We enjoyed our time there.we look forward to coming up next year .
Oct 18, 2021
During a incident involving my child, staff's response was fenomenal and acted above and beyond my expectations. The quick response of the entire team assured me that, as campers, we are in safe and capable hands. I truly applaud the team and training that goes into the KAO family.
Oct 18, 2021
Wonderful experience. Great f@cility. All staff very accommodating
Oct 18, 2021
We arrived late with no reservation. Wayne and the owner (Lisa ?) were able to help us out. We were so impressed with the professionalism we received, as well the cleanliness of the park and all it had to offer. We will be returning next year and have already give out recommendations to other campers. Thank you.
Oct 18, 2021
Very good place and loving...kids and adult love this camping ground... If you still think about this place..... better book because is worth..... Thanks KOA see you next time.....
- anderson Braga on Google
Oct 16, 2021
Cannot wait to go back!!
- Jason Phipps on Google
Oct 10, 2021
Great campground with lots of fun activities and amenities for kids and adults. Special activities and crafts are usually available for kids and they do additional special things on certain weekends. We've stayed three times recently and have experienced Halloween in the Park, pie social, karaoke, a live band, amongst other things. All largely made possible by a really fantastic staff. Everyone has been super nice and have made our experiences better. Can't wait to come back again next season!
- Matt Kimmett on Google