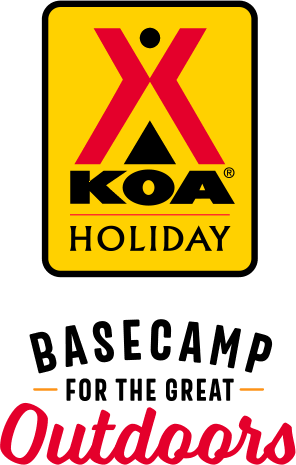 KOA Holiday Campgrounds
Whether you're exploring the local area or hanging out at the campground, KOA Holidays are an ideal place to relax and play. There's plenty to do, with amenities and services to make your stay memorable. Plus, you'll enjoy the outdoor experience with upgraded RV Sites with KOA Patio® and Deluxe Cabins with full baths for camping in comfort. Bring your family, bring your friends, or bring the whole group – there's plenty of ways to stay and explore.
KOA Holidays Feature:
RV Sites with a KOA Patio®
Deluxe Cabins with full baths
Premium Tent Sites
Group meeting facilities
Directions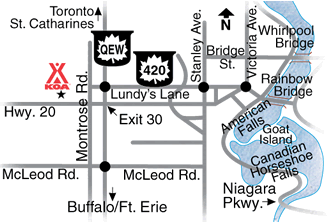 Exit Lundy's Lane ( exit 30) off QEW:
Turn left at first light (Montrose Road), turn right at second light (Lundy's Lane), go 3 blocks and we are on right side of street.
Get Google Directions
Oct 29, 2020
Super... Accueil chaleureux et très bon service, très propre... tout était parfait!!!
Oct 26, 2020
Always a nice and clean campground. Well kept
Oct 26, 2020
Really nice campgrounds with lots of trees. Friendly staff!
Oct 26, 2020
Had a wonderful stay, last weekend of the season. Campground was very safe and clean. Will definitely see you in 2021.
Oct 26, 2020
Staff were excellent and friendly. Grounds and facilities were well maintained. Very pleasant campground with trees.
Oct 25, 2020
Very quiet end of season stay among the nice fall colors. Thanks for keeping the covid rules in place!
Oct 25, 2020
Ce n'est pas mon style de camping car je préfère les parcs provinciaux ou nationaux, mais j'ai été vraiment impressionnée par la très grande qualité du service à la clientèle, de la propreté du camping et de l'impressionnante boutique. Bref, si c'était à refaire, j'y retournerais car de plus il est très bien situé. Merci.
Oct 25, 2020
Excellent as usual
Oct 25, 2020
Nice and quiet this time of year and during COVID...appreciate the cleanliness of your washrooms too. We seemed to have dropped a little adapter plug on our site 121...don't know if it was/could be retrieved...Thanks...see you next time, P. S. We would like to come back and use the bus system to see the falls area.
Oct 24, 2020
Nous avons beaucoup aimé ce camping. Très propre, très bien situé pour tout (chutes, vignobles, épicerie ...)
Oct 23, 2020
I couldn't say enough about the care and consideration we were given during our stay. Coming across from the US we had to quarantine for 14 days, they set aside six RV spaces around us, that gave us ample space to walk our dogs and exercise and still maintain quarantine space. Lisa and her staff were quick to attend to any need or concern we had, understanding of our Situation.I highly recommend
Oct 21, 2020
Nice and relaxing. Like our 2nd home.
Oct 20, 2020
Very accommodating. Friendly. Clean all around!
Oct 20, 2020
We really enjoyed our stay. The grounds and washrooms are immaculate. Love the garbage pick up at the site. The store is well stocked and fun to browse. Staff are very friendly and have done an amazing job keeping us all safe during Covid-19. Thank you for a wonderful stay and we most certainly will visit again. Suzanne and Family
Oct 19, 2020
Very enjoyable stay. It was very clean. Would like to stay again when there is no covid. �
Oct 19, 2020
Great weekend to end the camping season. As always the campground and facilities were clean and well maintained.
Oct 19, 2020
Both employees we interacted with were friendly. Campground clean. Expensive when you consider NO amenities were available, supposedly due to COVID. Except same amenities (indoor pool and hot tub) are available at nearby hotels!
Oct 19, 2020
Basically a giant parking lot with trees. Lots close enough together that 2 metre distance is impossible at times. Wi-Fi is garbage. In 2020 I find it hard to believe that you can boost the signal so it's strong throughout the entire park. Staff was friendly. Can't imagine being there during a packed weekend in the summer.
Oct 19, 2020
Please fix the back in 30 amp. Sewer on both sides Tripped over twice coming out of rv door And site beside you water and electric box right in your camping area site #46. Campground beautiful Berry boulevard rd and cherry crescent Sites need new full hook ups need to be near our sites not in the middle of sites and no sewer on both sides
Oct 19, 2020
It was only two nights but we had a lovely stay. Thank you.
Oct 19, 2020
Wonder Staff. Wonder facilities.
Oct 19, 2020
Beautiful park, lots of space. We stayed in the Patio Site for a short stay and it was very easy
Oct 18, 2020
It was so relaxing And felt safe going into your very clean washrooms Also you were very accommodating
Oct 17, 2020
Amazing. However, it would have been great to know we needed to bring our own dishes this time! Changes made would be great to know about!
Oct 17, 2020
We stayed at site 126. The 110v / 20 amp connection was significantly damaged and requires repair - it currently is a safety hazard. The black/grey water connection was in very poor condition and requires repair. It currently is a health hazard. Wm. Stover
Oct 15, 2020
It's always a great stay at the KOA in the Falls. Nice clean park and great people
Oct 15, 2020
enjoyed our stay
Oct 15, 2020
We came oct 12th. The staff were great at the check in. The cottage was amazing! It was clean and bigger than expected. We had a great stay!!
Oct 15, 2020
First let me say Thank You . My wife and I had a great experience at this KOA. Amazing staff from the guy taking people to their sites , the friendly office staff to the workers who kept the campground spotless. We have a large 5er and tow vehicle and they were very accommodating. One request my wife would like to make is it wouldn't take much to plant some greenery around the septic and power p
Oct 14, 2020
This is a very nice park but the sites are to small my 24 foot trailer and truck filled the lot couldn't use my fire pit, I will probably not come back.
Oct 14, 2020
We had a great time! Thank you .
Oct 14, 2020
Cabin was so clean and nice
Oct 14, 2020
It was a good time.. good activities and safety measures during COVID. The sites are not that private but a clean park. The heated swimming pool was fun and so were the 4 wheeler bike rentals.
Oct 14, 2020
Overall it was good. We just had few challenges with the living room light, the toilet seat and the grill outside.
Oct 14, 2020
Very nice grounds. Lack of management on guest behaviour; camper three sites down played his music all day long (2 days in a row) enough for me to hear it with doors and windows closed. Park never said a word. Internet very weak. Could not even download my emails from company's Office 365 site.
Apr 23, 2021
This place was really beautiful and well kept. We stayed in a double cabin and I cannot speak highly enough about how clean and well kept the cabin and the bathrooms were!! The service we experienced from the staff at the front desk was just amazing and so helpful! We were in the area for less than 24 hours, and the staff was so helpful in pointing us in the right direction for food and some supplies that we forgot to bring. The view from the porch on the cabin was really nice, and the dog really enjoyed the patio too! All COVID protocols were tightly followed and it's one of the nicest KOA's we've stayed at!!
- keldownie2001 on Trip Advisor
Oct 17, 2020
We have gone here for the past three years. It's so clean and the sites are fantastic. It's a VERY short drive to tourist things as well as the outlet mall. It's definitely a favourite!
- Tori Hadfield on Google
Oct 13, 2020
Stayed this thanksgiving weekend. This campground was well organized, staff was extremely friendly. All in all a great weekend away. Definitely a recommend! They also served free pies for thanksgiving which was a great gesture. Covid protocols were clear and followed by all staff. Will definitely return next season.
- Willem Woudwyk on Google