Plan your Weekend Getaway with KOA!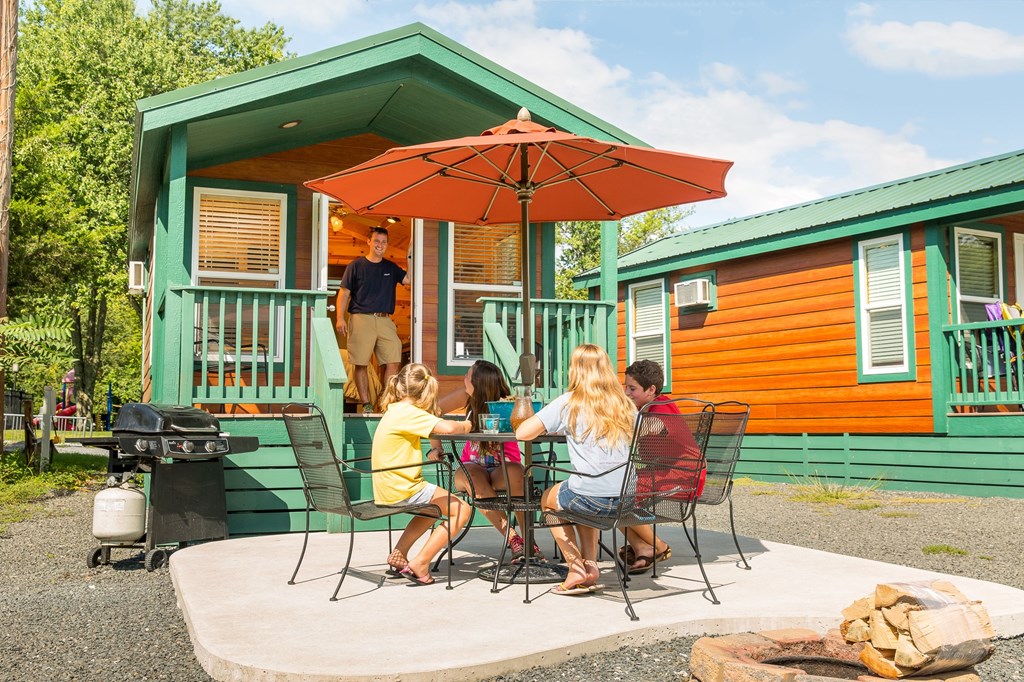 THE BEST WEEKEND GETAWAYS IN NEW YORK FOR EVERY SEASON
When you think of a New York getaway, you might imagine yourself strolling through Central Park, taking in the sights and crowds of Times Square or shopping to your heart's content in Manhattan. While New York City is a beautiful, bustling place to visit, the state of New York is filled with things to do and places to explore that go beyond The Big Apple.
These are some of the best weekend trips in New York State that you and your loved ones can enjoy all year long.
BEST FALL WEEKEND GETAWAYS IN NEW YORK
Autumn in New York brings vivid, sunset-hue leaves, crisp morning air and plenty of fall festivals. No matter where you go, you are guaranteed a sweeping backdrop, which is especially ideal when seeking romantic getaways in New York.
THINGS TO DO
Autumn temperatures in New York range from the 40s to 70s, depending on the month and your location. Your best bet is to bring along light layering pieces, so you are prepared no matter the weather conditions.
Take in the bright colors and fall fun with these New York activities:
Take a foliage tour: You can tour New York's picturesque foliage through walking tours, on hiking trails or even from the comfort of your car. Some of the state's top foliage destinations are near the Hudson Valley, Catskill Mountains and the Adirondacks. Do not forget to bring along a warm blanket and thermos full of cider — you will not regret it!
Visit a farmers' market: Autumn is excellent for tracking farmers' markets. Farmers have a bounty of harvest produce to sell, and many markets also feature local craftsmen, artisans and bakers. They are the place to go for locally sourced goods, like honey, salsa, jewelry and artwork.
Take a farm and orchard tour: Pumpkin patches, hayrides, corn mazes, apple orchards — is there any better way to spend a chilly fall day? Choose a weekend destination near a farm that hosts fall tours and events for a weekend filled with memorable experiences, delicious treats and plenty of photo opportunities.
Go hiking outdoors: Autumn's brisk temperatures make hiking a more comfortable experience, perfect if you plan to hit a long or challenging trail. It is also the best time to go if you want to see the forests at their prime. The Catskills and Watkins Glen State Park are two popular hiking spots for dedicated outdoor enthusiasts.
FALL WEEKEND TRIP DESTINATION IDEAS IN NEW YORK
Ready for fall fun? Plan a trip to one of these New York staples:
Adirondacks: The Adirondack Mountains are home to the famed High Peaks and many of the state's most beautiful destinations, including the towns of Lake Placid and Lake George. Top fall activities in the mountains include biking and hiking through tree-lined trails, taking a ride in a gondola, visiting The Wild Center in Tupper Lake, driving a scenic highway and visiting fall festivals and farm events.
Hudson Valley: A journey through the Hudson Valley takes you 150 miles above the tip of Manhattan, where you will find bustling apple orchards, corn mazes and pumpkin patches, or you can skip the farm and buy directly from one of the area's many farm stands. Visit Brooklyn Cider House for a festive drink and meal before going leaf-peeping at Minnewaska State Park or from the trails of Mohonk Preserve. End your visit with a stop at a local antique store to find a one-of-a-kind souvenir.
Albany: New York's state capital is a great place to visit year-round, but it is especially picturesque in the fall. If you are planning a Halloween visit, you will find several spooky attractions, in addition to farms and orchards. Sample local autumn dishes like warm pastries and hearty meals at local restaurants, or grab a pumpkin latte to go and sip on it while you stroll Washington Park. For a full autumn experience, plan your stay around the Capital Region Apple and Wine Festival or LarkFEST for a family-friendly weekend to remember. Be sure to save room on your schedule for a visit to the New York State Capital building and New York State Museum.
Syracuse: Syracuse has several wineries and breweries, which are the perfect way to kick off any weekend getaway. It is also where you will find Destiny USA, Syracuse's concentrated area of more than 200 shopping and entertainment venues. Take a walk on the New York State Haunted History Trail or take in the autumn trees at Green Lakes State Park before ending the day watching the sunset near Skaneateles Lake.
Cold Spring: Head to Philipstown and spend your weekend in the charming village of Cold Spring for one of the most peaceful weekend getaways in upstate NY. Cold Spring earned its way to the National Register of Historic Places, thanks to its preserved 19th-century shops, homes and commuter train station. Enjoy your favorite comfort foods at a local restaurant and view the village's stunning shades of orange, red and yellow from a bench overlooking the Hudson River.
TOP WINTER WEEKEND GETAWAYS IN NEW YORK
Pack your coziest sweaters and reserve a winter wonderland vacation in New York. Wherever you go, there is no better way to start your day than with a warm café drink and an adventurous spirit.
THINGS TO DO
New York winters are cold, and seasonal storms commonly bring snow and ice to most parts of the state. If you have never spent a winter weekend in this region, remember to pack plenty of warm layers and practice caution when driving. Always check the weather forecast before venturing anywhere rural or challenging to access.
The following activities are some of the best ways to enjoy wintertime in New York:
Try snow sports: Looking for an adrenaline-pumping winter getaway? New York is the place to go. Try your hand at skiing, snowboarding, snowshoeing, sledding, tubing or snowmobiling. End your chilly, snowy day with a hot chocolate and a glowing campfire.
Indulge in new dishes: Get your fill of comfort food by going on a food-themed winter vacation. New York has every type of restaurant you can imagine, from five-star upscale dining to hole-in-the-wall diners. Make a list of cannot-miss eateries and plan your stay around the cafés and restaurants you want to try.
Go sightseeing: Sure, you can go sightseeing all year long — but sightseeing in winter means frozen waterfalls, shops and historic homes covered in icicles and dustings of snow on many days. Bring along your scarf and camera and photograph the breathtaking scenery.
Go ice skating: Ice skating is such a popular winter snow sport in New York that it gets its own category. The Rink at Rockefeller is undoubtedly one of the most popular winter destinations in the state and a must-stop for holiday vacationers near the city. You can also find indoor and outdoor skating rinks in other cities and towns outside of NYC.
Plan a staycation: If you want a stress-free vacation that lets you unplug and reconnect with your loved ones, winter is a great opportunity to plan a staycation. Pick a picturesque spot in New York and reserve a stay at a comfortable cabin. Bring board games, movies, music, arts and crafts and your favorite recipes, and watch the snow fall from inside your warm lodging.


WINTER WEEKEND GETAWAY DESTINATIONS IN NEW YORK
Whether you are warming up with a delicious hot meal in a city restaurant, hitting the ski slopes or touring the NYC holiday lights, New York is full of winter opportunities:
New York City: While New York City is not the only great destination in the state, it is certainly one of the most popular — and that is never truer than in winter. From the see-it-to-believe-it holiday décor, the New Year's Eve bash known around the world or streets lined in snow and lights, winter in NYC is among the top winter weekend getaways in New York. While you are there, stop by traveler-favorite destinations like Central Park and the tree at Rockefeller, but do not forget to seek out those less-touristy activities, like taking in a show at Lincoln Center or touring The Met Cloisters.
Titus Mountain: Looking for affordable weekend getaways in New York that are fun for the whole family? Titus Mountain in Malone houses the Titus Mountain Family Ski Center, an expansive ski and snowboarding facility with numerous trails for all skill levels. You can also go night skiing or tubing. For an inexpensive romantic weekend getaway in upstate New York, head to local casual restaurants and warm up with a meal after an exciting day on the slopes — but you do not want to leave Titus Mountain without picking up some of their locally made maple syrup!
Chautauqua: Head to Chautauqua in Western New York for an authentic winter experience. First, grab your snow gear and get ready for skiing, snowboarding and snow tubing at Peek'n Peak Resort. They even have a beginner's area for first-timers. Then, head back to town for hockey and ice bumper cars before catching a comedy show. If you plan to be there for the weekend, make time to stop at a craft brewery or winery and explore the shop-lined villages.
Rochester: The perfect Rochester weekend during a snowy winter calls for ice skating and attending the Annual New York Ice Wine and Culinary Festival or making a stop at the traditional Native American winter games at Ganondagan State Historic Site. Fuel up with a brewery or distillery tour before spending the remainder of your trip touring art galleries, museums and taking in theater shows.
If you're planning your visit around a festival or event, be sure to check for updates on the event's status before embarking on your trip!
SPRING WEEKEND TRIP IDEAS IN NEW YORK
Every springtime destination in New York promises fresh air and fragrant floral blooms. It is the perfect atmosphere for touring, sightseeing and outdoor exploration.
THINGS TO DO
Like most places, New York springtime can be breezy and wet, so pack accordingly. Regardless if you plan to spend much time outdoors, bring along a pair of rain boots and an umbrella to keep on-hand.
Take in the colors of blooming magnolia and cherry blossom trees while you enjoy these popular springtime activities:
Go sightseeing: There is a lot to see during a New York spring, and the mild temperatures make it ideal for day-long outings. Go sightseeing at some of the state's most famous landmarks — like Ellis Island or The Empire State Building — or seek out historical hotspots, like The North Creek Depot Museum and Frank Lloyd Wright architectural sites.
Take a nature tour: Take advantage of the cooler temperatures and blooming plant life in one of New York's many local, state and national parks. You can also head to a botanical garden, go on a bird-watching expedition or take a guided walking tour for a more educational experience.
Go shopping: New York's cities are known for offering some of the best shopping in the world, but big box stores and designer hubs are not the only places worth visiting. The state is full of artisan shops, small craft markets, family-owned boutiques, chocolatiers and gourmet grocers, where you can find the perfect souvenirs to commemorate your trip.
Slow down and relax: Vacations are the perfect time to try new things and fill your itinerary with non-stop action, but sometimes the best escape is the one that lets you slow down and relax. Gift yourself a spring refresh by reserving a treatment at the spa, enrolling in a yoga class or touring and sampling your way through a winery.
WHERE TO GO
Enjoy a New York spring at any of these popular travel spots:
Niagara Falls: Spring is a great time to cross Niagara Falls off your bucket list. In addition to seeing the Falls themselves, you can travel the Niagara Wine Trail for a taste of local flavor, go on a fishing day trip or hike your way through Niagara Falls State Park. Rent a bicycle to get around even faster. Once you have had your fill of outdoor recreation, head to Earl W. Brydges Artpark State Park to watch a show in the outdoor amphitheater or witness the American Revolution reenactment at Old Fort Niagara.
The Thousand Islands: The Thousand Islands region stretches from Lake Ontario to Lake Champlain, with wetlands, islands and parks that draw in crowds from both Canada and the United States. While fishing and boating are popular choices, there are also plenty of nature parks, restaurants and historic spots in the region. One place you cannot miss is Boldt Castle near Alexandria Bay. Millionaire George Boldt commissioned the castle as a testament to the love he had for his wife — but after her untimely passing a few years into construction, Boldt never returned to the castle upon completion. Since then, it has been a popular tourist spot for history and architecture enthusiasts.
Buffalo: Enjoy a bright springtime trip to America's third-oldest zoo in Buffalo, where you can see giraffes, gorillas, bison, hyenas, reindeer, lions, arctic animals and so much more. After the zoo, make your way to Buffalo and Erie County Botanical Gardens to see the spring blooms or take an art class. Take a brisk walk and pack a picnic for an afternoon lunch at Canalside before ending your trip with a tour of the Buffalo and Erie County Naval and Military Park and family museum.
Shawangunk: Take advantage of the mild spring weather and explore the Shawangunk — or the "Gunks," as locals know it — a ridge formation west of the Hudson River. The quartz Gunks are ideal for rock climbing and hiking, with never-ending views of pristine waterfalls and sparkling lakes.
HOTTEST SUMMER WEEKEND GETAWAY IDEAS IN NEW YORK
Break out the beach towels and lather on the sunscreen because summer in New York is a non-stop season of ice cream cones, festivals and ocean waves.


THINGS TO DO IN NEW YORK IN THE SUMMER
From sparkling pools and salty waves to music festivals and camping trips, summer means something different to everyone. Fortunately, New York has enough variety to keep every summer traveler content.
Here are some of the best things you can do for a memorable summer vacation:
Try water sports: Head to the coast for the weekend or plan your getaway to one of New York's sparkling freshwater lakes and cool off with water sports like swimming, boating, kayaking, fishing and waterskiing. For sunshine-filled day trips in New York, consider packing a picnic and chartering a sailboat for a sunrise or sunset cruise.
Relax at the beach: Manhattan Beach, Long Island, Montauk — New York is beloved for some of the most picturesque and visitor-friendly beaches on the coast. Whether you are seeking an elegant waterside meal or an energetic crowd, there is a beach spot for your summer getaway.
Attend a festival: New York hosts festivals all year long, but summer is prime time to attend a music, arts, comedy or cooking celebration. Of course, this is in addition to the Independence Day bashes you will find throughout the state in July — no matter what you love, New York likely has a festival highlighting it!
Visit a boardwalk: Boardwalks and summertime are nearly synonymous. These destinations are ideal for romantic strolls or family-friendly day trips because they offer endless dining, shopping and entertainment options, all with a view of lulling ocean waves.
Go camping: Summer is ideal camping weather — especially in New York, where you can expect warm temperatures and endless outdoor recreation. Tent camping is an immersive outdoor vacation, or you can reserve a cabin or RV Site for a comfortable escape.
SUMMER GETAWAY DESTINATIONS IN NEW YORK
Ready for a summer retreat? Here are some of travelers' top picks:
Catskill: The Catskill Mountains are such a popular visitor's destination that many families and couples make it an annual tradition to return to the area each summer. While there, you can explore endless parks, lakes and waterfalls, snap a picture in front of the Hudson-Athens Lighthouse, go mountain biking, ziplining, swimming and whitewater rafting or attend a local festival. The Catskills are also the birthplace of American fly-fishing, with local guides on standby for beginner anglers.
Saratoga: Summer in Saratoga is full of seasonal farmers' markets, horse racing, car shows, fireworks and carnivals — but the real showstopper is taking a trip to one of the famous Saratoga mineral springs. Bring a water bottle and grab a tour map to sample the naturally carbonated mineral water, each with a distinct taste and health benefits. Who knew drinking water could be so much fun?
Coney Island: There are few spots in the U.S. as iconic and well-known as Coney Island. This is where to go if you want a truly authentic American summertime experience, complete with beachside fun, carnival food, amusement rides, circus sideshows and a massive fireworks display every Friday night.
Finger Lakes: If you are interested in inexpensive romantic weekend getaways in New York, the Finger Lakes region is the place for you. Known as one of the best regions in the world for wine, Finger Lakes also encompasses several lakes, museums, breweries and distilleries. Watkins Glen State Park has jaw-dropping gorges and waterfalls, perfect for a romantic day trip.
MAKE KAMPGROUNDS OF AMERICA YOUR HOME BASE
With more than 500 North American locations, KOA knows what it takes to have a safe, fun and memorable vacation. Make KOA your home base for your New York explorations, or reserve a stay at a KOA with on-site activities and amenities for the ultimate camping trip, no matter the time of year.


WHY STAY AT KOA?
KOA is the perfect home base for weekend getaways in New York. Begin and end your day gathered around your crackling campfire, enjoy fun on-site amenities and get to know fellow travelers for a truly memorable trip.
Here are just a few reasons KOA is the best place for your upcoming trip:
On-site amenities: Every KOA location has something fun to offer for campers of all types and ages! Depending on where you stay, your KOA may have a pool, hot tub, on-site bicycle rentals, a kid-friendly play area, scheduled activities and events and dog parks. Specific amenities vary between campgrounds — call ahead to your chosen location for a complete list of amenities and services. Every KOA site has a private fire ring for late-night marshmallows and spacious, level campsites within easy reach of restrooms with hot water.
Close to the action: New York is home to more than a dozen KOA locations, and each one puts you close to a destination worth exploring. Let KOA be your home base when you travel to gorgeous parks, charming small towns and bustling cityscapes.
Helpful staff: Want a recommendation for the best family-friendly restaurant nearby? Need help figuring out which local trails to hit first? At KOA, friendly staff is always on standby to answer questions and help you get the most out of your vacation.
Endless options: KOA lets you vacation how you want. Choose from different types of lodging, find a pet-friendly campground for your four-legged family member or attend fun on-site events to meet fellow campers. Many KOA locations are open all year long, so you can KOA your way, whenever you are ready for an escape.
A VARIETY OF WAYS TO STAY
When you stay at KOA, you get to choose how you experience the great outdoors. Select your favorite from any of the following sites and lodging options:
LET KOA HELP YOU PLAN YOUR NEW YORK GETAWAY TODAY!
New York State has everything you need for a fun-filled vacation, whatever time of year you choose to travel. Enjoy everything from hiking, skiing and fishing to touring distilleries and exploring wine trails. Every KOA Campground is ready to enhance your experience with activities, amenities, helpful staff and comfortable lodging. Find a KOA location near your New York bucket list and start planning your getaway today!
---