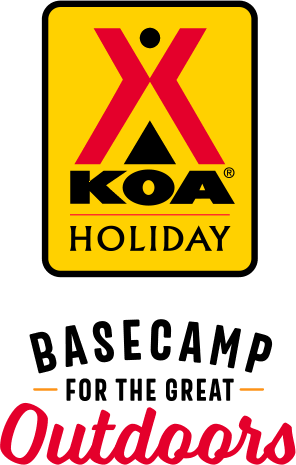 KOA Holiday Campgrounds
Whether you're exploring the local area or hanging out at the campground, KOA Holidays are an ideal place to relax and play. There's plenty to do, with amenities and services to make your stay memorable. Plus, you'll enjoy the outdoor experience with upgraded RV Sites with KOA Patio® and Deluxe Cabins with full baths for camping in comfort. Bring your family, bring your friends, or bring the whole group – there's plenty of ways to stay and explore.
KOA Holidays Feature:
RV Sites with a KOA Patio®
Deluxe Cabins with full baths
Premium Tent Sites
Group meeting facilities
Directions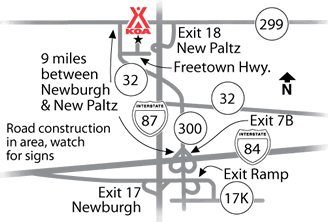 From Newburgh: I-84 Exit 7B or I-87 Exit 17, north 3 miles on NY 300, north 6 miles on NY 32 to Freetown Hwy. From New Paltz: I-87 Exit 18, west 0.25 mile on NY 299, left on S Putt Corners Rd, left on NY 32 S, 7 miles to left on Freetown Hwy.  GPS: N41.639226, W74.102595
Get Google Directions
Jun 16, 2021
Don't understand why the escort to your site was eliminated
Jun 16, 2021
Only stayed overnight, but very nice and enjoyable.
Jun 15, 2021
Site we were assigned did not have proper drainage for black/grey tanks so had to relocate after already set up. Moved us to an alleged "premium site" right on the parking lot and had extremely low water pressure. Was such a hecktick experience that KOA could have avoided. They were aware of the drainage issue before we arrived. We were refunded a night due to inconvenience. Do better KOA staf
Jun 15, 2021
Had a great time!!! Friendly staff, friendly neighbors, no complaints!! Thank you for a great time.
Jun 14, 2021
Excellent, everyone was so friendly ! Spotless
Jun 14, 2021
very nice place.
Jun 14, 2021
Clean, helpful staff, everything you need plus free pancakes! Great place to stay
Jun 14, 2021
Generally, spaces are tight and no privacy and no quite hr after 10pm some drunken ppl are loud till 2am.. but staffs are super nice.
Jun 14, 2021
Just an overnight but we stay there alot.
Jun 14, 2021
The staff was very friendly and the grounds were clean.
Jun 14, 2021
Love camping at koa!!! Always a great experience!!!
Jun 14, 2021
Great experience! The staff is SO friendly. The areas are kept clean and the sites are well managed. Can't wait to get back.
Jun 14, 2021
Wonderful stay except that my cabin K120 had a non-working overhead light. There was a floor lamp but it didn't reach every section of the room like an overhead light would have. Other than that, it was nice.
Jun 13, 2021
Nice campground. Very wooded and sites fairly well separated. Only issues were the swimming pool water was green (and closed) and the drinking water had a lot of sediment from the maintenance that was going on. Luckily we have a good water filter. These two things are temporary so would still recommend.
Jun 13, 2021
It was very good.
Jun 12, 2021
Very friendly and helpful staff.
Jun 12, 2021
Great staff, clean campground and plenty to do. Highly recommend!!!
Jun 12, 2021
Only problem was when we first arrived the pools were closed due to bacteria. Very disappointing for the kids. One of the pools were cleaned and open on the second day and we were relieved. Otherwise everything was great!
Jun 11, 2021
Very nice campground so much to do for kids just wished the activity schedule was updated or a sheet was given out of the activities so we could know what was happening
Jun 10, 2021
Showers and bathrooms were not cleaned/restocked daily. Angela was GREAT getting us reservations for next season! Thank you!!
Jun 10, 2021
BeAutiful. Every site has woods and shade. Feels like you are in the forest. Loved it
Jun 10, 2021
It was late when we arrived. All was as expected as we have arrived late to other locations. The directions were easy to follow and we had no issues with the site. We liked it so well that we have reserved for another later date and will again when we travel though the area in the future. Thanks!
Jun 10, 2021
The grounds are not kept to standard, one of the two pools was defunct, the go-karts were in poor condition, and the pond was not well maintained. Overall, this is one of the most tired KOA's we've ever stayed at. The young woman at the front desk explained to us that we needed to pull into our site opposite of the hookups, and could not tell us what kind of fish were stocked in the pond.
Jun 09, 2021
It was good wanted to stay longer
Jun 08, 2021
It Was very Nice and quiet the way we like it. We will definitely come back.
Jun 08, 2021
Beautiful campground. Level sites, lots of trees and privacy.
Jun 08, 2021
We brought our 4 grandkids camping with us and it was awesome. Everyone was very friendly and we all had a great time.
Jun 08, 2021
Great family oriented place to stay. Employees are very friendly and helpful. Clean pool and clean campground. Just don't forget to bring your bug spray, lots of mosquitoes!
Jun 08, 2021
Nicest campground we've been to in many years. I'm thinking of getting a seasonal site there for next spring.
Jun 07, 2021
As always; had a great time! The cabins were clean. Pool was refreshing. Pancakes in the morning; great way to start the day. This time had great quiet respectful neighbor also. The store is very conveniant. All the camp attendants were respectful and very helpful. Showers and bathrooms were also very clean and campgrounds well-kept. Only glitch were the mosquitos especially right around sunset.
Jun 07, 2021
It was awesome and Carol was so good with the kids!
Jun 07, 2021
Had an ok stay. Bathrooms once again could have been kept in better condition, especially if you are going to let daily visitors come into the campground to use the facilities on a busy weekend. Also, many repairs need to be made. Seems like management doesn't care anymore.
Jun 07, 2021
in need of some attention...one pool out of commission, WiFi lacking, multiple water outages, bathrooms/showers not clean, no paper towels available for most of the weekend. new pancake process was much more efficient though!
Jun 07, 2021
Had a great time. Three dads seven little kids. Lots of activities. Really fun.
Jun 07, 2021
Wonderful Staff nice accommodations
Jun 07, 2021
We love it at KOA Newburgh/Plattekill, NY. Our girls know the staff and they feel safe. We hope the painted rocks they left are enjoyed by many.
Jun 07, 2021
2nd time staying. Not the last. Only thing slightly irregular was the scent of dog as we were directly opposite a dog walk. Mother nature was sending heat like it was Mid August so all understandable. This campground is the perfect spot to relax n unhitch. The staff is excellent. Wine tasting! Who can be miserable with fluffy free pancakes!!! Excellent place to camp. Ty.
Jun 07, 2021
We've been coming up this KOA for over 35 years. Very disappointed on the lack of care to the whole property. Staff is friendly. Don't think we will be coming back again.
Jun 07, 2021
This was my families first trip camping with our new trailer and our stay was terrific. The staff was all very friendly and the facility was clean. We will definitely be back soon,
Jun 07, 2021
The park was one of the best we have been in. The restrooms were very clean, and the layout of the park gave us a more secluded feel. Our site was wooded with trees and undergrowth partially shielding us from the neighbors. Since we did not travel with children we didn't take advantage of the many outdoor options but they were impressive.
Jun 07, 2021
Staff very friendly. Deluxe cabin was nice but 281 for one night was steep. Only 1 TV which didn't have a great pic, water level very low. Hard to flush and long time to get heat. Last day no water at all! Kids loved the playground.
May 12, 2021
We are big fans of the campground, the staff and work campers are all great. The campground is heavily wooded, which makes it feel more private than many KOA's. The fishing pond is small and not very well stocked, but there are several private ponds on nearby farms that have a lot of fish. We live close to this campground, so this is where we go to winterize and dewinterize our motorhome.
- Stewart Stimson on Google
May 20, 2021
We enjoyed this KOA, It was busy but I would rather have it that way. Bathrooms were ok (could of used a bit of a refresh). But the Basic cabins unlike other KOA's have really nothing in them- No AC so the summer time could be brutal. Most of the other basic cabins we have stayed at had AC and cost less per night.
- B T on Google
May 18, 2021
Basic but nice campground. Decently spaced sites
- Michael Ranadazzo on Google