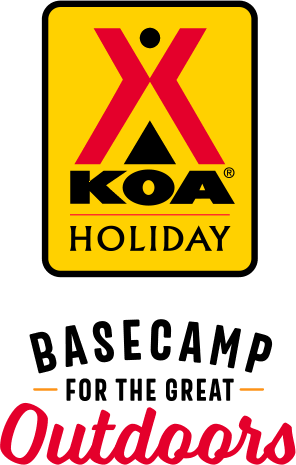 KOA Holiday Campgrounds
Whether you're exploring the local area or hanging out at the campground, KOA Holidays are an ideal place to relax and play. There's plenty to do, with amenities and services to make your stay memorable. Plus, you'll enjoy the outdoor experience with upgraded RV Sites with KOA Patio® and Deluxe Cabins with full baths for camping in comfort. Bring your family, bring your friends, or bring the whole group – there's plenty of ways to stay and explore.
KOA Holidays Feature:
RV Sites with a KOA Patio®
Deluxe Cabins with full baths
Premium Tent Sites
Group meeting facilities
Directions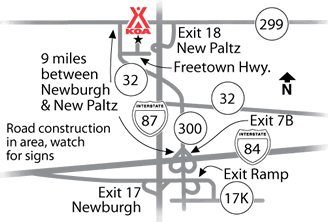 From Newburgh: I-84 Exit 7B or I-87 Exit 17, north 3 miles on NY 300, north 6 miles on NY 32 to Freetown Hwy. From New Paltz: I-87 Exit 18, west 0.25 mile on NY 299, left on S Putt Corners Rd, left on NY 32 S, 7 miles to left on Freetown Hwy.  GPS: N41.639226, W74.102595
Get Google Directions
Sep 17, 2021
We added a night on the end of our stay and they were able to accommodate us with a new site that we liked a lot. It had a lot of privacy but it was tricky finding a fairly level spot.
Sep 17, 2021
Our overnight stay worked out well.
Sep 17, 2021
Everything was great but you guys need to keep up on the bathrooms in the showers they were kind of dirty
Sep 17, 2021
Very welcoming and helpful staff. Sites of good size. Check your water, it left my filter cartridge in need of replacement.
Sep 17, 2021
Just one night. Had a shaded pull thru spot. Small campground with friendly staff. Very clean. One of the better campgrounds we have stayed at. Would definitely stay here again.
Sep 17, 2021
Great campground for our short stay overnight would definitely stay again if in the area
Sep 17, 2021
Nice campground and close to NYC. 20 minutes to train station to take into NYC. Quiet and a good stop over place
Sep 17, 2021
Good stay other then the rain all night long
Sep 16, 2021
The camp sites are large, level and shady which was nice-my biggest issue is having to pay a resort fee and a pet fee- I have been a KOA VIP member for many years and this was the first time I had to pay either one-WHY?(I did question the pet fee and the staff said you must pay it) why does everyone pay a resort fee if they do not use that part of the campground
Sep 16, 2021
Nice campsites.
Sep 16, 2021
Many of sites are not level. Auto leveling system was not able to level sites due to they were 3.5 degrees front to rear. Even with block we were unable to level 32' class C. We moved to R section however it was more like a parking lot. Would not return.
Sep 15, 2021
Nice location, The WiFi is almost non-existent Sheldon if ever functions. Upon our arrival, the site we had reserved and paid for was suddenly not available. The situation was resolved with a partial refund and a different site.
Sep 15, 2021
Will go back
Sep 15, 2021
This site is a bit noisy, as some visitors do not follow the quiet hour rules. The cleanliness of the camp could also be improved.
Sep 15, 2021
Campsite was nice, quiet. Store was large. Little winery was very cute and we did a bit of tasting. Very nice.
Sep 15, 2021
I realize there are seasonal campers at every campground, but to allow them to get so comfy that they display political banners is just not right. Camping is the one thing we do where we can escape politics, but not at this KOA! If you're a Trump supporter you'll fit right in, if not, I suggest finding a different campground.
Sep 15, 2021
It's always a pleasure staying at KOA. The campground was clean and the staff was very friendly.
Sep 15, 2021
TV in all 3 cabins didn't work but they did give me a discount which I appreciated. My big issue is there are 2 huge floodlights near the mini golf section that came on at 1145 pm while i was enjoying a fire in my fire pit. The lights were so bright I couldn't even see the stars in the sky. My night outside was ruined. Those lights should be on a motion detector and turn off after a short time.
Sep 14, 2021
Not big rig friendly. Don't plan on satellite tv. At night the smoke is thicker than fog. Cable tv not good. Dog park grass 6" tall. Some permanent sites that are poorly maintained. Make sure you check your invoice at check in. Pricing is not consistent.
Sep 14, 2021
What a perfect weekend!! The weather was great, warm days, cool nights, great for a fire to sit by. It couldn't have been a better weekend.
Sep 14, 2021
The location was gorgeous, however the lodge was the dirtiest I've ever visited. There was an extreme accumulation of dust everywhere, from the ceiling fan, the window, window/door edging and shades, the Air conditioning was so bad we couldn't even use it, toilet had a stain from someone else (previous from us checked in), the grill was so disgusting, broken and leaking, had never been scrubbed.
Sep 14, 2021
The staff were very nice, especially the ladies in the General Store.
Sep 14, 2021
Site worked out great. Convenient location. Great place to walk the dog as well.
Sep 14, 2021
We just stopped by for an overnight. I thought it was a little expensive but it was a nice place and the workers were very friendly
Sep 13, 2021
We were with a group, and our site was five sites down from everyone else. the sites between us were never used. I don't believe we will be back. This has never happened before and we stay at a lot of KOA's.
Sep 13, 2021
No activity for adults, no poop bags in any of the holders, grass very high in K9 park.
Sep 13, 2021
Great campground
Sep 13, 2021
We've been coming to this campground for 20 years and I don't know if they're going through a management change or what, but the place needs some improvement. Friday there was a sign for a free pancake breakfast on Saturday, on Saturday morning the sign was gone, no panckakes. Teen "employees" were spending more time with their friends than anything else. Mini golf was in disrepair
Sep 13, 2021
This stay was a huge disappointment for me. Our site was switched at the last minute to a site with power not working half the stay, and I had a dumpster sitting to the back of me, which good thing it wasn't to hot because it would have been an awful smell. What upsets me, is that I used to work at this campground way back when and it was always well kept. It's just so sad to see it like it is
Sep 13, 2021
Nice place. Emploees were some what unexperieced at the office, but nice. Your fire pits should be improved, loose rocks are not recommended, especially if a fall due to them occurs.
Sep 13, 2021
The campground is excellent, especially if you have a kid. However, for tent camping, this might not be the ideal place. RVs are very dominant, and they have a different camping culture. People were not obeying the quiet hour's rules. The campsite itself had a dance party btw 6:30-9:30, and the music was deafening. Overall, we will not revisit until our daughter gets 6-7 years old.
Sep 13, 2021
Got a tent site. Site was sloped down hill had to put the tent where I would have parked. The fire ring was collapsed just a pile of rocks. The men's room off of the main building had a broken urinal and bothe toilets were disgusting. Poop on 1 toilet seat and pee all over the other 1. Definitely won't stay at this koa again.
Sep 12, 2021
Great site super clean very large campsite. Had a wonderful relaxing stay....
Sep 11, 2021
Staff member Hector was super friendly & helpful. The campsites were adequate but definitely needed some vegetation management especially along the roadways. Great for an overnight stay.
Sep 11, 2021
Campground has a lot of trees. Would be nice if someone took you to your site as roads are tight.
Sep 11, 2021
Although your office staff were very nice, they apparently weren't trained very well, as they couldn't answer any of our questions. They should have had the info handy so if asked, they could answer. I have had so many disappointing stays with KOA and will continue to try and not stay there anymore unless I know ahead of time it is clean and convenient.
Sep 10, 2021
We arrived very early in the day unfortunately our site was still occupied, we were told there wasn't any room for us to keep the Motorhome while we waited. Had to leave for the day, Even though there was a fairly large open parking area? Ended up coming back after office was closed but found out site and checked in the am after a little confusion but all worked out … staff was great
Sep 09, 2021
The stay was very enjoyable, however the section where I was assigned had little to no water pressure in the mornings.
Sep 09, 2021
Camp was clean with a staff always around for any questions or help. Plenty to do, sites where large with just enough privacy. Highly recommended.
Sep 08, 2021
The bathrooms during our stay were disgusting. I was told that the water pressure was low but that is not a good answer. You should have contingency plans. The bathroom is the most important thing for campers. It can not be dirty. I put on some gloves and cleaned it even though it was not my job. I was just camping there. It was never great but this year was terrible.
Sep 08, 2021
I've been coming here for 5 years and I can say the maintenance this year was horrible. The bathrooms and showers were disgusting the entire time. The people in charge of maintaining this campsite were teenagers. During my stay, I did not see the person who was above 20 years old and I did not feel like my requests were taken seriously. I'm looking for another campsite to take my family next
Sep 08, 2021
Had such a great time. The activities were incredible as usual; thank you Carol... you're the best! We had a super time, and our site was terrific, oh! And the pancakes... Delicious! Thank You...I love the Newburgh KOA!
Sep 08, 2021
not much good to say, dumpsters were overflowing with trash, in fact they are too cheap to get another dumpster that they put an open cart in place of a dumpster so every night the animals were making a mess while looking for a meal
Sep 18, 2021
I just got unlucky at this otherwise very popular, very scenic site conveniently located between the Hudson corridor and the coastal cities, but management was SO helpful, it made for a solid learning experience in the end. As a first time KOA camper, I was a bit concerned when I got in and saw that it was packed on a Friday night, but then all the families and RV sites with cookouts and kids and campfires and firecrackers respectfully wrapped up their warm September night festivities by "quiet hours"…except for the jam packed site next to mine. They were just having fun and socializing (sounded like a blast!) but it was VERY loud and quite obviously after quiet hours as they were the only site still partying well after 10pm—into 2:30am! I didn't even ask if they would quiet down at first just *when* they planned to wrap things up, and that's when the party started getting combative. If I'd been a seasoned KOA camper I would have known to call the security line (instead I called the front desk—to no avail, naturally as it was so so late!), but I was so surprised and heartened to hear from KOA management at this site the very next day. Very unexpected and an above-and-beyond thoughtful touch after my plain bad luck. Knowing all this now, I would feel very confident—and now, better informed/-camping at even the busiest KOA sites looking ahead. During that loud sleepless night, I wasn't so sure! It's reassuring to know that even when you get unlucky, or folks let good fun get the better of themselves, even busy (and beautiful) sites like this have a human touch to help maintain a sense of neighborly respect. Also, for a busy site, it's very well maintained! Both bathrooms and sites. The cute little wine shop is a Hudson valley plus! And if you don't end up with a noisy neighbor (hopefully rare!), the woods at night are blissful and full of life. Feels a million miles away even though you're just a skip from the coast.
- Katie B Kohn on Google
Sep 12, 2021
We had a FHU/50 amp back in site. About $65 w/KOA discount. One of the nicest KOA's we've been too. Sites are fairly spaced apart, semi-level. Roads are clear and trimmed. Very clean. This is a very family & dog friendly place. A lot of activities for kiddos, a fishing pond, playground, pool, bikes, jump bubble, put-put golf, a fantastic dog park with agility toys. Many activities, this is a very popular and active place. The campground is really wooded with plenty of shade. There are several nature trails for walking into the woods. Nice well stocked store. I saw a sign out front that said they offer wine tasting from a local winery, we didn't partake but they offer it. Unfortunately they've canceled all the tours that pick you up at the campground and take you into New York City. That was very disappointing(not the campgrounds fault of course) Drive over the Hudson and into Poughkeepsie, The BEST Italian DELI is "Rossi and Sons" local neighborhood deli, (don't miss that!!) Just down the road from the KOA is New Paltz - a really quaint little college town. Hyde park is very close by , the Roosevelt and The Vanderbilt Mansions are there. There was lovely parks to walk and ride bikes there. We drove down to Manhattan and spent the day there it was a 2 Hour drive, but well worth it. The Hudson Valley Railroad is in Poughkeepsie, you can take the train in Grand Central Station, NYC .. 2 hours, $40/RT.
- Nan Griff on Google