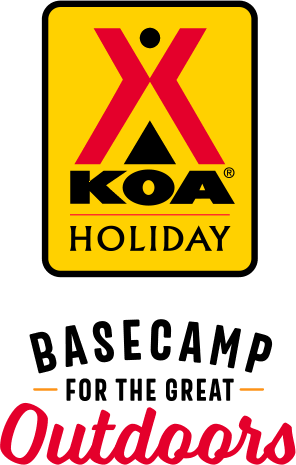 KOA Holiday Campgrounds
Whether you're exploring the local area or hanging out at the campground, KOA Holidays are an ideal place to relax and play. There's plenty to do, with amenities and services to make your stay memorable. Plus, you'll enjoy the outdoor experience with upgraded RV Sites with KOA Patio® and Deluxe Cabins with full baths for camping in comfort. Bring your family, bring your friends, or bring the whole group – there's plenty of ways to stay and explore.
KOA Holidays Feature:
RV Sites with a KOA Patio®
Deluxe Cabins with full baths
Premium Tent Sites
Group meeting facilities
Directions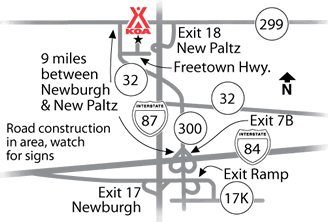 From Newburgh: I-84 Exit 7B or I-87 Exit 17, north 3 miles on NY 300, north 6 miles on NY 32 to Freetown Hwy. From New Paltz: I-87 Exit 18, west 0.25 mile on NY 299, left on S Putt Corners Rd, left on NY 32 S, 7 miles to left on Freetown Hwy.  GPS: N41.639226, W74.102595
Get Google Directions
Apr 06, 2021
Great atmosphere!! Very friendly staff!!
Apr 05, 2021
Late getting my trailer from storage to site, but otherwise always a great time. Corporation should think about repaving the roads.
Apr 05, 2021
This was a wonderfully run KOA. The grounds were nicely maintained. The staff was very friendly and helpful. We had no problem finding our site. We were there over Easter weekend and our kids loved all of the activities that were planned. We will definitely be back!
Apr 05, 2021
We had a really good time and there was a lot of activities! The campground was clean and the store was well stocked. Our only slight complaint was our camper just barely fit into our site and it was mostly a hillside outside the camper door. It won't stop us from coming back because we found plenty of other better sites to book now that we've seen them in person!
Apr 05, 2021
Terrible WiFi. If it's this bad in the beginning of April when campground is not full, it's going to be useless in season.
Apr 05, 2021
Site #43 nice size site. Bathrooms clean. Staff was very nice.
Apr 05, 2021
the room was freezing had to sleep in my car no heat, told there was a television but none
Apr 05, 2021
Check in and out was super easy. Facilities were good and amenities were there. The site we had was nice and level and all the hookups were very close and convenient but it was small and we felt cramped in with our neighbors. Our second night there was an extremely loud group in the cabins behind me that carried on until way after midnight and nothing was done about i. Overall, we had a nice time.
Apr 03, 2021
it was a good get away for my wife and I 32 year anniversary... definitely coming back!!!
Apr 02, 2021
Nice clean site and perfect spot for a few days of relaxation!
Apr 02, 2021
The deluxe cabin was very small and filthy. The barbecue was rusty and there was dried food on the dishes. The cabin had a small sink and college dorm room size refrigerator but no stove. The bed was very uncomfortable and the mattress, box spring, mattress protector were filthy as well. Our neighbor in the cabin next to us had toenail clippings all over his floor. Not recommended.
Apr 02, 2021
Different staff but same great hospitality and fun
Apr 02, 2021
I have stayed at other KOA's before and had an expectation that fell far short. The cabin we rented was dirty. There were toenail and fingernail clippings in the bathroom. The counters were dirty and the shower was extremely dirty with lint and even pubic hair in the corner. I am assuming this fell trough the cracks and it is not usually this dirty. The staff was very friendly and helpful.
Mar 31, 2021
This was one of the worse stays ever. Don't get me wrong the staff is friendly and the front store and facilities are clean. But the 3 Deluxe cabins they have and it's only 3 are disgusting, dirty, no hot water whole trip and the water smelt funny not to mention the carpenter ants in the kids room. We take showers by boiling water on the stove. Look for my Google review for the full story
Mar 31, 2021
The grounds were well kept and the staff was extremely friendly. Unfortunately the deluxe cabin rented was not ready. The cabin was filthy, unleveled, the hot water was not working, and the supplies in the cabin were inconsistent for four people.
Mar 31, 2021
Granted, growing pains are to be expected, I would have expected the new manager to ride around with Caroll to meet the campers-much line Karen did when she started years ago. I got the solid impression that this is no longer a warm caring campground but now more of a corporate money grabber. I'm sorry to not see all the old familiar faces, thankfully Caroll is till there, you need more of her
Mar 31, 2021
It was quiet and very relaxing. The staff was super nice and courteous. Facilities were clean. Looking forward to a future trip during peak season when all the amenities are open.
Mar 31, 2021
excellent property, super clean and very super friendly staff,
Nov 12, 2020
First time camping. Came Halloween week. A bit cold. Def will be back for a summer trip. All your employees were friendly. Carol was by far the best. Def a great employee you have there!
Nov 06, 2020
We stayed Halloween weekend and it was so great! So many wonderful events for the kids and everyone was friendly, helpful and made for an excellent weekend.
Nov 06, 2020
Great place to stay. Even during the Covid mess they found things for people to do. Can't wait till next spring to do it again.
Nov 05, 2020
Hi my husband and I have a site at KOA for years and hope to continue. want to wish the new manager good luck, sorry we didn't get to meet you at the end of the season. would like you to mention to people reservng and checking in that it's important to clean up after your dogs. there are people who just let their pets do their business and not clean up after them
Nov 05, 2020
The Kabin we stayed in is in need of major repairs. There is a soft spot on the floor by the door from obvious water damage. Also one if the kitchen cabinet doors fell off when I opened it to get a pan to make breakfast. I ordered a wagon of wood to be delivered when I checked in and it was never delivered. Also our pipes froze and we had no water I called for some help and no one ever showed up.
Nov 05, 2020
Carol was excellent. We had a great time trick or treating, etc. at the camp ground.
Nov 05, 2020
Everything we great people staff except bathrooms were always dirty
Nov 05, 2020
Stayed in a cabin with my husband and me. Heater kept the cabin nice and warm.Just right for our family Halloween weekend.
Nov 04, 2020
I have been coming there for over 20 years it is my home away from home. It's my sanctuary. It's close to home so if I need to get back it's easy to get to. I love the words and all the trees and just being out in nature. Staff has always been very friendly and helpful. Would love to see a bathroom put in by the pool area.
Nov 04, 2020
Beautiful sites surrounded by trees. Fantastic fall colors.
Nov 03, 2020
Nothing special... small campground, not very scenic at all. Part of the campground is actually a parking lot!
Nov 03, 2020
We stayed at this campground for Halloween weekend and it was fantastic. Carol had a lot of activities planned and the kids had a great time! We'll definitely be back next summer!
Nov 03, 2020
A fun Halloween weekend!!
Nov 01, 2020
We stayed 10/27/20 for 3 nights. This CG was clean and quiet. We had full hook ups with 50 amps. We did not have an issue with any of the utilities. Cable was was available and adequate. Check in was efficient and uneventful. We are self contained and did not use any amenities.
Oct 29, 2020
Staff are wonderful and campground was clean. Good activities even during the difficulty of COVID-19.
Oct 29, 2020
Short stay every thing was fine
Oct 29, 2020
Nice clean level site. Clean bath house and a very nice polite helpful staff! Excellent campground, reasonable prices!!
Oct 28, 2020
My family and I visit this KOA every year. For the price, it is disgraceful, especially now with COVID changes. The studio lodge has terrible water temperature, ranging from burning to freezing, back & forth, within one shower, making it impossible to use. Due to COVID, there were no pancakes, no rock climbing wall, no 4 wheeler bikes, no pumpkin decorating/carving activities, etc.
Mar 01, 2021
i use to go campng with my dad ,sister ,bros in the 80s .i loved it, it was so much fun in the tent we had,we went on hay ride ,watched movies ,played games in game room
- candy o on Google
Feb 17, 2021
Always an amazing time!!!!
- Mike Yankee on Google
Oct 30, 2020
Tres jolie
- christian turco on Google