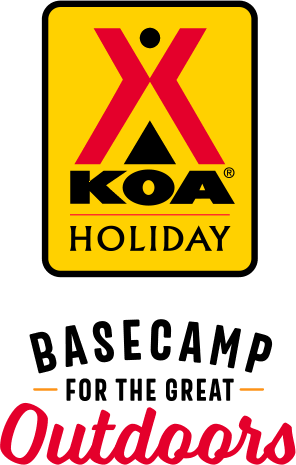 KOA Holiday Campgrounds
Whether you're exploring the local area or hanging out at the campground, KOA Holidays are an ideal place to relax and play. There's plenty to do, with amenities and services to make your stay memorable. Plus, you'll enjoy the outdoor experience with upgraded RV Sites with KOA Patio® and Deluxe Cabins with full baths for camping in comfort. Bring your family, bring your friends, or bring the whole group – there's plenty of ways to stay and explore.
KOA Holidays Feature:
RV Sites with a KOA Patio®
Deluxe Cabins with full baths
Premium Tent Sites
Group meeting facilities
Directions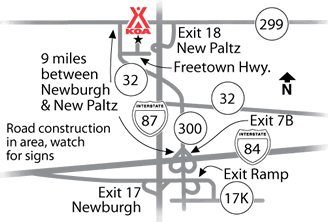 From Newburgh: I-84 Exit 7B or I-87 Exit 17, north 3 miles on NY 300, north 6 miles on NY 32 to Freetown Hwy. From New Paltz: I-87 Exit 18, west 0.25 mile on NY 299, left on S Putt Corners Rd, left on NY 32 S, 7 miles to left on Freetown Hwy.  GPS: N41.639226, W74.102595
Get Google Directions
Nov 16, 2021
loved the pool sad 2nd pool was closed did not know prior to arrival, we loved the pancakes we wish we went every day we did not but the last but they were sooo good and the staff so nice!!
Nov 05, 2021
We enjoyed every minute there
Nov 03, 2021
The wifi is completely unreliable, the water pressure is terrible, one pool was closed all year, other amenities were non-existent and campground safety and etiquette rules were not enforced. And DJs playing music at obscene volume levels almost every weekend does not make for a peaceful, quiet family camping experience.
Nov 03, 2021
Our familys home away from home. Casy, Destiny and Melissa are always here when we need them. big shout out to Paul in mantenance never stops. SEE YOU NEXT YEAR.
Nov 03, 2021
Karol is the best!!
Nov 03, 2021
Foot deep potholes with all the material to fix right next to them (five minutes work) all over the park roads. Right side of entrance road has low branches, took a direct hit on the way out. Dumpy park, roads leading to it and within park not suited for class A rigs. Further from highways than would appear, will never return.
Nov 02, 2021
Great location. Clean grounds. Friendly staff
Nov 02, 2021
Stay was quiet. Nice. But I need to make some comments. I have visited this KOA over many years and am disappointed in what I see. The roadway to the sites are pot holed in many areas, the electric boxes I have seen are not totally attached to the 4x4 posts, in some areas cable wires run across sites, dangerous to walking, roadways are uneven , open areas along the sides. This KOA needs WORK
Nov 02, 2021
Only overnight, but the sites were lovely and the staff was very helpful.
Nov 02, 2021
Clean Comfortable park with outstanding staff. We booked one night but needed to stay longer and they went out of their way to help and accommodate us. This a great park for a week or a night.
Nov 01, 2021
I have never done a bad review anywhere but I feel I must this time. We have been camping at this KOA for years and the only thing that brings us back is your employee Carol. She is the person who smiles at everyone and seems to truly enjoy the campers and her job. This KOA has gone way down hill. The worse part came Sunday when we had no water. No showers and we couldn't even flush out our tank
Nov 01, 2021
We have come to this campground for many years..and we loved coming here. Unfortunately, I am so disappointed at how rundown this campground is now. We have seen this decline for the last few years. The roads are really horrible, trash all over, campers loud after quiet hours; wifi and cable are bad. I don't think we will be back to this campground - to me- this isn't a 'HOLIDAY' campground.
Nov 01, 2021
We just stayed over night so I cannot say anything about the amenties, but this seemed like a nice CG. There is cable but it is their cord so be sure to look for it before letting out your slides! We had a pull through that was surrounded by trees so there was lots of shade and some seclusion if you want it. Though the site was gravel though the roads were more dirt.
Nov 01, 2021
so when we Originally booked a stay we were told that a three night minimum was necessary but when we talk to other people at the campsite they said that it was not necessary we've seen people stay one day two days and leave .
Nov 01, 2021
This review has been removed by the moderator for inappropriate or incorrect content.
Nov 01, 2021
Can the showers be updated, and bathroom facilities be increased and improved?
Oct 31, 2021
Stayed during the week. Site level and was a pull through. Staff at desk very friendly. Spacing was ok between each camping ground.
Oct 30, 2021
We stayed just one night on our trip back to FL, which was unfortunate since we try to always do a few nights but it didn't work out this time. NYC/Newburgh KOA is one of our favorite campgrounds, with great staff and fabulous amenities. We stayed in a 32' Class C towing a jeep on site 109, and there was plenty space and tree cover. We'll be back again!
Oct 30, 2021
Arrived 3pm. No escort to site, no 50 amp at pole, called office several times, no answer, walked to office. Boy came & looked, literally just looked & said no clue. Waited 20 min tried to call still no answer. Finally someone called. I requested new site. no escort. Park roads rutted and 4" potholes. Tree limbs overhanging roadway, rubbing on sides of coach. 2 hrs later we're in. Shouldn't
Oct 30, 2021
The grounds were beautiful and the staff pleasant. Since we were there mid week and at the end of the season it was not too crowded. Since there were only 2 men's toilets, I can't imagine what it would be like were the campground even half occupied. Two of the 5 showers had cracked and cheaply repaired shower pans. The drain on one of the showers was clogged so u ended up standing in water
Oct 30, 2021
Old KOA. Very narrow driveway to treed site. Worst part was that our site's septic was clogged. I found it out when I dumped in the dark and was standing in it! We won't be back to this one.
Oct 29, 2021
Poor Management, given a site already occupied and told they were to busy we had to contact people there to tell them they had to leave. Given another site which also occupied by a "tow off". Told to walk around to see which sites were not occupied, supervisor said she didn't know what we wanted her to do. To bad nice faculty but management terrible. Made reservations in advance but didn't matte
Oct 29, 2021
We've been there many times love the place. This was the first year where our site was to small for the trailer. we squeezd in but we were on top of the neighbors. Had to request a fire ring bc the fire pit was to close to our slide and yes when we booked it was noted 3 slides. They did go out of their way to help and did apologize and yes we will go back but never in that sopt again.
Oct 29, 2021
Great wooded campsites!
Oct 28, 2021
We enjoyed the large, woodsy space very much. The laundromats need NEW washers and dryers. They are very inferior to other KOA's we've stayed at. The nor'easter was awful but not your fault.
Oct 27, 2021
Have stayed at this KOA before but it has gone downhill staff were rude campground was very dirty trash everywhere told someone they came out pick up a few pieces and left also activity's closed to early for kids
Oct 27, 2021
Sites are way to close together, there is no internet service, we had no cell service, the limited cables channels were very not clear at all. Our satellite dish would not pick up a signal. We left a day early because we were not happy. With out any cell service or internet we were unable to make any plans or reservations to the wineries in the area or other things to do.
Oct 26, 2021
Absolutely loved the Halloween activities!
Oct 26, 2021
after 26 years i stayed at the lake cabin for the first time. it was great. The mattress pad needed to be washed. it looked seedy. the tv was fuzzy. at my age i need the convenience of the indoor bathroom. that' great. everything else was good. missed the wine party on the deck though.
Oct 26, 2021
Nice private campsite, but the sewer/septic smell was a bit overwhelming at times.
Oct 26, 2021
I used to love this campground. But since new people took over its all about the money and not customer satisfaction. In the fall they did away with the special things they used to have like free pancakes and lite music at the wine deck. I also wish they would change up the activities at the Halloween weekends, they are always the same
Oct 26, 2021
wonderful as always. the only complaint is that it didn't seem like maintenance was on top of things. we had some electrical issues with our site as well as the site next to us that weren't addressed. the soap was out in the ladies and mens bathroom. and the shower stall was clogged and not discovered till in the shower and it flooded the stall and dressing area. they seemed to be understaffed.
Oct 26, 2021
My grand daughter and I were there for 1 of the Halloween weekends. It was a wonderful experience and we really liked the campground.
Oct 25, 2021
your Halloween experience went above and beyond. My grandchildren loved it. Thank you.
Oct 25, 2021
Casey and staff are AWESOME to work with. We had a very comfortable stay.
Oct 25, 2021
Having an escort to my site would have been nice. Also there were small amounts of mirco trash at my site. All in all a good stay.
Oct 21, 2021
I have stayed here 3 times this year. 4th time will be Halloween weekend. I have two trips booked for next year. Very friendly place all campers and staff are very nice. It can get a little loud at times. However you can't have fun being quiet. I do not use the bathrooms so I can not comment on that.
- John Bezold on Google
Oct 08, 2021
Nice clean campground, good staff, fun activities. Great little camp store for the last minute "forgotten" and nice camping accessories. Also, some nice souvenirs and clothing items available. I mainly have used the black water dump site due to close proximity and low cost. So I haven't participated, but been impressed with lists of daily activities available for all ages. Seriously considering a stay just
- Chris Hemp on Google