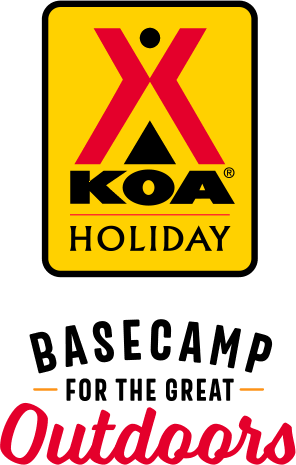 KOA Holiday Campgrounds
Whether you're exploring the local area or hanging out at the campground, KOA Holidays are an ideal place to relax and play. There's plenty to do, with amenities and services to make your stay memorable. Plus, you'll enjoy the outdoor experience with upgraded RV Sites with KOA Patio® and Deluxe Cabins with full baths for camping in comfort. Bring your family, bring your friends, or bring the whole group – there's plenty of ways to stay and explore.
KOA Holidays Feature:
RV Sites with a KOA Patio®
Deluxe Cabins with full baths
Premium Tent Sites
Group meeting facilities
Directions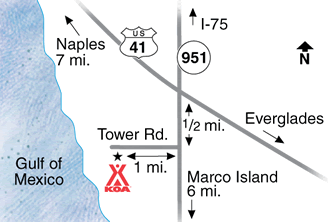 From I-75: Take Exit 101 and go south about 7 miles on 951 (Collier Blvd). Cross US 41, go through the first traffic light and take the next right on Tower Road at the Rookery Bay Reserve. Go to the end of Tower Road and turn left into the campground.
Get Google Directions
Apr 29, 2021
Quiet and clean, RV specs fare good and staff very friendly.
Apr 29, 2021
Very friendly and mostly helpful,
Apr 28, 2021
Very nice campground. Quiet and very clean. Thanks for being well cared for.
Apr 27, 2021
The staff is absolutely five star! This location is just not for us. I am too long for a comfortable fit. I do appreciate the staff going above and beyond to help me! If you are 35 to 40 feet no worries. Very clean location but narrow spots. Great WiFi.
Apr 27, 2021
The office associates were wonderful. Very polite and accommodating. The campground is very clean. The bath house is neat and clean also. The one issue we had was the size of the campsites. They are very small. Our picnic table was literally only 3' from the next campsites trailer or vehicle, It is not fun sitting outside when you are staring at a camper or vehicle.
Apr 27, 2021
We stayed at a premium tent site. Our site very limited afternoon shade, the one next to us was full sun all the time. Fortunately, we had a beach umbrella and our neighbors were creative with tarp hanging! The KOA is very clean, the staff friendly and attentive. The pool and jacuzzi were great. It is the perfect location for a base camp to the local state/ national parks and wildlife preserves.
Apr 27, 2021
The whole family had a wonderful time. The only issue I had was they didnt maintain the bathrooms all weekend so by the end 3rd day they needed attention. Other then that we will definitely camp here again.
Apr 26, 2021
Excelente, tranquilo y de mucha paz. Un lugar para relajarse y estar en contacto con la naturaleza. Muy cerca de las playas además.
Apr 26, 2021
The best part is that everyone is friendly and helpful. The place is clean and well managed. Thank you!
Apr 26, 2021
Everything was clean great friendly staff
Apr 25, 2021
Very quiet, very clean overall very nice!!
Apr 24, 2021
Clean, quiet, friendly, convenient!
Apr 24, 2021
Bathrooms smelled very musty and needed to be cleaned.
Apr 23, 2021
Campground was well taken care of and restrooms were spotless, very friendly staff.
Apr 22, 2021
Very well kept KOA, though parking is very tight driving in and out. People are very friendly and helpful
Apr 22, 2021
Pleasant staff, clean facilities and grounds. Will definitely stay again.
Apr 21, 2021
Enjoyed our stay
Apr 21, 2021
Great stay! Friendly staff. Naples was cool to explore.
Apr 19, 2021
Very nice clean campsite, in general the staff were pleasant and helpful. One exception was my neighbor gave us two bags of firewood that they did not use and did'nt want to take with them. We had a maintenance guy come by and say we could'nt keep the wood "against camp rules" and he took it from us ? never had that happen in 18months of full time camping and several KOA's.
Apr 19, 2021
Too crowded, not friendly!
Apr 19, 2021
very nice park this eas our second koa we have ever stayed at. park was very clean and the lanudry room eas clean.the staff are the best was nice tomeet them and they took care of everything. i know we are in fl but we still felt to close to other campers just felt to tight for us.
Apr 19, 2021
Enjoyed the camping site. very relaxing weekend.
Apr 19, 2021
Very friendly staff, clean throughout and great location to go to Naples and Marco Island.
Apr 18, 2021
Great time. Staff was amazing. Kids enjoyed the pool. Campground is in a good area with lots to do for families. Will be returning in the future.
Apr 18, 2021
Nice facility
Apr 17, 2021
Very nice as usual
Apr 16, 2021
Nice place to visit.
Apr 13, 2021
Easy access to the sites. Clean the friendly enjoyed our stay will definitely stop again when we come back.
Apr 13, 2021
Fantastico, Los cuidadores del lugar son extramadamente serviciales y amables...y por seguro volveremos al lugar.
Apr 12, 2021
I loved my stay at Naples KOA,Everything was clean,The only drawback was the refrigerator in the cabin made a little bit of noise,Nothing major but I could hear it,I'll be back for sure.
Apr 12, 2021
Too crowded. Clean restrooms. Not a great value.
Apr 12, 2021
The no cee-ums were horrible. The camp ground was very nice, clean, and with a very staff. But we checked out early and we cannot recommend This KOA because of the bugs...sorry...
Apr 12, 2021
New to camping and not sure what to expect at a KOA but Eddie was friendly and helpful as soon as I pulled in and the 4 unisex bathroom/shower units were clean and had hot water. Nice boat ramp and kayak launch. I enjoyed my elevated tent campsite.
Apr 12, 2021
Staff was very accommodating. Spaces were tight, but the park was clean and everything worked great. Thank you!!
Apr 11, 2021
Well run, clean, plus friendly and efficient staff. We'll be back!
Apr 11, 2021
I would ask you to power spray the pool chairs. Especially the under sides. They need it. We did like your park and appreciated being told when making the reservation they were narrow sites. We did enjoy our stay.
Apr 11, 2021
It was okay, the ceiling fan was about to fall off the ceiling, the shower diverter was very hard to adjust to a comfortable temperature, the screen door didn't have the device to hold it open and this made it difficult to carry things in , the door to the kitchen has a broken door latch so you had to lock the deadbolt if you want it to stay closed making it hard to sit on the deck without a key
Apr 11, 2021
Welcoming staff, extremely clean raised platform tent site. Regular cleaning and maintenance by caring staff evident in the bathrooms, boat ramp, and general facility. Staff was initially responsive to complaint about a noisy neighbor after hours, though there was no followup and the party continued a few minutes later. Office compensated us for our loss of sleep the next morning.
Apr 09, 2021
Super clean pool and bathrooms. Nice staff. No-see-ums horrible.
Apr 09, 2021
We loved the premium campsite. Pool was great. Everything was clean and well maintained. Staff is very friendly ... can't wait to come back
Apr 09, 2021
Campground is dated and has few amenities. Sites very tight. I was not aware that visitors were not allowed before I checked in. I came alone, as I am recently widowed & wanted to have my kids & grandkids visit me. Left one day early to stay somewhere else with better amenities and allowed my visitors,
Apr 09, 2021
Very nice campground with a good price
Sep 08, 2021
The staff here are such friendly people and they work very hard to keep the camp clean. Thank you guys for all you do!
- Brandy B on Google
Sep 07, 2021
Friendly professional staff, come prepared for the bugs if you are near the creek.
- Rob Barroso on Google
Sep 04, 2021
The campground and cabins were very clean and accommodating. Love the screened porch in the cabin to sit at night. The cabins have their own gas grill and fire pit foe complete camping enjoyment. The front desk staff and manager are great. Will be back!
- Ali Chirino on Google