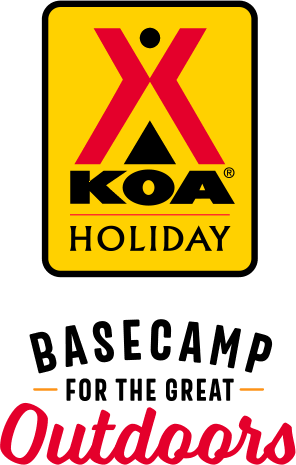 KOA Holiday Campgrounds
Whether you're exploring the local area or hanging out at the campground, KOA Holidays are an ideal place to relax and play. There's plenty to do, with amenities and services to make your stay memorable. Plus, you'll enjoy the outdoor experience with upgraded RV Sites with KOA Patio® and Deluxe Cabins with full baths for camping in comfort. Bring your family, bring your friends, or bring the whole group – there's plenty of ways to stay and explore.
KOA Holidays Feature:
RV Sites with a KOA Patio®
Deluxe Cabins with full baths
Premium Tent Sites
Group meeting facilities
Directions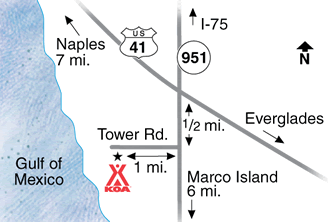 From I-75: Take Exit 101 and go south about 7 miles on 951 (Collier Blvd). Cross US 41, go through the first traffic light and take the next right on Tower Road at the Rookery Bay Reserve. Go to the end of Tower Road and turn left into the campground.
Get Google Directions
Aug 03, 2020
Well maintained campground. Friendly and attentive staff. Near anything you may need (groceries, gas, beaches!). Lots of site options based on your needs.
Aug 03, 2020
Staff was very friendly. Sites were small and gravel. Bugs were out of control, and the grounds should be treated. Over-priced for the sites & location.
Aug 03, 2020
Clean, friendly, great location, and full hook-up sites.
Jul 27, 2020
This is our preferred campsite, we call it our home away from home. The staff is excellent, helpful and always an amazing attitude.
Jul 27, 2020
Nos pareció perfecto todo. La pasamos excelente. Nuestros niños se divirtieron bastante. Lo único fue la cantidad de mosquitos y sancudos que habían. Sin embargo con repelentes nos ayudamos bastante. Felicidades por tan bonito lugar y por la atención. Gracias!!!! Seguro que regresamos.
Jul 27, 2020
My husband and I had a wonderful weekend at KOA Naples/Marco island. The staff is very friendly and helpful. Very relaxing, safe, and plenty of space between campers. Definitely going again!
Jul 26, 2020
It was very nice. The only think it was a little awkward was the bathrooms are outside the cabin.�
Jul 21, 2020
Just overnight, but staff were very friendly, site was terrific and the pool was perfect. Outstanding!
Jul 11, 2020
Pool closes at 5pm, it's summer!!! bugs and ants are a problem and you did spray at all!!! Rates for monthly rent are to high for the summer, Marco Island is not that special for prices like that. In Tallahassee now, I'm not staying at KOA park! It very nice and it's $420 cheaper than Marco Island!!
Jul 08, 2020
Despite having to deal with COVID-19 issues, they bent over backwards to get us checked in. Eddie was super helpful, even filled a propane tank for us. We had a great time and look forward to coming back!
Jul 01, 2020
GREAT Staff!!! People make for a better experience* Thumbs-Up on location... tranquil and hidden from main roads still within driving distance to everything...Thank You!
Jun 30, 2020
Was disappointed with the bathrooms being remoded.
Jun 30, 2020
Amazing and helpful staff! Very quiet and great location. My only suggestion would be to have the pool open later than 5 pm.
Jun 30, 2020
Great service from the front desk staff, particularly Liz.
Jun 29, 2020
Everyone was so nice and friendly
Jun 29, 2020
Although we only stayed one night, it was a pleasure visiting and staying at such clean and well maintained campground. We will for sure plan for a longer stay. Liz and the entire staff where very nice and helpful.
Jun 23, 2020
Pool was nice, but not a tree in sight where we were. It was like we were parked in a parking lot. No shade, no trees, no nothing. We left a day early because it was too hot. We couldn't get our camper cooled down
Jun 22, 2020
The campsites were clean and the services provided were timely. The workers were so courteous...We loved Eddie! We would definitely stay again but remember to bring your bug spray you will need it!
Jun 22, 2020
Staff is very nice and helpful. Cabin was clean. Pool was nice too.
Jun 21, 2020
We enjoyed the campground and the clean pool as well as 24-hour laundry. We were disappointed that the bath and shower houses were closed and had been replaced with a very small trailer. No notice was given about this ahead of time.
Jun 20, 2020
Nice small park..not crowded this time of year..very friendly and helpful staff..everything was clean and well cared for..pool was open and refreshing! We will definitely be back..thank you
Jun 18, 2020
Close to Naples beach. Very quiet and clean. Well stocked camp store. They do trash pick up every morning at your site. Very friendly staff.
Jun 08, 2020
Very good visit to the Naples/Marco IslandKOA
Jun 08, 2020
Excellent service. The family had an amazing time. We'll be back to visit soon. Thanks!!
Jun 04, 2020
We were there through the worst of the COVID pandemic and felt safe and protected. The staff were constantly disinfecting, and all social distance protocols were monitored and upheld. This is the sign of an effective management which has a dedicated staff. The KOA was very well maintained and patrolled to keep things tidy. Water access available for canoeing/kayaking. Great campground. KOA was AOK
Jun 02, 2020
Very bad drainage resulting in standing water with no see'ums taking over our campsite. Could not sit and enjoy outside or use our grill for dinner.
Jun 02, 2020
We had a situation arriving around 5. Walked to the pool and there was a tall man who said the pool closed at 5 because of covid. We were disappointed. Then, walked back to that area around 6:30 and 4 people were swimming. Soooo....went and put my suit on and they said...oh no...you can't swim...we are employees. And then one of them added insult to injury by saying with a smile.....see you a
Jun 01, 2020
It was a wonderful second camping trip. We will see you again.
May 30, 2020
Wonderful staff and residents
May 27, 2020
A very run down park. We paid $140 (w/ taxes) for the night for our 43' motorhome. We elected a pull-thru site, with a patio and firepit. We arrived past office hours, found package with map and our site number. Due to rain, sit was pretty much flooded out. Bad WiFi and Fire pit had not been cleaned since last usage and burnt wood everywhere getting soaked.
May 26, 2020
Loved the cabin - it had everything we needed for our short stay in Naples.
May 26, 2020
The employees are incredibly nice!! Top notch. One employee worked so hard just so we could have a sliding chair. So impressive!!
May 26, 2020
Stayed in spot B1. Perfect right on the corner next to the office and Pool. Clean facilities Dog park was good also.Staff was friendly And very helpful especially when my brother-in-law locked his keys in the car helped us get it out.
May 25, 2020
Very nice place to stay
May 25, 2020
It's really old to many old rvs and cabins . Not much to do small sites on the positive side really friendly people work there.
May 25, 2020
Great, except weather & bugs.
Jan 07, 2021
We come to this KOA every year because the staff is awesome! it's near the beaches and fun kayaking! Also the Kellogg Duo on Mondays by the pool is so much fun they are really great people!!! Thank You! We will be back!!!!!!!!!!!!
- Marie Barker on Google
Dec 31, 2020
We absolutely love it here! We had contacted this KOA location about our unique situation with our son and from the booking they went above and beyond to make sure our son feels safe. When checking in the ladies knew about our situation and were very sensitive about our needs. Everyone from check in ladies to the gentlemen helping us find our spot to positioning our trailer were beyond friendly. The store is very well equipped and we love the heated pool! Thank you for making our stay so relaxing!
- Aileen on Google