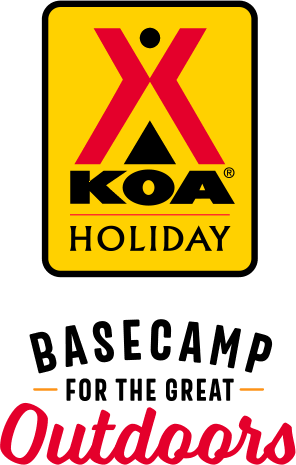 KOA Holiday Campgrounds
Whether you're exploring the local area or hanging out at the campground, KOA Holidays are an ideal place to relax and play. There's plenty to do, with amenities and services to make your stay memorable. Plus, you'll enjoy the outdoor experience with upgraded RV Sites with KOA Patio® and Deluxe Cabins with full baths for camping in comfort. Bring your family, bring your friends, or bring the whole group – there's plenty of ways to stay and explore.
KOA Holidays Feature:
RV Sites with a KOA Patio®
Deluxe Cabins with full baths
Premium Tent Sites
Group meeting facilities
Directions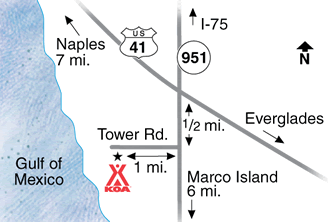 From I-75: Take Exit 101 and go south about 7 miles on 951 (Collier Blvd). Cross US 41, go through the first traffic light and take the next right on Tower Road at the Rookery Bay Reserve. Go to the end of Tower Road and turn left into the campground.
Get Google Directions
Jan 11, 2021
Absolutely loved everything about my stay at Naples KOA
Jan 02, 2021
Bathrooms were ridiculous Temporary bathrooms in a trailer doors didn't lock floor always wet extremely tiny!!!! Could not even set any thing down No hooksd or shelves up keep things off wet floors We left early not what we paid for! Campsite ground sites we booked all 3 was extremely wet could only put a tent on concrete not what we paid for! Staff offered to split us up not what we pai
Dec 28, 2020
Loved everything about my stay at KOA
Dec 02, 2020
AMAZING VACATION !!! The campground was clean and quiet. The restrooms were among the best anywhere in a campground.
Aug 24, 2020
Loved our stay! It was a great atmosphere and everyone was very friendly! Only bad part was the no sees seemed to love to chomp on me and not my husband haha. We will definitely be returning for another visit. Thank you for the hospitality it made our stay amazing
Aug 17, 2020
Great facilities and employees onsite! We loved our stay and plan on going back! Thank you!
Aug 04, 2020
Extremely friendly and helpful staff. Very clean facilities. My kid and I loved this place. Will definitely be back.
May 25, 2020
Great, except weather & bugs.
May 19, 2020
Had an AWESOME weekend! Camping on the deluxe, raised site! Great with electric and water! Loved the set up with storage and counter! Perfect for cooking and relaxing! Nice table also at site and fire pit! Brought our jet ski along, AWESOME waterways to jet ski in! Bonus saw lots of dolphins and manatees! Will definitely be back �
Mar 12, 2020
Very nice clean comfortable, receptionist is very warm kind and helpful, definitely will stay again if there is chance to come back
Mar 11, 2020
It was only a day and a half but the facility was great. First time with a platform tent site. We really liked that. No stones under the floor of the tent and a great place to fix our meals. Also good storage
Feb 21, 2020
Nice close to food and shopping.
Feb 18, 2020
It was great, the facilities were very clean, all the staff were extremely helpful. I just found it super quiet for a family with 3 kids, as there were many older couples that either live there or stay long term. If I were to return I would definitely try to reserve the cabins or tent areas by the boat ramp, seems a little more kid friendly and active over on that end.
Feb 15, 2020
Space was quiet and comfortably spacious! Mosquito-problem is most considerable!
Feb 15, 2020
Very nice area. Food and shopping services are close by.
Feb 11, 2020
Everyone was very nice and helpful.
Feb 07, 2020
Très agréable. Sanitaire excellent. Accueil formidable.
Feb 07, 2020
This KOA has a beautiful heated pool and a great hot tub! The staff are most accommodating and the washrooms are kept exceptionally clean!
Feb 01, 2020
Well run campground great staff
Mar 24, 2019
Staff was wonderful. They relocated us into a better site because it had rained the night before. Nonetheless, the noseeum bugs ended up biting on the second night there. It was miserable to get so many bites. Make sure to use deet if you don't want to get bit, but otherwise, it was a very nice and clean campgrounds. I would go back. I was there in mid March.
Mar 20, 2019
excellent endroit et très propre , merci
Mar 18, 2019
We really love camping at all KOA campgrounds and all of the employees / Associates that work at every one of these sites. But sad to say this is the only KOA Campground that has super small sites that we have been to so far.
Jan 06, 2019
Great facility, nice pool, and the staff was really nice. Bugs were AWFUL but that's not the KOA's fault. Definitely recommend!
Nov 25, 2018
David's 7th Bday weekend was awesome we camped in a tent and had a great time!
Nov 22, 2018
Petite structure de jeux pour les enfants sanitaires defrechi cher pour la prestation
Sep 03, 2018
The place is beautiful and very clean. I'm giving a two star because the camping site me and my family were assigned, was saturated with mosquitoes and other bugs that made it impossible for us to stay. We had to shorten our long weekend vacation and leave a day before we planned to stay.
Jan 24, 2021
We have the best experience at this KOA camp . Toilets super clean, tent site clean and with power and water . Safe for our family (3 kids ) pool awesome . The store very good . People super friendly (stuff and visitors ) can't wait to go back
- beau Hills on Google
Jan 07, 2021
We come to this KOA every year because the staff is awesome! it's near the beaches and fun kayaking! Also the Kellogg Duo on Mondays by the pool is so much fun they are really great people!!! Thank You! We will be back!!!!!!!!!!!!
- Marie Barker on Google
Dec 31, 2020
We absolutely love it here! We had contacted this KOA location about our unique situation with our son and from the booking they went above and beyond to make sure our son feels safe. When checking in the ladies knew about our situation and were very sensitive about our needs. Everyone from check in ladies to the gentlemen helping us find our spot to positioning our trailer were beyond friendly. The store is very well equipped and we love the heated pool! Thank you for making our stay so relaxing!
- Aileen on Google