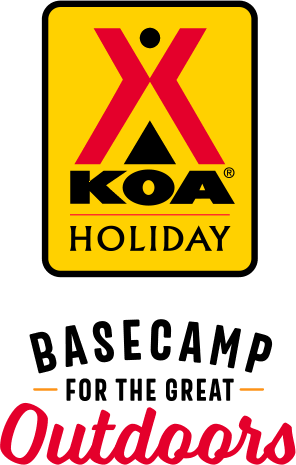 KOA Holiday Campgrounds
Whether you're exploring the local area or hanging out at the campground, KOA Holidays are an ideal place to relax and play. There's plenty to do, with amenities and services to make your stay memorable. Plus, you'll enjoy the outdoor experience with upgraded RV Sites with KOA Patio® and Deluxe Cabins with full baths for camping in comfort. Bring your family, bring your friends, or bring the whole group – there's plenty of ways to stay and explore.
KOA Holidays Feature:
RV Sites with a KOA Patio®
Deluxe Cabins with full baths
Premium Tent Sites
Group meeting facilities
Directions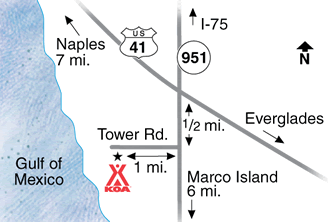 From I-75: Take Exit 101 and go south about 7 miles on 951 (Collier Blvd). Cross US 41, go through the first traffic light and take the next right on Tower Road at the Rookery Bay Reserve. Go to the end of Tower Road and turn left into the campground.
Get Google Directions
Sep 13, 2021
Nice pool, nice cabins, and friendly staff.
Sep 13, 2021
Great 1 room cabin location, nice peaceful quiet getaway and exactly what we were looking for. No-see-ums are really really bad, spray spray spray. Cable was out but things happen and some KOAs don't have TV in Kabins that we've been in so didn't matter to us. Staff was amazing ! �
Sep 13, 2021
The pool is wonderful. Plenty of places to bike. Kayaks available for rent. The cabins are way better than expected. Fully equipped, clean, modern, cozy. The entire campground was so quiet and everyone is amazingly friendly. The best weekend for our little family.
Sep 08, 2021
Staff and Maintenance were Incredible. A/C went out the first night of stay in the cabin, made a call to the front desk and maintenance came out quick and replaced unit. Staff is very friendly and helpful. Cabins were clean and plenty of space to park my boat and truck. KOA Marco Island is the perfect place to stay when passing through. THANK YOU to the Staff and Maintenance guy.
Sep 07, 2021
Very nice and clean cabins! The staff are very helpful and very friendly!
Sep 04, 2021
The camp sight and accommodations were very clean and inviting. The cabins have everything you need from gas grill to fire pits to make the stay very enjoyable. The front desk staff was great and accommodating to our needs. Will definitely be back. Thanks!
Aug 30, 2021
Everything was beautiful the cabin was very clean and had everything we needed to cook and clean and had towels,linens,pillows and outdoors had a grill and fire pit. People in the office are friendly and very helpful. Second time here and would come again.
Aug 30, 2021
All good. Some of the restroom doors, in the back section, need a little work so they open and close easier.
Aug 27, 2021
Clean, nice pool, friendly staff
Aug 24, 2021
This was our first time at this campground and we booked 2 cabins. They were IMMACULATE! And the staff was super friendly! Our family will definitely be coming back!!
Aug 16, 2021
I want to thank all the koa crew that keeps this place so beautiful. Liz was very attentive and made sure everything was in place when we arrived. Thank you for making this camping possible in spite of the weather. Love this place!!
Aug 16, 2021
Fortunately for me we had Tropical Storm Fred coming so most everyone cancelled there stay. I had one of the most pleasant and relaxing stays. The staff was very kind, (they wave and say hi every time they pass by on there golf cart). Check in was simple even after hours and check out was very easy also. The few guests that were around were very nice also.
Aug 09, 2021
All was good. We did point some ants at our campsite, thought all great.
Aug 08, 2021
Cabin was very (too) basic. Staff at the reception was very friendly! Facilities were old and out dated.
Aug 07, 2021
1st time to Naples, near many things. Mini fridge, a nice surprise, most basic cabins don't have that or TV. Everything recently updated and very clean. Staff was so kind and accommodating. They brought us a whole other fire pit (from an unoccupied campsite) with a grill grate bc we wanted to cook. They recently updated all the fire pits and waiting on new grates. Wildlife sounds for sleep. So nic
Aug 06, 2021
Your staff is incredible at KOA Naples/Marco Island. Wow, everyone was sooooooooooooo attentive to this first timer. I will be recommending the stay because of your staff. Keep them all. Returning in December. Stayed 8/1-8/2 cabin 1.
Jul 31, 2021
The girl who called us About our reservation. Also the same girl who checked us in Was fantastic very friendly very courteous very Professional. But unfortunately she was the only Positive thing about this KOA. The cabin was a joke for the price Paid the same price For cabins With 2 bedrooms and a full kitchen at 2 other KOAS. The fact That you had to share a common area with 3 other cabins ��
Jul 30, 2021
Very enjoyable, nice people, neat as a pin and great water access for boating
Jul 29, 2021
The staff is SUPER SUPER friendly Also cabin was Clean and organized
Jul 26, 2021
We had the best time the service was outstanding!!!!!! And cabins we're cozy and clean My boyfriend and i wanna go back.
Jul 17, 2021
We had the best experience ever! The staff was wonderful and very accommodating. The cabin was clean and full stocked with amenities. We will always stay here over getting a hotel when we come into town to see friends and family!
Jul 13, 2021
Very good ,very cozy and quiet place�
Jul 07, 2021
The staff was very helpful, both cabins were very clean and well put together. We had to cut our stay a day short due to tropical storm elsia but the staff was accomidating. We had a great time and we will be staying there in the future.
Jul 07, 2021
Awesome little cabin , had all the amenities of a great hotel ! The staff were top notch !!!
Jul 06, 2021
Great time overall! Would stay again. I just wish next time I'm not being questioned so much as to why I need more towels.
Jul 06, 2021
The cabin was nice, but the AC was not working very well. For camping in the summer, a strong AC is necessary! The mosquitos were in full force, which I guess is expected this time of year, but I wish there was a way to control that a bit better.
Jul 04, 2021
The campground was clean and staff members were nice/helpful. Our cabin was great. We most likely would never return to this campground or recommend it because the mosquitoes were so bad we really couldn't enjoy being outside at all. It was difficult just to get in and out of the car at times due to mosquitoes. Walks and bike rides were impossible. The dog park needs a light for nighttime use.
Jul 02, 2021
We had a great time. We rode our jet skis to the Gulf from the boat launch. It was beautiful!
Jun 22, 2021
Stayed in rustic cabins before. The condition of the bathrooms with only 2 functional and one of the two having to struggle to open is simply not acceptable. Very friendly staff does not overcome the need for basic necessities.
Jun 21, 2021
Exelente muy relajante para pasar en familia nos encantooo!!!
Jun 20, 2021
The staff's great! Bring bug spray as it's SW Florida!
Jun 19, 2021
Great people
Jun 18, 2021
We had a great time! Can't wait to return another time.
Jun 17, 2021
Stay was excellent except for mosquitos which is not the campgrounds fault. Grounds are clean and well kept, staff very friendly, lots to do in area around campground. Will definitely stay again !!
Jun 14, 2021
Facility was great,loved cabins. Convenient location close to everything we wanted to do.
Jun 14, 2021
The cabin was very nice and clean. The campground was nice. Our only drawback was the amount of mosquitos in and around our cabin. I understand that there isn't all too much that can be done about mosquitos when you're near the water, but maybe some more spraying would help. Aside from from the bugs, we loved it and would return.
Jun 14, 2021
Cabin was as expected. However there was No beach access, fishing is limited to two locations with no sea life. The location is nestled among residential neighborhoods and offers no a real "outdoor camping experience". It's a Deceptive marketing approach on the website.
Jun 07, 2021
Perfect little hideaway for the perfect little getaway.
Jun 03, 2021
Bathroom was nice and clean at all time.. and the staff was very nice, I love this place and this is my 2nd time I go and it wouldn't be my last..
Jun 02, 2021
Los Baños de las Cabinas..Están muy descuidados....sucios.. .las chapas están Dañadas...muy mal tenidos. Gracias por la Atencion
Jun 01, 2021
Nice, clean cottage. Clean pool. Friendly employees
Jun 01, 2021
Great Cabin!!! Great location!! Nice and quiet! Enough room for the 5 of us. Very clean! Screened porch was the best feature! The man who manages the park fixed anything that was an issue right away!!!
Sep 08, 2021
The staff here are such friendly people and they work very hard to keep the camp clean. Thank you guys for all you do!
- Brandy B on Google
Sep 07, 2021
Friendly professional staff, come prepared for the bugs if you are near the creek.
- Rob Barroso on Google
Sep 04, 2021
The campground and cabins were very clean and accommodating. Love the screened porch in the cabin to sit at night. The cabins have their own gas grill and fire pit foe complete camping enjoyment. The front desk staff and manager are great. Will be back!
- Ali Chirino on Google