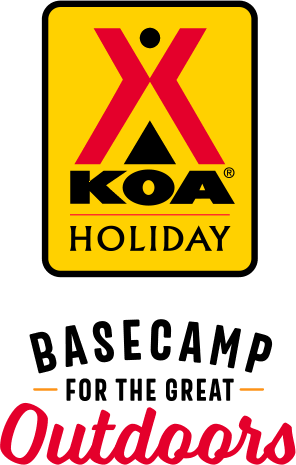 KOA Holiday Campgrounds
Whether you're exploring the local area or hanging out at the campground, KOA Holidays are an ideal place to relax and play. There's plenty to do, with amenities and services to make your stay memorable. Plus, you'll enjoy the outdoor experience with upgraded RV Sites with KOA Patio® and Deluxe Cabins with full baths for camping in comfort. Bring your family, bring your friends, or bring the whole group – there's plenty of ways to stay and explore.
KOA Holidays Feature:
RV Sites with a KOA Patio®
Deluxe Cabins with full baths
Premium Tent Sites
Group meeting facilities
Directions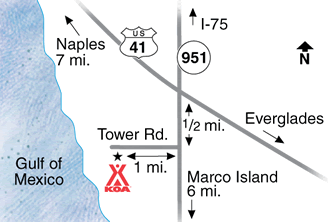 From I-75: Take Exit 101 and go south about 7 miles on 951 (Collier Blvd). Cross US 41, go through the first traffic light and take the next right on Tower Road at the Rookery Bay Reserve. Go to the end of Tower Road and turn left into the campground.
Get Google Directions
Feb 21, 2021
We stayed five days. Friendly, helpful staff who put on activities, like music, bingo, dancing etc. Pool is open 24 hours.This KOA is well maintained and offers special decks for tent camping, which includes cooking counter, shelves, table and chairs (just ask for little hooks to keep tent poles in place). We can't speak highly enough about our neighbors in the campground. We didn't want to le
Feb 20, 2021
Loved the front desk staff! We needed to stay longer and they worked that out for us. Well kept campground. Nice pool area. Would definitely stay here again!
Feb 19, 2021
We had a wonderful time.Lots to do in the area.Wish we could have stayed longer.
Feb 19, 2021
We stayed for a week and I can say is the staff and volunteers are the most friendly and the area is very clean. The boat launching ramp is a little down the way but still on property. Watch the tides, low water. Plenty to do or do nothing , your choice. Pool and hot tub clean and refreshing. They have cable TV but we did not use it. And free WiFi and great cell service at least with Verizon.
Feb 19, 2021
Sites are much too close together. Would not recommend, would not stay here again.
Feb 18, 2021
Our site was next to the dumpsters : / work area. Noisy and sort of ugly for $70 a night. Campground is a very good location. Everybody friendly.
Feb 17, 2021
Loved the Saturday happy hour and Sunday church service! Staff and other guests are friendly and helpful. Campground is clean and well kept, the pool is very nice and the hot tub hottest we have ever used :-) One tip: have an alternate transportation because the beaches at Marco and Naples are not RV friendly (except Delnor Wiggins Pass State Park is good). Definitely recommend, 5 stars
Feb 17, 2021
The cabin was beautiful and clean. The staff was very friendly and helpful. Dog loved the trip too. Kayaking was awesome. We will be back. Thank you.
Feb 16, 2021
You need to improve on your WIFI and some of the sites are way to close together.
Feb 16, 2021
Super nice people
Feb 15, 2021
Great location between Naples And Marco Island beaches
Feb 15, 2021
The site that I booked was not the site i was given. Had to move after set up. The mosquitos and no see ums were horrible. Why do they not spray. The staff was very helpful and pleasant. Our group will not be returning.
Feb 15, 2021
Friendly staff and clean facilities, but lacking in bathroom facilities.
Feb 15, 2021
Great place to stay, very clean. The only thing I would suggest is an optional late checkout option, free or for a fee of $5-20. The reason for the late checkout could be a rainy night, where an hour can help dry the equipment, if necessary.
Feb 14, 2021
This was our first time in a KOA and I doubt I will ever stay in a KOA again. I expected a camping experience and discovered it was basically a mobile home trailer park. The sites were small and cramped and after putting out the awning and slide outs you were almost touching your neighbor. Also, the showers, bathrooms were being renovated and portable units were the substitute. YUK
Feb 13, 2021
Very clean, nice laundry facility and pool, friendly staff, well maintained property. Nice location that's close to stores and several options for going to the beach.
Feb 13, 2021
No complaints only praise. Great site great staff and great stay. Will be back next year!!!!!
Feb 13, 2021
Staff was very nice. The only thing was they were remodeling the showers so you had to use a shower trailer. Other than that it was great!
Feb 12, 2021
Somewhat dated but very accommodating and friendly!
Feb 11, 2021
We booked 10 days at Marco KOA, our first KOA experience. The staff was super friendly. I loved having the garbage and recycling picked up daily. The daily activities were varied and enriching. We had to leave 4 days early, as my husband was allergic to the no-see-ums. We were warned, I'l admit. I didn't know that the estuary we were backed up to was their breeding ground! We were refunded 4
Feb 11, 2021
Everyone was very nice and they resolved my issue with the toaster immediately. Very peaceful
Feb 10, 2021
We stayed a week. Staff was very helpful and efficient. We liked our campsite right across from the pool.
Feb 10, 2021
It was very nice! Pool was great! Staff very friendly and helpful!!
Feb 10, 2021
Everything was great. Nice size sites. Clean facilities, friendly staff, a lot of area's to ride bikes, close to shopping. The only thing we didn't like is that after we got there (traveling 650 miles) we found out visitors were not allowed and the main reason we stayed there was family members lived close by to visit with for the week. (darn Covid)
Feb 10, 2021
Bravo!!! The cleanest Campground we have ever stayed at. Everything was great!!! Definitely will came back soon!
Feb 07, 2021
Naples/Marco Island KOA was the perfect spot for us to explore the area. The campground was very clean and well maintained and the staff was always friendly and helpful. Naples and Marco Island were easy drives and it was nice to have Lowe's and Walmart so close.
Feb 07, 2021
Very nice. Everything we needed.
Feb 06, 2021
Rv space very very small - on top of one another. WAY too expensive - only stayed here as a last resort to see family. Won't stay here again nor recommend
Feb 06, 2021
Staff and park were very nice.
Feb 06, 2021
Very noisy neighbors past 10PM.
Feb 05, 2021
Very poor bathroom facilities. Over priced.
Feb 05, 2021
The bugs were crazy. I had welts all over me even after using DEET and spraying yard guard around my site. I'd never come back.
Feb 05, 2021
quick one nighter. Pros: Super, friendly staff!! Close to shopping and restaurants! Cons: THE BATHROOMS!!!!! Seriously??? These were like porta-potty toilets and showers. WORST KOA BATHROOM EVER!!!!!!
Feb 04, 2021
Very nice clean campground.
Feb 03, 2021
So why would you not have a flipping notice when your propane system isn't working on get someone off their but to fix being down for a week or more seems unreasonable......also if your washer would not work why would not put a sign on the machine to inform and if your aware of an intermittent problem either get it fixed or replace....I assum you are aware of customer service is a high priority
Feb 03, 2021
Great place to park and visit the beaches or many other activities in the area. We had 4 kids and a golden retriever puppy and they all felt comfortable here.
Feb 03, 2021
Nice staff, well maintained, good events, great communication. Thanks!!
Feb 03, 2021
All staff was very friendly and quick to help. Lodging was very clean.
Feb 03, 2021
Fantastic visit. Everyone was so nice and helpful. Hope to go back soon
Feb 03, 2021
Great staff, close quarters but on short notice we were happy to get it. Bath houses under renovation but temporary is adequate.could use more trees. Location is great
Feb 02, 2021
Clean, friendly atmosphere. The pool was nice and warm!
Feb 02, 2021
I live in West Palm Beach, so this was a great vacation get away for the weekend
Feb 24, 2021
This Place is very nice very clean Have fun things on a weekly calendar to do Cabins are great linens included trash pick up at your space, gas grills with fuel, fire pits always driving around the property on thier golf carts felt very safe. I will visit again for sure. The staff are informed and genuinely kind. I am a Google guide we travel alot stay in many types of places I have grandkids always looking for an adventure. KOA Naples/Marco is a great value friendly staff. Clean I mean clean and safe place to enjoy some relaxation and fun Thank you
- Susan Engel on Google
Feb 06, 2021
Great hospitality
- Ed Santi on Google
Feb 16, 2021
It is a great place to stay. We enjoyed the pool and hot tub. Their temporary showers were annoying because you had to hold the water on, making it hard to rinse your hair since the shower spray was directed away from you and you had to hand hold the sprayer too. There is a nice waterway to walk to and Kayak.
- Marsha Brandon on Google