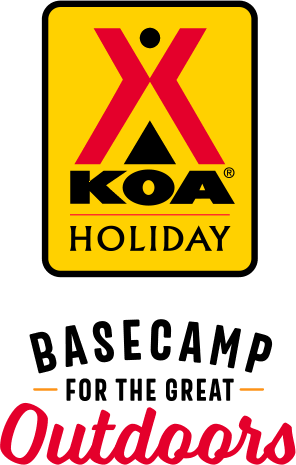 KOA Holiday Campgrounds
Whether you're exploring the local area or hanging out at the campground, KOA Holidays are an ideal place to relax and play. There's plenty to do, with amenities and services to make your stay memorable. Plus, you'll enjoy the outdoor experience with upgraded RV Sites with KOA Patio® and Deluxe Cabins with full baths for camping in comfort. Bring your family, bring your friends, or bring the whole group – there's plenty of ways to stay and explore.
KOA Holidays Feature:
RV Sites with a KOA Patio®
Deluxe Cabins with full baths
Premium Tent Sites
Group meeting facilities
Directions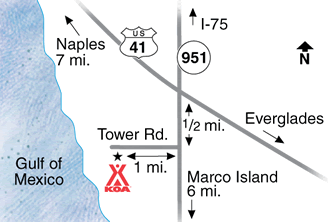 From I-75: Take Exit 101 and go south about 7 miles on 951 (Collier Blvd). Cross US 41, go through the first traffic light and take the next right on Tower Road at the Rookery Bay Reserve. Go to the end of Tower Road and turn left into the campground.
Get Google Directions
May 06, 2021
This was a trip to celebrate our 44th wedding anniversary and the Office staff at the Naples/Marco Island KOA were very nice and made us feel great and welcome, which added to the happy occasion. Particularly Liz and Anita. Thank you, Manny and Marisa Garcia
May 06, 2021
It was quiet, with nice facilities and a beautiful estuary to back to. We enjoyed walking to the river and Rookery Bay. And so much is nearby; Naples and Marco Island, as well as several hiking options.
May 06, 2021
The only thing I would recommend is a grill separate from the fire pits that were on each campsite. One that sits alittle higher. This way people are more comfortable cooking from a standing position and the grill surface stays alittle cleaner. Campers would have one less thing to pack as well which I'm sure they would appreciate. Other than that the stay was pleasant in every way. Well main
May 06, 2021
Nice pool. Workers nice. Tight spots.expensive.
May 04, 2021
So much fun. We loved it. Our ac was not cooling in Cabin 1 so we were moved to another cabin. Wish the playground was opened for the kids. But pool was great. Went boating, fishing and lots of eating and hanging out!
May 04, 2021
We were passing through from Key West to Tampa. This was a fantastic place to stop. The Kampground is very nice, clean, well maintained. Cute little cottages and even tent decks. We'll stay there again if we travel that way.
May 04, 2021
Easy in and out rv parking. Lots to do in area!
May 03, 2021
Amazing campsite and even more amazing staff! This is our home away from home!
May 03, 2021
Great place with friendly staff.
May 03, 2021
The Team here are always super friendly and go out of their way to ensure we feel welcome. The primative cabins are a great way to spend an inexpensive night without the hassle of having to put up the tent. Loved it!
May 03, 2021
We had 2 cabins. One was an ADA cabin. This was very helpful for our disabled cousin. Loved the pool and hot tub. We especially liked the large screened patios of both cabins. Staff was wonderful.
May 03, 2021
Everything was great. Bathrooms were always clean and the campground was beautiful.
Apr 30, 2021
Nice park, but problem with this location is the difficulty of gaining access to the beaches on the west side of the island. Parking extremely limited. Lots full. Cars stacked up at entrances, waiting for someone to leave and open a space. The main drag lined with exclusive hotels and condos, all of them like sealed-up cells: members only, residents only, no parking along the streets.
Apr 30, 2021
Bathroom where clean employees where helpful and nice people coming back soon
Apr 29, 2021
Quiet and clean, RV specs fare good and staff very friendly.
Apr 29, 2021
Very friendly and mostly helpful,
Apr 28, 2021
Very nice campground. Quiet and very clean. Thanks for being well cared for.
Apr 27, 2021
The staff is absolutely five star! This location is just not for us. I am too long for a comfortable fit. I do appreciate the staff going above and beyond to help me! If you are 35 to 40 feet no worries. Very clean location but narrow spots. Great WiFi.
Apr 27, 2021
The office associates were wonderful. Very polite and accommodating. The campground is very clean. The bath house is neat and clean also. The one issue we had was the size of the campsites. They are very small. Our picnic table was literally only 3' from the next campsites trailer or vehicle, It is not fun sitting outside when you are staring at a camper or vehicle.
Apr 27, 2021
We stayed at a premium tent site. Our site very limited afternoon shade, the one next to us was full sun all the time. Fortunately, we had a beach umbrella and our neighbors were creative with tarp hanging! The KOA is very clean, the staff friendly and attentive. The pool and jacuzzi were great. It is the perfect location for a base camp to the local state/ national parks and wildlife preserves.
Apr 27, 2021
The whole family had a wonderful time. The only issue I had was they didnt maintain the bathrooms all weekend so by the end 3rd day they needed attention. Other then that we will definitely camp here again.
Apr 26, 2021
Excelente, tranquilo y de mucha paz. Un lugar para relajarse y estar en contacto con la naturaleza. Muy cerca de las playas además.
Apr 26, 2021
The best part is that everyone is friendly and helpful. The place is clean and well managed. Thank you!
Apr 26, 2021
Everything was clean great friendly staff
Apr 25, 2021
Very quiet, very clean overall very nice!!
Apr 24, 2021
Clean, quiet, friendly, convenient!
Apr 24, 2021
Bathrooms smelled very musty and needed to be cleaned.
Apr 23, 2021
Campground was well taken care of and restrooms were spotless, very friendly staff.
Apr 22, 2021
Very well kept KOA, though parking is very tight driving in and out. People are very friendly and helpful
Apr 22, 2021
Pleasant staff, clean facilities and grounds. Will definitely stay again.
Apr 21, 2021
Enjoyed our stay
Apr 21, 2021
Great stay! Friendly staff. Naples was cool to explore.
Apr 19, 2021
Very nice clean campsite, in general the staff were pleasant and helpful. One exception was my neighbor gave us two bags of firewood that they did not use and did'nt want to take with them. We had a maintenance guy come by and say we could'nt keep the wood "against camp rules" and he took it from us ? never had that happen in 18months of full time camping and several KOA's.
Apr 19, 2021
Too crowded, not friendly!
Apr 19, 2021
very nice park this eas our second koa we have ever stayed at. park was very clean and the lanudry room eas clean.the staff are the best was nice tomeet them and they took care of everything. i know we are in fl but we still felt to close to other campers just felt to tight for us.
Apr 19, 2021
Enjoyed the camping site. very relaxing weekend.
Apr 19, 2021
Very friendly staff, clean throughout and great location to go to Naples and Marco Island.
Apr 18, 2021
Great time. Staff was amazing. Kids enjoyed the pool. Campground is in a good area with lots to do for families. Will be returning in the future.
Apr 18, 2021
Nice facility
Apr 17, 2021
Very nice as usual
May 04, 2021
Nice place, even nicer people! Debbie called about a week before my stay and she confirmed my days as well as gave me some helpful information and covid precautions. I did the check in (and out) at the front store, which I think is also the main office. The on-site store has your basic needs, but whatever they don't have in stock, the Walmart a few minutes away will probably have. Firewood is also available in the store. I couldn't load my bundle into my motorcycle easily, so they actually delivered it to my site. Their attention to detail and helpfulness did not go unnoticed. I stayed on the tent site but there is nothing primitive about it! There is a raised platform for the tents. Anchors are provided in order to set up. There is plenty of space to spread out and they even have lockers, but don't forget to bring a lock. There are available power outlets, just bring an extension cord. Water is available in each of the sites. As a bonus, the family next to me were very nice and they ended up helping me get my fire started. I really enjoyed this KOA and look forward to coming back.
- Jorge Rivera on Google
May 04, 2021
Nice campground. Convenient location.
- RLN on Google
May 04, 2021
Went with our travel trailer for a family weekend. The campground is very well maintained. The bathroom are super cleaned well as the showers. We enjoy the pool and the whole stay. Activities around the places are super fun
- annemariel34 on Trip Advisor