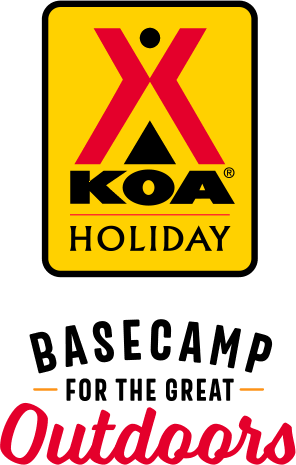 KOA Holiday Campgrounds
Whether you're exploring the local area or hanging out at the campground, KOA Holidays are an ideal place to relax and play. There's plenty to do, with amenities and services to make your stay memorable. Plus, you'll enjoy the outdoor experience with upgraded RV Sites with KOA Patio® and Deluxe Cabins with full baths for camping in comfort. Bring your family, bring your friends, or bring the whole group – there's plenty of ways to stay and explore.
KOA Holidays Feature:
RV Sites with a KOA Patio®
Deluxe Cabins with full baths
Premium Tent Sites
Group meeting facilities
Directions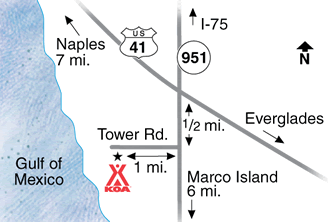 From I-75: Take Exit 101 and go south about 7 miles on 951 (Collier Blvd). Cross US 41, go through the first traffic light and take the next right on Tower Road at the Rookery Bay Reserve. Go to the end of Tower Road and turn left into the campground.
Get Google Directions
Oct 13, 2021
It's an ok park to stay a night or 2 while traveling but the older permanent mobile homes made it depressing. Park is clean , spaces very minimal in looks- presentation is important. Was disappointed.
Oct 13, 2021
Site had easy access and rest areas were very clean
Oct 12, 2021
Always great only the mosquitoes not good
Oct 12, 2021
I love the workers very helpul and friendly. Also, the site was beautiful as well as the pool. We will come back soon. My cousin rent cabin and she was very happy.
Oct 11, 2021
People there were fantastic they were accommodating really nice but overall the bathrooms and the amenities the grounds were very clean I live in the Naples area we reached out recently purchased a motorhome and wanted to give it a test run if I didn't live in Naples i would probably go back multiple times but because I do unfortunately I may not go back but I will recommend to friends to go and
Oct 10, 2021
Very helpful and friendly staff with very clean facilities. Thank you KOA staff! A. Self.
Oct 08, 2021
WiFi did not work consistently. 30 amp circuit on my power box didn't work. Otherwise, everything else was very nice. Nice people too! Will likely be back to visit.
Oct 05, 2021
I stayed in KL3 (2 bedroom cabin) for a week of fishing and relaxation. I was disturbed when we arrived to check in there was a note on the front door that was dated Sept.8 (3wks before I arrived) that stated there was no cable or wifi available. It would have been nice if the campground would have contacted me about the cable and wifi. As a result I spent over $200 on a DVD player and movies
Oct 05, 2021
We stay at the Naples/Marco Island KOA every chance we get. Special mention to Liz Silva, the asst. manager for always been helpful with our needs. And also special mention to Eddy in the field. Both always provide service with a big smile! The bathrooms were recently renovated and look awesome. Same with the new paved sites with fireplaces. Looking forward to our next stay there.
Oct 04, 2021
The friendliest staff & most helpful. Very courteous as well.
Oct 04, 2021
Deborah at the front desk was very helpful and friendly. Guy was equally helpful and went out of his way to get us some information. We loved the place. Everything was clean and well maintained. We plan to come back in late November.
Sep 30, 2021
Stayed Sept. 24-28th. Staff very friendly and helpful. Stayed in a Deluxe Cabin. The cabin exceeded our expectations. Very comfortable bed. Cabin even had dog dishes and treats for our dog. I highly recommend this Koa.
Sep 27, 2021
We stay here every year for our annual event gathering. I am so impressed with the improvements I see each year. The staff is great and the place is so well cared for.
Sep 27, 2021
Always a fabulous time at our home away from home. Excellent, professional, friendly staff are the main reason we come back year after year. Thank You, KOA/Marco staff, (Anita, Liz, Eddie and the Gang) looking forward to our next memory with you. Fondly, Margo and Brad Pedigo and Gator Alley Chapter of ABATE
Sep 22, 2021
Maybe because we stayed over Labor Day weekend but this place was like an unsupervised party. The pool was packed and full of dead bugs. Loud music played from one of the cabins by the pool. Price was on the high side for the small sliver of space we got to camp in. There was a fresh pile of dog poop next to my hookups we had to avoid. The employees however, are a delight to talk to, so kind.
Sep 22, 2021
The park is dangerous for dogs as it has a very large amount of Cane toads that are deadly toxic to dogs. I cannot recommend this park for this reason.
Sep 21, 2021
So amazing they have everything, I will never stay big chain hotels ever again. I recommended this place to for couples already
Sep 20, 2021
This is a very nice KOA. We have stayed there before, and we will stay there again the next time we are in the area.
Sep 20, 2021
USE TO STAY THERE IN OUR CAMPER BUT WE SOLD IT A FEW YEARS BACK. THE NEW CABINS ARE THE BEST, CAN'T WAIT TO COME BACK, LIKED THE CABIN BETTER THAN WHEN WE HAD OUR CAMPER, LOT LESS WORK. ALSO, PET FREINDLY, TWO THUMBS UP. ALSO THE STAFF WAS WONDERFUL, VERY KIND AND HELPFUL.
Sep 20, 2021
Super nice people even with the hot muggy Florida September weather. Great place to stay and must be even better during the milder weather season. Super great restrooms and pool made the stay really nice. Hope to visit again soon
Sep 20, 2021
It's a little bit more expensive.
Sep 20, 2021
Well maintained, quiet location with a very hospitable staff. We enjoyed our stay so much, we decided to stay for a month. We are looking to relocate to the Naples/Marco Island region and our first impression of the area was your KOA. Happy to see the ongoing improvements to an already fine establishment.
Sep 18, 2021
I stayed for three nights. It was great. Was warned about the alligators and the cane toads mostly because I had a puppy with me. With the exception of the poor drainage of the roads inside the campground (made it hard to keep the puppy dry), it was a great spot. It looks like there is a lot of rearranging being done along with upgrading and that it good. It is close to almost all you need.
Sep 16, 2021
The campground/campsites offered very little shade and poor drainage with all the rain they were having. Was disappointed in the wealthy growth of the Naples/Marco Island area and extremely limited Gulf Beach access. The area is massively overrated.
Sep 16, 2021
Lovely grounds, nice people.
Sep 16, 2021
Arriving at this KOA is always a pleasure. The staff is warm and welcoming, and the campgrounds are beautifully maintained. This is a wonderful location to get away from it all, yet convenient to shopping, restaurants, and attractions.
Sep 15, 2021
Went to relax and we did. The ladies that work their are super nice.
Sep 14, 2021
Stayed 4 days & 3 nights. Wonderful level pullthru site, pea gravel with concrete pad. Asphalt driveways. Nice pool and store. One of the maintenance guys helped me with a propane issue for no charge. Everyone is very friendly and helpful. Right in the middle of everything. 15 mins to Marco Island. 30 mins to downtown Naples. Quiet and peaceful. Would definitely recommend this campground.
Sep 14, 2021
Clean, nice employees, bathrooms and laundry room very clean as well.
Sep 13, 2021
Nice pool, nice cabins, and friendly staff.
Sep 13, 2021
Clean, level organized campground. Nice pool and super hot hot tub.
Sep 13, 2021
campground needs to be sprayed for ants around RV'S patios too many
Sep 13, 2021
Great 1 room cabin location, nice peaceful quiet getaway and exactly what we were looking for. No-see-ums are really really bad, spray spray spray. Cable was out but things happen and some KOAs don't have TV in Kabins that we've been in so didn't matter to us. Staff was amazing ! �
Sep 13, 2021
enjoyed very clesn
Sep 13, 2021
The pool is wonderful. Plenty of places to bike. Kayaks available for rent. The cabins are way better than expected. Fully equipped, clean, modern, cozy. The entire campground was so quiet and everyone is amazingly friendly. The best weekend for our little family.
Sep 13, 2021
We loved our stay. We were gone most of the time except for sleeping, it was very quiet. Our only complaint was that it was difficult to find a dry place to step when getting our of our coach. There was grass there but it was just very mushy and shoe-ruining. Maybe if gravel were spread in that area, it would be helpful and not so yucky. Upon checking in, Tammy and another lady were great.
Sep 08, 2021
it wasn't as advertised. I was expecting to have more fun and more things to do. the holiday weekend was a let down. it seemed like a family decided to rent out the 2 cabins next to the pool and some other campers nearby too. it was like a family reunion where they blasted music and took up the pool and surrounding pooldeck with their families. so my wife an i returned to our motorhome.
Sep 08, 2021
Staff and Maintenance were Incredible. A/C went out the first night of stay in the cabin, made a call to the front desk and maintenance came out quick and replaced unit. Staff is very friendly and helpful. Cabins were clean and plenty of space to park my boat and truck. KOA Marco Island is the perfect place to stay when passing through. THANK YOU to the Staff and Maintenance guy.
Sep 08, 2021
Enjoyed the ambiance and the location. Staff are very pleasant and friendly. Plan on returning soon
Sep 07, 2021
I find the camp site area too small
Sep 07, 2021
Very nice and clean cabins! The staff are very helpful and very friendly!
Sep 07, 2021
Enjoyable stay. Very clean grounds, pool, restrooms and doggie area. The owners obviously take pride in their campground!
Oct 09, 2021
We spent 5 nights at this lovely park. Quiet rural setting, but close to everything! The staff was amazing. Friendly & always helpful. Immaculate laundry and restroom/shower facilities! Would definitely recommend this KOA 🌞
- Anne Badarak on Google
Sep 22, 2021
Can't say it enough this place was perfect in everyway, bring bug repellent in all forms though spray n candle for the porch was just fire wood delivered to it spot each spot had a fire pit, wildlife everywhere, hot tub, pool, kayaks, fishing holes, close by Naples pier had dolphins everywhere totally freaking awesome the deluxe cabins were you cute I will be back. Gift shop to die for it's a cute.
- Karma Star on Google
Sep 07, 2021
Friendly professional staff, come prepared for the bugs if you are near the creek.
- Rob Barroso on Google