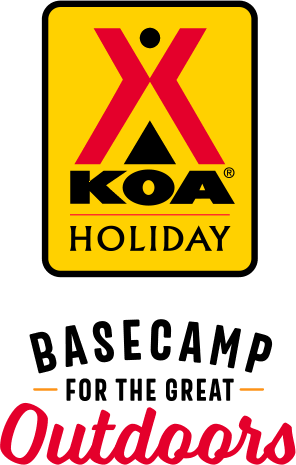 KOA Holiday Campgrounds
Whether you're exploring the local area or hanging out at the campground, KOA Holidays are an ideal place to relax and play. There's plenty to do, with amenities and services to make your stay memorable. Plus, you'll enjoy the outdoor experience with upgraded RV Sites with KOA Patio® and Deluxe Cabins with full baths for camping in comfort. Bring your family, bring your friends, or bring the whole group – there's plenty of ways to stay and explore.
KOA Holidays Feature:
RV Sites with a KOA Patio®
Deluxe Cabins with full baths
Premium Tent Sites
Group meeting facilities
Directions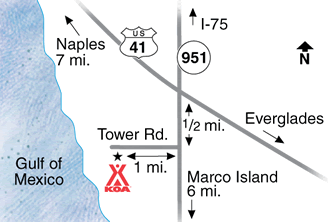 From I-75: Take Exit 101 and go south about 7 miles on 951 (Collier Blvd). Cross US 41, go through the first traffic light and take the next right on Tower Road at the Rookery Bay Reserve. Go to the end of Tower Road and turn left into the campground.
Get Google Directions
Jan 18, 2021
All the KOA folks were helpful and friendly
Jan 18, 2021
Very nice. Small but great accommodations. Loved the fire table.
Jan 18, 2021
Great place to stay mice and clean.
Jan 18, 2021
called last minute and they were able to get us in- Thanks
Jan 17, 2021
The people checking us in and showing us to our spot were delightful. Our spot (A2) was extremely close to our neighbors in A1. They had their awning out and it was just a couple feet (at most) to our unit. They were very upset that we were so close, but we were up to the patio edge. Otherwise, it was a nice clean KOA and we would stay there again.
Jan 17, 2021
Staff on property was fantastic!
Jan 16, 2021
Enjoyed the swimming pool ! Very nice clean place to stay
Jan 16, 2021
Clean and friendly. Great base camp for exploring Naples/Marco Is area.
Jan 16, 2021
Great place to stay. Staff is excellent and so friendly and helpful. Will definitely be back.
Jan 15, 2021
Great people friendly and very helpful.
Jan 15, 2021
Bathrooms were terrible. Cold water shower.
Jan 15, 2021
Unreasonable private guest restrictions. There is no basis on restricting private guests if they don't go into public areas which are closed anyway. No warning of the restrictions on the website.
Jan 15, 2021
I was unable to make a reservation online, but when I called the staff was super friendly and helpful in getting a reservation for us. The resort was clean and well maintained. We traveled with our puppy and were happy to have a spot next to the K9 playground. We were disappointed to not have a picnic table at our campsite - but I was told that when we made the reservation. Clean bathrooms!
Jan 14, 2021
Great place wonderful people!!
Jan 14, 2021
Nice & clean.
Jan 14, 2021
Very nice and clean campground. Well run with a friendly staff.
Jan 13, 2021
Patio was not ready when we arrived. I had to ask for the furniture to be brought over. Otherwise a nice place to stay close to everything. The new Lady in the office was very nice & helpful!
Jan 11, 2021
We had a good time the staff was excellent
Jan 11, 2021
Everyone was very nice and helpful. Centrally located to everything!
Jan 09, 2021
sites are too close
Jan 08, 2021
too close to next lot. no shade. we need to bring umbrella next time.
Jan 06, 2021
All employees were exceptional. Very clean would recommend highly. Definitely be back�����
Jan 04, 2021
Very clean! Everyone was very helpful and very nice!
Jan 04, 2021
Well maintained campground. Friendly and helpful staff
Dec 30, 2020
Bingo was the best. Pool great. Restroom porta potties showers were a struggle. Bathrooms in back better.
Dec 30, 2020
This KOA had very nice employees and a great pool but that's about it. The campground is barren with little cover and no real landscaping. Spots are tight so expect to hear your neighbors. Long drive and impossible parking to access Marco beaches.
Dec 30, 2020
I hope the bath house close to the office is only temporary. It's hard to take a shower in the trailer. Otherwise, Everything is always wonderful!
Dec 28, 2020
Love the pool and hot tub, love the staff, love the gift shop... love this place!
Dec 28, 2020
Should not be advertised as big rig friendly. We had a difficult time pulling in, barely fit in our site, and a difficult time pulling out.
Dec 28, 2020
Enjoyed our visit. No-see-ums heavy a couple of days. Staff was very pleasant and helpful.
Dec 28, 2020
I had to let my dog out to go to the bathroom at 1:30am and I was so grateful for the security that was patrolling the property - not just sleeping on the job. I found the campground well taken care of and the people were friendly.
Dec 27, 2020
"Very Tight" sights are too close together. We were across from the dog park and people do not try to keep their dogs from barking at 6am. No fault of the park. All the staff was was friendly. Cannot tell a delux sight from a regular sight except having a fire pit. We requested a fire pit and were told we would have to rent it.
Dec 26, 2020
Nice and friendly staff, nice clean park, nice dog park. Would definitely come again, but with a screened in gazebo because of the bugs.
Dec 26, 2020
The campground was nice and clean. The staff very friendly. B row camp sites were really close together needed to have a little more room between camp sites.
Dec 26, 2020
Bathhouses being remodeled had to use trailers hated it!! Had to keep turning the water on it was awful
Dec 24, 2020
Excellent place to camp - for a night or an extended stay. Great staff - great service - super clean.
Dec 24, 2020
It was a very tight KOA for a big rig and when people parked in front of their RVs, it made it really hard to get around. Other than that, it's a really nice KOA with individual bathrooms and recycling pick up!
Dec 24, 2020
Always love staying there! Nice sites and dog park!
Dec 22, 2020
Great place will stop by again
Dec 22, 2020
Excellent staff. Very helpful and friendly.
Dec 21, 2020
Bathrooms were gross, needed cleaning
Dec 17, 2020
Eddie was so helpful! We had been visiting family in Naples & stayed at a different campground originally. Everyone was so rude there. It was a breath of fresh air to pull up at the KOA, after hours, and have Eddie come out quickly and so friendly to help us with our after hours checkin. We will always come back to this campground because of him!
Jan 07, 2021
We come to this KOA every year because the staff is awesome! it's near the beaches and fun kayaking! Also the Kellogg Duo on Mondays by the pool is so much fun they are really great people!!! Thank You! We will be back!!!!!!!!!!!!
- Marie Barker on Google
Dec 31, 2020
We absolutely love it here! We had contacted this KOA location about our unique situation with our son and from the booking they went above and beyond to make sure our son feels safe. When checking in the ladies knew about our situation and were very sensitive about our needs. Everyone from check in ladies to the gentlemen helping us find our spot to positioning our trailer were beyond friendly. The store is very well equipped and we love the heated pool! Thank you for making our stay so relaxing!
- Aileen on Google