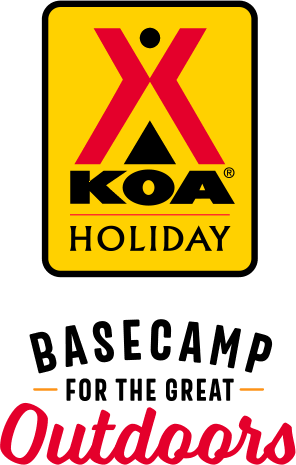 KOA Holiday Campgrounds
Whether you're exploring the local area or hanging out at the campground, KOA Holidays are an ideal place to relax and play. There's plenty to do, with amenities and services to make your stay memorable. Plus, you'll enjoy the outdoor experience with upgraded RV Sites with KOA Patio® and Deluxe Cabins with full baths for camping in comfort. Bring your family, bring your friends, or bring the whole group – there's plenty of ways to stay and explore.
KOA Holidays Feature:
RV Sites with a KOA Patio®
Deluxe Cabins with full baths
Premium Tent Sites
Group meeting facilities
Directions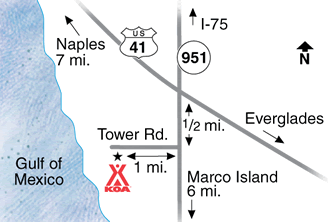 From I-75: Take Exit 101 and go south about 7 miles on 951 (Collier Blvd). Cross US 41, go through the first traffic light and take the next right on Tower Road at the Rookery Bay Reserve. Go to the end of Tower Road and turn left into the campground.
Get Google Directions
Sep 18, 2020
Staff was friendly and and ready to help all time, he had the bad luck to come into a very bad weather and the whole entire site was flooded a huge rain Pool. They have to work with the fact if it's rain everything would be flooded. When we got there we couldn't even got out from the truck water, spent a week inside of the RV mosquitoes and no see ummms were ridiculous. Site needs improvemen
Sep 17, 2020
The staff is amazing.
Sep 12, 2020
Friendly Staff, clean, nice campground, require car to get into Naples city, close to shops and restaurants. Excellent thanks
Sep 08, 2020
This is BY far my favorite campground. Staff makes you feel welcome and at home.
Sep 08, 2020
Amazing place and staff. Secluded and peaceful but just across the street from shopping places and restaurants down the street. Will be back!! Thanks
Sep 08, 2020
As always this KOA is awesome the staff is so friendly and and helpful. Eddie and his wife always makes the stay extraordinary! Delivery of ice and firewood to our site so we don't have to carry it, definitely our home away from home! Will definitely be coming back!
Sep 07, 2020
First time in our new (to us) RV. Jimbo and Ed were both VERY helpful and friendly. Jimbo helped us hook everything us and Ed jumped the rig on Sunday when it wouldn't start. Clean, nice, orderly, helpful men and women working there. We felt very loved and valued. We will be back altho we only live 6 miles away!
Sep 07, 2020
Very friendly and helpful people. Great KOA store the campsites were spacious and clean Can't say enough good things The Social Distance was very present felt safe �
Sep 01, 2020
The staff was extremely helpful and friendly. The campground was very well kept and clean. A great place to use as a base camp, plenty to see and do around. Will definitely be back
Aug 29, 2020
Met Jimbo Friday morning, very nice, courteous and professional, offered some good advice, I would definitely stay there again and really liked the location.
Aug 28, 2020
Great location between Marco Island and Naples. Large site with picnic table , umbrella and slider. Listen to notice on bug spray- you'll need it! Easy to get in and out. Bathrooms at office currently out of order, but they have set up alternate restrooms. Laundry and pool both good. Half of the facility is permanent modular homes, half is transient campers.
Aug 27, 2020
This was our kids first camping trip. They loved it! The staff at this KOA was amazing. Helped us with all of our needs and were so friendly. The property had everything we needed and the unlimited pool hours... so relaxing. We can't wait to book another vacation!
Aug 27, 2020
Very nice staff. Easy to find. Nice location, clean. Would have liked more amenities for kids. But overall nice stay.
Aug 26, 2020
Very clean and friendly staff. We loved staying here so much that we stayed an extra day! Thank you for a lovely experience.
Aug 24, 2020
Loved our stay! It was a great atmosphere and everyone was very friendly! Only bad part was the no sees seemed to love to chomp on me and not my husband haha. We will definitely be returning for another visit. Thank you for the hospitality it made our stay amazing
Aug 24, 2020
We wanted a quick weekend getaway with the kids before school started and this was perfect! Our cabin was very clean and with updated decor/fixtures. The campground staff was very friendly and the grounds were in good condition. We look forward to spending another weekend with KOA.
Aug 22, 2020
Really nice place, clean and organized. Staff is very helpful .
Aug 22, 2020
Wonderful very nice well kept
Aug 20, 2020
The showers and restrooms smelled like crap. Made you sick. The employees were very nice but I will never go back
Aug 19, 2020
We had a wonderful time staying in one of your deluxe cabins! Your staff was awesome!!! The only down side is a fan out in the screen porch would be nice, it was extremely hot out there. Other than that we had a wonderful time at your campground��
Aug 19, 2020
Very friendly staff, lots of space.
Aug 18, 2020
We had a Great time, everything was clean and well organized. We will be back!!!!!!
Aug 17, 2020
Everyone here is so nice. The campground is very clean. We love this place and will continue to come here for many more years.
Aug 17, 2020
We had such a nice time at this KOA! It was quiet, clean, and great for families. Customer service was awesome. Very nice team of people work here. We will definitely be back next year!
Aug 17, 2020
Absolutely fantastic! Lena at the front desk was so nice, as well as Steve for helping set us up. Would absolutely come back!
Aug 17, 2020
Great facilities and employees onsite! We loved our stay and plan on going back! Thank you!
Aug 16, 2020
Nothing stands out at this KOa , average pool average site . Staff was helpful
Aug 16, 2020
Great staffing,Well kept.
Aug 15, 2020
Jim knows about everything. Even coffee pots. He & Luna were so nice.
Aug 15, 2020
Super friendly and helpful. Great location !! Cabin was clean and perfect for the night.
Aug 09, 2020
The staff was so nice and helpful. Lena, in the office, was always happy with a smile on her face each time I talked with her. We had a great stay here.
Aug 07, 2020
Everyone was so nice and everything was very clean, people were very helpful will come back
Aug 06, 2020
This was my first stay at a KOA and we are spoiled now!! The staff was fabulous, the amenities were fantastic, everything was so clean!
Aug 04, 2020
Extremely friendly and helpful staff. Very clean facilities. My kid and I loved this place. Will definitely be back.
Jan 07, 2021
We come to this KOA every year because the staff is awesome! it's near the beaches and fun kayaking! Also the Kellogg Duo on Mondays by the pool is so much fun they are really great people!!! Thank You! We will be back!!!!!!!!!!!!
- Marie Barker on Google
Dec 31, 2020
We absolutely love it here! We had contacted this KOA location about our unique situation with our son and from the booking they went above and beyond to make sure our son feels safe. When checking in the ladies knew about our situation and were very sensitive about our needs. Everyone from check in ladies to the gentlemen helping us find our spot to positioning our trailer were beyond friendly. The store is very well equipped and we love the heated pool! Thank you for making our stay so relaxing!
- Aileen on Google