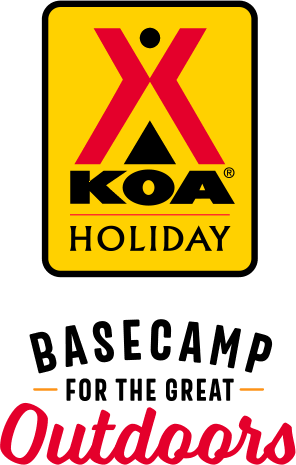 KOA Holiday Campgrounds
Whether you're exploring the local area or hanging out at the campground, KOA Holidays are an ideal place to relax and play. There's plenty to do, with amenities and services to make your stay memorable. Plus, you'll enjoy the outdoor experience with upgraded RV Sites with KOA Patio® and Deluxe Cabins with full baths for camping in comfort. Bring your family, bring your friends, or bring the whole group – there's plenty of ways to stay and explore.
KOA Holidays Feature:
RV Sites with a KOA Patio®
Deluxe Cabins with full baths
Premium Tent Sites
Group meeting facilities
Directions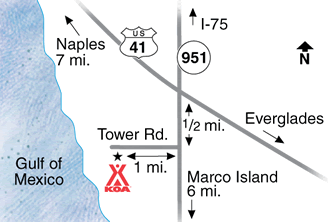 From I-75: Take Exit 101 and go south about 7 miles on 951 (Collier Blvd). Cross US 41, go through the first traffic light and take the next right on Tower Road at the Rookery Bay Reserve. Go to the end of Tower Road and turn left into the campground.
Get Google Directions
May 30, 2021
Very nice park and friendly staff.
May 28, 2021
Quiet and CLEAN!! We stayed a week at this location. This campground was perfectly tucked away from the crowds of Naples, yet conveniently located to beaches and eco tourism in the Big Cypress Preserve. The employees are incredibly friendly and the gentlemen escorting us to our site was very helpful. The bathrooms were ALWAYS CLEAN, the showers are huge! Fun and n whimsy!!! Thank you!!
May 24, 2021
The staff was very helpful and everything was very clean
May 24, 2021
Great staff and very clean.
May 23, 2021
Spots are a little tight, but other then that it's a lovely campground.
May 23, 2021
We enjoyed the deluxe cabin, very clean and everyone was nice.
May 22, 2021
Excellent campground with excellent facilities. We rented both a cabin for our company and we stayed in our RV. The cabin was amazing. The pool is excellent, and there's lots to do nearby. We recommend the airboat ride!
May 21, 2021
Mostly full timers and the group across from our campsite B21 made us feel very uncomfortable. Drinking started at 8:00AM and continued. 1st time I stayed in a KOA and felt the need to lock my cargo doors.
May 19, 2021
The campground was in great shape and the staff was equally great. Very happy with our stay here and will return because of the customer service, as well as the grounds.
May 19, 2021
was our 1st camping trip together with my wife
May 17, 2021
It was actually the first trip my husband and I ever took in our new motorhome and we couldn't have chosen a better place. Everything was just as we expected. The staff was very nice. The spaces were roomy and the park was peaceful and relaxing.
May 17, 2021
Had a great stay! Property was very clean and everything was in working order.
May 17, 2021
It was very pleasant, Tony is super friendly and very good doing His Job! The office personnel are very friendly and knowledgeable! The place was so good we did enjoy our stay!! As a recommendation it will be great if the KOA guest can have parking spaces at the Beach! Will really compliment a wonderful stay!
May 17, 2021
Staff was very helpful.
May 17, 2021
It was just wonderful. Beautiful cabins and super friendly staff. Will definitely be back
May 17, 2021
Nice campground in a great, quiet location between Naples and Marco Island. Would definitely stay there again. They even have cute spaces for tent and smaller campers.
May 13, 2021
Staff was great! The campsites are all Very clean, is very well maintained. We will definitely be back. Nice stopping Point before heading to the keys.
May 13, 2021
Excellent, good location, swimming pool...
May 12, 2021
Our stay was great in the middle of the week, however the Mother's Day weekend, was a "train wreck ". Rules of respect for peace and quiet were non-existent
May 09, 2021
Very friendly and accommodating staff. Well maintained park. Would stay there again!
May 06, 2021
This was a trip to celebrate our 44th wedding anniversary and the Office staff at the Naples/Marco Island KOA were very nice and made us feel great and welcome, which added to the happy occasion. Particularly Liz and Anita. Thank you, Manny and Marisa Garcia
May 06, 2021
It was quiet, with nice facilities and a beautiful estuary to back to. We enjoyed walking to the river and Rookery Bay. And so much is nearby; Naples and Marco Island, as well as several hiking options.
May 06, 2021
The only thing I would recommend is a grill separate from the fire pits that were on each campsite. One that sits alittle higher. This way people are more comfortable cooking from a standing position and the grill surface stays alittle cleaner. Campers would have one less thing to pack as well which I'm sure they would appreciate. Other than that the stay was pleasant in every way. Well main
May 06, 2021
Nice pool. Workers nice. Tight spots.expensive.
May 04, 2021
So much fun. We loved it. Our ac was not cooling in Cabin 1 so we were moved to another cabin. Wish the playground was opened for the kids. But pool was great. Went boating, fishing and lots of eating and hanging out!
May 04, 2021
We were passing through from Key West to Tampa. This was a fantastic place to stop. The Kampground is very nice, clean, well maintained. Cute little cottages and even tent decks. We'll stay there again if we travel that way.
May 04, 2021
Easy in and out rv parking. Lots to do in area!
May 03, 2021
Amazing campsite and even more amazing staff! This is our home away from home!
May 03, 2021
Great place with friendly staff.
May 03, 2021
The Team here are always super friendly and go out of their way to ensure we feel welcome. The primative cabins are a great way to spend an inexpensive night without the hassle of having to put up the tent. Loved it!
May 03, 2021
We had 2 cabins. One was an ADA cabin. This was very helpful for our disabled cousin. Loved the pool and hot tub. We especially liked the large screened patios of both cabins. Staff was wonderful.
May 03, 2021
Everything was great. Bathrooms were always clean and the campground was beautiful.
Apr 30, 2021
Nice park, but problem with this location is the difficulty of gaining access to the beaches on the west side of the island. Parking extremely limited. Lots full. Cars stacked up at entrances, waiting for someone to leave and open a space. The main drag lined with exclusive hotels and condos, all of them like sealed-up cells: members only, residents only, no parking along the streets.
Apr 30, 2021
Bathroom where clean employees where helpful and nice people coming back soon
Sep 08, 2021
The staff here are such friendly people and they work very hard to keep the camp clean. Thank you guys for all you do!
- Brandy B on Google
Sep 07, 2021
Friendly professional staff, come prepared for the bugs if you are near the creek.
- Rob Barroso on Google
Sep 04, 2021
The campground and cabins were very clean and accommodating. Love the screened porch in the cabin to sit at night. The cabins have their own gas grill and fire pit foe complete camping enjoyment. The front desk staff and manager are great. Will be back!
- Ali Chirino on Google