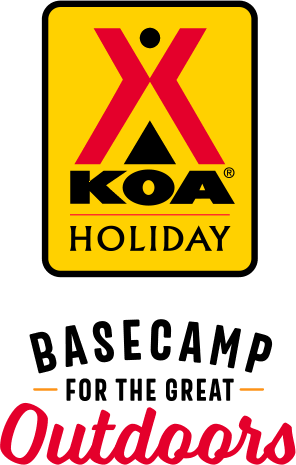 KOA Holiday Campgrounds
Whether you're exploring the local area or hanging out at the campground, KOA Holidays are an ideal place to relax and play. There's plenty to do, with amenities and services to make your stay memorable. Plus, you'll enjoy the outdoor experience with upgraded RV Sites with KOA Patio® and Deluxe Cabins with full baths for camping in comfort. Bring your family, bring your friends, or bring the whole group – there's plenty of ways to stay and explore.
KOA Holidays Feature:
RV Sites with a KOA Patio®
Deluxe Cabins with full baths
Premium Tent Sites
Group meeting facilities
Directions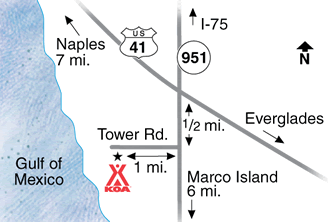 From I-75: Take Exit 101 and go south about 7 miles on 951 (Collier Blvd). Cross US 41, go through the first traffic light and take the next right on Tower Road at the Rookery Bay Reserve. Go to the end of Tower Road and turn left into the campground.
Get Google Directions
Oct 16, 2020
We enjoyed the campground thank you everyone was polite and helpful
Oct 16, 2020
We had an excellent stay while at the Naples KOA. The only disappointment we had was the size of the lot. With our slides and awning open we encroached n the neighbors site. Thankfully the site next to us was not occupied or it would have been an issue. The staff was excellent at this KOA. Much better than the staff at other KOA's we have camped at. Will definitely return!
Oct 13, 2020
Our stay was very nice. The campground was clean, sites semi level, amenities were well kept and location was easy to access. Lena at the front desk was very customer friendly. Steve helped with our site and the rest of the crew was very nice as well. Close to everything! Yes there were mosquitoes and no-see-ums, but a minor inconvenience. Told about them at check in. Will be back for sure....
Oct 13, 2020
The staff at this KOA is superb! Thank you for making our stay so enjoyable!
Oct 13, 2020
Everybody was wonderful. The place is gorgeous and very very clean!!
Oct 12, 2020
The Campground is very convenient and well kept. The personnel out in the grounds is pleasant and helpful, particularly Eddie. The office staff is very friendly and also very helpful, specially Liz. We make it a point to stay there as often as we can and will continue to do so in the future.
Oct 12, 2020
Great park, fantastic pool, close to everything and very friendly staff. We'd stay there again!
Oct 12, 2020
Very good staff everything was great but the WiFi needs some attention. We will go back!
Oct 06, 2020
Very clean and staff was super nice. Would definitely stay here again.
Oct 06, 2020
Awesome customer service, especially Lena and Steve! Nice, clean cabin and pool area. Looking forward to having more amenities for kids to play
Oct 05, 2020
Great place. We love the Camping Cabins! Everything was very clean and just as advertised. The employees were all very friendly and helpful.
Oct 05, 2020
Cabin was just okay. Bed was really uncomfortable and the cabin smelled moldy. Also there was pee in the toilet upon our arrival.
Oct 05, 2020
Great place and Liz Silva was very helpful.
Sep 29, 2020
I was visiting my Sister and Brother in law and due to covid-19 needed a place to stay. IT WAS GREAT!!! The care that was taken to clean and supply the cabin was beyond perfect. I was so pleased with the accommodations. The size was great. The only thing that I was unhappy about was that it was too humid to sit on that wonderful, screened in front porch. I would recommend this and stay here again
Sep 29, 2020
It was alittle quite. Pools and grounds were clean. We checked in at lunch time and the lady inside us and came in out to help us.
Sep 28, 2020
The staff was beyond helpful (including having Woodbridge to use in our cabin upon request), as well as quick and covid safe check in. The grounds were clean, quiet and our cabin was very well kept. We will certainly be back!
Sep 28, 2020
We had a great time. All the staff was very helpful. We def will be coming back.
Sep 28, 2020
Great experience. Had some minor bug issues outside the cabin. But clean and fresh inside the deluxe cabin. A/C could be a little better. But overall a great time. Thank you.
Sep 23, 2020
I decided to book a cabin at this KOA campground while i was taking a mini vacation. I picked this location because of its location to the intercostal waterways. The staff was extremely friendly and the campground was well kept and very clean. The deluxe cabin was very comfortable and allowed me to enjoy all the amenities like i was at home. I will be coming back to this location in the future
Sep 23, 2020
great people and a great experience - very helpful and courteous. I hope to go back again !!
Sep 22, 2020
I have been at Marco Island a lot of times and always is fun to stay there all personnel are super polite ,courteous and helpful .I can't wait nex year to visit them again
Sep 22, 2020
We had a GREAT time visiting Marco Island and KOA campgrounds. For a first timer to the area we were treated very well. Accommodations were very clean and facilities were extremely clean. Highly recommended and can't wait to came back for a longer stay.
Sep 22, 2020
This campground is the best. The staff is so friendly and helpful. Our family has been going to this campground for over 20 years and will continue.
Sep 22, 2020
This is our second time here and we love it. This time we brought our kids and grand kids. We have been in several KOA's and in this one you feel extremely special. All of the personnel is very kind. Place is very secure, clean and cozy. We celebrated my granddaughter's 8th birthday and she said it was the best bday celebration ever. Thank you Elizabeth and team for keeping such ambience. See
Sep 22, 2020
Everybody there is absolutely fantastic helped in every way to accommodate and make you feel welcome
Sep 21, 2020
Very nice campground & very friendly staff.
Sep 21, 2020
We thought the campground was very nice looking. The streets are paved and the sites were generously sized. Our site had 2 sewers, to give you options, according to your rig. There was a nice pool. The owners were so very friendly! We would stay there again.
Sep 21, 2020
Great place! Loved the cabins! Service is excellent!!!
Sep 21, 2020
Everyone was so friendly
Sep 20, 2020
The campground had lots of standing water due to Tropical Storm Sally and therefore a lot of mosquitos. Because we had our 9-month-old baby with us, we chose to find other accommodations that night rather than stay at the campground.
Sep 18, 2020
Staff was super friendly and helpful!
Sep 18, 2020
Staff was friendly and and ready to help all time, he had the bad luck to come into a very bad weather and the whole entire site was flooded a huge rain Pool. They have to work with the fact if it's rain everything would be flooded. When we got there we couldn't even got out from the truck water, spent a week inside of the RV mosquitoes and no see ummms were ridiculous. Site needs improvemen
Sep 17, 2020
The staff is amazing.
Sep 12, 2020
Friendly Staff, clean, nice campground, require car to get into Naples city, close to shops and restaurants. Excellent thanks
Sep 08, 2020
This is BY far my favorite campground. Staff makes you feel welcome and at home.
Sep 08, 2020
Amazing place and staff. Secluded and peaceful but just across the street from shopping places and restaurants down the street. Will be back!! Thanks
Jan 07, 2021
We come to this KOA every year because the staff is awesome! it's near the beaches and fun kayaking! Also the Kellogg Duo on Mondays by the pool is so much fun they are really great people!!! Thank You! We will be back!!!!!!!!!!!!
- Marie Barker on Google
Dec 31, 2020
We absolutely love it here! We had contacted this KOA location about our unique situation with our son and from the booking they went above and beyond to make sure our son feels safe. When checking in the ladies knew about our situation and were very sensitive about our needs. Everyone from check in ladies to the gentlemen helping us find our spot to positioning our trailer were beyond friendly. The store is very well equipped and we love the heated pool! Thank you for making our stay so relaxing!
- Aileen on Google
Dec 27, 2020
Very clean, organized
- Judy Everson on Google