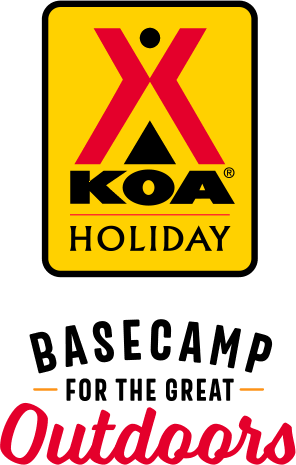 KOA Holiday Campgrounds
Whether you're exploring the local area or hanging out at the campground, KOA Holidays are an ideal place to relax and play. There's plenty to do, with amenities and services to make your stay memorable. Plus, you'll enjoy the outdoor experience with upgraded RV Sites with KOA Patio® and Deluxe Cabins with full baths for camping in comfort. Bring your family, bring your friends, or bring the whole group – there's plenty of ways to stay and explore.
KOA Holidays Feature:
RV Sites with a KOA Patio®
Deluxe Cabins with full baths
Premium Tent Sites
Group meeting facilities
Directions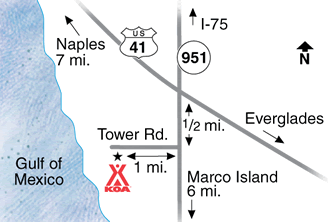 From I-75: Take Exit 101 and go south about 7 miles on 951 (Collier Blvd). Cross US 41, go through the first traffic light and take the next right on Tower Road at the Rookery Bay Reserve. Go to the end of Tower Road and turn left into the campground.
Get Google Directions
Jul 05, 2021
I really liked the place .I recommend it
Jul 04, 2021
The campground was clean and staff members were nice/helpful. Our cabin was great. We most likely would never return to this campground or recommend it because the mosquitoes were so bad we really couldn't enjoy being outside at all. It was difficult just to get in and out of the car at times due to mosquitoes. Walks and bike rides were impossible. The dog park needs a light for nighttime use.
Jul 02, 2021
We had a great time. We rode our jet skis to the Gulf from the boat launch. It was beautiful!
Jun 29, 2021
The staff was great, the ground looked very clean however with all rain there were so many mosquitos all day long no one was using any of the facilities. No fault of Koa's but maybe the count could have sprayed
Jun 29, 2021
We needed just 1 night, so I'm not able to rate THIS KOA fairly. My wife called to make the reservation & reports the process was easy.We were offered a "pull through" slot at the $90 rate.I saw a number of "back in" slots($75), but that's not what was offered.We felt the rate was on the high side.Our 6PM in & out about 9AM allowed us to view a nicely laid out property.The mosquitos we
Jun 28, 2021
This KOA had a lot of standing water that was clearly left untreated. The mosquitos were unbearable. When asked about it, the manger never called us back and the front desk clerk said the county had been called five times that week. She did not indicate if the county had been out to spray five times. Also, doing construction on nearby campsites on Sunday at 7am is unacceptable.
Jun 22, 2021
Stayed in rustic cabins before. The condition of the bathrooms with only 2 functional and one of the two having to struggle to open is simply not acceptable. Very friendly staff does not overcome the need for basic necessities.
Jun 21, 2021
Exelente muy relajante para pasar en familia nos encantooo!!!
Jun 21, 2021
This review has been removed by KOA due to profanity.
Jun 21, 2021
Great place. All staff very kind and polite. Deborah is an amazing professional. As we had kids with us, the lack of shades was really hard on them with the hot day. Other than that, great facility.
Jun 20, 2021
The staff's great! Bring bug spray as it's SW Florida!
Jun 19, 2021
Great people
Jun 19, 2021
It pretty much rained the whole time and didn't get to go to the beach or see any sights. Will try again some other time.
Jun 18, 2021
We had a great time! Can't wait to return another time.
Jun 18, 2021
The bathrooms were very nice and clean. The groundskeepers were friendly and the grounds looked nice. If there was a bug scooper at the pool, that would have helped get some of the bugs out. I think it's a losing battle, though. We enjoyed our stay!
Jun 17, 2021
Stay was excellent except for mosquitos which is not the campgrounds fault. Grounds are clean and well kept, staff very friendly, lots to do in area around campground. Will definitely stay again !!
Jun 17, 2021
Very enjoyable great staff especially Deborah Very nice and helpful. And Eddie so pleasant.
Jun 17, 2021
Accommodated all our needs…..very clean and helpful.
Jun 15, 2021
Everything was clean and well maintained such as pool area, restrooms and other common areas. The staff were friendly and helpful.
Jun 15, 2021
The campground is nice and clean. Very supportive and engaging staff. But we were assigned a site near the end and towards the back of the park. We couldn't even get to our Jeep without being attacked by thousands of mosquitos. We couldn't sit outside and enjoy the mornings or evenings, or watch tv outside. We literally had to run into the Motorhome as we were eaten alive. Spray the area plea
Jun 15, 2021
Easy in and out. Quiet campground and about 20 minutes from the Naples/ Marco Island beaches. We would easily stay here again.
Jun 14, 2021
Facility was great,loved cabins. Convenient location close to everything we wanted to do.
Jun 14, 2021
Quiet, clean and friendly staff...
Jun 14, 2021
Great park. Staff is wonderful! Very clean and excellent location, but the mosquitos were crazy!!!! We have stayed here many times, but not in hot months, so if you stay during hot months bring the repellent ir netted gazebo because they are bad.
Jun 14, 2021
The cabin was very nice and clean. The campground was nice. Our only drawback was the amount of mosquitos in and around our cabin. I understand that there isn't all too much that can be done about mosquitos when you're near the water, but maybe some more spraying would help. Aside from from the bugs, we loved it and would return.
Jun 14, 2021
The staff here was outstanding. Very friendly and professional with nice smiles. Our pull thru site didn't have much room to stretch out. The patio sites would have been perfect but, all where reserved already. Bathrooms where exceptionally clean at the pool area. The pool was clean but understandably very warm due to the time of the year.. Yes the mosquitoes where brutal just bring a screen ten
Jun 14, 2021
This KOA had the cleanest bathroom and shower of any campground we've ever been to! We loved that the pool/hot tub was open 24 hours (just be quiet after 10 pm) and the staff was very friendly. The only drawback was the amount of mosquitoes! I guess that's just south Florida, but overall we enjoyed our stay.
Jun 14, 2021
Cabin was as expected. However there was No beach access, fishing is limited to two locations with no sea life. The location is nestled among residential neighborhoods and offers no a real "outdoor camping experience". It's a Deceptive marketing approach on the website.
Jun 12, 2021
The place was very clean as well as the bathrooms, good size pool. Loved it
Jun 12, 2021
Beautiful and clean Will most definitely stay here again if we journey this way. Everyone was very friendly and helpful in every way. Will recommend to all my friends and relatives.
Jun 12, 2021
Nice facility.
Jun 12, 2021
Nice, quiet place. Extremely clean bathrooms.
Jun 12, 2021
One of the cleanest campsites I have been at. Great staff and very friendly
Jun 10, 2021
They were absolutely great. Staff is always willing to lend a hand if you need them. I went through a medical emergency while I was staying there and they helped me and my family a lot. Will definitely be back, hopefully many times.
Jun 10, 2021
We were excited that one of the staff offered to upgrade us to a pull through at no extra charge. The pool was open and refreshing. Bathrooms were clean as was laundry room. The staff was helpful and kind.
Jun 07, 2021
Perfect little hideaway for the perfect little getaway.
Jun 03, 2021
Great place thanks Mac
Jun 03, 2021
Bathroom was nice and clean at all time.. and the staff was very nice, I love this place and this is my 2nd time I go and it wouldn't be my last..
Jun 02, 2021
Always dependable, great time, great place, friendly staff and maintenance workers, often going above and beyond.
Sep 22, 2021
Can't say it enough this place was perfect in everyway, bring bug repellent in all forms though spray n candle for the porch was just fire wood delivered to it spot each spot had a fire pit, wildlife everywhere, hot tub, pool, kayaks, fishing holes, close by Naples pier had dolphins everywhere totally freaking awesome the deluxe cabins were you cute I will be back. Gift shop to die for it's a cute.
- Karma Star on Google
Sep 08, 2021
The staff here are such friendly people and they work very hard to keep the camp clean. Thank you guys for all you do!
- Brandy B on Google
Sep 07, 2021
Friendly professional staff, come prepared for the bugs if you are near the creek.
- Rob Barroso on Google