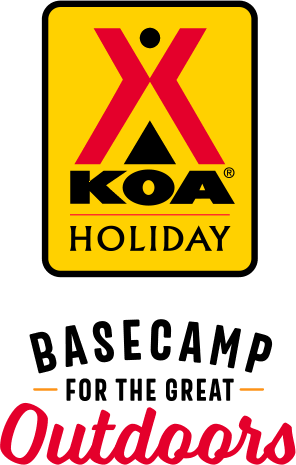 KOA Holiday Campgrounds
Whether you're exploring the local area or hanging out at the campground, KOA Holidays are an ideal place to relax and play. There's plenty to do, with amenities and services to make your stay memorable. Plus, you'll enjoy the outdoor experience with upgraded RV Sites with KOA Patio® and Deluxe Cabins with full baths for camping in comfort. Bring your family, bring your friends, or bring the whole group – there's plenty of ways to stay and explore.
KOA Holidays Feature:
RV Sites with a KOA Patio®
Deluxe Cabins with full baths
Premium Tent Sites
Group meeting facilities
Directions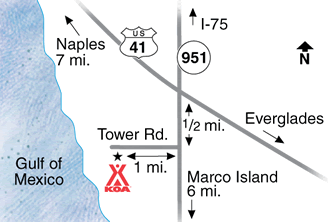 From I-75: Take Exit 101 and go south about 7 miles on 951 (Collier Blvd). Cross US 41, go through the first traffic light and take the next right on Tower Road at the Rookery Bay Reserve. Go to the end of Tower Road and turn left into the campground.
Get Google Directions
Jul 29, 2021
The staff is SUPER SUPER friendly Also cabin was Clean and organized
Jul 28, 2021
Everything was awesome. Deborah and Liz were great hosts. Eddie and Guy keep the grounds looking great. We arrived having mechanical issues and the girls in the office recommended where to get help. Looking forward to coming back ing the fall.
Jul 27, 2021
All staff were great. Very friendly and helpful. Bathrooms were spotless as was the entire campground. We had a great time and will definitely be back. Thank you all.
Jul 27, 2021
Expensive, but you get what you pay for. Very nice place
Jul 26, 2021
Very clean. Very nice and very responsive staff. Sites are too close to each other and no vegetation. Overrun by no seeums and mosquitos.
Jul 26, 2021
We had the best time the service was outstanding!!!!!! And cabins we're cozy and clean My boyfriend and i wanna go back.
Jul 26, 2021
Nicest staff of any rv park I've met so far on my month long journey. Very clean and well maintained. Maybe more spraying for mosquitos would be nice.
Jul 26, 2021
My stay was awesome and Debra is very accommodating she answer all my question prior to my arrival, location is just minutes on 2 of the top beaches.
Jul 24, 2021
Enjoyable staff that is very helpful. Grounds and pool in excellent condition. A rather pleasant stay! Thank you for your efforts at keeping a very nice KOA.
Jul 20, 2021
This is a great campground, well taken , clean and friendly people. Love the updates that are going on. The only problem we encountered was tiny ant like bugs in our rv. The staff said possibly sugar ants. We picked up some spray and that took care of them. Enjoyed our stay.
Jul 20, 2021
Pésima instalación es no hay estante de basura el sitio b6 hay un gran charco de agua lleno de mosquito una picina no hay más actividades por hacer y una rampa de bote donde no hay espacio para pescar y el precio es muy alto para lo que el campground ofrece !! No es algo familiar por lo que los. Niños no tienen mucha actividades !
Jul 20, 2021
GREAT PEOPLE / GREAT STAY!
Jul 20, 2021
The staff was very friendly and offered to notch customer service. The grounds were clean and well maintained! The store/office closes at 5 which was inconvenient on multiple occasions. Due to the time of year, not the fault of this campground, it rained some each day. Even when it was sunny, there was always standing water in our site and throughout the campground. Overwhelming mosquitoes!!
Jul 19, 2021
Clean and safe. Deborah very nice and easy to work with.
Jul 17, 2021
We had the best experience ever! The staff was wonderful and very accommodating. The cabin was clean and full stocked with amenities. We will always stay here over getting a hotel when we come into town to see friends and family!
Jul 14, 2021
It was great, the staff is so friendly and very helpful, the camp ground is very clean the sites are large you dont feel like your neighbor is on top of you.
Jul 14, 2021
Park well maintained even with remodel going on with sites staff excellent
Jul 13, 2021
Very good ,very cozy and quiet place�
Jul 12, 2021
Every one is friendly, the ground are clean and the pool is open and inviting. The staff is eager to help, too.
Jul 10, 2021
Employees are amazing
Jul 07, 2021
The staff was very helpful, both cabins were very clean and well put together. We had to cut our stay a day short due to tropical storm elsia but the staff was accomidating. We had a great time and we will be staying there in the future.
Jul 07, 2021
Campground was extremely clean and Need. The facilities were more then what was required laundry facilities were extremely clean and neat. The only complaint we have was that the pool should have been shut down by 10 o'clock and instead went to 1130 with loud music and noise
Jul 07, 2021
Awesome little cabin , had all the amenities of a great hotel ! The staff were top notch !!!
Jul 07, 2021
Nice place, great location and awesome staff! Thank you guys for making our stay a wonderful time!
Jul 07, 2021
It was awesome!. Very welcoming
Jul 06, 2021
Over all this Koa is very nice. Bathroom super clean, grounds also keeps very clean. The only down fall is the mosquitoes. Please please pack a lot of bug spray! Middle row lotsa are way too close and no grill or fire pit on those lots.
Jul 06, 2021
Great time overall! Would stay again. I just wish next time I'm not being questioned so much as to why I need more towels.
Jul 06, 2021
The cabin was nice, but the AC was not working very well. For camping in the summer, a strong AC is necessary! The mosquitos were in full force, which I guess is expected this time of year, but I wish there was a way to control that a bit better.
Jul 06, 2021
It was more than wonderful. I especially appreciate the phone call telling me about how bad the mosquitos were! THANK YOU SO MUCH! The site was clean, you can fish, jet ski, boat ramp, rent kayaks, check in was glorious. Laundry facility was beautiful, clean, A/C. Wifi was good. Walmart and eating facilities very near by. I loved the stay but will return when the mosquitos are at bay.
Jul 06, 2021
Great stay over Fourth of July weekend. Easy access to the river, wilderness experience but close to shopping, superb cable reception. Very attentive staff. Highly recommended.
Jul 06, 2021
Eddie Silva and Liz Silva were the best camp hosts I have encountered. Even checking in late, Eddie escorted us to our site and made sure we had everything we needed for the night to be comfortable. He even offered to get us firewood although the store was already closed for the night. The only reason that I gave 4 stars instead of 5 is that the mosquitoes were awful & there were few shaded spots.
Jul 06, 2021
Awesone stay,, felt like being with family.. love it!!! Little tip: Fishing, boat launch area should be cleaner and clear. Overwhelming mosquitos in that area.
Jul 05, 2021
I really liked the place .I recommend it
Jul 04, 2021
The campground was clean and staff members were nice/helpful. Our cabin was great. We most likely would never return to this campground or recommend it because the mosquitoes were so bad we really couldn't enjoy being outside at all. It was difficult just to get in and out of the car at times due to mosquitoes. Walks and bike rides were impossible. The dog park needs a light for nighttime use.
Jul 02, 2021
We had a great time. We rode our jet skis to the Gulf from the boat launch. It was beautiful!
Jun 29, 2021
The staff was great, the ground looked very clean however with all rain there were so many mosquitos all day long no one was using any of the facilities. No fault of Koa's but maybe the count could have sprayed
Jun 29, 2021
We needed just 1 night, so I'm not able to rate THIS KOA fairly. My wife called to make the reservation & reports the process was easy.We were offered a "pull through" slot at the $90 rate.I saw a number of "back in" slots($75), but that's not what was offered.We felt the rate was on the high side.Our 6PM in & out about 9AM allowed us to view a nicely laid out property.The mosquitos we
Jun 28, 2021
This KOA had a lot of standing water that was clearly left untreated. The mosquitos were unbearable. When asked about it, the manger never called us back and the front desk clerk said the county had been called five times that week. She did not indicate if the county had been out to spray five times. Also, doing construction on nearby campsites on Sunday at 7am is unacceptable.
Jun 22, 2021
Stayed in rustic cabins before. The condition of the bathrooms with only 2 functional and one of the two having to struggle to open is simply not acceptable. Very friendly staff does not overcome the need for basic necessities.
Jun 21, 2021
Exelente muy relajante para pasar en familia nos encantooo!!!
Jun 21, 2021
This review has been removed by KOA due to profanity.
Jun 21, 2021
Great place. All staff very kind and polite. Deborah is an amazing professional. As we had kids with us, the lack of shades was really hard on them with the hot day. Other than that, great facility.
Jun 20, 2021
The staff's great! Bring bug spray as it's SW Florida!
Jun 19, 2021
Great people
Sep 08, 2021
The staff here are such friendly people and they work very hard to keep the camp clean. Thank you guys for all you do!
- Brandy B on Google
Sep 07, 2021
Friendly professional staff, come prepared for the bugs if you are near the creek.
- Rob Barroso on Google
Sep 04, 2021
The campground and cabins were very clean and accommodating. Love the screened porch in the cabin to sit at night. The cabins have their own gas grill and fire pit foe complete camping enjoyment. The front desk staff and manager are great. Will be back!
- Ali Chirino on Google