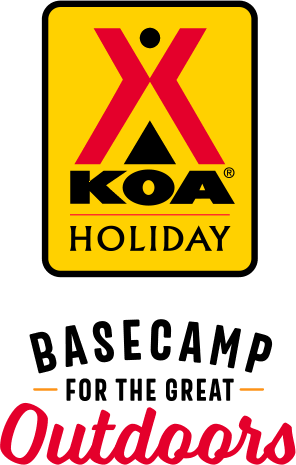 KOA Holiday Campgrounds
Whether you're exploring the local area or hanging out at the campground, KOA Holidays are an ideal place to relax and play. There's plenty to do, with amenities and services to make your stay memorable. Plus, you'll enjoy the outdoor experience with upgraded RV Sites with KOA Patio® and Deluxe Cabins with full baths for camping in comfort. Bring your family, bring your friends, or bring the whole group – there's plenty of ways to stay and explore.
KOA Holidays Feature:
RV Sites with a KOA Patio®
Deluxe Cabins with full baths
Premium Tent Sites
Group meeting facilities
Directions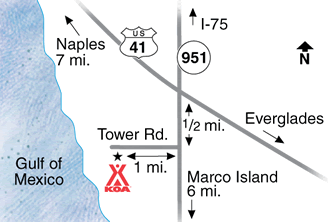 From I-75: Take Exit 101 and go south about 7 miles on 951 (Collier Blvd). Cross US 41, go through the first traffic light and take the next right on Tower Road at the Rookery Bay Reserve. Go to the end of Tower Road and turn left into the campground.
Get Google Directions
Dec 24, 2020
It was a very tight KOA for a big rig and when people parked in front of their RVs, it made it really hard to get around. Other than that, it's a really nice KOA with individual bathrooms and recycling pick up!
Dec 24, 2020
Always love staying there! Nice sites and dog park!
Dec 22, 2020
Great place will stop by again
Dec 22, 2020
Everything was clean and everyone was cordial. I thought COVID precautions were appropriate.
Dec 22, 2020
Excellent staff. Very helpful and friendly.
Dec 21, 2020
Bathrooms were gross, needed cleaning
Dec 17, 2020
Eddie was so helpful! We had been visiting family in Naples & stayed at a different campground originally. Everyone was so rude there. It was a breath of fresh air to pull up at the KOA, after hours, and have Eddie come out quickly and so friendly to help us with our after hours checkin. We will always come back to this campground because of him!
Dec 14, 2020
Had a wonderful time. Our first visit. All the staff is beyond nice. We def WILL be back and for longer next trip!
Dec 14, 2020
The camp ground was very very clean. The staff was excellent I felt like I was at a 5 star resort. The amenities were excellent and the live music was great. I think live music should be Friday evening and Saturday during the day. The store was well stocked. Well worth the price of the sites.
Dec 14, 2020
Love my stay alot very nice staff and all friendly to talk to and I love my tent site to I will be back again soon.
Dec 11, 2020
I wish we could have stayed longer, maybe next time. We did not get a chance to use the pool although it looked very nice. Everything was neat and clean at the KOA. The outdoor furniture and firepit on our site was nice.
Dec 10, 2020
Our site was ready and clean when we arrived. The assistant manager, Liz Silva was very helpful and pleasant. We stay at this KOA frequently because of its location, which is close to our hometown and it is centrally located between Naples and Marco Island. This is a very nice place to stay, with a very helpful and pleasant staff. We highly recommend it.
Dec 08, 2020
Great customer service and clean grounds. Can't wait to return!
Dec 07, 2020
Great place to stay in South Florida!
Dec 07, 2020
Everyone was very friendly, nice looking heated pool, however based on other KOAs the price was very expensive for what we got and the park seems much older and a little more run down than others. Great place though. They do have permanent residents there some of the units were not as upkept as others Overall nice stay for a little weekend getaway.
Dec 02, 2020
AMAZING VACATION !!! The campground was clean and quiet. The restrooms were among the best anywhere in a campground.
Nov 30, 2020
Just a quick overnight but a nice stay
Nov 30, 2020
Very clean place, very friendly staff, super cute gift shop, and a little general stor with literally anything you might need while camping! An awesome stay, I am definitely coming back!
Nov 30, 2020
Close to everything and a very, clean and friendly place.
Nov 30, 2020
Your staff were all very friendly and courteous. But, I would also like to say that Naples KOA was the worst campground we have ever stayed at. That trailer/bathroom setup was extremely uncomfortable. To many bugs and no fumigation from the staff. Very boring. No activities whatsoever. Told all the cabins were rented but they were empty with the exception of 3 or 4. Wouldn't recommend at all.
Nov 30, 2020
All was great other than the Can't see Um's And that the Bathrooms were being remodeled. The reviews had said that bathrooms were being remodeled but that was from 8 months ago so I didn't think they would still be but they were. Staff were very Friendly and polite and all else was Great. Location ,the pool ,K9 area were perfect
Nov 29, 2020
Took my grandaughter there for her birthday. She loved the small cabin, the pool, walking to the boat ramp several times, riding her scooter and sitting around the campfire. Everyone was so nice and very friendly. Safe place to camp.
Nov 29, 2020
It's always enjoyable very nice and clean campground and the staff is the best always there to make your time here pleasurable.
Nov 26, 2020
Always friendly and able to tackle any problem quickly with good resolutions.
Nov 23, 2020
This KOA was a wonderful place to stay. The staff and grounds are to be commended to this beautiful location. This issue we had is outside these camp ground since found Marco Island and most parts of Naples very dog unfriendly!
Nov 23, 2020
We rented a cabin. The ad stated fully equipped and full bath. With a picture of the bath. It was overpriced for a basic cabin. No bath, no dishes, no towels. No linens for the bunk. It was very clean. Very customer service staff. Refunded our money without hassle.
Nov 19, 2020
We love over yearly visit to the Naples/Marco Island KOA.
Nov 19, 2020
We loved the cabin and everything about the place except for the fact that the bugs are truly awful. We used citronella candles and bracelets, and deep woods OFF but they made little to no difference. If they made some changes to include some type of mitigation we would be regulars. As it stands, I cannot imagine going back unless the temperature is drastically lower.
Nov 18, 2020
Very clean Rv resort, we stayed one night on our way to the Everglades. Super accommodating.
Nov 15, 2020
We called before booking because we were running away from Hurricane ETA. The lady was very nice and she waited for us passed 5 pm, which was the time the closed the office. Very nice site and polite staff.
Nov 12, 2020
We enjoyed ourselves. The site was clean. The staff was friendly. Perfect get away.
Nov 09, 2020
Staff very friendly and helpful.
Nov 09, 2020
Very good stay. Very friendly staff and helpful with electrical problem we had. I did not know to check the fuse switch on the electrical box to make sure it was on.
Nov 08, 2020
Awesome and everyone was more than pleasant
Nov 05, 2020
We were happy and impressed with everything at this KOA in Naples. This is our 5th KOA visit and we have been 100% happy with each of them and the Naples location is no different. Everyone is friendly and helpful. The cabin was clean and very comfortable. This trip was for my birthday and it was just perfect! Thank YOU!
Nov 05, 2020
The staff is fantastically friendly and professional, and the grounds, sites and pool are impeccable along with a great location to the beautiful city of Naples. Thank you, Anita, and your amazing crew. You do KOA proud!
Nov 04, 2020
I feel like the campground was encouraging us to come in by offering activities for Halloween and as far as we know...nothing took place. They said they would send an email to update us, it never came. We paid a high rate to stay and were very disappointed! We had to leave and drive around Marco to find anything to do for our girls for any events. Steve in maintenance deserves kuddos, he was great
Nov 03, 2020
The cabin was perfect, clean & exactly as described. The staff goes above & beyond! The bed was comfortable & the shower hot! Loved everything!!
Nov 01, 2020
We enjoyed the spacious cabin.
Nov 01, 2020
Very nice campground and close to everything needed and downtown attractions.
Nov 01, 2020
This campground was immaculate!! So clean and the staff was very friendly and accommodating to our needs. We rented a cabin for two nights. Awesome experience and accommodations!!
Jan 07, 2021
We come to this KOA every year because the staff is awesome! it's near the beaches and fun kayaking! Also the Kellogg Duo on Mondays by the pool is so much fun they are really great people!!! Thank You! We will be back!!!!!!!!!!!!
- Marie Barker on Google
Dec 31, 2020
We absolutely love it here! We had contacted this KOA location about our unique situation with our son and from the booking they went above and beyond to make sure our son feels safe. When checking in the ladies knew about our situation and were very sensitive about our needs. Everyone from check in ladies to the gentlemen helping us find our spot to positioning our trailer were beyond friendly. The store is very well equipped and we love the heated pool! Thank you for making our stay so relaxing!
- Aileen on Google