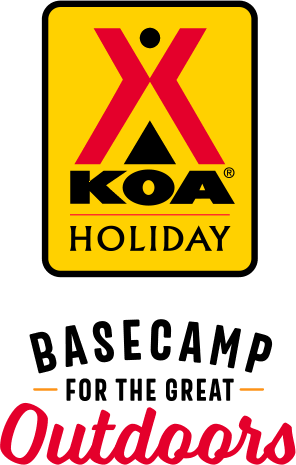 KOA Holiday Campgrounds
Whether you're exploring the local area or hanging out at the campground, KOA Holidays are an ideal place to relax and play. There's plenty to do, with amenities and services to make your stay memorable. Plus, you'll enjoy the outdoor experience with upgraded RV Sites with KOA Patio® and Deluxe Cabins with full baths for camping in comfort. Bring your family, bring your friends, or bring the whole group – there's plenty of ways to stay and explore.
KOA Holidays Feature:
RV Sites with a KOA Patio®
Deluxe Cabins with full baths
Premium Tent Sites
Group meeting facilities
Directions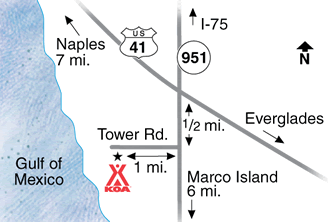 From I-75: Take Exit 101 and go south about 7 miles on 951 (Collier Blvd). Cross US 41, go through the first traffic light and take the next right on Tower Road at the Rookery Bay Reserve. Go to the end of Tower Road and turn left into the campground.
Get Google Directions
Mar 02, 2020
Amazing camp site & staff, safe and full of supplies for all your needs as well as a super Walmart 1 minute away. Thanks again for a marvelous time at your facility.
Mar 02, 2020
We enjoyed our stay...the hot dog/hamburger social was fun but too early. There was not enough wine and you were out of hamburgers by 4:30. Perhaps we should have been there earlier. You do have good access to Naples and your pool is delightful.
Mar 02, 2020
We requested an early check in at noon, when we made our reservation. We were not informed by any one at the campground that this would not be possible. When we showed up we were turned away, and told to come back hours later. Even though the unit we were staying in was not occupied. I have stayed at this KOA many many times, this type of service makes me think twice about spending money here.
Feb 29, 2020
Great time, friendly staff we will be back in the future Jack & Rita
Feb 29, 2020
Nice facility. It is a"little dated". It could use some capital improvements. i.e. replace broken concrete pads / seating areas!
Feb 29, 2020
My wife and I had a great time at this KOA campground. The staff was very friendly, helpful, professional, and hard working. The campground was also clean and well maintained. We are hoping to return next year.
Feb 29, 2020
Nice site, nice people..definitely will be back. Tent camped, probably rent a cabin next time, they looked very nice.
Feb 25, 2020
Many nice features. Good location
Feb 25, 2020
The guy leading us to the spot was confused - both our stays - Jan & Feb. water pressure was low, Tv was so snowy on every channel couldn't see. The site was ok once we were in it. Roads ate very tight for motor homes. Can't recommend this place. Our friends traveling with us had reservations lost both times.
Feb 25, 2020
Staff was friendly, campground was clean and laid out nicely.
Feb 25, 2020
Very friendly personnel in the office and the outside staff, particularly Elizabeth and Eddie, respectively. Clean, nice campground, centrally located and surrounded by convenient restaurants, stores and gas stations. Besides being close to the Marco Island and Naples beaches. We love to stay in this KOA.
Feb 24, 2020
Great place to relax. Close to good beaches, Naples and Marco Island.
Feb 24, 2020
(400 characters max) yeah ok. That won't nearly be enough space to air my grievances with this campground. If you want to know more, email me. I have photos I can share. This was the worst campsite we have ever stayed at. Only positives I can say is that it was clean, the internet was fast and the pool was nice. This was our first KOA and likely our last. I won't be renewing our KOA membership
Feb 23, 2020
Laundry was beautiful! Sites were too close together on row B. We were so close to our neighbor that we had to move our truck so they could get their motor home out when they left. The sewer hookup for our neighbor was just a few feet from our pad. . We were also right in front of the dump station. No one should have to sit in front of that! For these reasons, I feel the cost was unacceptable.
Feb 22, 2020
Very nice and clean campground. Very responsive staff. Nice amenities. Only complaints are: some sites are very close together; and cable tv is very weak and fuzzy.
Feb 22, 2020
Friendly helpful staff. Sites are well maintained. Laundry very clean. Enjoyed the pool and dog parks.
Feb 22, 2020
When things go very well and volume me is high, the accountants are happy. When almost everything that could go wrong on our stay did go wrong ... and the team members rise to the occasion and work things out in a timely fair fashion, management should be happy. Well done Marco Island KOA team. K&L from Canada. Feb. 2020.
Feb 21, 2020
We enjoyed the clean facilities and the friendly, helpful staff.
Feb 21, 2020
Everyone who works here are incredibly kind and helpful. We had an electrical issue that lasted several days. I work a graveyard shift and sleep during the afternoons. On February 12-15 I could not sleep because the electric kept kicking off and it was too hot in my camper. We own a condo and if such a problem happened to a renter we would give them a refund for those days without hesitation.
Feb 21, 2020
Awesome. Staff was knowledgeable, helpful and friendly!
Feb 21, 2020
The campground is very nice. Although the sites are to close together. The people who stay there all the time have turned into a click. If you are not part of the click, they will not talk to you and at events like happy hour, they will not sit with you or talk to you unless you start to talk to them. They are polite but only answer your questions and don't keep the confersation going.
Feb 21, 2020
Nice close to food and shopping.
Feb 20, 2020
We really had a nice time but unfortunately I had a terrible allergic reaction to the mosquito bites. We had Off Backwoods but the mosquitos weren't deterred. I would only go back if I rented one of the screened in cabins. The place is nice, very clean, and the employees are great. But you have to be indoors as soon the sun touches the trees.
Feb 20, 2020
Everything was perfect, except for the super uncomfortable bed,
Feb 19, 2020
Excelente. Un lugar hermoso y tranquilo. El personal agradable y muy amable.
Feb 18, 2020
This campground is mostly long term campers with big rigs. We were sandwiched in between with our camper van and cautioned by KOA staff that the electric hook up at our site may not work. Back in site advertised as backing up to estuary backed up to a busy road. Not the experience we hoped for. Laundry facility was clean.
Feb 18, 2020
Spaces are very close together. Do not let them assign you site B10 as it has both a palm tree and a main electrical panel that interfere with your slide outs; also the gravel at that site was so unlevel when we were far enough away from the tree and panel that our wheels on one side were off the ground when our leveling jacks finished setting. The staff were great though.
Feb 18, 2020
We were on the row of campsites that had spotty electricity for 3 days. That was challenging because it was 86 degrees. We also had someone spray bug pesticide without any notification during our breakfast. But the pool and buildings were all very clean, the staff was very friendly. The no see ums were terrible. Nice places to walk the dig un the shade
Feb 18, 2020
It was great, the facilities were very clean, all the staff were extremely helpful. I just found it super quiet for a family with 3 kids, as there were many older couples that either live there or stay long term. If I were to return I would definitely try to reserve the cabins or tent areas by the boat ramp, seems a little more kid friendly and active over on that end.
Feb 17, 2020
It was clean and we'll kept. Everyone was really nice. There's not many places to choose from in the area. Spots were really close together.
Feb 17, 2020
Everyone was friendly! great location! Nice heated pool
Feb 17, 2020
Very friendly staff, worked out a way for us to spend an extra night! Very clean, first class!!
Feb 17, 2020
The campground and facilities are super clean and well maintained. Great atmosphere in the whole campground. The cabins are nice and as described. The staff is very friendly and helpful. Great to be able to take our dog ($10 fee) -The $30 early check-in on a camping cabin when the cabin was ready when we arrived 2 hours before the 3 pm-in time was surprising. Be aware of the noseeums! SPRAY!!
Feb 16, 2020
Everyone there was incredibly friendly from the staff to the residence. I stayed in a tiny house and it was amazing, so clean and very cute! I loved it and had a wonderful time visiting area beaches and bike riding on the local bike paths right from the KOA. Very safe area too! Thank you so much to everyone there.
Feb 16, 2020
We just stayed one night in a cabin but it was a wonderful visit. The checkin ladies(wish I remembered the names) were extremely friendly and very helpful. Cabin although basic was very nice. You need to take sheets, pillows and blankets. We had Tv and refrigerator. Pool was clean and warm. Bathrooms at pool very clean. Campground was quiet at night. I would recommend this campground!
Feb 15, 2020
1-sharing H20 with other site with such low pressure not acceptable 2-not accepting Good Sams discount for a week stay unacceptable, especially when told over the phone it was 3- paying for WiFi at the prices charged not good 4- overflow for a week, hot and loud 5- all the before mentioned should have been told up front on the phone when booked in May.
Feb 15, 2020
Outstanding service - maintenance went out of their way to help me with my air conditioning!! Out standing Valentines Pot Luck Dinner!! Knowledgeable Office staff!!! Super Clean Campground!! What's not to say!!!!
Feb 15, 2020
This was our first KOA cabin stay and it will be hard to beat! We had such a great, relaxing time that we are looking at this, and other, KOA's for our future vacations. This was a clean, well maintained and quiet park.
Jun 29, 2021
One of the cleanest campgrounds I have ever stayed at. Staff was absolutely amazing and the deluxe cabins were beautiful. Highly recommend
- Nathan Kaly on Google
Jun 13, 2021
Best campground. Staff is awesome. So many different types of sites to stay in. Showers are clean and grounds are spotless. Near several nature reserves and 20 mins to beach
- Michelle Weld on Google
Jun 12, 2021
Hidden gem for access to fishing, kayaking, canoe areas. Not crowded when we visited midweek. Be ready for mosquitoes near water areas. Pool excellent. Cleanest and most modern restroom and showers compared to most any other campground or RV park. Off the beaten path so bring all your supplies. Rent kayak at office.
- Mark French on Google