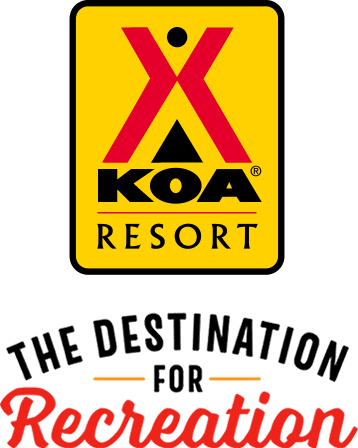 KOA Resort Campgrounds
KOA Resorts offer a carefree vacation in the great outdoors. Enjoy robust recreation and staff-led activities, kick back and relax by the resort-style pool, or grab a bite to eat, all while never leaving the campground. And with plenty of RV Sites with KOA Patios® and Deluxe Cabins with full baths to meet your needs, it's the ultimate camping getaway.
KOA Resorts Feature:
RV Sites with a KOA Patio®
Deluxe Cabins with full baths and linens
Premium Tent Sites
Resort-style pools
Indoor and outdoor group facilities
Directions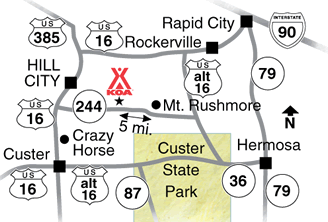 From I-90 take exit 61 onto Hwy 16 toward Mt. Rushmore. Follow Hwy 16 W 25 miles to Hill City. Continue on Hwy 16/385 3 miles then turn left on Hwy 244. Take 244 toward Mt. Rushmore 3.5 miles to the Mt. Rushmore KOA.
Please do not use GPS directions as they are incorrect.
From Custer, SD take Hwy 16/385 14 miles toward Mt. Rushmore then turn right on Hwy 244. Take 244 toward Mt. Rushmore 3.5 miles to the Mt. Rushmore KOA.
Get Google Directions
Jul 23, 2021
We stayed at the Palmer Gulch KOA on a recent family vacation to Mount Rushmore. The campground was clean and had a variety of activities for the family. We enjoyed our stay and would chose this campground again if we return to Mount Rushmore. The only downfall was the spotty internet service and lack of cell signal.
Jul 23, 2021
Great but horrible internet and cell connection
Jul 23, 2021
It was a great place for kids and they really enjoyed it. There was no climbing wall, as advertised, but still a fun place. The odd thing I noticed was that the bathroom and shower houses were shut down and cleaned too early during prime morning use time around 9am. This caused inconvenience to numerous campers. Sites were tight but we enjoyed our stay.
Jul 23, 2021
This is a great family location. Although be aware that it is extremely busy. Lots of golf carts, cars, small motorcycles, etc. all day long. It is hard to walk your children or dogs on the routes within the park. Don't park by showers. Everyone and their dog cuts through your site. Both of these experiences are very annoying! I think cutting through happens all along the site routes.
Jul 23, 2021
It was good and fun. All the amenities were nice. The chuck wagon dinner and cowboy show was a good time.
Jul 23, 2021
Wish our plot for the campsite was more level, otherwise great stay!
Jul 23, 2021
Our spot (16) was not as depicted in the reservation sample. It was very difficult to maneuver a 32' travel trailer into and nearly impossible, let alone dangerous to pull out of the spot due to its proximity to spot 19 that was also occupied. Spot 16 should not be booked for longer campers. Restaurants on site were either closed completely or could not serve menu items due to lack of supply.
Jul 23, 2021
This is an exceptionally densely packed campground, even by KOA standards. The newer sites toward the back of the Fun Zone are a swamp. The internal roads are packed. The resort amenities are nice, but there were ZERO masks amongst the entirely unvaxed under-12 population. Lots of add-on activities (crafts, horseback riding, Rushmore shuttle, UTV rental) and plenty of 'free' stuff to do as well.
Jul 23, 2021
The overall campground is set up amazing for kids. I loved this about the campground. However, what was an issue for us the our camp site. We were tent camping and our site was located on an incline. It was awful. We ended up leaving 2 days earlier than planned because my wife was not going to sleep like that another night.
Jul 23, 2021
Park has become too large to be able to adequately accommodate guest, there were not enough restrooms, showers for the amount of people that are there, the showers were very dirty there is no place to put your toiletries when in the shower. Parking where you register is so congested and full you cannot park to go in to register. The park is so large it would have been nice to be led to your site.
Jul 23, 2021
Your staff are top notch. They helped us immensely manage an unfortunate circumstance on our last day there. We are so appreciative.
Jul 23, 2021
Fantastic campground! Fantastic people working here to ensure a great time to see all the sites near and around Mount Rushmore.
Jul 23, 2021
Not enough bathrooms and hot water for a shower and way toooo many people. Packed us in there like sardines. Lots of people walking through our camp site.
Jul 23, 2021
This is a awesome campground, lots of things to do for the kids! However, we were extremely disappointed with the bathhouse closest to our cabin. It was never cleaned while we were there, the fan the in women's bathroom didn't work, so it smelled. The showers were visibly dirty, and the water never got hot, even before 6am. For this reason, I doubt we will return.
Jul 23, 2021
Thought it was a little pricey for a tent site rental. Was clean and enjoyable.
Jul 23, 2021
Lots to do for families with kids. Very packed and not much privacy, unless God answers prayers to an awsome peaceful spot. He did for us!! 471 is recommended for tent camping when no ones in 472, or other way around. But even if it's taken, it is one of the private spots! Good food and shakes at turtle town, and good coffee in grapes and grind!
Jul 23, 2021
Pros: There were a lot of activities for kids. Registration was good, but you need your license plate #s for your RV and toad. There was a shuttle to take you to Mt Rushmore for the evening light ceremony. Cons: The sites were really tight and it was fully booked, so it was extremely crowded. The Wi-Fi didn't work at all, and there was no cell service at all for Verizon. We won't be going ba
Jul 23, 2021
Wonderful stay
Jul 22, 2021
We stayed in a 2 room camping cabin. My only complaint is that the beds are too hard. I wish for different a mattress that is softer. My grandchildren enjoyed all of the fun zone activities.
Jul 22, 2021
Great as always. We will be back.
Jul 22, 2021
Great campground. Lots to do. Only draw back was no TV service or cell service. Our site also had a huge mud hole the whole time we were there. Could use some gravel to level it up. Watching the horses ever morning and evening was a joy.
Jul 22, 2021
Bathrooms and showers at station 4 were horrible. All the overhead exhaust fans were all but blocked with dirt. Shower curtains at the bottom were laying on the floor and covered with mold. I pointed this out to a supervisor and a manager and all they said was ther were short of help and didnt have the stsff to take care of it. The grout in showers had a lot of mold as well.
Jul 22, 2021
There was plenty to do and see. We especially enjoyed the Mt Rushmore night trip and the chuck wagon breakfast . However all the bells and whistles don't matter when you can't enjoy your campsite. We were put up on hill on the most unlevel site I have ever seen. It took every block we had. Not a level spot to put a chair or grill so had to cook inside. Also filthy showers! Very disappoint
Jul 22, 2021
Great scenery, great location, great campground with so much to do. We loved tent camping here!
Jul 22, 2021
Our tent site was great but the bathrooms/showers were filthy! Even right after they supposedly cleaned them. The showers were the worst. Mildew all over the tiles. Nasty floors. Cold showers. Warm at best. When I pick a place to shower and pay extra for it, then I expect a clean shower! I won't be back to this koa.
Jul 22, 2021
Clean Resort, friendly staff and a lot to do in this great location. WiFi is spotty, but if your there for a vacation, who needs WiFi right?
Jul 22, 2021
It was beautiful and nice. It had so many things to keep everyone busy just at the campground. It was so close to Mt. Rushmore and Crazy Horse Memorial.
Jul 22, 2021
First time at a KOA so we didn't know what to expect. My family had a blast.
Jul 22, 2021
Park was very nice staff mostly friendly and helpful, wi-fi was very spiratic a to the point of being poor
Jul 22, 2021
Amazing place! So many activities and a perfect spot for kids! You really need a week to enjoy all the amenities and sights but it was super fun for our one night. Didn't have cell service but Wifi worked great. We can't wait to come back!
Jul 21, 2021
People friendly. Site we were on was too small for RV. KOA was packed. So, all bathrooms were packed, too. Love individual showers, but could use a more frequent shower curtain change and a visible s schedule of cleaning.
Jul 21, 2021
This place was incredible, action packed and family centered. Extremely accommodating, they've thought of everything
Jul 21, 2021
We love Palmer Gulch! The comfort stations near our campsite at 433 could really use some updating/cleaning. Our daughter wouldn't shower in there. The other comfort stations are great! We love the activities. Mini golf could use a bit of a facelift.
Jul 21, 2021
Laundry room was closed for the season in July... WiFi and Phone signal was non-existent unless you were at the KOA Store... roads were narrow/cramped... and our spot was so un-level that we had one wheel off the ground when the trailer was leveled. We would stay there again **IF** we could get a spot on the flat part of the campground (the East side). Wouldn't stay on the East side again.
Jul 21, 2021
Beautiful area, but we felt like sardines.....it felt like KOA compromised the customer experience for their profit level. Our campsite had campers and trucks shoved in at all angles. Night sound level was good, but very smoky. One dump site?? We had quite a wait. Your campground looks great for kids, but doesn't fit our desire for solitude and views. Thank you
Jul 21, 2021
It was a quick stay but we enjoyed our nice shady spot on the hill and the accommodations worked well. We will probably return next year for a longer stay so we can enjoy the resort amenities too.
Jul 21, 2021
Our first stay at KOA, we started using KOAs' since while traveling to Paducah KY, because of how nice and user friendly they are.
Jul 21, 2021
Great time, enjoyed nightly activities , please, please upgrade WIFI
Jul 21, 2021
I booked 2 weeks out and they had room for our 2 night stay and that was great. Cons: Our spot was hardly wide enough for our trailer due to a tree and the terrain. It was on a steep incline and about 8" off level side to side and about a foot front to back, packed, the "free wifi" did not working at all in our area and no cell service. Pros: plenty free to do, clean bathrooms, 5m to Mt Rushmore.
Jul 21, 2021
Friendly staff. Cabin was clean but needs some major updating. Restrooms were not touched the three days we were there. By the third day, they were filthy. The ATVs are taking over the park…several under age people were recklessly driving them. Laundry facility was closed…which was inconvenient for the several campers located in that section.
Jul 21, 2021
All great helpful people! Both the ladies and the gentlemen!!
Jul 19, 2021
Great RV and camping park
- Garret Villamor on Google
Jul 18, 2021
I haven't felt this relaxed on a vacation in along time! There was something for the kids to do the whole time we were there. None of us wanted to leave!!! And the best part was we ran into some friends from our home town! So we enjoyed everything together!
- Brandy Conley on Google
Jul 16, 2021
Very nice hotel with great Amenities from the KOA campground. The room was clean and had 4 towels. They provided soap, shampoo, conditioner, and lotion. Though a thing to note is that breakfast does not start till 7:30 so if you plan on leaving early you will have to just grab some 24/7 coffee and orange juice.
- Austin Back on Google