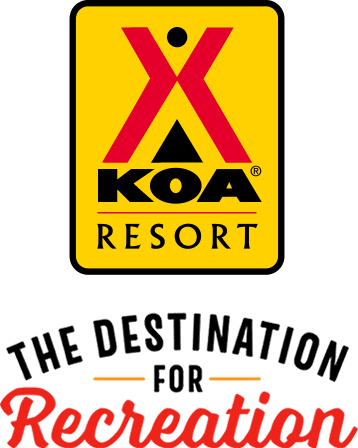 KOA Resort Campgrounds
KOA Resorts offer a carefree vacation in the great outdoors. Enjoy robust recreation and staff-led activities, kick back and relax by the resort-style pool, or grab a bite to eat, all while never leaving the campground. And with plenty of RV Sites with KOA Patios® and Deluxe Cabins with full baths to meet your needs, it's the ultimate camping getaway.
KOA Resorts Feature:
RV Sites with a KOA Patio®
Deluxe Cabins with full baths and linens
Premium Tent Sites
Resort-style pools
Indoor and outdoor group facilities
Directions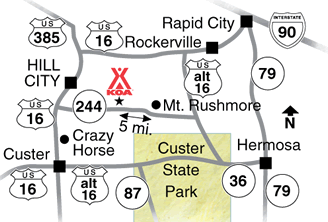 From I-90 take exit 61 onto Hwy 16 toward Mt. Rushmore. Follow Hwy 16 W 25 miles to Hill City. Continue on Hwy 16/385 3 miles then turn left on Hwy 244. Take 244 toward Mt. Rushmore 3.5 miles to the Mt. Rushmore KOA.
Please do not use GPS directions as they are incorrect.
From Custer, SD take Hwy 16/385 14 miles toward Mt. Rushmore then turn right on Hwy 244. Take 244 toward Mt. Rushmore 3.5 miles to the Mt. Rushmore KOA.
Get Google Directions
Oct 30, 2020
Very accommodating - our initial site could not accommodate our slide outs. But, they were able to find a different location for us (during a very busy week) - It is a huge facility - well maintained. Great for families.
Oct 21, 2020
While most everything was closed due to 2020, the place was top-notch. We liked our site even though it was right behind a shower house & dumpster. The only issue was inconsiderate "neighbors" walking right into our campsite to avoid an extra 10ft walk to the shower house walk. We had our dog and multiple people would walk their dogs right through the site without consideration of the space
Oct 20, 2020
I had a vehicle breakdown the very last day of my stay and was stranded at this location an additional day past your season end. It was probably some of the scariest moments of my life being broken down out of state with my family 1,000 miles from home, but the staff went above and beyond to help ensure we were safe and were hugely compassionate and empathetic to the situation.
Oct 17, 2020
I love the patio RV sites!
Oct 16, 2020
This is a very excellent park! The best KOA we stayed at on our long trip. Great variety of accommodation types. Too bad it was past the major season and some facilities were closed. Very comprehensive Park Guide provided with plenty of information about the surrounding area.
Oct 14, 2020
The lady I spoke with was very friendly and took the time to tell me about many local sights to see. She was well informed about the area and gave me some very good advise.
Oct 07, 2020
This is a Wonderful location and beautiful campground. The staff was very nice and friendly. We had family emergency while there and needed to stay a night longer and they were very easy to make that happen for us. We will most certainly return when we can.
Oct 07, 2020
It's a beautiful and large KOA, but it's empty and only dry camping.... It must have been very busy and fun with all the activities... I will definitely come back. The office girl was very pleasant and helpful...
Oct 06, 2020
Great facility with a lot of fun things to do. Only reason they didn't get full five stars is because we came in the later half of September and it was already considered off season, so we couldn't use everything.
Oct 06, 2020
Very nice campground, and extremely clean, great staff!
Oct 05, 2020
Staff very accommodating to finding site options for move we requested to a different site after the first night. Friendly / helpful staff. Lots of amenities for the kido's. Will definitely go back again.
Oct 05, 2020
It was a nice place, it snowed so it was muddy and their roads are dirt. but staff was helpful and friendly. Good place to stay if you have kids, lots to do. It was expensive for us given the fact that most of it was closed.
Oct 05, 2020
I never had phone service or internet service the entire time I was at your campground. The WiFi connection was so weak I was never able to connect.
Oct 05, 2020
Expensive but worth it . Great location and nice staff. You won't be disappointed
Oct 05, 2020
We had a wonderful time. The staff were amazing. Friendly and helpful. We have told everyone they need to go to see Mount Rushmore and most definitely stay at the KOA at Palmer Gulch.
Oct 05, 2020
I was a little disappointed that things had shut down the day we got there. I was unaware that the whole campground shut down on 10.1. Didn't recall seeing any news about it prior to booking. Otherwise, the facilities were nice, bathroom showers were great! Seems it would be really fun during the summer months with all the water fun!
Oct 04, 2020
someone needs to get on a 450 dozer and grade the hill portion of that campground. the site was radical side to side and front to back
Oct 04, 2020
Nice RV park. Stayed 4 nights and did a lot of driving around. Good central location. The people working there were very nice and worked with us as much as they could. Just a little to big for me, A lot of people just moving around.
Oct 04, 2020
Overall it was a great stay. Was disappointed we were not allowed the free night with with the value card weekend. (pay Friday, get Saturday free) We were told they did not participate in it despite them having advertisements at their site for this special. Oh, well
Oct 04, 2020
Excellent staff!! Everyone was so helpful and friendly! The campground was beautiful and quiet! I loved how there was so much to do at the campground and around the campground! We will definitely be back.
Oct 04, 2020
When we booked it said all amenities except a few would be open-everything was closed. The laundry facility was filthy.
Oct 04, 2020
The campground is beautiful nestled in the black hills of South Dakota near Mt. Rushmore. They offer a little bit of everything, RV sites, tent sites, cabins, a lodge, a store, pool, pond, entertainment. It was wonderful!
Oct 02, 2020
Everyone went out of their way to be helpful and friendly for our entire weeks stay. My family stayed in the Lodge and we stayed in the RV Park. Both locations were very beautiful and well maintained. Nothing was over looked. We will certainly be recommending this KOA to friends and family and fellow travelers. Best KOA we have ever stayed at! Great Job by all of the employees!
Oct 02, 2020
NICE CAMPGROUND AND STAFF WAS VERY NICE, HOWEVER MY RATING REFLEXES ON NOT HAVING GOOD WI-FI AND UNABLE TO USE CELL PHONES ( NOT YOUR PROBLEM - CARRIER PROBLEM WITH NOT SERVICING THE AREA ) WAS REALLY CLOSE TO EVERYTHING WE DID. ALSO NO CABLE SERVICE AND WITHOUT SATELLITE DISH IT WASN'T A GOOD 4 DAYS.
Oct 02, 2020
Had a wonderful time, the kids enjoyed the mini golf and bikes. The bathrooms, however, needed some love. Feminine disposals overflowing and dried poop on the toilet for the duration of our stay. Cut about a foot off the bottom of the shower curtains so water doesn't flood the changing area. Also the "shower chairs" that were in there left a lot to be desired. More hooks and a legit, clean c
Oct 02, 2020
A+ locations. RV sites very close together and dirty and old showers/bathrooms but worth the visit for sure.
Oct 02, 2020
This was a very surprising stay when we arrived we were greeted by very helpful employees are overall stay was great every thing was very clean the employees were very helpful in every thing we need would recommendthis place to anyone looking for a nice place to stay
Oct 02, 2020
Need to work on getting WiFi connectivity
Oct 02, 2020
You failed to honor our request to be near our traveling companions. The site next to us was vacant. No excuse! You take the lazy way out and let the computer assign campsites. Only 2 KOA's have honored our request on our current trip.
Oct 02, 2020
We loved everything about the campground but found it difficult that there was not even cellphone service. Not WiFi either, which we can live without, but no way to call or get calls from our family was tough.
Oct 02, 2020
Great place to camp. The staff is very, very friendly and extremely knowledgeable about the local area/areas. They really helped us make a decision where to stay and the services provided at those locations given the fact that KOA Palmer Gulch was closing for the season and the services provided would be at bare minimums.
Oct 02, 2020
Bathrooms/showers were very dirty. We stayed two nights at a tent site and they were never cleaned during our stay. We know it was the end of the season, but chose a KOA because we felt it would be cleaner. Disappointed in this part of our stay. Nice location and easy access to hiking trails.
Oct 01, 2020
Cable tv didn't work even after the tech. Worked on it for an hour. Restaurants, Free pancake breakfast all close after labor day but I wasn't informed when making the booking months in advance. Still paid full price for severely limited amenities including cable. Staff was friendly and facility is clean and beautiful but lack of advertised amenities available pissed me off.
Oct 01, 2020
We pulled out a day early bees were terrible not the parks fault. Might have been drawn to the grease that was all over the patio near the grill and to the road. Also the grill was 500 degrees when we got there luckily a little child next door didn't tough it
Oct 01, 2020
Lovely place to stay in the Black Hills. There were many amenities available to choose from had it been "during season", Memorial Day to Labor Day. Our stay was after Labor Day, so not as many options were available to enjoy. Also, the campsites were very close together. The staff was friendly, and overall it was a nice place to stay.
Oct 01, 2020
Very poor service. No one answers phone. No internet though they told us they had internet. Leafy day early and had to find another place with internet (kids in school). Spaces are VERY tight/small.
Jan 17, 2021
This place is beautiful, we enjoyed our time here. We are already planning on a return trip.
- Roberta Anderson on Google
Jun 08, 2018
The horse back ride was well worth the drive. The staff was friendly and helpful, with a good attitude towards helping us feel comfortable. Even though my daughter has riden before it can still be intimidating for a small child. They made sure she was comfortable with her horse and they choose the perfect horse for her. If you have kids I highly recommend this as a family activity. They take some good pics so if you want pics they are reasonably priced.
- NoBuy DoneDay on Google
Sep 06, 2016
Staff: Awesome. The Resort: Clean. The campsite: Tidy. The Value: Arguable. The pancakes: Excellent. The Bathrooms: Clean. The Pool & Hot Tub: So good. Activities: Decent WiFi: Sketchy. Cell Service: Non-Existent. Will we stay again: Absolutely
- Brent D on Google