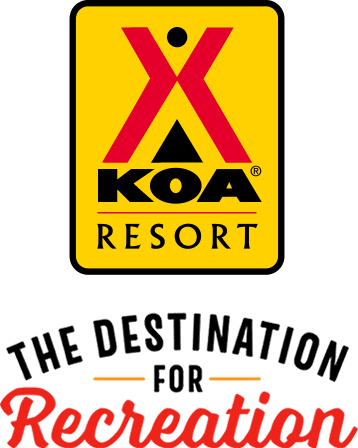 KOA Resort Campgrounds
KOA Resorts offer a carefree vacation in the great outdoors. Enjoy robust recreation and staff-led activities, kick back and relax by the resort-style pool, or grab a bite to eat, all while never leaving the campground. And with plenty of RV Sites with KOA Patios® and Deluxe Cabins with full baths to meet your needs, it's the ultimate camping getaway.
KOA Resorts Feature:
RV Sites with a KOA Patio®
Deluxe Cabins with full baths and linens
Premium Tent Sites
Resort-style pools
Indoor and outdoor group facilities
Directions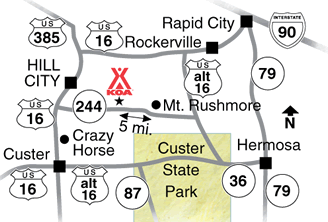 From I-90 take exit 61 onto Hwy 16 toward Mt. Rushmore. Follow Hwy 16 W 25 miles to Hill City. Continue on Hwy 16/385 3 miles then turn left on Hwy 244. Take 244 toward Mt. Rushmore 3.5 miles to the Mt. Rushmore KOA.
Please do not use GPS directions as they are incorrect.
From Custer, SD take Hwy 16/385 14 miles toward Mt. Rushmore then turn right on Hwy 244. Take 244 toward Mt. Rushmore 3.5 miles to the Mt. Rushmore KOA.
Get Google Directions
Oct 09, 2021
Would give 5 star and a 10 if we were able to enjoy everything, horse back riding, pancake breakfast, etc. We just missed all activities based on the dates of our stay. We did, however discover a bug in the bottle of liquor that our drink was poured from at the bar on tip of the hill and they just put the bottle back....didn't remove it.
Oct 08, 2021
Wonderful. You're blessed with Kevin, your manager. Great guy.
Oct 06, 2021
I think this was our favorite KOA on our 3 weeks trip, so much to do, so beautiful, lot's to explore outside the campground, nice and close to Mt. Rushmore. Wish it was closer to home... my daughter and 3 year old granddaughter was with us and she was active all day till she dropped from exhaustion at night. I wish we could have stayed much longer, we were there 4 nights. Not enough
Oct 06, 2021
nice park but we stayed there late in the season and everything was shutdown or in the case of the restaurant never opened. also, the restroom by our site was not cleaned for at least 2 days as witnessed by the pills and leaves on the floor. i would recommend anybody staying there to check was is open and not go by the website. i tried to call multiple times but no one would answer the phone.
Oct 05, 2021
Site 367. 9/26-9/30/2021. Pros-Beautiful campground, stunning views, amenities, and surrounding countryside. Level sites. Very clean, easy in/out around campground. Very friendly staff. Cons-Neighbors sewer and hookups and fire pit a little close. Spotty cell service(AT&T) and WiFi at our site.
Oct 04, 2021
Most of the services (including answering the phone) were lacking. Restrooms were marginally clean. Know part was closing in a few days, but we shouldn't have had to pay rental rate that didn't include normal services.
Oct 03, 2021
We stayed in the tent camping sites. Our site was very nice, on the edge of a hill overlooking the campground. Didn't feel like we were "glamping," which was great! Only gripe was that our site was very difficult to find when we arrived in the dark - our fault - (the signs for the tent sites are very small and easy to miss, especially in a pitch black, SD night).
Oct 03, 2021
Very beautiful campground nestled in the black hills and so close to Mt. Rushmore! Right across the road, there are hiking trails! We were there right before closing for the season but the little cafe was open! Great ice cream! Only drawback is the koa internet was not strong. Without having a cell signal, it would have been great to have strong wifi.
Oct 03, 2021
Great stay. Loved the cabin. Very clean. Staff very friendly!
Oct 03, 2021
Great family location - and great place to visit off season as we did to avoid traffic. This is a huge park we were in space 503….
Oct 03, 2021
We were very disappointed with the accommodations. We were anxious to do our laundry. One of the reasons we chose the camp. We had stayed there in the past. We arrived and paid for our space. Much higher but it's a resort. Then we found that the camp had shut down several things for the season, things such as the laundry close to our space. We paid summer prices for off season benefits.
Oct 02, 2021
Beautiful campground. Enjoyed our stay.
Oct 02, 2021
We stayed at the Mount Rushmore KOA for 3 days and the during that time the restrooms and showers were never cleaned. There was mud in them everywhere. Also the door to our cabin was falling apart. We've stayed at many KOAs and would likely not recommend this one as our favorite.
Oct 02, 2021
Park is nice however the bathrooms were never cleaned during our stay.
Oct 02, 2021
Little disappointed when it wasn't made clear that even if you pay for a upgraded site only the ones closest to the office will have cable. Sites are closer than we are used to. Few to no trees on property.
Oct 02, 2021
Very well organized and helpful, all you could need is on the grounds... From supplies to entertainment. Madison was great at the desk, very friendly and professional. We enjoyed our stay.
Oct 02, 2021
The location can't be beat! Just minutes away from Mount Rushmore, Crazy Horse, Iron Mountain Road, Hill City, and Custer. I wish we'd been here when the campground was in full swing. This late in the season, the campground was mostly shut down. Our site had quite a bit of dog waste and flies around it and the laundry was not as clean as we're used to for a KOA. Otherwise, your KOA was nice.
Oct 02, 2021
Staff and location were great. No complaint with the fact that most of the facilities were closed since it was the last week of the season, but the problem we found was with the restrooms and showers. The signs said they were cleaned twice a day, but we were were there from Monday through Friday and the same garbage and cigarette buts were in the bathrooms the entire week. It was pretty bad.
Oct 02, 2021
most staff great, we will be back and tell others, best KOA of all
Oct 02, 2021
Directions for a pull thru site were incorrect. Never had that happen to us before. The direction had us making impossible turn into site and would be backward. Also happened to another motorhome pulling in later.
Oct 02, 2021
I would easily given top scores if we were at a site that actually had room for our 18' trailer and truck. Also, higher marks if the sewage hole/connector wasn't broken and missing the cap. We figured folks before us likely drive over it trying to fit tiny trailers in the even tinier space? Otherwise, every thing about the setting was magnificent and convenient!!
Oct 02, 2021
The location is great. The downside is no phone service (that you don't find out about till you get there). Internet is marginal and tv service on only a small number of sites.
Oct 02, 2021
Good stay, late in season so much was shutting down, but excellent campground
Oct 01, 2021
Amazing campground,great staff
Oct 01, 2021
Great place loved the pull thru with patio and swing. Much to offer and do here
Oct 01, 2021
Friendly & helpful staff and very clean facilities.
Oct 01, 2021
We love staying at Palmer Gulch, but we will not stay late in the season again. There were no services available - restaurant, bar, pools, etc.
Oct 01, 2021
The staff was friendly, so I'd give them 5 stars, but the KOA is so crowded and there are very few trees. We felt on top of our neighbors.
Oct 01, 2021
Great place to stay 'in' the Black Hills! No TV, No internet! Close to everything!
Oct 01, 2021
Only couple complaints I guess would be WiFi really bad and everything closed down and that's one of the reasons we choose it. They should tell the people that are coming at the end of the season these things up front.
Sep 30, 2021
Very nice and the views are great
Sep 30, 2021
Disappointed! I understand the end of the season 9/30 but I didn't pay season end prices. I was very hyped about staying here, which came recommended from other friends and campers. Love the location, and the campground is scenic. Fire pit 2-3 feet away from my coach (had to de-smoke my rig from neighbors smoke; WiFi sucked; comfort station filthy dirty 80% of the time. Never again at this KOA!
Sep 30, 2021
Thank you for letting us stay at your KOA
Sep 30, 2021
Everyone was so polite. When we had questions they were quickly answered we were very well accommodated. We will definitely be coming back.
Sep 30, 2021
Rude staff, filthy showers and most facilities "closed for the season". We won't be back.
Sep 30, 2021
Seemed like a great place, except half the facilities were closed that would make it fun. Would not be a problem other than we were not told until we got there and we paid FULL price for PART service. Unfortunate.
Oct 06, 2021
This KOA is in a perfect location and would love to stay here again. We rented a glammed cabin which is just a upgrade from their simple cabins but well worth it in my opinion. Your cabin already comes with bedding, a mini fridge, microwave, outdoor grill and table and chairs. You have a beautiful view of the woods and the campground itself has so many activities. You're right in the middle of the black forest, custer state park and Mt Rushmore. I will definitely be staying there again.
- Elsa Vides on Google
Oct 04, 2021
Not a bad place but no phone service and no internet and, No! well life just shows down
- Shawn Maurer on Google
Sep 29, 2021
Beautiful cabins! Better than shown on website. Full kitchen and utensils. Very spacious living and dining areas as wall. Outdoor porch with gas grill and seating for 10-12 people. Great accessibility and convenience for trailers as well. Love KOA!!!
- Nanda Sundri on Google