Mount Rushmore KOA Resort at Palmer Gulch Recreation
You don't need to leave the Mt. Rushmore KOA at Palmer Gulch to have a GREAT time. We have it all; 2 pools, a climbing wall, 100 horses, super cool rental bikes, UTV's, and great food. Enjoy your stay!
Some of the activities have an extra cost. Most activities are available Memorial day through Labor Day.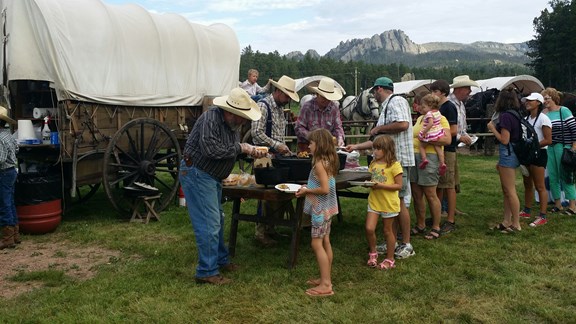 Chuck Wagon Supper Show
This open-air show takes place in a remote mountain meadow. You'll ride to the show on a horse-drawn covered wagon or via horseback where you'll enjoy a Real Cowboy music show performed by local waddies and ranchers! Watch a real dough-boxer grill Dakota grown beef steaks over an aspen-wood camp fire and taste dutch-oven side dishes prepared right out of the chuck-box. This is Real Western family-fun under a big South Dakota sky! Reserve you spot soon!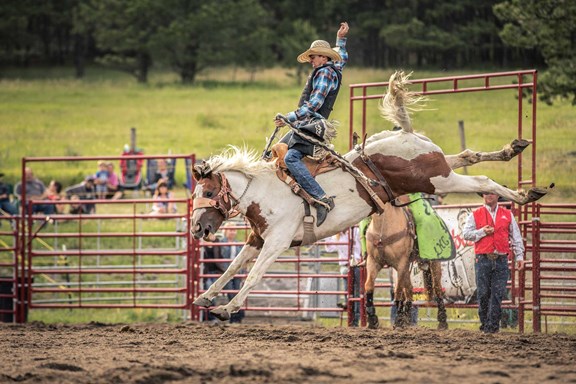 Mt Rushmore Rodeo
Experience breathtaking spills as daring cowboys risk their lives. Can the cowboy hold on for 8 seconds? Watch as cowboys spur on the bucking broncs determined to reject all riders. The pride in competition is only surpassed by the quality of the rough stock. Anticipate the heart pounding race between rider and steer in the Roping events. Adrenaline pumping action as riders race their horses to beat the clock in the Barrel Racing event. This is much more than a spectator show. Rodeo fans cheer on their competitors as they compete for bragging rights and cash. How about the young buckaroos... They can test their grit in "Mutton Bustin". Meet the animals and get a behind the scenes look at the rodeo's inner workings.
Admission is Free for Mount Rushmore KOA Resort at Palmer Gulch guests or $10 for adults and $5 for Kids 6-12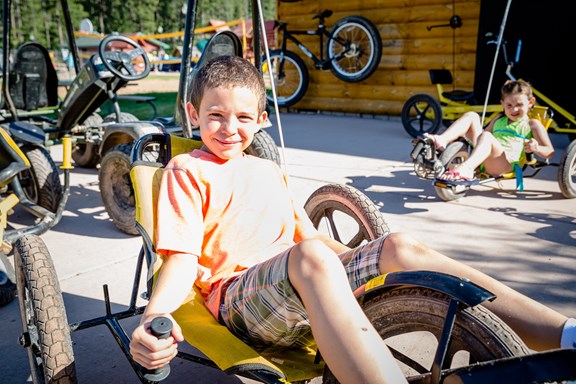 Biking
The Black Hills is loaded with great cycling opportunities for all bikers. The Mickelson Trail is a world class 100-mile long rails-to-trails route just three miles from the campground. A thousand miles of single track and great roads make the Hills a biking paradise. The Outpost Bike Shop is located at the Fun Zone and rents Fun Cycles, Striders and Fat Bikes. Our Bike shop is open from Memorial day to Labor Day.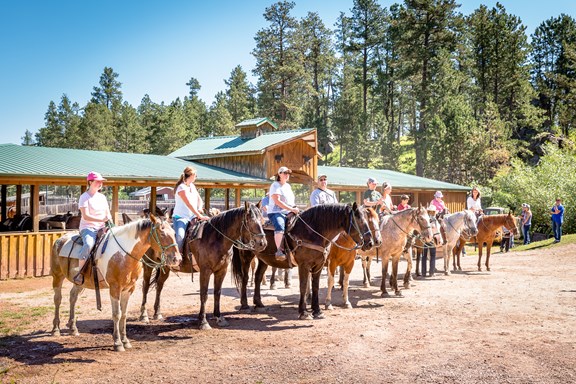 Palmer Gulch Stables
Enjoy the Black Hills on horseback! Several different trail rides are available for riders of all skill levels. Scenic rides are available through the Black Elk Wilderness Area and the Norbeck Wildlife Refuge. Reserve your ride starting the Friday before Memorial Day by calling (605) 574-3412 or at www.ridesouthdakota.com
UTV Rentals
Explore the trails of South Dakota's Black Hills with a UTV Rental. Miles of great forest service trails are right out our back door for your entire family to enjoy. Pack a cooler, some snacks and embark on a Black Hills Adventure. Inquire about rentals at the Concierge desk.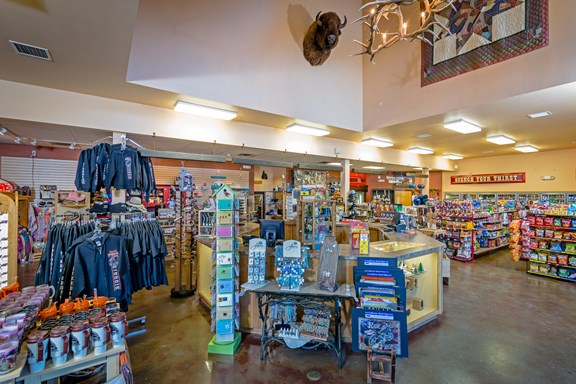 Shopping
Enjoy 4 shopping experiences at Palmer Gulch. The KOA Main Store, at the park entrance, is set up with convenience, souvenir, RV/camping supplies and more. Grapes and Grinds has South Dakota roasted coffee and wines, fudge, roasted nuts and more. The Outpost Store, in the center of the park, has a great section of toys, swim stuff, treats, camp gear and is also the activities hub and home to the Outpost Bike Shop.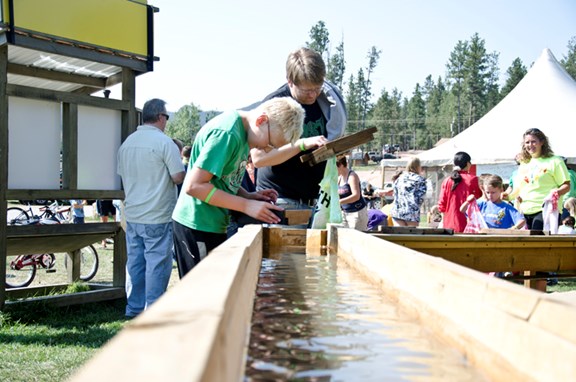 Palmer Gulch Mining Company
The Palmer Gulch Mining Co. located near the waterslide right here at the Mount Rushmore KOA! Mine for everything from gold spheres to real GOLD! Supply's can be purchased in the Outpost Store. Open Memorial Day to Labor Day.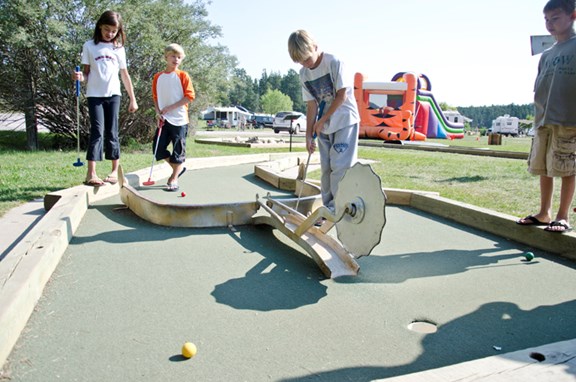 Mini-Golf
The Kowboy Kountry Klub mini-golf in the Fun Zone at the KOA is a great mini golf coarse for the whole family and it is absolutely free.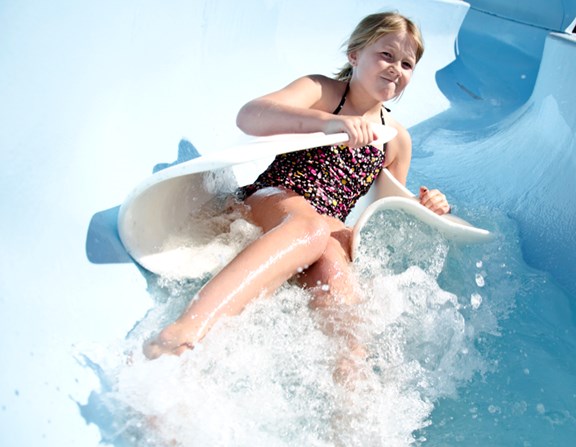 Swimming and Water Slide
The Mount Rushmore KOA has two pools, hot tubs and a water slide so water fun begins right here. Please note that from time to time our pool water will have a brown tint from the minerals in the water, it is completely clean and safe. Memorial Day to Labor Day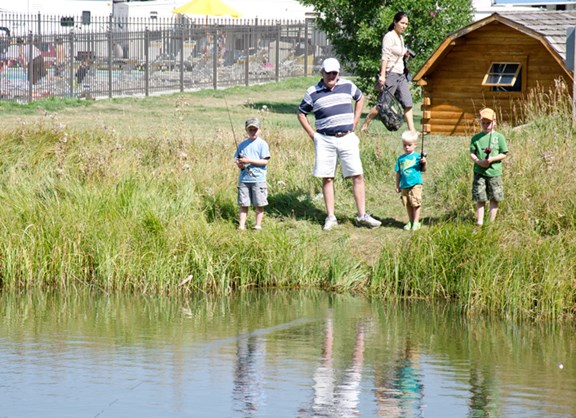 Fishing
In addition to the fishing pond at the KOA, there are several lakes and trout streams within a few miles. Remember that you need a South Dakota license.
Local Area Recreation