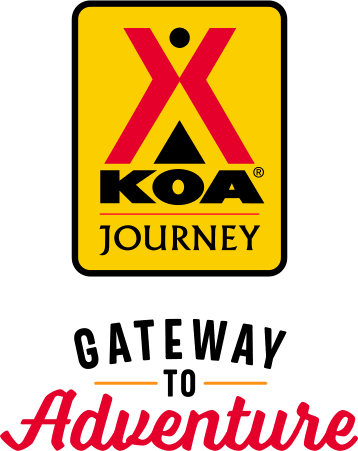 KOA Journey Campgrounds
KOA Journey campgrounds are the perfect oases after a day on the road. Whether it's along the way or a quick getaway, they've got you covered. Located near the highways and byways of North America with long Pull-thru RV Sites, they deliver convenience to the traveling camper. Pull in, ease back and take a load off.
KOA Journeys Feature:
Pull-through RV Sites with 50-amp service
Premium Tent Sites
Well lit after hours check-in service
Directions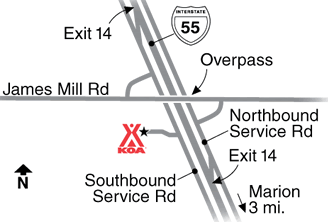 From I-40: Take I-55 N, 6.5 miles to Exit 14, Jericho. Follow AR Hwy signs, KOA on southbound service road.
From I-55 Southbound: Take Exit 14, follow southbound service road under overpass, KOA on right.
*RV GPS prefer the address, if you use the town Crawfordsville
Get Google Directions
Jun 16, 2021
Sites are very short and VERY close to each other. Roadways needed leveling and gravel. Not a good representation for KOA - but I don't really think KOA cares.
Jun 16, 2021
Nice campground. We actually stayed here twice--both going and returning from our destination. We extended our stay on our returning trip so that we could enjoy the campground and surrounding area. Would have been a great location for a Memphis TN tour except the I40 bridge was closed. We took advantage of their delicious breakfast both times.
Jun 16, 2021
Overall it was a nice location. Needs some updating to facilities but my husband didn't mind. Only complaint was about the cement slabs. We would've been better off staying on gravel spot. The broken up slab was very tough to level on.
Jun 16, 2021
Very disappointed! It was a sleepless night! Someones car alarm was going off ALL night long. The next morning I voiced my concern to the office and they said there was nothing they could do. We have stayed in KOA's for most of our cross country trip, I didn't like the reaction of the office staff. The campground is not in great shape. broken picnic tables & dirty bathhouse not KOA quality.
Jun 15, 2021
No issues except my big rig barely fit. Had to park truck across front to fit everything. Spaces a little tight but overall workable. Only stayed on night so got in late and left early. Second time for a one night stay.
Jun 15, 2021
Thanks to large trees providing shade, and an open pool made the high humidity and hot temps bearable. The staff were very friendly and went out of their way to provide a great customer experience! Their concrete pads need repairs and the only reason for not being 5 stars.
Jun 15, 2021
For a journey, this had all the right amenities. Road noise and trucks were loud all night. Train at 4 am was also loud. Great for one night stay!
Jun 15, 2021
the cabin was great. Staff friendly, traffic getting there was a pain but the park was great.
Jun 15, 2021
Nice campground, sites very close together. Did not enjoy the pool, too many non campers
Jun 15, 2021
It was very nice
Jun 15, 2021
Not maintained well, debris, weeds, clutter, lacks pride our ownership
Jun 15, 2021
We were in site 46. It was concrete that was so delapidated it was completely un-level. It was in fact the worst campsite pad on which we've ever stayed. It should minimally be covered in gravel. Then it would have a chance of being level. It was also a trip hazard. The staff were very nice. The location was handy for our needs.
Jun 15, 2021
Nice pool and pet area. Friendly staff.
Jun 15, 2021
Great. We are new at camping did not make advance reservations for our trip did it on the fly as we drove. Nice touch of having dinner ordered and delivered to site. Breakfast nook at check house. Clean with a friendly staff.
Jun 15, 2021
This KOA has easy access and is conveniently located off I55. Staff was helpful and friendly. Great place for an overnight stay.
Jun 14, 2021
It was really nice. All except the lady that checked in my wife who was extremely rude.
Jun 14, 2021
Staff was wonderful and very welcoming but the place needs some work. The spots are on dirt and rock and ours had horrible ruts in it. This was not horrible because we had a little camper but it really needs repaved badly.
Jun 14, 2021
The check-in lady was extremely rude - our campsite (and several others) were extremely muddy - we could not hook up our water, electric and septic systems without standing ankle deep in mud, we were told changing sites was not an option - we paid for 2 nights but left after the first night - we requested a refund for the second night due to the terrible conditions but were told no…
Jun 14, 2021
Great overnight stop! Delicious BBQ dinner and pizza delivered to Our RV door for dinner. Great store, friendly staff.
Jun 13, 2021
There was a large piece of dog feces on our site. The grounds looked unkept. There was no concrete anywhere. All of the pavement was uneven and muddy. I wish we had not stayed there.
Jun 13, 2021
Dirty bathrooms and potholes in sites.
Jun 13, 2021
Its a pretty good place to stay if it's not wet there are a lot of chug holes that hold water needs gravel to smooth out the pads an roads if that was done it would be great
Jun 13, 2021
Very nice park...great pork sandwich.
Jun 13, 2021
Pretty nice location. But could hear trucks going by all night on Interstate next to campground. May have been because I-40 bridge was closed, shifting all traffic to this route. Parking cement pads could be larger. Overall a nice clean well kept location.
Jun 13, 2021
Great campsites, clean, friendly staff. I would stay here again.
Jun 12, 2021
Easy to get to, nice and shady, could use a lot of fresh gravel at each site and on the roads. Nice staff and a a good breakfast. Shower and bathrooms are clean and fresh. Not a lot more you could ask for, our second visit and could see improvements from our last visit.
Jun 12, 2021
Very nice place
Jun 12, 2021
Unfortunately i40 closure dampen our visit but the park has excellent. TV ok but not lot of channels and volume varied channel to channel
Jun 12, 2021
What a crappy KOA. DIRTY, UNKEPT RESTROOMS AND LAUNDRY RM. I think you're clever, by proactivly asking me to rate my stay with you, there is a good chance I won't go to a public site to rate you. AND! I never hear anything from anybody fron KOA HQ. About my reviews. I think it's just a big ruse to make me feel good.
Jun 12, 2021
We stayed one night while heading south. Easy on and easy off to the campground. The grounds were kept very nicely and the restrooms were clean and air conditioned. The office staff was very polite. The only negative was the traffic noise which is understandable due to the location.
Jun 11, 2021
Many of the rv sites are quite low and do not drain. It was wet and there were many very large areas holding water. Our rv was covered with dirt and mud. Challenging to get to from Memphis
Jun 11, 2021
Terrible location - way too much noise
Jun 11, 2021
Great overnight stay. Love their pull pork sandwich delivered to your rv
Jun 11, 2021
Having meals available to us was a very pleasant surprise. The entire staff was friendly and extremely helpful
Jun 11, 2021
The place was great and so were the people, it was close to everything
Jun 11, 2021
I paid 51 dollars to lay awake all night to trucks going up and down the interstate. I will find some place else to stay over night next year.
Jun 11, 2021
Large enough spot. Full hook up. Wifi worked well. Grass for the dog to play in. Quiet. Laundry facility was clean and spacious. The one breakfast my husband had was cold, gravy runny, sausage was mushy, biscuits were gooey, tasted terrible. We stayed twice in 2 weeks, and were thankful the second time to have the same site as first time. We always enjoy staying at KOA. Thank you
Jun 11, 2021
It was very clean Friendly staff.The food was very good from their cafe.
Jun 10, 2021
I really want to leave a good review but I can't in good conscience. The Park has some recent renovations and has more in progress but for RVs there are challenges. The curvy drive is pretty and ok for a smaller unit, but for a 40 ft fifth wheel it was difficult to maneuver. The roads between sites are narrow as are the sites. No room to park truck but sideways. Tree prevented awning use.
Jun 10, 2021
Friendly staff. Good pulled pork sandwich and pizza delivered right to your campsite. It was raining so we enjoyed the extra service. There was trash pick up too. Sites are a little close together but the park is nice.
Jun 10, 2021
we've been on the road 6 weeks. This was the only campground we wouldn't shower in it was so dirty.
Jun 09, 2021
We were in town to visit family. We enjoyed our stay with you. Had a good breakfast at TCB cafe it was real good.
Jun 15, 2021
We enjoyed our stay....
- Margaret Tyndall on Google
Jun 13, 2021
This place was very nice and clean. Was pleasantly surprised. Would definitely visit again if happened to be in the area
- Samantha Davidson on Google
Jun 12, 2021
The amenities are amazing the staff is eager to please and don't miss a beat when it comes to hospitality
- Danielle Stephens on Google