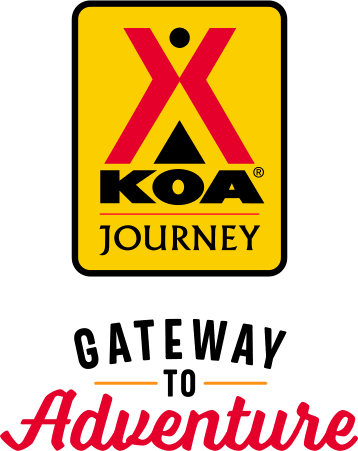 KOA Journey Campgrounds
KOA Journey campgrounds are the perfect oases after a day on the road. Whether it's along the way or a quick getaway, they've got you covered. Located near the highways and byways of North America with long Pull-thru RV Sites, they deliver convenience to the traveling camper. Pull in, ease back and take a load off.
KOA Journeys Feature:
Pull-through RV Sites with 50-amp service
Premium Tent Sites
Well lit after hours check-in service
Directions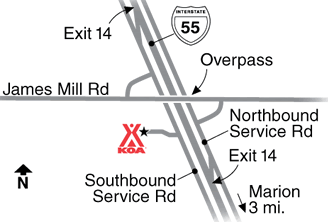 From I-40: Take I-55 N, 6.5 miles to Exit 14, Jericho. Follow AR Hwy signs, KOA on southbound service road.
From I-55 Southbound: Take Exit 14, follow southbound service road under overpass, KOA on right.
*RV GPS prefer the address, if you use the town Crawfordsville
Get Google Directions
Sep 15, 2021
Great place to stay
Sep 15, 2021
Very nice campground. Would stay again. Our only criticism is the directions on how to get there are unclear.
Sep 15, 2021
We only stayed one night, passing through. The sites are nice but need a little work. A lot of the concrete is crumbling and should be replaced. The store doesn't have a lot of grocery items but lots of camping gear. Representatives were friendly and courteous. We would stay again.
Sep 14, 2021
Need to fix the roads an pad sites
Sep 14, 2021
We stayed one night on site 73. It was only long enough for our 42' fifth wheel, leaving little room to park our truck. The site had a concrete pad that was broken and missing corners and pieces. Otherwise, the campground had lots of trees and shade.
Sep 13, 2021
Read the reviews about all of the potholes throughout the park, but we didn't find that to be the case at all. Site was pretty tight, but relatively flat, with easy connection access. Staff was very friendly, and the resort has it's own Cafe that offers breakfast each morning and dinners nightly. Luckily, we're self contained and did not need to use the bathrooms which were terrible, dirty&moldy
Sep 13, 2021
We stayed at a campground in Kansas for the first time and it was very clean even the showers. That is why I thought I would try again. But our stay at this KOA Camp ground was not so good. Cabin floor was dirty and the Bathrooms were disgusting there is no way I would take a shower at this camp it had mold and dirt all over the place it was nasty. The girl that checked us in was nice.
Sep 13, 2021
staff very friendly ,
Sep 12, 2021
Good or overnight. Somewhat dusty, however.
Sep 12, 2021
A very nice experience
Sep 12, 2021
very easy on and off of freeway great spot to stay while you visit Graceland Sept 2021 KDM
Sep 12, 2021
Very tight and full RV park. Electric 30 amp was wired backwards. Site personnel responded and reluctantly corrected it so we could use power. high $ for useable amenities.
Sep 12, 2021
Love the cafe' great food
Sep 11, 2021
The campground is well kept, people are very friendly. If we go back to Memphis we will definitely stay again
Sep 11, 2021
Clean but worn - great breakfast - barbecue dinner offered - dog park, nice store - friendly staff - clean campground
Sep 11, 2021
This is a very conveniently located campground. The sites are all shady and level. Check in was fast with a super helpful person at the front desk. The store was well stocked and while I didn't need anything (except some ice cream for my husband) they appeared to have everything someone in a motorhome would need in a pinch.
Sep 11, 2021
Nice quite overnight stay. Goof helpful staff.
Sep 11, 2021
Pretty but we got in late and left in the morning. Not much to rate Sorry
Sep 10, 2021
Overall our stay was good. The people were very friendly and helpful. Good choices of foods. We gave a 3 because it was extremely noisy there because being so close to interstate 55. I would choose another campground if we return to the Memphis area.
Sep 10, 2021
Spaces were too close together. Dog park was too close to the road.
Sep 10, 2021
Nice campgrounds, clean restrooms. It's not ur fault but Lots of highway noise from I 55 if u leave windows open.
Sep 10, 2021
Noisy, noisy, noisy! Right next to very busy freeways. Cold shower with very little water. Unhelpful desk staff. No breakfast.
Sep 09, 2021
Prior to my two stays at the Memphis KOA. I went online to check reviews. I found them to be either 5 star or 1 star.That was kind of baffling. So, I went in with my eyes open. Very pleased to discover that the 5 star givers were dead on. I was very satisfied and won't hesitate to stay there again !
Sep 09, 2021
Nice sized campgrounds, loved all of the pull through sites! The staff was welcoming and attentive, and the food options were delicious.
Sep 08, 2021
Loved your easy in easy out pull through almost as much as the delicious hot food delivered to our site!
Sep 08, 2021
Nice park, easy-in, easy-out.
Sep 08, 2021
Too many bugs that bite me. the ladies bathroom must have had some kind of a chemical spill because I could not breathe and my muscles were hurting bad. nerve endings painful. Left after 30 minutes. did not even set up the tent. second worse one I have ever stayed at.
Sep 08, 2021
Love your BarBQue Sandwich meal when I arrive. I look forward to it. My pets love Camp Bow Wow park.
Sep 08, 2021
Stayed 5 days to explore the memphis area. Campground is nice, staff is friendly. We enjoyed the Cafe for breakfast and dinner on a couple occasions. The campground is right along a really busy highway and our site was right out front, the noise was terrible, make sure you request a site in the back!
Sep 08, 2021
Conveniently located. Nice park. Friendly staff. Probably some opportunities for improvements in the showers.
Sep 07, 2021
How fun is it to know that when you arrive to this KOA and see all the nice furniture for the R.V. er's,, the nice amenities of a real camp ground from "Animal house" the movie only shot in 1942- that your spot looks like "Crocodile Dundee" the remake that makes patrons wanna vomit, I know that when we arrived to see NO TABLE, NO FIRE PIT, no care JUST MAKES ME WANNA PUKE! MEMPHIS STINKS!
Sep 07, 2021
Best not listen to some previous reviews......the place was fine. Yes the roads were bumpy, they need some attention ,the same with some of the sites. It just rained and some sites were muddy, but not all. We were moved due to ours being muddy. No issues. Food was good. We as customers should also take the time to help out, keep things clean....why not.....Staff was friendly as well...
Sep 07, 2021
Everything was great except the sites are just a bit narrow. Would like more room to sit outside. The staff and food was awesome!
Sep 07, 2021
Overnite stay but campground was nice
Sep 06, 2021
Convenient and accomodating!
Sep 06, 2021
Staff always helpful and accommodating. This has been our overnite stop to/ from for 6 years. Recommend for all size RV's full hookup and cable TV .
Sep 06, 2021
Good place for a night.
Aug 29, 2021
We love this KOA location! We stopped here on our way to Houston Texas and then made a reservation on our way home to stay overnight again. Very clean! Good hookups! Our kids loved the playground! And the pool looks so clean! We will be returning!
- Ashley Alden on Google
Aug 24, 2021
Nice lots. Pretty setting. Clean
- mamastu100 on Google
Sep 08, 2021
Very nice KOA. Had a good nights rest. Did not even hear the road traffic. The bathrooms were clean but dated. Could use some renovation but all in all very nice! Would stop there again.
- Karen Clemons on Google