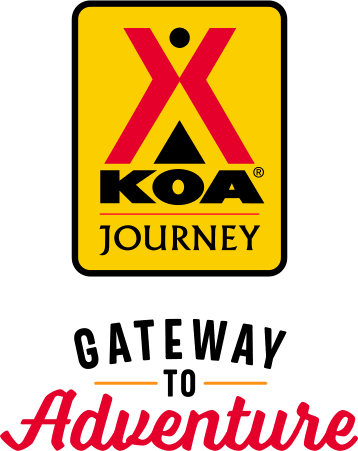 KOA Journey Campgrounds
KOA Journey campgrounds are the perfect oases after a day on the road. Whether it's along the way or a quick getaway, they've got you covered. Located near the highways and byways of North America with long Pull-thru RV Sites, they deliver convenience to the traveling camper. Pull in, ease back and take a load off.
KOA Journeys Feature:
Pull-through RV Sites with 50-amp service
Premium Tent Sites
Well lit after hours check-in service
Directions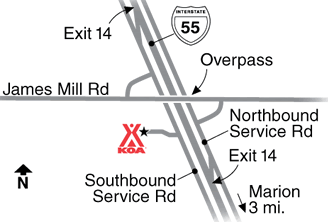 From I-40: Take I-55 N, 6.5 miles to Exit 14, Jericho. Follow AR Hwy signs, KOA on southbound service road.
From I-55 Southbound: Take Exit 14, follow southbound service road under overpass, KOA on right.
*RV GPS prefer the address, if you use the town Crawfordsville
Get Google Directions
Apr 06, 2021
We stayed at Memphis KOA for two nights and would return again.
Apr 06, 2021
Clean and nice set up. Follow KOA signs not google maps. Glad I read the email confirmation.
Apr 05, 2021
After it rains north end of CG sites are almost under water. Could hear interstate noise 24/7. Need more gravel on roadway and in camp sites. Also concrete pads need to be redone. Ownership needs to invest a little money for needed improvements. For the cost of one night of camping I would expect a little more.
Apr 05, 2021
We were only there overnight so we didn't get to use a lot of the amenities listed (pool, restaurant, store, bathrooms, laundry). The things we did explore (playground, our camp site) were dated but the kids enjoyed the activities compared to other places we have visited. I wish there had been fire rings at each site, I did see them at some sites but ours did not have one.
Apr 05, 2021
Just an over night stay. Roads and grounds could use attention. Very convenient to interstate. We have stayed here before.
Apr 04, 2021
Everyone was extremely friendly. Loved our breakfast there. Great cook and had fun talking with him. Had George give us a driven tour of Memphis. He knows his history!!! Had Motorhome trouble and Tommy Moses helped us out. Great place to go if you're passing through Tennessee Clean bathrooms and laundry
Apr 04, 2021
Campground needs work, huge mud holes and pot holes all over the place. Pull throughs turn into mud holes. Nobody in office at check-in time, Covid not an excuse anymore.
Apr 04, 2021
The road noise was terrible and I felt like I was in the movie birds- beginning around 4:30am. I had to make sure all my windows were indeed closed it was so loud! The restrooms were just ok. The pool was closed and drained but we were never made aware beforehand. Also a diesel truck came in and idled for 25 minutes at 3am. Worst overnight stay ever.
Apr 04, 2021
Stayed here before, good place to stop overnight. Gravel roads and was really wet after 12 inches of rain. But staff was very accommodating. Will stay again.
Apr 04, 2021
Doug and the staff were great, made us feel at home. The grounds and restrooms were spotless, our site was level and well maintained. A surprise was the TCB cafe on the grounds, they smoke their own meat and beans on-site and our pulled pork sandwich plate was delish! A little road noise from the highway, but totally tolerable. We will stop again on our way through.
Apr 04, 2021
My site #4 was some what a bit muddy it needs rock and the inside roads need some much needed work lots of potholes and mud holes
Apr 04, 2021
Poor up keep of the grounds. Extremley rude managment. Never again for us at a KOA!
Apr 04, 2021
Stayed one night. Easy in and out to I-55. Quiet.
Apr 04, 2021
100% everything we needed for a peaceful night. Super clean bathrooms, cute dog park, and felt very safe. Will stay again.
Apr 03, 2021
Sadly the photos are deceiving this campground has not been kept up. The road noise and wind from the freeway and trains has not been attempted to be mitigated in any way and prevents enjoyment of the outside and disturbs sleep. Most of the sites were swampy as they have not maintained the lots. Does not appear to have hardly any staff and the run down look shows it. Ok if only stopping overnight.
Apr 03, 2021
Liked the park, very nice setting. Only point is that the showers could use some up-dating
Apr 03, 2021
The staff was amazing. Very helpful, kind, and friendly. For being last minute they were able to fulfill my request of being close to the the bathrooms. My kids were excited that they could use the camps three wheeled bikes for free. Which in our travels is uncommon. Our only disappointment was that the dog park was all mud, our dog would have loved it. Unfortunately you can't change the weather.
Apr 02, 2021
Park is in dire need of being upgraded. Roads are horrible ,potholes and mud holes.
Apr 02, 2021
Great staff, food was delicious. Expect some pools and mud during rainy periods but it's not bad. We would definitely recommend this ti fellow travelers
Apr 01, 2021
Stay was good l, but this campground needs some drainage work. We experienced the same problem last year, and that is puddling at the ends of almost every row making it difficult to take a walk especially with dogs. Even some of the sites have puddles. I would recommend getting in a site closer to the middle of the rows. The dog park was full of puddles too.
Apr 01, 2021
The park is O.K. The office has some issues. Maybe need more staffing to handle the phones. Called, left our phone # and a message that due to weather arriving a day late and not to cancel our reservations, we are coming. When we got there we had no reservations and the office was closed (Sunday). Called the manager who did finally put us in a site but it was not a pleasant conversation.
Apr 01, 2021
The entire campground had very poor drainage and sights were flooded. Along with the water being turned off unexpectedly. The facilities were average, sights were on the slightly smaller side.
Apr 01, 2021
Easy highway access, level spots, clean restrooms you can buy dinner and breakfast on the weekends there. Met all our needs for an overnight stop going and coming from Texas.
Apr 01, 2021
Nice campground and convenient to the interstate
Apr 01, 2021
We have stayed here a couple of times. The staff is very nice, the place is clean and will stay here again.
Apr 01, 2021
Freindly staff. Clean facilities.
Mar 31, 2021
We've stayed here twice in the past year. And won't return. Noise from nearby highway is objectionable. As loud as any KOA we've visited. We were given a 20-amp site, having asked for 30, and had to move after we were nearly set up. The site was $65 for one night, in March 2021. Not a good deal. We travel east-west on I-40, and this KOA is about 20 minutes north. The setting is shady, but...
Mar 31, 2021
Great location we were golfing around the Memphis area ideal to get to the courses without having to stay in the city. This is our third time and can guarantee it wont be our last. Also had a great breakfast in your cafe>
Mar 31, 2021
Disappointed in the pulled pork sandwich. Very dry! Ran out of coleslaw too! Need to fill pot holes with class 5. Too many water puddles.
Mar 31, 2021
Very helpful staff and perfect on and off freeway.
Mar 31, 2021
We were able to order food at the office which was delivered to our campsite at the time we requested. The only problem was received a text the morning of departure stating could get breakfast in the cafe. When we got there, the cafe was not open.
Mar 31, 2021
Sorry, you advertised 70' with a turning radius for a 30'. You must be laughing at us in the office. 45' Prevost +suburban took me an hour to clean the mud off the tires jokes on us. Never again.
Mar 28, 2021
Very quick check in but otherwise not what I expected at a KOA. Staff was friendly
Mar 28, 2021
The whole place was a mud hole. The sites were so close together. We couldn't roll out the awnings bc of trees so close. I do not recommend this place not even for an overnight stop.
Mar 27, 2021
Very clean, easy to get to off I55, friendly. My only issue is it is right off the busy interstate and we were camped in the front section so the traffic noise from the interstate was very loud. My recommendation when you book here is to ask for a spot further away from the interstate.
Mar 24, 2021
Very noisy, right next to the highway. But friendly staff, a nice store and excellent pepperoni pizza.
Mar 22, 2021
The sites are very small and tight for regular pull through setups. The staff were very nice but don't plan on sleeping much. It is located next to a major interstate and highly used train tracks
Apr 05, 2021
Staff helpful and attentive. Excellent communication and awareness via texting without being overbearing. Will definitely stay again as convenient on travel stops.
- David Cook on Google
Apr 02, 2021
Good campground close to interstate great campground host
- Gerald Williams on Google
Apr 19, 2021
Very nice staff. Site was a little tight, but there are larger sites. Very convenient location for visits to Graceland and Memphis
- Mike Ploeg on Google