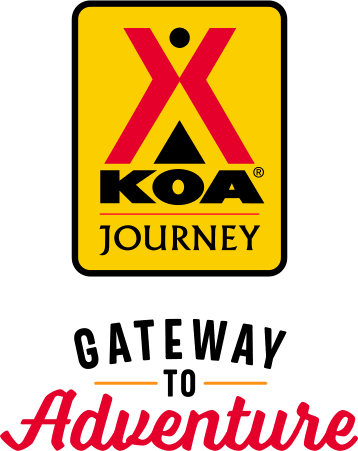 KOA Journey Campgrounds
KOA Journey campgrounds are the perfect oases after a day on the road. Whether it's along the way or a quick getaway, they've got you covered. Located near the highways and byways of North America with long Pull-thru RV Sites, they deliver convenience to the traveling camper. Pull in, ease back and take a load off.
KOA Journeys Feature:
Pull-through RV Sites with 50-amp service
Premium Tent Sites
Well lit after hours check-in service
Directions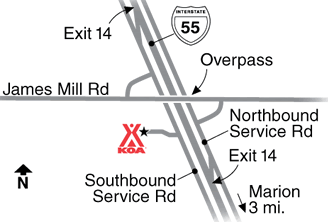 From I-40: Take I-55 N, 6.5 miles to Exit 14, Jericho. Follow AR Hwy signs, KOA on southbound service road.
From I-55 Southbound: Take Exit 14, follow southbound service road under overpass, KOA on right.
*RV GPS prefer the address, if you use the town Crawfordsville
Get Google Directions
Jan 18, 2021
Close to things but "curb appeal" was lacking. Campground definitely needs some TLC. Workers were friendly and helpful.
Jan 16, 2021
Just an overnight out of season, but pleasant, by the highway place. Loved the staff and the dog liked the area for walking.
Jan 16, 2021
They were very nice and it was a good stay.
Jan 15, 2021
Roads are very bumpy with numerous potholes. Definitely need maintenance
Jan 14, 2021
No problems at all. Neat, clean bathroom facilities! Used the outdoor kitchen wash. Very nice setup.
Jan 13, 2021
Nice quiet campground. Will be back for sure
Jan 13, 2021
Arrived on a cold day at dusk. checked in quickly & after setting up found that sewer was stopped up & backed up w other people's pooh all over our sewer hose. A guy took a quick peek & told us to run gray on ground & move to dump. No offer of compensation for the mess we had to deal or inconvenience of moving to dump. We paid for full hook up for quick in and out! We got a nasty mess to deal wi
Jan 12, 2021
The campground is in a somewhat rundown condition. There are many chuck-holes, etc. The noise from the Interstate was annoying, but we expected that due to the location, which is the reason we stayed there in the first place. I would recommend to someone who wants one night and this campground is in exactly the right location.
Jan 12, 2021
We were just there for overnight, but it was a nice park, easy in and out. The manager was very nice and helpful.
Jan 11, 2021
The two downsides are the constant highway noise and low-lying wet grounds the campsite is on. We liked pretty much everything else.
Jan 11, 2021
Muddy. Trash around. Facilities in poor shape.
Jan 08, 2021
It was a good stay.
Jan 07, 2021
Location was convenient. The park needs some work. The drives are very rough, needs to be repaired very badly.
Jan 07, 2021
Overnight stop on a 2-day trip. After a long day of driving, easy to pull into our spot, set up & pull out early morning.
Jan 06, 2021
First of all the location is HORRIBLE. Four of us could hardly sleep with the noise from the highway. There was little for kids to do. The other KOA's we've been to have a jump pad/ pillow or an INDOOR pool.
Jan 05, 2021
Camping was great there a lot of things to do The people was nice and restrooms was clean
Jan 04, 2021
Camp ground was ok. Bathrooms are not very neat.
Jan 03, 2021
Exactly what we needed!
Jan 03, 2021
Lots are really small and crowded, most of them flooded. The picnic table was old and broken with wood hanging off and for some reason there was a plunger laying under it.
Jan 03, 2021
The office staff great with easy check in and following Covid protocol. The night was wet, and cold so we appreciated quick easy check in with our reservations. We also ordered food and it was delivered to our site. The Memphis Beale Sandwich with coleslaw very good!
Jan 02, 2021
Everything was good except the interior roads were terrible � Unexceptionable �
Dec 31, 2020
Worst KOA we have ever stayed at. Potholes everywhere standing water at campsites
Dec 31, 2020
a great place to stay - always clean and very friendly staff. Easy to get to sites and easy to leave
Dec 30, 2020
Where do I start.... internal streets are very narrow. I bought a premier pull through couldnt even get my bus in without driving off the side but they put fence posts in a d someone had already hit them and knocked them down soI had to move them to the side. Got the tires all muddy got my tow vehicle muddy. Dude in the offoce wasnt very friendly at all and it is super loud. Never again here.
Dec 30, 2020
Friendly staff and check in was very easy. The only issues were the terrible conditions of the interior gravel roads.
Dec 30, 2020
Super friendly and helpful. Site level and generous. Will be back!
Dec 30, 2020
Doug rocks!!! Full hookups, great end spot with fire pit & picnic table. RIGHT next to freeway, incredible easy access! Great lil gift shop with great sales. Would stay there again as we're passing through.
Dec 30, 2020
nice people and very impressed with the outdoor furniture for each site. Nicest KOA yet!
Dec 29, 2020
Lots of great amenities and the bathrooms/showers were very clean! The staff was very friendly!
Dec 29, 2020
Thank you for being open through the holidays and the winter.
Dec 28, 2020
Very good overnight stay. Easy on and off. Great pulled pork sandwich dinner delivered to our camper!
Dec 26, 2020
Short and sweet.
Dec 24, 2020
If you are just spending the night, this place will do, but if you have to use the facilities, move along. Unfortunately, we stayed 2 nights because we had planned things in Memphis. The bathrooms were terribly unclean when we arrived and remained so when we left( our disinfect wipes came in handy!). The owner was even smoking his cigar while in the men's bathroom! Staff was friendly, but...
Dec 24, 2020
Only a one night stay but great koa, convenient to interstate and friendly staff.
Dec 24, 2020
Perfect for overnight stay, right off the freeway. There was a lot of standing water from a previous storm, but site pads were dry enough to get hook up connections without issue.
Dec 23, 2020
Easy on and off Interstate. Very clean restroom and showers. Everyone was very helpful and friendly.
Jan 20, 2021
This is a great place to stay! Located near Highway 55, but still quiet. Bathrooms are very clean, as well as laundry area. I liked all the lights on the posts of each site, for safety & also looks pretty. They have a small menu of delicious food, which they deliver to your campsite. We would totally stay here again.
- Sara June on Google
Jan 04, 2021
The people who ran the place were very nice. Our site was very level.
- Joyce O on Google
Dec 28, 2020
Easy and convenient off freeway. Staff was friendly and helpful. BBQ dinner delivered to site was a plus. Driveway potholes need fixing. Train and Hwy noise were not a problem like everyone was saying.
- Mary Slavik on Google